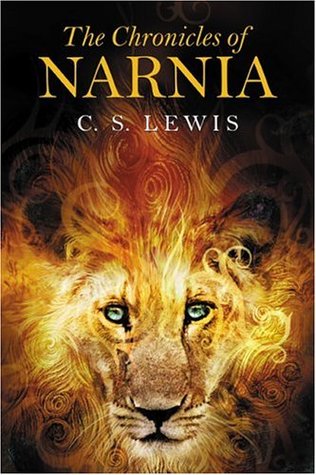 Journeys to the end of the world, fantastic creatures, and epic battles between good and evil—what more could any reader ask for in one book? The book that has it all is The Lion, the Witch and the Wardrobe, written in 1949 by Clive Staples Lewis. But Lewis did not stop there. Six more books followed, and together they became known as The Chronicles of Narnia.For the past fifty years, The Chronicles of Narnia have transcended the fantasy genre ...
---
Details The Chronicles of Narnia (Chronicles of Narnia, #1-7)
Title
The Chronicles of Narnia (Chronicles of Narnia, #1-7)
ISBN

9780066238500

Author

C.S. Lewis

Release Date
Sep 16th, 2002
Publisher

HarperCollins

Language

English

Genre

Fantasy

,

Classics

,

Fiction

,

Young Adult

,

Childrens

Rating
Reviews The Chronicles of Narnia (Chronicles of Narnia, #1-7)
When the Lion/Witch/Wardrobe movie came out a while ago, some dude accosted me and said "Dude, the fucking right wing media is trying to say that the Narnia books are all about fucking Christianity!!!"No shit. I figured that out when I was 9.But who cares? If you can't enjoy these books at all, there is no child alive inside of you. And if you've got no child inside you, you're not very much fun at all, are you?

I love Narnia! Of course it's not perfect, but they are such wonderful stories, paving the way for so many other fantasy worlds that followed. Sure they've got the allegorical Christian background, and some of Lewis' wording and phrases wouldn't pass as politically correct now. But if you can look past these small details, Narnia is a truly magical place, the stories iconic, I will never forget them. The Magicians Nephew"By gum," said Digory, "do...

I discovered The Chronicles of Narnia when I was six years old halfway through my first year of school. I had discovered the joys of our school library and I still remember the day and the exact shelf where I found The Lion, The Witch and The Wardrobe. It was the lowest shelf, the one that rested on the ground and I had to crouch down to wiggle the book out from amongst its peers. By the time I'd finished first grade I'd read them all and searche...

Quick review Terrific fantasy setting and storyline spoilt by extremely unsubtle allegory and (as the story progresses) excessive Christian preachiness. Warning: Racial stereotypes abound and may offend.Recommended for adults who thrive in a Christian religious environment or those who can overlook these aspects totally and enjoy the story. Not for gullible children, unless accompanied by a discerning adult. Detailed review I won't insult the int...

The Chronicles of Narnia (The Chronicles of Narnia #1-7), C.S. LewisThe Chronicles of Narnia is a series of seven fantasy novels by C. S. Lewis. It is considered a classic of children's literature and is the author's best-known work, having sold over 100 million copies in 47 languages. Written by Lewis, illustrated by Pauline Baynes, and originally published in London between 1950 and 1956, The Chronicles of Narnia has been adapted several times,...

Favorite books ever when I was a kid! So yea, sticking with 4 stars because I still love it🖤🖤

Read this as a kid and re-read later on, these 7 books were a great form of escapism despite the somewhat overbearing Christian symbolism that is pervasive throughout. The movies did NOT to the books justice but the animated film about Lion, Witch and Wardrobe was actually OK. A must for kids.

Overall I would give this book 3 stars. Below I have provided specific ratings/reviews for each story. At first I was skeptical about reading the book in chronological order as opposed to publication order. Now that I look back at it, it works well both ways. I also had some trouble at first with the way the style of writing was presented, but I got used to it pretty quickly. The world of Narnia is well written and detailed thanks to C.S Lewis. I...

The Magician's Nephew is easily the best story of the Chronicles. First of all, it's the least overtly religious. There is a creation-of-the-world element, but it's not our world so it seems more fantastic than religious. Not only is there a veil over the religiosity, there's so much creativity in this story: the magical rings, the in-between place, the Deplorable Word, the founding of Narnia.Starting with The Lion, The Witch, and The Wardrobe, t...

I can't even begin to count how many times I've read "The Chronicles of Narnia." The truly amazing thing about these books is that each time you read them, they magically become more complex, more meaningful and more beautiful. I first read "The Lion, The Witch and The Wardrobe" when I was about seven or eight years old and I did not get it at all. Sure, I followed the story, but the deeper meaning was completely lost on me. Someone later told me...

The 2005 film adaptation of The Lion, the Witch, and the Wardrobe was what made me want to read this thick, heavenly book. Little yet valiant Lucy was very close to my heart, as well as her siblings who occasionally thought she was crazy. I was so enthralled by the movie, and I asked my parents if they could buy me the series for my birthday.My uncle in the US was the one who granted my wish. Tee-hee. After buying this collection from Barnes & No...

http://findarticles.com/p/articles/mi...(Click the above link to read professor Carol Zaleski's interesting take of the seething religious/political furor surrounding these classics.)I pined for Narnia in the most broken, sad way when I was a little girl. Obviously, I had no knowledge of any Christian subtext when I first read "Da Chroni *WHUT* cles". I remember devouring them in much the same way that children are now tearing through the Harry P...

A mostly well-written, very imaginative, thoroughly enjoyable read. The narration is warm and witty, the protagonists are well developed and likable but not perfect (written perfectly, but with flaws that give the stories depth), and the settings are vivid and fantastic (remember those loony one-footed invisible things that hop around? and the ending, when the boat sails over that undersea city and then into the clouds at the edge of the world?)....

I read the entire series, one right after another, eight times in a row when I got them for Christmas in fourth grade. Obviously I loved them then. Just finished reading them again to Eric, my 8-year-old, and loved them maybe just as must as I did as a 10-year-old. Eric couldn't stop giggling through the last pages of Horse and His Boy, which we had to reread when we finished the rest, since it was his favorite. We're starting Prince Caspian agai...

I love how you can see Aslan as Jesus giving up his life for us. And the greater power or deaper magic that brings him back to life

Back in the early 70s, I encountered this wonderful series through the first of the books to be written, The Lion, the Witch, and the Wardrobe. (Below, I quote most of my review of that book, insofar as it applies to the whole series). I subsequently discovered the whole series, and in the 90s read it to my wife, who loved it as much as I do. We didn't read it in this omnibus edition, but as individual books; and for a long time, I intended to ev...

I love these series. It starts with a dreamy fairy tales and ending with a big bang. Behind that children story telling, it has a powerful message of God, bravery, siblings love and rivalry, love and becoming adult. Taking responsible. Punishment and forgiveness. I love all of the siblings especially Lucy.

The Lion, the Witch and the Wardrobe by CS Lewis is one of the books in his series, the Chronicles of Narnia in which Christianity is portrayed through various fantasy creatures. God, for instance is portrayed as a talking Lion. What a wonderful series! What child hasn't climbed into a closet and explored the back cracks in hope of finding an entrance to a new and exciting world after reading this book? I used to sit in a closet with the door c...

I finally got around to reading these all the way through. I'm pretty sure I read through book 4 when I was much younger, but really, it was a different experience reading them as a twenty-something. I vividly remember the moment several years ago when my mother and I were watching a televised version of The Lion, The Witch and the Wardrobe... and suddenly made the connection that the whole thing was a giant allegory with Aslan as Jesus. We just ...

I have loved these books my whole life. They are frequently misread, I think, by people who insist that everything in Narnia has to "equal" something in our world (Aslan=Jesus, Calormens=Muslims, Tash=Satan, etc.) While Lewis is clearly writing about God, as I read it, he is imagining how the Christian God might reveal himself in another world rather than allegorizing our own. Aslan is not "Jesus," but rather the earthly aspect of God as he revea...

I read "The Lion, the Witch and the Wardrobe" when I was very young, and barely remember it. I never read the other books in the series. So now, as an adult, I'm reading the entire "Chronicles of Narnia." After a bit of Internet research, I decided to read them in order of publication, rather than the overall story's chronological order. I'll post individual reviews for each book, and slightly shorter opinions here.The Lion, the Witch and the War...

Edizione in tre volumi. 1º volume (letto dal 13 al 26 Gennaio 2017)• Il nipote del mago ★★★ In questo libro (sesto per ordine di pubblicazione, ma in realtà pensato come un prequel alle avventure di Peter, Susan, Edmund e Lucy) C.S. Lewis ci accompagna per la prima volta nel regno di Narnia, attraverso la magia di due anelli forgiati da un incauto mago. Scaraventati in un mondo parallelo, due bambini - Polly e Diggory - saranno i primi ...

Via, io ci riprovo.Strategia di lettura: un romanzo al mese che simpatica che sonoDurata della lettura: sette mesi (giugno - dicembre) dieci mesi con una pausa di cinque mesiAspettative: non addormentarmi con il tomo sui polmoni (già successo più e più volte) Il nipote del mago (dal 01/06 al 05/06) 3/5 stellineIn fin dei conti mi è piaciuto più di quanto pensassi: si vede che è una storia per bambini, a tratti è noiosa, poco descritti...

Fair Warning:I am reading (in some cases, rereading) this as an adult, one who is most decidedly Not Christian, and somewhat against religious children's books. If that doesn't describe you, your mileage will obviously vary. The following is very very long, as I sum up each book. Spoilers aplenty.After seeing the new Prince Caspian movie this summer, I decided that, as a fan of both classic children's literature and fantasy literature, I should...

I went back and actually read the Chronicles of Narnia for the first time last year. (My parents read them to me when I was a kid). This is an amazing story, from one of the best English minds of the twentieth century. As a whole, this story was every bit as good as I had remembered.That being said, however, I ran into some real problems reading this story as an adult in the 21st century. Starting with The Horse and His Boy, and culminating in Th...

"Un giorno sarai grande abbastanza da ricominciare a leggere le favole." C.S. Lewis.Recensione completa qui nel mio nuovo blog libresco: http://benereadsbooksonclouds.blogspo...Incredibile come questo libro mi catturi ogni volta, come se fosse la prima, come ogni volta mi commuova nei soliti punti, come non mi stanchi mai di rileggerloIl linguaggio è semplice e scorrevole ma tratteggiato con dettaglio.La descrizione del paesaggio fiabesco è par...

I read this entire series multiple times when I was younger, I think near the end of elementary school or during Jr Hi, and actually got sick of it after too many reads and had to wait to rediscover it later on-- several times, in fact. The books are nice and short, yet each is a quality fantasy story, loaded, of course, with Lewis' exploration-in-fiction of man's relationship to diety and the world. Tolkien was always my favorite, but Lewis has ...

I've been holding off on reviewing this series because there's so much that can be said, and maybe so little that needs to be. Even a month after completing it, I haven't been able to mold my thoughts into anything that might constitute a cohesive review. In lieu of that--a cohesive review--I'll settle on some scattered notes and observations; I'll deal with some of its parts in order to get at the whole.First, a bit of autobiography. When I was ...