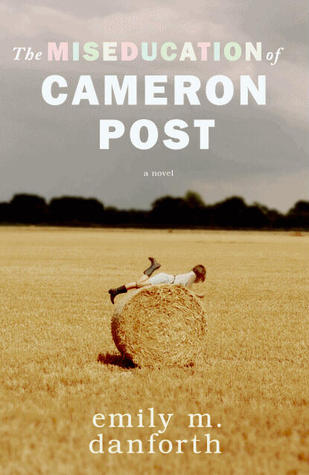 When Cameron Post's parents die suddenly in a car crash, her shocking first thought is relief. Relief they'll never know that, hours earlier, she had been kissing a girl.But that relief doesn't last, and Cam is soon forced to move in with her conservative aunt Ruth and her well-intentioned but hopelessly old-fashioned grandmother. She knows that from this point on, her life will forever be different. Survival in Miles City, Montana, means b...
---
Details The Miseducation of Cameron Post
Title
The Miseducation of Cameron Post
ISBN

9780062020567

Author

Emily M. Danforth

Release Date
Feb 7th, 2012
Publisher

Balzer + Bray

Language

English

Genre

Lgbt

,

Young Adult

,

Fiction

,

Contemporary

Rating
Reviews The Miseducation of Cameron Post
If you were to lay out a visual storyboard for The Miseducation of Cameron Post, it would be filled with lomographic photography--retro lighting, wide-open vistas, saturated colors, and quirky, sometimes blurry exposures that provide quick snapshots of the many small pleasures of childhood. This coming of age novel, which is written more like adult literary fiction than typical YA, beautifully captures the sun-drenched mood of summer as we meet C...

Re-Read with Sapphic Squad 🦋💖I stand by my original review for this one! It's important and well-written, but also a very difficult read. ---------------4 StarsOverview: "Maybe I still haven't become me. I don't know how you tell for sure when you finally have." You ever read a book that just feels too real?Like everything starts fine, but then the narrative starts vocalizing feelings you've tried to place before? And before you know...

This was a book that I *wanted* to like far more than I actually did. I'm a bookseller and I was hoping that this might be the contemporary title to hand to girls instead of (or in addition to) My Most Excellent Year or Will Grayson, Will Grayson, both of which are wonderful novels that feature boys who come out. ***************Spoiler Warning*********************One summer day, Cameron and her best friend Irene stave off boredom by shoplifting a...

I sympathized with Cameron Post, the protagonist of this book, quickly. When her parents die in a car accident, Cameron's first thought isn't horror, or denial, or anger. It's relief. Relief that they would never know she had just kissed a girl a few hours earlier. As a result of the accident Cam moves in with her conservative, super religious Aunt Ruth along with her grandmother. Life floats by smoothly enough in her small Southern town until Ca...

Despite a fictional work, it felt like I was reading a memoir or at least a diary of Danforth using the name Cameron Post. Because it was so REAL and OBVIOUS to me! What with the fact in the author's note: "She lives with her wife bla bla bla". So don't blame me for my assuming. I like almost everything about this book even though in some parts I got bored because I was just too tired to read ( I was so busy lately). The beginning already caught ...

Rating: 4.5 StarsI rarely come across books that I cannot review; that leave me speechless, both in mind and body. Kristin Cashore's Fire is a novel I've re-read numerous times, but I can never - never - convey the depth of emotion that novel inspires in me, despite the fact that I can quote from it. Within the past month, however, I've been lucky enough to read two remarkable LGBT novels for teens, both of which have left me spell-bound and spee...

Sadly really disappointed with this one. Don't get me wrong I didn't hate it, just think it could have been so much more with a ruddy good edit. Cameron Post is a young girl who on the day of her parents death is kissing another girl. From here we follow her growing up hiding her sexuality from her religious aunt who becomes parent by proxy and initially herself. Until, as we learn from the blurb, eventually the truth is discovered and she is...

I feel like I've been waiting for this book for forever and it is finally, finally, finally here and it was perfect.(view spoiler)[Cameron Post is a teenager growing up in a small town in Montana in the early 90s. Her parents die in a car crash the summer she's 12, right after she shares a kiss with her best friend. Her aunt Ruth, an evangelical Christian, moves in as Cam's guardian. Fast forward to her high school years and Cam is desperately in...

NO. My first DNF of the year. I truly did want to like this book. In the beginning I was enjoying it, but for some reason I just started getting bored and felt like the story was dragging.

This is hard to rate. I was going to go for two stars but I did think it was more an "ok". So three stars it is. Kind of a long (compared to other YA novels I've read) so it got a bit slow at times although I did generally enjoy reading about Cameron. Her parents are killed (not a spoiler) in a car accident and her evangelical Christian aunt comes to raise her. Let's just say that Cameron being a lesbian does not go over well. Not my favorite end...

MY RATING IS MORE LIKE A 3.5!When I first picked this book up I was so super duper pumped. I couldn't wait to read it! The cover is beautiful, the synopsis sounds interesting and exciting, and I'd heard such great things! In a lot of ways, I'd say it lived up to most of the hype: it was a very real portrait of a person, a realistic vision of a character and her journey. BUT, BUT, BUT:Oh my god did it drag out. Holy moly wowza pants. This book is ...

4.5 Stars.Original review posted here.As young adult readers, it's somewhat rare for us to run into a book that's more than 400 pages long, and when we do, I feel like those books fall into one of three categories. There are those lengthy YA books that are so engrossing and quick paced that you just gobble them up without ever noticing the length (see Grave Mercy), there are those that you feel could have had 100+ pages cut and have been bett...

3.75* This is a difficult book to know how to rate. On the one hand, I thought the story was brilliant, infuriating, thoughtful and although incredibly difficult to read at times, undoubtedly important. However, on the other hand, I personally didn't click with the writing style and for me, the book overall was just too long and drawn out in places. With that being said, due to following its main character from a child to late teens, this book ...

The Miseducation of Cameron Post was a bit of a slow burn. At points I felt like there were too many unnecessary details of a daily routine that didn't help to build the world of Cameron Post, it is a cliché, but sometimes less IS more and some decisive editing could have greatly helped the story. That being said, it doesn't mean that this was not a good or important read. The novel feels like an honest telling of what it is like to grow up ...

Wow...what a pleasant surprise this was. I saw this in the Teen New Books section of the library, figured, if nothing else, it would serve as a palate-cleanser, a fluffy coming of age story. Turns out, The Miseducation of Cameron Post resonates much more deeply than the typical YA novel, filled with pitch perfect detail and honesty, devoid of condescension: a book to be shared by all. Weighing in at 460+ pages, it's really two books in one. The f...

This is by far the best book I have ever read on Christianity and homosexuality. I was thoroughly impressed with how the author handled this very touchy subject. There is no moral of the story crammed down your throat, no secret agenda. It's a story of a girl dealing with the loss of her parents while on the brink of womanhood, and it is told beautifully, honestly, and lovingly. One of the aspects of The Miseducation of Cameron Post that I have t...

This book was awful. If the author had cut out fully half of the rambling, going-nowhere storylines and spent that energy developing the characters more, it would have been much better.After all the hype and good reviews, I was really very hopeful that this would be a good one, but I found myself struggling through a few chapters a night, hoping it would get better - but it never did. The poor main character had all the makings of a classic heroi...

trigger warnings: conversion therapy, homophobia/homophobic slurs, self-harm (none of this is condoned but it is very prevalent)The Miseducation of Cameron Post is an #ownvoices coming-of-age novel about our main character, Cameron Post, who loses her parents at the beginning of this novel and spends roughly half of it coming to terms with her sexuality as a lesbian teen and the other half in conversion therapy after her sexuality is discovered.T...

4 stars. The Miseducation of Cameron Post is an incredible coming-of-age which I'm really glad to have read. Danforth's characterization is consistent and multidimensional. Cameron is a believable protagonist, unsure of herself but wanting to be. Her internal voice is very strong.This strength of characterization applies across the board. The antagonists are as believable and complex as they are terrifying. I feel as if I know Aunt Ruth, and she ...

This was such a good, realistic story. I loved the backdrop of Montana and the coming of ageness was wonderful. This story spans from cam's childhood to her being 17/18 and those are my favorite coming of age stories. I thought the way the author portrayed the conversion camp was really interesting, but also really scary to see how it changed these characters. Cam's character development was really nice and felt really natural. I'd recommend this...

I read, with great patience, a quarter through this before putting the book away. It will remain unfinished. This book is dull. The attempt at a sensitive and ruminative coming of age story just feels plodding and tedious.

This coming-of-age story has been on TBR for a long time now. I'm so glad I finally got to read it. RTC.

"Maybe I still haven't become me. I don't know how you can tell for sure when you finally have." 3.5 stars TW: graphic depictions and references to self-harm, internalized homophobia, slurs (most directed at gay/lesbian people)read full review here*full review include favorite quotes and a spoiler sectionOkay, so I have no idea what to rate this book. It has been over a week sinceI finished it, and Istillhave no idea what to rate it. I me...

a bit too slow and descriptive for me at times, but nonetheless a really honest, emotional, well-characterized, and insightful book that I'm glad to have read ❤ a bit too slow and descriptive for me at times, but nonetheless a really honest, emotional, well-characterized, and insightful book that I'm glad to have read ❤️

[Trigger warnings for self harm, and MAJOR internalized homophobia/homophobia in general (challenged)]So. How did I feel about this book?I really liked it for the most part. It dealt with some REALLY important topics, and I think it dealt with them well.But there were also a lot of things that didn't quite work for me.THINGS I LIKED:- Really important discussions about homophobia in religion, and internalized homophobia. It was a difficult topic,...

Grandma stooped over with a yellow rag, sprinkling out the cleanser, that chemical-mint smell puffing around us, her son dead and her daughter-in-law dead and her only grandchild a now-orphaned shoplifter, a girl who kissed girls, and she didn't even know, and now she was cleaning up my vomit, feeling even worse because of me: That's what made me cry. I was terrified to read this book. For everything I'd been told about its spot-on characterizati...

Actual rating: 3.5Some thoughts:•The writing is immersive and concise.-But there are many moments, especially in the first half, where it drags. •I loved the ending. It was beautiful and fitting.-And yet, it also felt unfinished, on the whole. There were too many unresolved plot lines, and that is frustrating; too many questions remain— "What happens next?"•It was overlong. It should have been at least 150 pages shorter.•The convers...