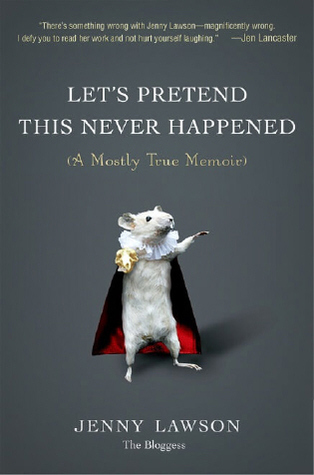 For fans of Tina Fey and David Sedaris—Internet star Jenny Lawson, aka The Bloggess, makes her literary debut.   Jenny Lawson realized that the most mortifying moments of our lives—the ones we'd like to pretend never happened—are in fact the ones that define us. In the #1 New York Times bestseller, Let's Pretend This Never Happened, Lawson takes readers on a hilarious journey recalling her bizarre upbringing in rural Texas, her devasta...
---
Details Let's Pretend This Never Happened
Title
Let's Pretend This Never Happened
ISBN

9780399159015

Author

Jenny Lawson

Release Date
Apr 17th, 2012
Publisher

Amy Einhorn: Putnam

Language

English

Genre

Abandoned

,

Biography Memoir

,

Book Club

,

Mental Health

,

Mental Illness

,

Nonfiction

,

Did Not Finish

,

Family

,

Biography

,

Autobiography

,

Memoir

Rating
Reviews Let's Pretend This Never Happened
I wrote this book so I think I'm required to like it. But I'd like it even if someone else wrote it. Although if they did I'd sue them for stealing my life story.How confusing.Much like the book.

If you're looking for a Sedaris alternative, this unfortunately isn't it. Which kills me, because I get the feeling Lawson had the potential (and raw material) to knock it out of the park, but it just doesn't come together.Jenny Lawson is definitely funny. When she really gets going on a story, it's pretty fantastic - but that's only 10% of the book, and the remaining 90% is just awful. I can't help feeling like this book was all written in a sin...

First, I should mention that I listened to this one on audiobook. Didn't read the text version. Second, the audio version is read by the author. I think Jenny did a nice job with it, too. If you're used to nothing but professional audiobook narrators, there might be a few verbal ticks in here that might bug you. But me? For an autobiographical work like this? I'd much rather hear it in the author's own voice. Third, she got some actual laughs out...

Skull and crossbones on this one if you're easily offended. So no whiners, okay? I mean it. Just....no whining. This is the most hilarious vagina memoir ever written. Okay, so technically it's not just about vaginas, but she mentions hers more often than anyone I've ever known who actually owns one. And besides, I had to throw that out there right at the start, so if you're going to get all upset you can just get it overwith and stay. away. from....

**edited...with content!**watch your fucking back, sloane crosley...this lady is funny-funny, not "boys tell me i am funny at parties because i am pretty" funny.i am so glad that kelly read this before me and it encouraged me to pick up my ARC and get into it far earlier than i ordinarily would have. BUT NOT EARLIER THAN I WOULD HAVE HAD I ACTUALLY WON THIS THROUGH THE FIRSTREADS PROGRAM, WHICH IS HOW THIS SHOULD HAVE GONE DOWN, GOODREADS!STOP WI...

Basically the best review I can give this book, is that as a librarian I'm pretty much giddy with excitement waiting for the things people will come tell me after they've read this book. From the (boring) I loved that it was an honest look at mental illness and survival (very true) to the (no seriously I can not wait) YOU LET MY CHILD READ THIS AND NOW THEY WANT A DEAD SQUIRREL PUPPET and THIS BOOK IS BLASPHEMY AND READING IT KILLS PUPPIES AND KI...

JENNY LAWSON ATTACKED ME WITH A MACHETE!!OK, so I have never met Jenny Lawson, and she didn't attack me with an actual machete, but I'm being metaphorical here, y'all.Because reading Jenny Lawson's book made me feel as if I were being beaten with some kind of weapon, and it may as well have been a machete. Which is a word she uses in her book. She also likes the words chupacabra and vagina. And numerous swear words. She also likes postscripts. Lo...

Overall Rating: 1.5I don't know if it's specifically American problem, but let me tell you, this is one of the worst memoirs I've read. (Seriously America, do you honestly find this funny? O.o) And I'll tell you why, I'm not just saying this because of some misplaced sense of spite, ok?When I first heard about this book, I was very excited – it sounded like a real good reading material and it had an awesome cover to boost with too.Fro...

Jenny Lawson (aka The Bloggess) is seriously effed up, and that doesn't always equate with being seriously bleeping funny but in her case, this book will S-L-A-Y you. I laughed so hard in parts I shed tears (and a little pee I think). Just sayin'. For anyone out there with some incontinence issues already. Her frantic, stream-of-consciousness delivery (though punctuated with gems of insane hilarity) can get exhausting. Sometimes you just want to ...

I read lots of memoirs, but something about Jenny Lawson's Let's Pretend this Never Happened was different. REALLY DIFFERENT! It's not just the messed up lives thing which seems to be a prerequisite for memoir writers. In case you were wondering, though, dysfunctionality thrives in this book. And there is definitely no calm voice of reason beating it back. This dysfunctionality and the bizarre way it manifests energizes Lawson. How Lawson f...