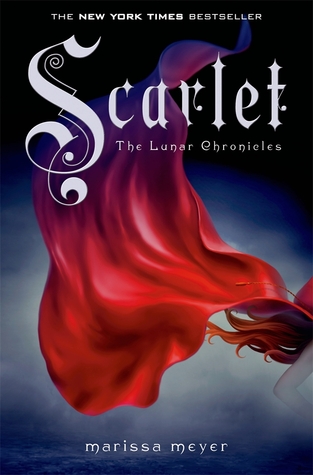 Cinder, the cyborg mechanic, returns in the second thrilling installment of the bestselling Lunar Chronicles. She's trying to break out of prison—even though if she succeeds, she'll be the Commonwealth's most wanted fugitive. Halfway around the world, Scarlet Benoit's grandmother is missing. When Scarlet encounters Wolf, a street fighter who may have information as to her grandmother's whereabouts, she is loath to trust this stranger,...
---
Details Scarlet (The Lunar Chronicles, #2)
Title
Scarlet (The Lunar Chronicles, #2)
ISBN

9780312642969

Author

Marissa Meyer

Release Date
Feb 5th, 2013
Publisher

Feiwel & Friends

Language

English

Genre

Fantasy

,

Young Adult

,

Science Fiction

,

Teen

Rating
Reviews Scarlet (The Lunar Chronicles, #2)
"She did not know that the wolf was a wicked sort of animal, and she was not afraid of him." 3 1/2 stars. I do not know that this is actually an amazing book, but dammit, it was entertaining. Honestly, I pretty much hated Cinder when I finally forced myself through it last year. It was a 1-star, ranty hate at all the wasted potential and - worst of all - tediousness. But so many commenters told me to read Scarlet anyway. At first, I wasn't go...

(more of a 3.5)I really enjoyed this installment in the Lunar Chronicles, but I didn't think it was as good as Cinder. I was annoyed reading about Scarlet throughout this book. We really didn't get to know her, we only saw her concerned about her grandmother and wolf. I did love the sections that were focused on Cinder though! I also really liked how the two story lines came together. I'm looking forward to jumping into Cress!

This series is quite special to me.Some months ago, after struggling with SO MANY science fiction reads, I came to the conclusion that, perhaps, it may not a genre for me. Dur. I didn't take it well, let's say, because that meant the hundreds and hundreds hyped sci-fi books out there would most likely not appeal to me either. I know that not every genre can work for everyone, but it's always unfortunate to learn something like this. I just ...

Even better than CINDER! I could NOT put it down yesterday. And when I was forced to put it down (yes, FORCED), I could NOT stop thinking about it. It was absolutely amazing. Beautiful and heartbreaking and action-packed and just...wow. Can't wait for the next book!!!

"Even in the Future the Story Begins with Once Upon a Time." Once Upon a Time, there was a little girl (let's call her Rina) who loved fairytales. Her favorite was Red Riding Hood, and she knew this story by heart since she was 2-years-old (everyone thought that this was a sign of her intelligence but in my opinion it was a warning. A warning that she'd never shup up). The girl grew up and decided to become a lawyer (so that people would pa...

I don't even know what to do with myself right now. This review probably won't make sense, and I'm probably leaving a shit ton out, but here goes. I was lucky to score an advanced copy of Scarlet from Marissa Meyer while at Comic Con.Totally me.I was in the middle of another book which I quickly finished in order to start this. So, Cinder left us with our heroine basically on the run after finding out that she was Princess Selene. Scarlet opens b...

I have to give it to Ms. Meyer for one again combining your favorite fairy tales with sic-fi/fantasy. Seriously, well done! The Lunar Chronicles is quickly becoming one of my new favorite series and for good reason. It has kick-ass protagonists like Cinder and now Scarlet. When we first met Cinder in book one, she was shy and timid, eventually coming into her own strength. And when I heard that we would be introduced to a new main character, I wa...

"She did not know that the wolfwas a wicked sort of animal, and she was not afraid of him." She is sassy and fiesty. He is dark, mysterious, and ADORABLE! What more do you need people?! . . . Did i mention she carries a gun around?? Yeah, you don't mess with that one. ;) "Wait until morning," he said. "The world wont be safe tonight." Still cant find a perfect Wolf! This will do for now. Who do you guys picture as Wolf? Now that i have read all f...

*4.5*I loved seeing all of the storylines coming coming together and the different perspectives. Things got crazy in this one and it was awesome! Loving this series.

Edit: i kind if realized how much i hate myself for giving this four stars. I have sinned omg, changing my rating to five stars like right fucking now, THIS BOOK WAS TEN THOUSAND TIMES BETTER THAN Cinder. Scarlet and Wolf will be the literal death of me. I'm incapable of writing a review for this. It's just....READ IT PLS. THIS LAST IMAGE KILLED ME. I actually screamed you guys.I love Wolf so much it hurts. I need a Wolf in my life.