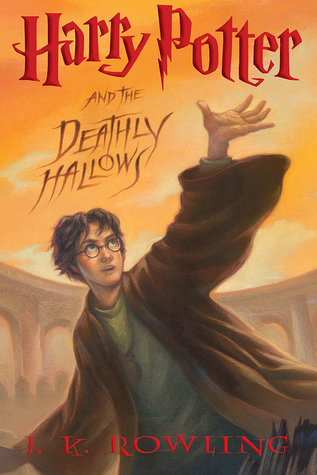 It's no longer safe for Harry at Hogwarts, so he and his best friends, Ron and Hermione, are on the run. Professor Dumbledore has given them clues about what they need to do to defeat the dark wizard, Lord Voldemort, once and for all, but it's up to them to figure out what these hints and suggestions really mean.Their cross-country odyssey has them searching desperately for the answers, while evading capture or death at every turn. At the same ti...
---
Details Harry Potter and the Deathly Hallows (Harry Potter, #7)
Title
Harry Potter and the Deathly Hallows (Harry Potter, #7)
ISBN

9780545010221

Author

J.K. Rowling

Release Date
Jul 21st, 2007
Publisher

Scholastic Inc.

Language

English

Number of pages

784

pages
Genre

Fantasy

,

Young Adult

,

Fiction

,

Magic

,

Childrens

,

Adventure

,

Science Fiction Fantasy

,

Classics

,

Novels

,

Audiobook

Rating
Reviews Harry Potter and the Deathly Hallows (Harry Potter, #7)
"I'm going to keep going until I succeed — or die. Don't think I don't know how this might end. I've known it for years." — Harry PotterMost seventeen-year olds don't view the possibility of an early death as being, well, possible. But then again, most seventeen-year olds haven't come face-to-face with death almost half a dozen times before their first kiss either.In Harry Potter and the Deathly Hallows, the seventh and final ...

It's hard for me to believe that I finished the Harry Potter series... I wish this series would go on forever!I don't know how I've gone through my life without these books. I regret not reading it when I was younger, but I am so happy that I finally did, better late than never, right?The world built in these books is so real and tangible, it is truly a masterpiece. The characters are engaging and brilliant, and I love how the plot is so interwov...

Ok, before I start a few warnings. This will contain spoilers (though since I'm writing this a year after the release I don't think it's too much of a tragedy), it will be long and it will be negative because I really didn't like this book.Reading books one to five I was very impressed with the storytelling from a novice novellist. There was magic, there were characters you could love, and sure there were some cliche'd storylines, but they were i...

This is just a pithy review on the Harry Potter series as a whole. It is not an in-depth analysis of the work in general, nor is it a review on any one particular installment.Harry Potter is a work of art. I got made fun of once when I was out to dinner with some friends, because while we were discussing these books I made the mistake of referring to them as "literature." I felt like I had to defend that assertion because, although the defini...

هذا ريفيو عن رواية هدفها الايمان بالخير، التغلب علي الشكوك وزعزعة الايمان وإيجاد القوة الذاتية للتتغير للحقرواية عن الصداقة والحب الذي قد يغلب اي انواع السحر..الظلم والقهر والعنصريةفي كل جزء بالنسخ الأنجليزية تهدي المؤلفة الكتاب لاحد اقاربها أو ...

First of all, It's awesome finding out that this book is Dedicated specially to you by the Queen herself -for me Joanna Rowling is the English Queen for Magic, just as there's a Queen for muggles- & it's Really yours personally..If you Stuck With Harry Until The Very End.I've been stuck with Harry myself for 10 years now..when I first read the Arabic edition of the 1st book on Sep.2003.. I felt how it's different than the movie,The characters mor...

Wheeeeeere do I even start with this? WHERE. Every human and their bobcat has reviewed this book, but I'M GONNA ANYWAY BECAUSE MY THOUGHTS ARE IMPORTANT. (I am also a Slytherin, FYI.) I'm also really angry because I'm giving it 5-stars because it's so freaking clever. But I've got complaints. But HECK. Life is short. Eat dessert first. Give books 5-stars. But I feel emotionally manipulated by this sneaky paperback, DARN YOU HARRY POTTER AND THE D...

(So I never did a review of this and am deciding to add one now.)I'm a Millennial, and like most Millennials, I grew up with Harry Potter. Not just the books, but we kinda aged with him (or thereabouts). It's a coming of age story for our whole generation, whether or not we received our Hogwarts letters.And we were there together. We were at midnight release parties and movie theaters, lined up and excited to share in the adventure. I can't think...

http://www.youtube.com/watch?v=C0MSwa...>> آلان ريكمان،، وداعا<<ولأن كثيرين كتبوا ويكتبون عن هذه السلسة المدهشةسيكون الريفيو مكرس لتلك العلاقة المهمشةالتي ربما لم ينتبه إليها كثير من القراء لانشغالهم في أحداث متتابعة التشويقهذا الريفيو إهداء لروحا سنايب و ليلي...وه...

***** CONTAINS SPOILERS SO MAYBE DON'T READ THIS WHEN YOU HAVEN'T READ THE BOOK YET. :) ***** "The true master of death does not seek to run away from death. He accepts that he must die and understands that there are far worse things in the living world than dying." -Albus Dumbledore To you, yes you, reader of this review , should you decide to read this review from beginning up to the very end, I offer you my deep thanks for your resilienc...

REVIEW TO COME TOMORROW 'Do not Pity the dead, Harry. Pity the living, and above all, those who live without love.' it still feels weird to me me for finishing this series. I mean, I had read this series since August and I feel really ... weird. I feel like I just bought the first book yesterday instead of months ago. I feel like I just read the first book yesterday instead of months ago. Months ago, I thought I would feel okay when I finished th...

***SPOILERS:From an interview with Rowling on the Today show:http://www.msnbc.msn.com/id/19...Rowling said her original epilogue was "a lot more detailed," including the name of every child born to the Weasley clan in the past 19 years. (Victoire, who was snogging Teddy — Lupin and Tonks' son — is Bill and Fleur's eldest.)Harry, Ron and HermioneWe know that Harry marries Ginny and has three kids, essentially, as Rowling explains, crea...

"Words are, in my not-so-humble opinion, our most inexhaustible source of magic. Capable of both inflicting injury, and remedying it."Harry Potter and the Deathly Hallows. It was the end of an era, and then it wasn't.I can't express how thankful I am, for this series, for this world, for the magic, power and love behind J. K. Rowling's words. I don't know what I would be without Harry Potter.It's crazy how much time I spend reading the books,...

I started the Harry Potter audio books at the end of August 2016. It took me a little over 4 months to listen to them all (I fit a few others in-between) but I'm so happy I finally finished. If you haven't read them before, or you're a long time fan looking for a re-read I can't recommend the audio books enough. Jim Dale does a fantastic job with the narration. I can see myself going back one day and listening to them all over again! Now ...

Lo que lloré con este libro no tiene nombre!!!! Todavía no puedo creer todo lo que pasó, nunca imagine que los personajes terminaran como terminaron, me dolió el corazón con muchas escenas. Totalmente inesperado y lleno de acción.Amé toda esta saga! Reseña Completa: http://bastvilard.blogspot.com/2015/0...

It was September 1998; the third Harry Potter book had just been released. Pottermania? What's that? It was still unknown except to a vast population of younglings who'd read it... and I fell in love. Oh, how I fell in love. I fell in love with the poor, starved-for-affection, later known to be a twit Harry. I fell in love with the pretentious know-it-all Hermione. I fell in love with the awkward, grew-up-in-his-brother's-shadows Ron... and most ...

"Do not pity the dead, Harry. Pity the living, and, above all those who live without love." Harry Potter and the Deathly Hallows literally touched the deepest part of my heart. This book has many layers and each one was refined by the smartest author I've ever known. J.K. Rowling always has a plan, she never threw anything into her books without thinking it first. In this case, I think she planned the ending of this book since she started wr...

Harry Potter changed my life. If I hadn't read Harry Potter when I did I would not be the same person today. What I am today, in a part is due to Harry. I cannot really say enough to make you understand how much Harry Potter means to me. The copy I own is not signed by J. K. Rowling but it is signed by Daniel Radcliffe!

And so it comes to a close, this amazing series, with a battle royal. Which of our most loved and most loathed characters will survive? Which side will prevail? What secrets will be revealed in this final episode? The Harry Potter series is one of the triumphs not only of modern marketing but of contemporary literature. While the danger in any series exists that the joy of newness has rubbed off, Rowling keeps us interested by offering continued ...

Was this book so awesome because it finally addressed all those long unanswered questions?  Yes.  Was this book just fantastic because we finally know what happens to everyone?  Yes.  Was this book wonderful because Rowling was ruthless and took no prisoners?  Yes.  Was this book splendid because we knew all the characters and cared about them like they were real?  Yes.  Was this book so great because it made you laugh, cry, gasp, emote o...

In all honesty I am for once in my life simply lost for words. This DESTROYED me. This ripped me apart, then put me back together, then ripped me apart all over again. If this is not a good finale, then I do not, and will never know, what is. This brought it all. Every quality deemed to each Hogwarts house, bravery, skill, cunning, ambition, knowledge, wit, honesty, equality, plus action and adventure, were prominent throughout the entire book. J...

grrr. *spoilers*This book was meant to be a masterpiece.It wasn't. I was VERY disappointed with the last portion of the book. But the criticisms are for later.I've always thought that JK's writing was admirable if a little underdeveloped, but the paragraphs just don't seem to flow together as well as they used to.They finally leave school. I never thought they would, but it sure as hell was an exciting notion. However the lack of supporting chara...

This is the fourth time I read this particular book and this time I listened to the audiobook narrated by Stephen Fry and IT WAS AMAZING <3Around the Year in 52 Books Challenge Notes - 38. A book about an anti-hero (I kind of cheated - it only features an anti-hero)

Ladies and gentlemen,I present you:THE BEST BOOK ON THIS GLOBE

Me cuesta describir cómo me siento en este momento. Algunas sensaciones son inefables, indescriptibles, tratar de explicarlas sería desvirtuar su encanto, así que solo voy a decir que, sin exagerar y sin temor a humillarme, leer toda la saga de corrido ha sido una de las mejores experiencias de mi vida.

What a wonderful ride this has been. A long-overdue re-read was just what I needed. I can step back from the hoopla and step back from the movies and really get into all the Grindelwald passages and connect the dots with Dumbledore. Best friends, no? One creates the wizarding war and sends his wizard troops out to conquer based on a young Dumbledore's words, only to end in a duel that leaves Dumbledore with the Elder Wand that was in his friend's...

He-Who-Must-Not-Be Named is on the loose and is practically unstoppable at this point. He also took special interest in killing Harry Potter whose main mission for the book would be not to die long enough to fulfill the mission given to him by Dumbledore in the previous book, thus no Hogwarts studies this time; it is about stayin' alive for Harry:Something I noticed again during my reread of the series, especially this book: J.K. Rowling is not a...

"Do not pity the dead, Harry. Pity the living, and, above all those who live without love." The last stand. Holy shit, this was definitely one of the best books I've ever read. It was interesting to the core and never bored me for even a second. This was through and through a pain in the ass. It pained me to read the last chapter, the last book. I didn't want this to end. Still don't want to.(view spoiler)[Fred, Dora, Lupin... Snape... (hide ...