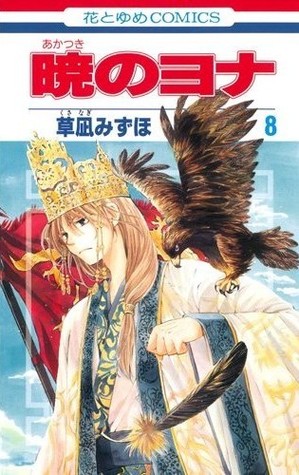 悪徳領主・クムジを討ち、阿波を救ったヨナ!緑龍・ジェハも仲間になり、残す四龍は黄龍のみだが!? 一方、戦がなくなり、自国を守れない現状を歯痒く思う地の部族長・グンテ。そんなグンテに、池心城を訪れたスウォンは模擬戦&お祭りの開催を提案。スウォンの真意は!?
---
Details 暁のヨナ 8 [Akatsuki no Yona 8]
Title
暁のヨナ 8 [Akatsuki no Yona 8]
ISBN

9784592190882

Author

Mizuho Kusanagi

Release Date
Mar 19th, 2012
Publisher

白泉社 [Hakusensha]

Language

Japanese

Genre

Sequential Art

,

Manga

,

Fantasy

,

Romance

,

Shojo

Rating
Reviews 暁のヨナ 8 [Akatsuki no Yona 8]
Honestly this is starting to get a little boring can we get to something important...

Yona's search for the dragons continues. Now she's looking for the final one, the yellow dragon.But the real question is...what will she do once she's gathered them all?And what exactly has Su-won been doing during these past 3 months? Yeah. It's only been 3 months...............And now time for a small outburst from a fangirlOHMYGOSH! THAT LAST PAGE! MAY THE SHIP SAIL AND LET NO CANON DESTROY IT~

Sio-Won looks majestic here. Hate him but the pic isn't too bad.

E giungiamo in pari con l'anime.Inutile dire che pretendo una seconda stagione (anche tre o quattro) perchè più avanti ci saranno dei momenti così kawaii che... boh... Seriamente, gente. perchè non l'hanno più rinnovato.Ad ogni modo finalmente la compagnia ha acquisito l'ultimo membro: zeno :3

This is a consistently good series.

This volume basically comprises the chapters at the end of the anime. Now I'm getting into the rest of the story and I'm so excited because I'm in love with this manga. I love the story and the characters are the best.

So I have mixed feelings about this volume. Overall, it's wonderful and totally worth reading. It's not as fantastic as the previous volume, but not every volume can be written in gold. What has me on the fence are the three chapters in the middle of the volume that are Su-won centric. We haven't seen that guy since the first few volumes, except for briefly in some of the flashbacks and in one of the last few chapters in volume 7. So I felt...

This volume is Soo-Won centric, although it must be noted that the first and last chapters are still about our main squad. But the antagonist of this story, Soo-Won has remained more or less a mystery so far. While Yona and her group have been going around collecting the four dragons, Soo-Won has been rebranding the kingdom. He has a different vision from the pacifist King Il, but he also is not focused on war as earlier thought. The story is abo...

I cannot help but be amazed by Soo-won. He may be a terrible person (for the cold-hearted murder of Yona's father) but I feel like there is still some goodness in him. And he is also showing his prowess in ruling a kindom and uniting the tribes. He surely is an interesting character and I would love to learn more about him. Also, I feel like Soo-won would die at the end, because when he said he cannot die yet because he has somethings to do, I fe...

I am so in love with this entire story! The art is awesome, and the characters are amazing. I haven't felt this much anticipation in a story for a long time. I love Yona's character growth and I'm excited to see her become a total badass warrior princess. Kusanagi does a marvelous job on that, personally I think that a lot animes mess up on the character development, where it's like "poor weak me" then one episode later "I'm the strongest of them...

I downgraded this a bit because I don't really care about Su-Won - I know he's a master manipulator and Giant AssHat, so I really didn't want to spend time with him. Although, his piece did make me wonder whether or not Yona will be able to bring the Earth tribe under her banner because they all seem to love their General and he is intrigued but Su-Won.I would've liked more time with the Yellow Dragon. Also, the last chapter was my favorite. I to...

Zeno, the final yellow/golden dragon has arrived. So far he seems to be unable to do anything much. In fact, Kija's most memorable quote by far during the book is ( while pointing at Hak and yelling at Zeno) " Aren't you ashamed of yourself. That man( Hak) is threatening your place as one of the 4 dragons!" while Hak smiles to himself....Meanwhile, Soowon seeks the Earth Tribe's leader, GuenTae, a extremely talented warrior. Guentae remains suspi...

This volume (and the corresponding part of the anime) intrigues me, as it would be really easy to just ignore Su-Won and paint him as evil. But that isn't happening and it's interesting to see Yona's mixed feelings about it, and it makes me really wonder where things will end up in the end. The end of the volume though is one of my favorite Hak & Yona scenes.

I was fully invested until they anti-climatically found the last dragon, and then the story shifted for a time to the King and politics, which I ended up skimming. It returned to Yona but her story is rather aimless now that she's completed her main objective, so I've pretty much lost all interest - not sure if I'll be continuing.

hak just killed me :')))))) it was so beautiful. soo-won confuses me i don't know how i should feel about him but i loved that whole arc aND THEN YONA TRYING TO TAKE UP THE SWORD. AND SHIN-AH!!!! i started crying the moment he showed up he's so sweet and good and precious and i adore him. AND ZENO. I LOVE HIM SOOOOO MUCHHHHH SDFNGJGDKFNJD

3,5 Sterne Mir war es zu viel Su-Won und zu wenig Yona und die Drachen :( Ich freue mich trotzdem schon sehr auf den nächsten Band, da ich unbedingt mehr über den gelben Drachen erfahren möchte. Irgendwas stimmt mit ihm nicht...

This volume is the last volume that's included in the series. And oh my gosh it was so good. This contains some of mu favorite scenes so far, and I can't wait to continue. The characters this story everything is just so amazing! I can't stop loving this series!!!

BLOG: www.adictaxictoxico.blogspot.com.coWaaa necesito conseguir con el siguiente tomo...!!! me ha gustado que se ha visto como la protagonista a madurado y como se esfuerza también para no ser una carga para los demas.

This volume was so good! You see different sides of the characters and meeting the final dragon was not at all like I expected. I can't wait to see what happens next!

Focus on second tier characters in interesting and fun ways. Still the Yona I adore.

I like the story-line with Yona and the Dragons, and the side story line with Su-Won. I'm curious about this Yellow Dragon...

The whole middle of this story was a bit slow and uninteresting. But the ending made up it. I love Hak and Yona!

Another great volume, I love seeing how Yona comes into her own.

I still love this series, but this volue was so battle-heavy that I skimmed every fight scene.

DEAD DEAD DEAD I AM DEAD HAK HAS STABBED ME RIGHT IN THE KOKORO

It was ok - didn't care for the Su-Won chapter but the ending came back to Hak and Yona so that was good.

Love this series. And the anime is also good. Another good volume.

see full review @ Katie's CornerToday I have one of the mangas that is ongoing and will be ongoing for a long time. I mean now that I'm writing this review it's the end of August, but now that it's going live it should be either November or December. Ah, so it's December. Well, let me end this reminiscence about time and get back to the review.Let's say this: currently (at the time of me writing the review) there are 100+ chapters and 1...