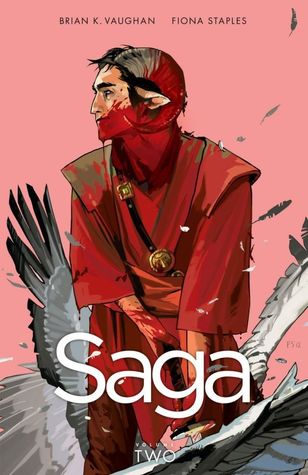 From award-winning writer Brian K. Vaughan (Pride of Baghdad, Ex Machina) and critically acclaimed artist Fiona Staples (Mystery Society, Done to Death), Saga is sweeping tale of one young family fighting to find their place in the universe. Thanks to her star-crossed parents Marko and Alana, newborn baby Hazel has already survived lethal assassins, rampaging armies, and horrific monsters, but in the cold vastness of outer space, the little girl ...
---
Reviews Saga, Vol. 2
Dear Mr. Vaughan, I do not know what process you go though to produce comics like these. I do not know what dark alchemy you perform, what infernal pacts you have agreed to, what terrifying drugs you must imbibe. I have no idea what arcane rituals you must perform every day, what odd odd habits of diet and exorcize you must maintain to keep your mind limber and sparking, to write things like this. I just wanted to say, whatever it is you're doing...

This series continues to blow me away! Loving it!

review to come, but man, am i loving this series!okay, time for a real review! it's hard to know where to begin….this series is all told from the POV of a girl, detailing the events and adventures of her baby-years and before, including the romantic forbidden love between her parents. it was not, however, love at first sight. but it's not all lovey-dovey stuff, nor even lovey-punchy-with-a-rifle stuff. there's also … this and how much do i lo...

''Never worry what other people think of you, because no one ever thinks of you.'' Give me an S! Give me an A! Give me a G! How about another A?… SAGA all the way. Oh man, I was never that into comics. Sure, there's a couple I came to enjoy, such as Ms. Marvel, Vol. 1: No Normal, Injustice: Gods Among Us, Vol. 1, The Wicked + The Divine, Vol. 1: The Faust Act… but I never felt so attached to that of a bundle of characters in a same ...

Loving this series so far! It's bizarre as hell, but AMAZING! Reminds me a lot of the old Star Wars movies.

The art is beautiful, the story is so complex and intriguing and I just love it a lot so far.EVERYONE WAS RIGHT ABOUT THIS SERIES

This comic book is an incredible adventure right from page 1.I seriously could not put this story down. It made me laugh, smile, and even tear up at one point (Barr…). I never knew what to expect from the incredible ensemble of characters and I think that made the plot that more epic.The chemistry between all of the characters is phenomenal.Izabel, Gwendolyn, and of course Alana are so damn badass.And that ending was AMAZING.Why have I waited s...

I put in requests at the library for these books. Did I take the time to look at how many holds they have on them? Nope. So I've ended up with Volumes 2 and 3 first and weeks to go before I'll get Volume 1. I still read this..because I'm a rebel like that. Plus my library sends letters out on over due books that scare me. This is a fun book. Told from the point of view of the young baby. It's well done and funny. Plus the art work is wonderful. P...

If possible, this was even more wickedly delightful than its predecessor.• We're showered with some much-wanted backstory on my favourite duo:• Get introduced to a new set of badass mofos:• Feast our eyes upon more gloriously graphic art:• And of course, get a glimpse of the most adorable little bean that is young Marko:• Bonus content – Harambe makes an appearance (forgive me):

These are just genius. Funny, amazing and consistently interesting world, rad af characters. I wish I'd read this earlier today so that I had time to go grab the others from the library before it closed.

A couple of star-crossed lovers from two different species on opposing sides of an interstellar war are on the run in a wooden rocket ship with their infant daughter and her ghost babysitter as they are pursued by the forces of both sides including a royal family member who is a robot with a television for a head as well as a bounty hunter who has an oversized cat who can tell when anyone is lying. Geez, why can't any comic book creators come u...

Actual rating: a low 3.5 stars.Okay, so I'm not nearly as enthusiastic about this one as I was about volume 1 ← this might (or might not) be the understatement of the century. Volume 1 left me feeling like this:Yes, I am a cigarette smoking dude with a moustache and over-gelled hair in real life.This volume? It left me feeling like this:Yes, I am also a freaky-eyed sausage on paws in real life. I am so cool.But I am not completely insane yet . ...

In the first 6 issues of Saga (which comprised volume 1 of the trade edition), Brian K. Vaughan threw in enough weird ass shit to keep me in a delightfully perpetual state of "what the hell was that?" So much so that I worried the inventiveness might eventually wear thin, begin to feel as though it's trying too hard (as I sometimes feel with China Mieville's Dial H), or simply create such a labyrinthine mythology that it's just not worth trying t...

I'm gonna make this short since it's a volume 2 and you can check out most of my thoughts on my volume 1 review. All in all, I thought this was a great second installment. It's still got the comedy gold, it's beautiful in a very real sort of way, and I tore through it really needing to know what happens next. It's left me impatient to get to volume 3, so I really can't complain. If you enjoyed volume 1, this one isn't quite as great but still, yo...

First read April 2014Reread in September 2015I FORGOT HOW MUCH I FREAKING LOVE THESE

Vol. 1 ★★★★I completely loved this. I was enthralled the whole time learning about Hazel and the events that lead up to her creation. This world is so creative and imaginative that I'm just blown away. This is one of the best graphic-novels out, and my words won't do justice as to why I would recommend this to every living soul. The main theme in this book is the blind prejudice that all these souls have grown up believing in, because it ...

MY BLOG: Melissa Martin's Reading ListOMG! I loved this one even better than the first, although, there is one monster that will give nightmares for some time. You will see :-DSo Marko's parents get beamed on board and they are not happy to see that he married Alana who is supposed to be an enemy of their race. And, when they get there, Marko's mom banishes our wonderful ghost friend Izabel. Soooooo.... Marko goes off through the portal to find h...

Edit 06/14 : Reread before Volume 3 (always fucking fantastic)Mesdames et Messieurs, I'm pleased to announce that... this awesomeness of a book is my first 5-stars rating for a graphic novel! Prepare yourself for the love! ✭ Remember how I was amazed by the storyline of the first Volume? Scratch that : this one is even better. That's simple, we never seem to be able to breathe the whole time and the alternative POV bring more tension to the sto...

This series just cracks me up!

Such clever, so art, very character. Don't judge me. What did you want me say? It's Saga, you already know it was good.

Brian K Vaughan's epic Saga continues, as does the awesomeness from the first volume!Lovers who each come from opposite sides of two warring worlds, Alana and Marko have become the symbol for a possible union between the planet Landfall and the moon of Wreath. However, since the governments of both Landfall and Wreath have no interest in making peace with each other, they have declared Alana & Marco to be a threat to their ways of life, and have ...

3.5/5 StarsBuddy reading this entire series with my favorite Princess CelesteAnother short review.I find Volume 2 of Saga to be a bit better compared to volume 1. We're starting to know more about the Star-crossed main characters, their past, family, and their hunters. It's interesting to see how Marko & Alana relationship develop since they're practically Romeo & Juliet in a Space Opera setting and also the narration done by Hazel added a nice t...

Loving this series so far. It's batshit crazy but just totally great. I think if it arrived in my lap in novel form I would be in dire straits but the imagery is amazing and there's something nostalgic about it that takes me back to my comic loving days. Also love that it celebrates difference. Corking.

4.5 stars God these books are so weird. But they're really, really good. Like, when I pick them up I can't put them back down! Took me forever to get a hold of this second book because of library holds and all. So I didn't remember the first book very well but this book picked up smoothly.I loved the dynamic between the in-laws and the mom. For example: The flashbacks of how Hazel's parents fell in love were probably my favorite parts, not necess...

Star-crossed lovers Marko and Alana and their baby Hazel are still on the run in Saga, Volume 2. In this volume, we also get a chance to get to know Marko's parents and of course there is a lot of action going since Marko and Alana are still being hunted across the universe. It has actually taken me quite a long time to read this volume. I bought it last summer and I have just dragged out reading it since I knew that as soon as I read it would I ...

Another enjoyable read. Some things were visibly improved, but overall I felt that Volume 2 was on about the same level as the first. These comics are fun to read, but I'll probably never understand people praising them to the high heavens.Among the new characters, I really liked Barr and really disliked Gwendolyn. As for the regulars, Lying Cat is turning out to be my favourite. And even though he's awesome, that does say a bit about the others....

I'm pulling out the 5 stars. I don't that often. A pleasure from beginning to end. So fresh and stimulating. Why can't I find books that have this effect on me? To be honest, I read it in the store, but ended up buying both volumes to show my appreciation. If you're not familiar with the first volume, it's kind of sf and fantasy freely mixed together, with modern, perfect-sounding dialog. Probably like something appearing in Heavy Metal Magazine,...

Since you asked so sweetly in all your half-nakedness, Marko, I will GLADLY continue!!This volume has much more backstory than present day. We get to see how Marko grew up (and child Marko is ADORABLE) and then how he and Alana met. *snickers*And it also tells us a little bit more about WHY these two 'enemies' came to understand and eventually love each other. And also the book which started it all. The art, of course, is still fabulous. The wit,...

Saga is a series about two parents that just want to give their child a good life in a world that's fallen into a complete war and chaos. It's a simple dream that's easy to connect with. It's lighthearted and fun, and at the same time deep and telling.After a book so funky as the first one, I'm not sure I should've expected anything, but what really surprised me in the second edition is how Brian K Vaughan added this brilliant parallel between th...

I freaking LOVE this series!! Believe the hype -- it's epically awesome. A heady mad mix of adventure, space opera, humour and a love story. You will be shown things you have never seen before to defy your imagination. The characterization is phenomenal -- I love these creatures who have wings and horns and TV faces and giant lie detector cats. This has instantly become a favorite. Cannot wait to read more. Seriously YOU NEED TO READ THIS.