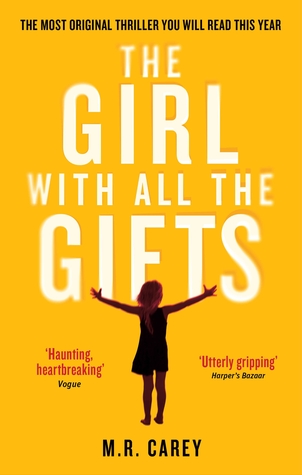 Melanie is a very special girl. Dr. Caldwell calls her "our little genius."Every morning, Melanie waits in her cell to be collected for class. When they come for her, Sergeant Parks keeps his gun pointing at her while two of his people strap her into the wheelchair. She thinks they don't like her. She jokes that she won't bite, but they don't laugh.Melanie loves school. She loves learning about spelling and sums and the world outside the classroo...
---
Details The Girl with All the Gifts
Title
The Girl with All the Gifts
ISBN

9780356500157

Author

M.R. Carey

Release Date
Jun 19th, 2014
Publisher

Orbit

Language

English

Number of pages

460

pages
Genre

Horror

,

Fiction

,

Science Fiction

,

Zombies

,

Dystopia

,

Apocalyptic

,

Post Apocalyptic

,

Fantasy

,

Thriller

,

Audiobook

,

Adult

Rating
Reviews The Girl with All the Gifts
Creepy, eerie, & unexpected! I enjoyed this one!

This is the story of a girl, locked in a room, who is strapped into a chair every morning while a man holds a gun to her head. She's wheeled into a classroom in which there are other kids strapped into chairs just like hers, where a woman teaches them lessons that they will probably never need to learn.This book is like a fantastic combination ofthe scrupulously researched medical thriller aspects of Mira Grant's Deadline + the queer, feral cur...

now no one can yell at me ever again: https://www.youtube.com/watch?v=HjGkB...argh, another tricky-to-review book. i think it's safe to discuss the fact that this book is about zombies. that cat is outta that bag. but it's one of those new spins on the zombie-tale, like Raising Stony Mayhall and Zone One and The Reapers are the Angels, where the focus is not "run away from zombies aaaaaahhhh," but one which comes at the zombie story from a social...

I was duped.I thought The Girl With All the Gifts was about a girl who had "all the gifts" and was somehow a modern Lilith (say, like, Lilith in Supernatural as the little girl) and would bring about the apocalypse if she didn't learn to control her gifts.I was duped. Hard.And I'm glad I was. I'm glad the premise on the back of the book gave absolutely nothing away, only that we were going to meet a young girl by the name of Melanie, a genius and...

The most sure-footed novel I've read all year. A dystopian thriller with a real, beating heart. Recommend. Recommend. Recommend.

The last book I read (which was very good) took me 16 weeks to get through.This one arrived yesterday morning. My wife got her hands on it first and finished it by the evening. I took over and have finished it 8pm on the next day (today). It's not a short book, 460 pages of reasonably small font. It *is* a very compelling book. The opening is the strongest I've read in an age.It's the first book I've bought in a long time. Publishers and authors ...

Ugh. This book has what might be the greatest first act I've ever read. I can't describe it, because part of its wonderful tension relies on the reader's ignorance of the situation. It's absolutely brilliant though, and tells a story of a tragically fascinating girl and her relationship with her teacher and the world around her. It promises so much. Then act two begins and almost all of that is thrown out the window for boilerplate thriller terri...

Since I'm exactly the type of person who avoids horror at all costs, I told myself there was no chance I was ever going to give this book more than a glance. But my curiosity got the best of me, like it always seems to do. And to my surprise, I devoured the hell out of this book. That has a lot to do with the fact that it's a very interesting story, almost not at all horrific. Some parts are a little disgusting, but never more than that. To b...

A little different than what I was expecting but still great!

To be fair to this book, it is not really the sort of thing I would normally read – however, it was chosen by my book club and the initial description looked quite promising. Melanie is ten and, when we meet her, she is in a base – her entire world consisting of her cell, a corridor, a shower room and a classroom. Five days a week, Melanie is strapped into a wheelchair, fastened securely and wheeled into the classroom where she, and her fello...

Despite the gushing praise this book has been receiving -- including a blurb by Josh Whedon -- I approached The Girl With All the Gifts with a fair amount of trepidation. I'm a zombie traditionalist at heart, which means my foray into "experimental" zombie fiction -- literary or otherwise -- has met with mixed results. I normally don't like my zombies to talk, fall in love or have existential crises. Hell, I don't even want my zombies to run; I'm...

Buddy read with the moistest awesome... My drinking buddy Mitchell, Kelly Goldblum and The Book pusher Ed I had this review all planned out in my head. Then I went to sleep and it's gone. Getting old sucks, kids. This may be kinda spoilery so read at your own caution. It's hard to not say anything about the book. I went into it blind and that might be the best way to head into it. I didn't even realize it was a zombie book-and don't get me wrong...

Possibly 4.5 stars!Wow! Certainly one of the most unique, most original books I have read and I won't do it injustice by spoiling it for other readers or giving away any hint as to what this book is about. I suggest for those who haven't read it to read it blind. This is one of those books that you'll appreciate more when you know less about it before reading. And as much as I would want to classify this book, I feel like it would be irreve...

REVIEW TO COME TODAY. Melanie sometimes says, "I won't bite." she says it as a joke, but Sergeant's people never laugh. this book tells us about a 10 year old kid named Melanie. She is very smart little girl and she lives in an army base. She has a favorite teacher, her name is Miss Justineau, Helen Justineau and she always loves whichever day Miss Justineau teaches. but one day, something happens to this army base. Hungries are inside the army b...

Find all of my reviews at: http://52bookminimum.blogspot.com/ "Then like Pandora, opening the great big box of the world and not being afraid, not even caring whether what's inside is good or bad. Because it's both. Everything is always both. But you have to open it to find that out." Melanie has been a prisoner for a long time. All of her days are the same. Guards come to her cell, strap her securely into a chair and wheel her down the h...

Ten year old Melanie, a bright curious, lovable child looks forward to the days that Miss Justineau teaches class. She never knows what day that might be, but whatever day that is-- is the happiest of all. Melanie notices that Miss Justineau is different from other teachers. For one thing she is always wearing 'something' which is 'red' in color. Melanie notices everything about Miss Justineau. Melanie especially loves the Greek Mythology stories...

One mark of a great book is how it plays with reader expectations. The strategy of taking a conventional genre story and turning it sideways often works. Sometimes it can fail, coming across as little more than a clever gimmick. But sometimes it succeeds beyond imagining, particularly in the hands of an author with talent like Carey's. The Girl With All the Gifts uses lovely prose to explore the growth of ten year old Melanie, a child of the ap...

شما تصور کنید من تو دوره امتحانام اینو خوندم و این در حالیه که برای امتحان فردا هیچی نخوندم. یه جورایی عذابوجدان دارم. ولی این کتاب یه چنان غلیانی انداخته به جونم که فک کنم بتونم تا صبح بیدار بمونم و نگران امتحانم نباشم. دختری با تمام موهبتها، تو ژانر...

Buddy Read with the lovely Anasylvia :)I must admit that I went into this read blind...completely blind. I had no earthly idea what it was about but I noticed the high ratings and I was a bit intrigued by the title. Had I known the genre, I would have avoided it at all costs and that may be the reason why the synopsis is slowly revealed throughout the book.I absolutely loved the build up of the story and throughout most of the book, I wanted to k...

When Joss Whedon says, "read this," I heed the call.Only 10 years old, Melanie is brimming with curiosity about the world and unabashedly enthusiastic about school. Blessed with a genius intellect, a kind heart, and a love of mythology, it's easy to fall in love with the precocious protagonist of The Girl With All the Gifts. However, despite these gifts, the world is very afraid of Melanie--every morning, two armed guards arrive at her cell, stra...

5 of 5 stars at The BiblioSanctum http://bibliosanctum.blogspot.com/201...I confess, I'm not very good when it comes to pulling information out of book descriptions. But all I know is, when I first heard about The Girl with All The Gifts, it piqued my interest right away. Here you have a story about a bright young girl named Melanie, who for some reason everyone seems deathly afraid of. Being held at gun-point while being strapped into a wheelc...

The Girl with All the Gifts is the book with all the treats.Deciding what to have for supper was a subtle battle of attrition. The fact that Pasta won is a victory I could have lived with. Working within the defined limits of cooking, I prepared everything that was needed, left the Pasta boiling, and waited. Everything was going smoothly, almost asking, begging, that something go wrong, just as it does every time I walk into this alien dimension ...

I think I just found my new favorite zombie book. Melanie is a very special girl. Dr Caldwell calls her "our little genius."Every morning, Melanie waits in her cell to be collected for class. When they come for her, Sergeant Parks keeps his gun pointing at her while two of his people strap her into the wheelchair. She thinks they don't like her. She jokes that she won't bite, but they don't laugh.Melanie loves school. She loves learning about spe...

It's not usual that I enjoy zombie related books. I haven't read much, but I've seen a lot of movies and several tv series about it. When I first bought this book months ago, the only thing I knew about it was that it's about zombies. I was a bit reluctant to buy it, and also read it a few weeks ago, because I didn't see how an author could make a zombie book standout. M. R. Carey managed to do one of the more difficult things to do, and that is ...

Great world building and a unique premise, but it was a bit listless in the middle. The audiobook narration is great, and overall I enjoyed the ending. I can't say much about the story because this is definitely one which you'll want to go into with no prior knowledge; it's more fun that way. Just expect lots of violence and moral dilemmas. 3.5 stars

This is my Book Of the Month- September 2016, with GR group- Owls Be Reading.**Mild Spoilers Ahead**This book definitely surpassed my expectations. This is the first time I have read a Zombie book. Frankly speaking I never found Zombies very scary but after reading this book my perspective has undergone a HUGE change. Zombies are known as Hungries here and just imagine an apocalyptic world filled with them...Cannibalism all around and it gave me ...

"You can't save people from the world. There's nowhere else to take them."4.5 out of 5 starsThis book. I might change my mind and give it 5 stars. I'm not sure. It's not an immediate favourite, but I loved it to pieces.I don't like zombies. I don't like horror. But I do like my fair share of thrill, mystery and intrigue. And this was intriguing as hell.Originally the plot threw me off. Until I saw the trailer. I just had to get hold of th...

I was really looking forward to this book. I had heard so many great things about it. A little girl zombie! Post-apocalypse! Ethical concerns! Wow.And a great cover, by the way. It's very striking. The book started out great. I was only beginning to get glimmers of disappointment around page 344. This is about 85% of the way through the book. So it is a strong book. However, I had some complaints.FIRST, WHAT I LIKED: - Great plot. Wonderful idea ...

www.melissa413readsalot.blogspot.comI have had this book for quite sometime and just now getting it finished! It is very nice to finally get to a book and love it so much. I did read reviews before I got the book so I already know it's a zombie book and you will too if you read mine or anyone else review. But...wow.. there is fungus among us.. Yeah, I said that and not I'm not going to talk about it! :) These poor kids are brought in during the w...