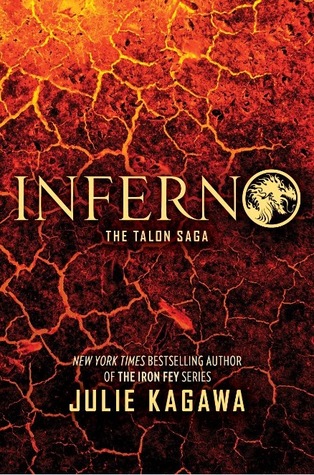 From the New York Times, USA TODAY and international bestselling author of The Iron Fey and the Blood of Eden series comes the fiery, hugely anticipated finale of The Talon Saga… INFERNO What if dragons walked among us in human form? Enter a modern fantasy of heroes, sacrifice, forbidden love and enemies turned allies who have no choice but to fight side by side… Don't miss the epic conclusion as Ember, Riley and Garrett face off against Dant...
---
Details Inferno (Talon, #5)
Title
Inferno (Talon, #5)
ISBN

9781335017260

Author

Julie Kagawa

Release Date
Apr 24th, 2018
Publisher

Harlequin Teen

Language

English

Genre

Fantasy

,

Dragons

,

Young Adult

Rating
Reviews Inferno (Talon, #5)
I NEED THIS BOOK NOW!!!!!!!!!!

The cover is dope. Holy macaroni Erm... no. Just no. 2019?!? I'll have bitten the dust by then. And I'm planning to read the book in german too. That would be... 2020? Jesus Christ I'm not gonna make that. Meet me in hell.

GARRET AND EMBER BETTER HAVE THEIR HAPPILY EVER AFTER WITH A BEAUTIFUL LIFE TOGETHER. THAT IS ALL IVE WANTED FOR THEM SINCE BOOK ONE DONT LET ME DOWN JULIE. ONE OF MY FAVORITE COUPLES/PAIRINGS EVER.

Oh my god I'm so excited for this book

I just can't omg this cover!!! Aaah haven't even read Legion yet. Damn. But this series it's just killing me, I don't know how I'll end up after this is over.