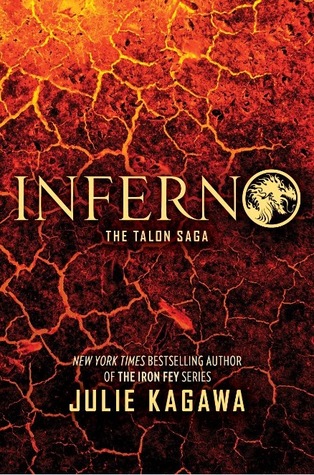 TODAY, WE STRIKE BACK.WE SHOW TALON THAT WE WILL NEVER ACCEPT THEIR NEW WORLD.Ember Hill has learned a shocking truth about herself: she is the blood of the Elder Wyrm, the ancient dragon who leads Talon and who is on the verge of world domination. With the Order of St. George destroyed, Ember, Riley and Garret journey to the Amazon jungle in search of one who might hold the key to take down the Elder Wyrm and Talon—if they can survive the enco...
---
Details Inferno (Talon, #5)
Title
Inferno (Talon, #5)
ISBN

9781335017260

Author

Julie Kagawa

Release Date
Apr 24th, 2018
Publisher

Harlequin Teen

Language

English

Genre

Fantasy

,

Dragons

,

Young Adult

,

Paranormal

Rating
Reviews Inferno (Talon, #5)
Five ⭐⭐⭐⭐⭐That was an amazing final battle! This book is adventure after adventure from the beginning to the end. There was no slowness to this book. I love this series characters so much, I actually was more into the characters than the dragon plots of the series. The characters are just so addictive in this series. My quick and simple overall: I WANT MORE TALEN SERIES BOOKS! Five ⭐️⭐️⭐️⭐️⭐️That was an amazing fi...

The Elder Wyrm had a plan to live forever and Ember Hill was the key. Caught up in the shocking truth, Ember is facing unsurmountable odd and her and pretty much all of humanity's only chance is if she can unite enemies against a common foe. But can trust the people at your back when hatred has been grown for centuries.Talon is preparing to release a weapon that could devastate the entire world and secure their power forever.It is always sad wh...

Updated May 1, 2018Inferno is exciting, emotional, gripping and amazing. Ember Hill has learned that she is the daughter of the Elder Wyrm, the ancient dragon leader of Talon who plans on world domination and vows to stop it. With the Order of St. George destroyed, Ember, Riley/Cobalt and Garret must journey to the Amazons to search for the only one who may hold the key to stopping the Elder Wyrm and Talon once and for all. Meanwhile, Dante trave...

Inferno is the epic finale to Julie Kagawa's sensational series, Talon! A world filled with dragons in the modern age fighting a long battle with the Order of St. George, the humans sworn to protect humanity from the dragon. But times have been changing greatly over the course of this series. Dragons and a few of the members of St. George have been working together to fight a common enemy, the Elder Wyrm.What I love about this series is how eas...

I have hoped and feared and laughed and cried - but this is it!!! the last installment of talon is over and I do not know if I should laugh or cry!!! this book - oh god I love this series so much and that is really a worthy end! I cannot say more but...the end

Een roostervrije dag, een van mijn most anticipated reads van 2018. Love.En wat een goed en geweldig slot is dit! Afscheid nemen van een serie is altijd moeilijk, maar wauw, het klopt. Er zijn niet veel series die ik met zo een tevreden gevoel over de verhaallijn afsluit.Deze serie is op papier een gewone ya serie, maar er is iets, iets met de draken en de actie en de interactie van de personages dat ik echt geweldig vind aan deze serie. Oh en de...

Good series, predictable plotA decent conclusion for a good series. I would have given it four stars of not for the fact that it follows the same formula as all of Kagawa's other books. I have enjoyed all of them, but knowing what will happen has made it predictable, and regrettably taken the thrill out of the story for me. Possible spoilers ahead. In all three book series I have read by her, the main protagonist is a strong willed young girl. Sh...

I NEED THIS BOOK NOW!!!!!!!!!!

Same Review Also Posted On My Blog:Dreamy Addictions Today, we strike back. We show Talon that we will never accept their new world The Talon Saga is one of my favorite series so far. I've been eagerly waiting for this finale since I've finished Legion last year. Inferno was really a good conclusion to the story and I absolutely loved it. It was an entertaining finale filled with action, thrill, suspense, and romance. Even though most of the twi...

Et voilà, une nouvelle série de Julie Kagawa se termine... elle confirme encore combien j'aime cette auteure et ses histoires. TALON est une saga très riche qui m'aura vraiment embarquée dans son univers. Si Inferno était un peu lent au départ, les 150 dernières pages n'ont été que pure adrénaline, j'étais tellement stressée que j'en ai eu mal à la tête! Le final fut explosif comme je m'y attendais, avec une fin surprenante, comme s...

*SCREAMING!!!!!!!!* my heart. so many feels. so many tears. this series means everything to me. i'm so sad that it's over, but i am so happy with the ending. INFERNO was perfect. the talon saga forever has a piece of my heart.

REVIEW: TALON - INFERNOSpoilers ahead, duh...Reading the book was like hiking up a massive hill, always going up and up and up and, finally, plummeting because there was a fucking abyss. That was metaphorical shit - and now for ordinary mortals: the story was absolutely awesome and thrilling and from a certain point on it was a total no-go. Let me explain to you what the hell happened:I started reading the book and from the get-go I was hooked. L...

Book Info Hardcover, 397 pagesPublished April 24th 2018 by Harlequin TeenOriginal Title InfernoISBN 1335017267 (ISBN13: 9781335017260)Edition Language EnglishSeries Talon #5Other Editions (12)Source:Netgalley EARCBuy book from Amazon B&N BOOK BLURB TODAY, WE STRIKE BACK.WE SHOW TALON THAT WE WILL NEVER ACCEPT THEIR NEW WORLD.Ember Hill has learned a shocking truth about herself: she is the blood of the Elder Wyrm, the ancient dragon who le...

I still remember when Julie announced this series and how excited I was about it. And now it's finally over. To be honest, the ending was very much a cliché - many series have ended similarily - but I didn't mind it. Thank you Julie, yet again, for another amazing series. I'm going to miss these characters so much. And now I have to wait in anticipation for her next series. I'M SO EXCITED.

A very fitting ending to the series and these audiobooks were really fantastic!

A fitting end to the Talon Saga with guns and dragon fire blazing #fantasy

Oh, man, this book was an epic finish to the series! I loved how it ended, and so much happened! Such a great book! There were losses, but a bright and happy future in front of them!

That was like the worst book I've ever read! I hated it! First off, I can't stand Garrett so the books were torture reading about him and Ember, I wanted to gag. Plus how lame was it that he got dragon blood and can now live just as long as dragons. And Ember and Cobalt were soul mates and they just gave up on it, it made me pissed. And Dante died! What?! That's horrible, and Ember didn't seem that upset about it...It just sucked, plus it swore l...

This book was disappointing. It ended WAY too tidily. There was a huge battle, but not one of the main characters died. statistically unlikely. Also instead of them having to deal with the whole you-will-die-but-i-will-live-forever situation kagawa conveniently wrote in a solution out of nowhere. in the 4 previous books there wasn't one hint of that. also the whole evil-scientist-is-my-secret-dad thing. Really??Also I'm not sure Kagawa has ever b...