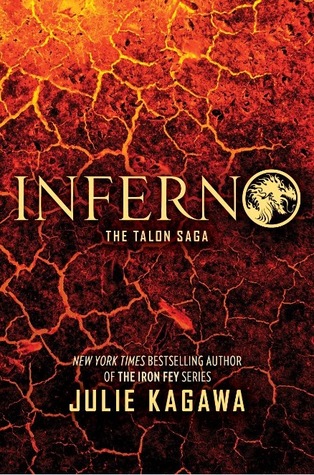 TODAY, WE STRIKE BACK.WE SHOW TALON THAT WE WILL NEVER ACCEPT THEIR NEW WORLD.Ember Hill has learned a shocking truth about herself: she is the blood of the Elder Wyrm, the ancient dragon who leads Talon and who is on the verge of world domination. With the Order of St. George destroyed, Ember, Riley and Garret journey to the Amazon jungle in search of one who might hold the key to take down the Elder Wyrm and Talon—if they can survive the enco...
---
Details Inferno (Talon, #5)
Title
Inferno (Talon, #5)
ISBN

9781335017260

Author

Julie Kagawa

Release Date
Apr 24th, 2018
Publisher

Harlequin Teen

Language

English

Genre

Fantasy

,

Dragons

,

Young Adult

Rating
Reviews Inferno (Talon, #5)
Five ⭐⭐⭐⭐⭐That was an amazing final battle! This book is adventure after adventure from the beginning to the end. There was no slowness to this book. I love this series characters so much, I actually was more into the characters than the dragon plots of the series. The characters are just so addictive in this series. My quick and simple overall: I WANT MORE TALEN SERIES BOOKS! Five ⭐️⭐️⭐️⭐️⭐️That was an amazing fi...

The Elder Wyrm had a plan to live forever and Ember Hill was the key. Caught up in the shocking truth, Ember is facing unsurmountable odd and her and pretty much all of humanity's only chance is if she can unite enemies against a common foe. But can trust the people at your back when hatred has been grown for centuries.Talon is preparing to release a weapon that could devastate the entire world and secure their power forever.It is always sad wh...

Een roostervrije dag, een van mijn most anticipated reads van 2018. Love.En wat een goed en geweldig slot is dit! Afscheid nemen van een serie is altijd moeilijk, maar wauw, het klopt. Er zijn niet veel series die ik met zo een tevreden gevoel over de verhaallijn afsluit.Deze serie is op papier een gewone ya serie, maar er is iets, iets met de draken en de actie en de interactie van de personages dat ik echt geweldig vind aan deze serie. Oh en de...

It's finished. Done. Completed. Insert various other synonymsAnd I figured out who Garret is. This book was a huge jump (if you will) from Karin Slaughter's novels. I mean the most intense romantic scene was the inserted scenes of cuddling between Garret and Ember. No complaints from me there tho. But what matters most is that the book wrapped up quite nicely. No missed characters, but then again some did die. But the major plus was that veryone ...

A truly epic conclusion to a brilliant series. I'm both happy and sad at the ending but in a good way. Everything was wrapped up nicely, no loose ends but a final book that felt whole. Although I'm a bit sad saying goodbye to the Talon Saga and all the wonderful characters (friends) I've made along the way, I'm look forward to more fantasy books by this author.

The final book in the Talon Saga is here, and as expected, I'm super impressed by what Julie Kagawa has given us for the sendoff.Finally, after five books, Kagawa caps off her best series yet in style. Yes, everyone probably thinks Iron Fey when they think of Kagawa first and foremost, and with good reason, but I do feel like too many people are sleeping on Talon and sequels. Let's just say that one day, when I got the bookstore to finally stock ...

Updated May 1, 2018Inferno is exciting, emotional, gripping and amazing. Ember Hill has learned that she is the daughter of the Elder Wyrm, the ancient dragon leader of Talon who plans on world domination and vows to stop it. With the Order of St. George destroyed, Ember, Riley/Cobalt and Garret must journey to the Amazons to search for the only one who may hold the key to stopping the Elder Wyrm and Talon once and for all. Meanwhile, Dante trave...

Such a good ending. My heart was ripped apart towards the end, but this was a good finale. I thoroughly enjoyed this series and can't wait to read her new series coming out this fall.

The actual quality of this series is just so far below what I'm used to reading at this point. I cannot take a book with the line "the dragon apocalypse is coming" serious in any regard. Only reason I'm not one starring is because I know I'm not the intended audience for this type of read.Recommended for readers just getting in YA and looking for something with just surface level entertainment value.

Inferno is the epic finale to Julie Kagawa's sensational series, Talon! A world filled with dragons in the modern age fighting a long battle with the Order of St. George, the humans sworn to protect humanity from the dragon. But times have been changing greatly over the course of this series. Dragons and a few of the members of St. George have been working together to fight a common enemy, the Elder Wyrm.What I love about this series is how eas...

"The final battle is approaching. I only hope we are ready."Oh gosh, where do I start? I always have so much trouble reviewing Julie's books because I have to reign in my gushing enough to say more than just "I loved it!" XDBut...I loved it!! There hasn't been a Julie book that I've ever read that I didn't adore to pieces. I love this series and while I'm sad to let it go, Inferno wrapped it up nicely! "It's either fight or conform to Talon. Even...

I have hoped and feared and laughed and cried - but this is it!!! the last installment of talon is over and I do not know if I should laugh or cry!!! this book - oh god I love this series so much and that is really a worthy end! I cannot say more but...the end

WAT EEN SERIErecensie binnenkort op myperfectbooklife 😋

Good series, predictable plotA decent conclusion for a good series. I would have given it four stars of not for the fact that it follows the same formula as all of Kagawa's other books. I have enjoyed all of them, but knowing what will happen has made it predictable, and regrettably taken the thrill out of the story for me. Possible spoilers ahead. In all three book series I have read by her, the main protagonist is a strong willed young girl. Sh...

Why must you end??? This was a very nice final book, and everything I wanted to happen did. However, that being said, I was not shocked by anything because I saw every little thing coming but it was still enjoyable! I'm so sad to say goodbye to these characters, and hope that maybe we can get some more books in this universe eventually.

This book was a really good finish to the series and I'm pretty happy with how it all ended. Lots of action, some revelations and a nice ending. I don't really have a lot to say about it other than that!

Wow, Julie Kagawa actually managed to make me not totally hate Riley anymore. I mean... it took 4.5 books to get there, but I'll take it. Also, that epilogue was underwhelming as hell and left a lot to be desired but whatever. I'm just glad Ember and Garrett got their happy ending and I can finally be done with this series and move on to better things

What a great conclusion to the Talon saga!Fast paced and action packed, I absolutely loved it.Even though I wasn't surprised by anything in this book, I'm just trash for this series and if you love a good story about dragons, pick this up!

REVIEW: TALON - INFERNOSpoilers ahead, duh...Reading the book was like hiking up a massive hill, always going up and up and up and, finally, plummeting because there was a fucking abyss. That was metaphorical shit - and now for ordinary mortals: the story was absolutely awesome and thrilling and from a certain point on it was a total no-go. Let me explain to you what the hell happened:I started reading the book and from the get-go I was hooked. L...

This book was disappointing. It ended WAY too tidily. There was a huge battle, but not one of the main characters died. statistically unlikely. Also instead of them having to deal with the whole you-will-die-but-i-will-live-forever situation kagawa conveniently wrote in a solution out of nowhere. in the 4 previous books there wasn't one hint of that. also the whole evil-scientist-is-my-secret-dad thing. Really??Also I'm not sure Kagawa has ever b...

I NEED THIS BOOK NOW!!!!!!!!!!

Same Review Also Posted On My Blog:Dreamy Addictions Today, we strike back. We show Talon that we will never accept their new world The Talon Saga is one of my favorite series so far. I've been eagerly waiting for this finale since I've finished Legion last year. Inferno was really a good conclusion to the story and I absolutely loved it. It was an entertaining finale filled with action, thrill, suspense, and romance. Even though most of the twi...

Everybody (mostly everybody) got their Happily Ever After ending, so I guess Inferno did what a final book in a series is meant to do. But I can't help but feel a bit disappointed in how everything went down. It was just so overwhelmingly convenient to see how these HEAs came about. After five books of hardship and danger, I guess Ember and Garrett and Riley deserved a good HEA ending, but in a world as crazy as the one they had been navigating f...