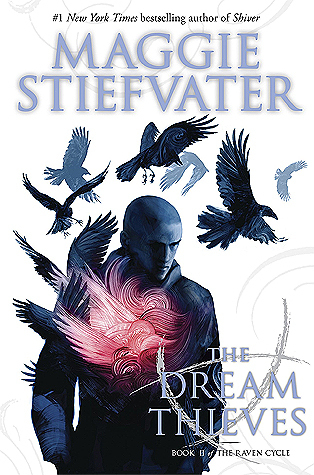 The second installment in the all-new series from the masterful, #1 NEW YORK TIMES bestselling author Maggie Stiefvater!Now that the ley lines around Cabeswater have been woken, nothing for Ronan, Gansey, Blue, and Adam will be the same. Ronan, for one, is falling more and more deeply into his dreams, and his dreams are intruding more and more into waking life. Meanwhile, some very sinister people are looking for some of the same pieces of the Ca...
---
Details The Dream Thieves (The Raven Cycle, #2)
Title
The Dream Thieves (The Raven Cycle, #2)
ISBN

9780545424943

Author

Maggie Stiefvater

Release Date
Sep 17th, 2013
Publisher

Scholastic Press

Language

English

Number of pages

448

pages
Genre

Fantasy

,

Young Adult

,

Paranormal

,

Magic

Rating
Reviews The Dream Thieves (The Raven Cycle, #2)
My new favorite of my books. It has All of My Favorite Things in it.

"While I'm gone," Gansey said, pausing, "dream me the world. Something new for every night."This review contains *spoilers*.The Dream Thieves picks up right where The Raven Boys left off.Gansey still searches the mountains of Virginia for the legendary Welsh king Glendower, a quest made more plausible by the group's discovery of a creepy, sentient, magical forest called Cabeswater.But in this book, all of this takes a back seat to Ron...

This is the fantastical story of a boy tormented by nightmares that literally--literally!--become real. Set shortly after the events of The Raven Boys, the students of Aglionby Academy are still on the hunt for a legendary sleeping Welsh king. This time, while we continue to get perspectives from multiple POVs, the story primarily focuses on Ronan Lynch, a troubled and angry 17-year-old who pulls dark objects out of his dreams. But when ley lines...

I JUST LOVE RONAN SO MUCH OK??ok I'm adding more.I really love how subtle Maggie Stiefvater is when it comes to the "big things" that happen in terms of the characters and what's going on. I don't want to talk about it too much because of spoilers, but I feel like some authors try to shove information down your throat, but Maggie knows how to do it in a much more natural, REALISTIC way, so much so that you don't even really realize she did it unt...

You guys don't even KNOW, you guys. You guys! Guys. This book, guys. This frickin' book!Spoilers below so avert your eyes you Dream Thief virgins.*Foams at mouth*How is it possible that a second book is better than the first book, which was out of this world amazing? It's hard, but man. This book. This book is everything YA should be. Everything YA Paranormal should be. It's everything that's good about my life, really. It's that good.The writing...

5 Stars I've been staring at an empty word document for much longer than I care to admit, trying to figure out how to put into words HOW MUCH I FREAKING LOVED this. Though I really enjoyed the writing in the first book, it completely blew me away here. The words were all perfectly chosen to craft simply beautiful and engrossing sentences. I don't have a way to describe it and the last time I tried:(She doesn't understand my feelings, appare...

This is a RE-READ because I'm freaking addicted to Maggie Stiefvater books. EVEN MORE: I'M FREAKING ADDICTED TO THE RAVEN CYCLE. I cannot even believe how incredibly FEELS DESTROYING, clever, incredibly written, mind numbingly beautiful, and intensely addictive this series is. Like ALL THE GOOD ADJECTIVES. WHACK 'EM RIGHT HERE. Omgggg. I AM MONSTROUSLY IN LOVE WITH THIS BOOK AND I CANNOT EVEN. Okay? Okay.So I first read this back in 2014. My bigg...

"While I'm gone, dream me the world. Something new for every night." I feel like I just woke up from a dream. Slightly disoriented, like I can't separate reality from fiction. Like I can't remember the exact context of this bizarre dream but I can recollect scattered images and emotions. Bliss. Anger. Agony. Pain.Love. For this series and its raw, complicated and real characters. "It was mint and memories and the past and the future and ...

"In and out,Like a motherfucking thief." I feel this intense love for Ronan that no other character shares. I've been obsessed with him since he first showed up, and it's only gotten worse after that. I enjoy reading about Gansey, Adam, Blue, Noah, but when Ronan is on pages it's like they come to life. I'm telling you, it's not normal the way i feel about him. When i read this book last year i was mad because i wanted it to be all about Ronan, ...

***27. March 2016***I rarely ever reread an entire series before the release of a new book, ergo my constant sequel amnesia, but this is the Raven Cycle . It's one of those books that just keeps on giving. The more you read, the more you discover. It has a really high reread factor as well because future actions shed light on past actions, turning each reread into small treasure hunts looking for those hints peppered into the story. And the cha...

5/5 I love Ronan so goddamn much starsPre-Dream Thieves Me: Okay, there is no way I could possibly love Ronan Lynch anymore than I do now.Post-Dream Thieves Me: Think again, bitch.I've written and re-written this review so many times now, that I've just accepted I'll never be able to put into words how much I love this series, and how much I loved this book. So I wrote a gif-review instead. Enjoy.This book:Ronan:Adam:Blue:Gansey:Noah:Kavinsky:The...

No les pasa que van a leer un libro con altas expectativas ya que su antecesor te encanto, pero al final este termina gustándote más que el anterior, bueno me paso con este libro. Tengo que iniciar diciéndoles que la portada de este libro es hermosa, desde que leí el primer libro de esta saga quede fascinada con cada uno de sus personajes, y definitivamente tenía que continuar con estos libros para conocer más de su historia y de todos esos...

This was supposed to be a BR with this bitch, but she decided to read without me and then DNF it halfway in because it was too boring. I'm questioning our friendship too. So like, I'm going to force her to finish this and BR the next book with me. When I finished The Raven Boys, I was left confused and bored and didn't really want to pick up this book because I didn't want to read something that was confusing as fuck and boring as fuck, but HOW W...

The Dream Thieves (RC 02), by Maggie Stiefvater: 5 "Dreams Come True" Stars "A secret is a strange thing." ~ Ronan Lynch.If anyone knows about strange secrets, it's Ronan Lynch. Turns out, Richard Gansey III's left-hand man has lots of secrets. All of them crazy. Crazy scary. Crazy unbelievable. Crazy heartbreaking. And, just plain crazy, crazy. In The Dream Thieves, book two of Maggie Stiefvater's Raven Cycle series, we learn them ...

Rex Corvus, parate Regis Corvi.The Raven King, make way for The Raven King. *rolls out the red carpet I hand-stitched myself*One word: Ronan. Ronan, Ronan, my dearest snake, Ronan. This book would be amazing just on the basis that it features an exclusive look at one of the most enigmatic characters in the series. Although, that isn't saying much seeing as all the characters are onions of mystery. However, Maggie Stiefvater is a gifted storytell...

"Suddenly, for the briefest moment, panic forced itself up. Am I a dream creature? Would I know?" ► 4.5 stars. No one is more flabbergasted than me to realize - to confirm - that Ronan Lynch is undoubtedly my favorite.RONAN. FREAKING. LYNCH.Ronan, who's so keen on showing the kind of thrill-seeking, self-destructive behavior I would usually hate and manages to make me love him nonetheless. Tell me, is there something more powerful than the anni...

4.5/5WHATReread April ? (gotta figure it out) to April 22nd, 2016This still stands at a 4.5/5 stars for me and it's still so great. This book is mostly about Ronan though unpopular opinion, he is not my favorite. I STILL LOVE HIM THO just not the most.So many things happen in all these books it's fantastic. LOVE THIS SERIES.

"While I'm gone," Gansey said, pausing, "dream me the world. Something new for every night."Well, obviously, Maggie Stiefvater can do amazing things with words. Beautiful things like this series. I was transfixed with The Dream Thieves. It's another fascinating novel made by a brilliant author.Some things still irritate me though. My best example: Ronan Lynch. Sometimes I just want to punch him in the face, especially when he behaves like the...

4.5, review to come later.

So much love for the Raven Boys *sigh*

"Reality's what other people dream for you." Damn these books. Three nights' worth of sleep because of them and I'm just finishing The Dream Thieves. I need to catch up, but firstly -- this book was magical and wonderful and set my heart on fire, gave it wings, plunged it into darkness and cemented the status of the series as a new favorite of mine. Go figure. Left with a shock back in The Raven Boys, we, or rather they, are still on a quest...

All of us have secrets in our lives. We're keepers or kept-from, players or played. Secrets and cockroaches — that's what will be left at the end of it all. Blurb: If you could steal things from dreams, what would you take?Ronan Lynch has secrets. Some he keeps from others. Some he keeps from himself.One secret: Ronan can bring things out of his dreams.And sometimes he's not the only one who wants those things.Ronan is one of the raven boys...

Re-read: March 28 - March 29, 2016It's been 2.5 years since I first read this book, and this series seriously holds up to my memories of it. In fact, it's almost better the second time around. There are SO many elements to this story that make more sense in hindsight, and it's such a great time discovering them while revisiting this story.Basically, if you still haven't picked this series up: what are you doing with your life?! 4.5 stars

I write this review with a heavy heart because The Raven Boys isn't just my favorite Maggie Stiefvater book, but one of my favorite books of 2012. Sure, I criticized Stiefvater for sacrificing the quality of that book to set up this one, leading to an abrupt ending that felt like a rug was pulled out from under me, but you know what, I still thought it was brilliant, brilliant setting, brilliant characters, brilliant writing, brilliant everything...

"While I'm gone," Gansey said, pausing, "dream me the world. Something new for every night." Again, I loved it !!This story amazes me, every story that surrounds each of the protagonists is individually engaging and intriguing and will undoubtedly , makes you want to know more and more all the time of these amazing charactersYou might wonder why my punctuation, well the thing is that I have taken some time and has cost me to introduce mysel...

THAT ENDING!!I am so invested in these characters, I love them all so much <3

dream thieves/dri:m/ /θiːv/v/: thieving of a series of events or images that happen in your mind when you are sleepingn/:In which a group of friends band together to hunt for a mythical king of Welsh origins so that they can grant them a wish when he is woken. They are faced with challenges and they band together to brave them. Has very endearing characters;i.e.Blue Sargent Richard Gansey III Adam Parrish Noah Czerny Ronan Lynch and they band...

2.5 stars Oh boy! I don't know what's wrong with me. Every single one of my friends seemed to have loved this but I just couldn't keep up with the pacing. The writing although beautiful is a bit tedious to read. It was quite a struggle because I was doing two things at once-reading and consciously fighting off the tendency to snooze out. The plot is definitely much better and there are definitely more adventures but it's also these same t...

4.75/5 stars! It's basically a full 5 star book, but I want to give the books in the rest of the series the chance to be even better.