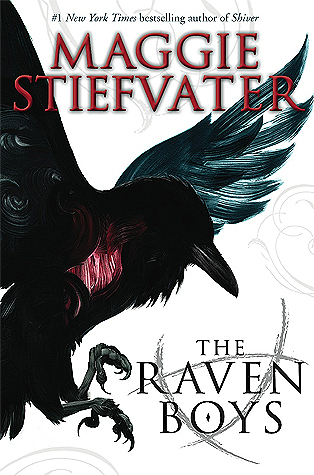 "There are only two reasons a non-seer would see a spirit on St. Mark's Eve," Neeve said. "Either you're his true love . . . or you killed him."It is freezing in the churchyard, even before the dead arrive.Every year, Blue Sargent stands next to her clairvoyant mother as the soon-to-be dead walk past. Blue herself never sees them—not until this year, when a boy emerges from the dark and speaks directly to her.His name is Gansey, and...
---
Details The Raven Boys (The Raven Cycle, #1)
Title
The Raven Boys (The Raven Cycle, #1)
ISBN

9780545424929

Author

Maggie Stiefvater

Release Date
Sep 18th, 2012
Publisher

Scholastic Press

Language

English

Number of pages

416

pages
Genre

Fantasy

,

Young Adult

,

Paranormal

,

Romance

Rating
Reviews The Raven Boys (The Raven Cycle, #1)
Quirky loner girl meets privileged rich boy(s). Forbidden love and angst ensue.I seem to have this habit. For the past couple of years, I've mostly been deliberately avoiding paranormal YA from authors I don't already love. The genre is a hard sell for me, filled with tropes that lead to low ratings and irritated reviews. But really, what tends to happen is this: the first book comes out and I avoid it, look the other way as other bloggers get ex...

"She wasn't interested in telling other people's futures. She was interested in going out and finding her own."This review contains *spoilers*.I went into this book expecting to hate it, but I was truly surprised by it— right from page 1.I read the prologue before I went to bed and I had to convince myself to put it down because I knew if I wouldn't, I'd be extremely sleep deprived the next morning. It was so good. And it was consta...

On a cold night every spring, sixteen-year-old Blue and her psychic mother wait in a churchyard for the dead to arrive. Her mother is usually the one who sees the spirits of people who will die within the next twelve months, but this year, Blue herself is startled by the sad, desperate sight of a boy named Gansey falling to his knees before her. "There are only two reasons a non-seer would see a spirit on St. Mark's Eve, Blue. Either you're his t...

OK. SO THIS BOOK WAS PRETTY GREAT.The book was very slow-moving for the first half or so, but I always found myself drawn in by the beautiful writing and the fabulous characters. This story is first and foremost about the characters, and I completely adored the friendship between the boys, and between Blue and the boys later on. Going into this, I thought it was going to be told solely from Blue's POV, and I am so glad that it wasn't. Getting to ...

Easily the best book I've read all year. I've never read a book before where I love every single character equally. Blue: she is everything i aspire to be and i just want to be bffs with herGansey: yes plz Ronan: he's so scary and angry but you just know he secretly loves to watch cute cat videos Adam: he must be wrapped in a warm blanket and protected at all costsNoah: my precious cinnamon bun

The only character I like is Ronan. Which is... very ironic.It might be time for Maggie Stiefvater and I to part ways.Truly, there's nothing actually ''wrong'' with her style; it simply does not appeal to me. But this is the kind of story that I feel would be read in a better way if written in the 1st person point of view instead of 3rd. There is this possibility to feel connected to the protagonists... but a slim and invisible barrier seems to c...

"You're looking for a god. Didn't you suspect that there was also a devil?" Instant new favorite!!Psychics. Ghosts. Spirits. Sleeping kings. Legends. Enchanted forests. And a cursed romance. Maggie Stiefvater is an artist, ladies and gentlemen! "Blue Sargent had forgotten how many times she'd been told that she would kill her true love." I was spellbound by this hauntingly beautiful paranormal tale since that very first sentence. Maggi...

Do I need to even explain myself? No? Well, I will anyway.This book has it all:The best characters.Maggie (I feel like we're on a first name basis) doesn't neglect developing any of the characters. Whether they show up for one scene or are a main character, they are real, fleshed-out people. I have a hard time believing Blue and the Raven Boys aren't walking around somewhere in Virginia right now on their search.Perfect writing.It's almost fright...

Todo el libro me gustó muchísimo... con excepción de los últimos capítulos. Me confundieron bastante, pero no sólo eso... el "conflicto final" no me emocionó nada, lo sentí flojo.PERO en sí me gustaron bastante los personajes y claro que seguiré leyendo la saga. La historia me parece original y muy mística, tiene ese aire mágico que me encanta leer.

4.5 Really really liked this!

Up until the very end, I was so sure The Raven Boys would be making an appearance on my top favorites list. Maggie Stiefvater's latest book has everything I want from a great reading experience, a complex narrative, an intriguing and highly developed cast of characters, an utterly haunting style of writing that just blew me away from the first sentence recounting a dire prophecy. Sadly, my enthusiasm dampened somewhat once I sensed Stiefvater w...

This book is why I give authors second, third, and sometimes even fourth chances (*cough* Colleen Hoover *cough*). Because while I might not enjoy one book they wrote, I like to think that doesn't mean I'll hate everything they publish. Take Stiefvater. I tried to read Shiver a while back, and my review for it is literally just this gif: This book is also why I believe in mood reading. I picked it up a while ago and got about 50 pages in before s...

RE READ THIS BOOK AND OMG YES! LOVED IT A SECOND TIME ROUND

Yesterday I walked into my library's Young Adult section which is inside its own special Young Adult room. There were all these kids hanging out playing video games when this bearded 31 year old man walked into the room. He was a man on a mission, a mission to quickly identify the YA Series section, track down the YA SER RAV label on the spine of The Raven Boys, and get the heck outta that room before anyone knew I (I mean he) was there. Mission ...

4.5/5 stars "Fortunate is the soul who finds the king and is brave enough to call him to wakefulness, for the king will grant him a favour, as wondrous as can be imagined by a mortal man." (Maybe mild spoilers? Take heed, my friends.)Let me get this out of the way: I'm not even going to pretend that this is a review. This is a long, fangirly, incoherent mess of my thoughts, that may contain minor spoilers. Don't say I didn't warn you. Dear Raven...

"My words are unerring tools of destruction, and I've come unequipped with the ability to disarm them." I've never reviewed any of these books, but I'm going to attempt today. Here goes nothing. This is not a recommendation. Go ahead, read it if you want to read it. This series is definitely not for everyone, so I won't hold it against you if you ended up despising it. I have read these books multiple times already and will continue in the...

Beautifully written, the characters are wonderful!I just wish it didn't take me so long to read it.

SO THIS IS A RE-READ BECAUSE I'M 100000% OBSESSED WITH THIS BOOK. But I'm also an idiot and lost my original review. Let me cryyyyy. I desperately wanted to compare my then and now thoughts. AGHHH, CAIT. FIRE YOUR STUPID BRAIN. I'll just blame it on the fact that I am too insanely besotted with this book to be thinking clearly. #legitOkay so....hm...how do I put it? MAGGIE STIEFVATER IS MY FAVOURITE AUTHOR OF EVER. It's hard to explain all the re...

4.5 starsUrban Fantasy is a hugely popular genre, both adult and YA versions. The majority of the world's inhabiting such books are as different, as other, as any of the worlds in a traditional fantasy, just more . . . modern. There are cars and gas stations, cell phones, fast food chains . . . An infinite number of familiar things, yet, for various reasons, these alternate realities are still alien.Occasionally, you find one that isn't. The auth...

This is favourite series of all time. I can't even write a review about it, I would just end up copying the entire novel down verbatim and saying, "This is my favourite part. And this part. And that part. And that quote and these characters and all of it and everything forever and always."

4.5 stars, one stunned face, one hundred facepalms, a dozen OH MY GOSH I CAN'T BELIEVE SHE WROTE IT THEN AND I DIDN'T EVEN NOTICE, one brilliant book. "Ronan said, "I'm always straight."Adam replied, "Oh, man, that's the biggest lie you've ever told." Truth be told, I wasn't fully immerged in The Raven Boys when I first read it, and it took Ronan's amazingness in The Dream Thieves to make me fall in love with these boys and their strange quest. ...

Video Review: Coming soon, will update when that's live.Ok. So maybe you can relate to this or not, but you know when you raged the night before and then you woke up the next morning and you have this stream of consciousness that goes a little like this:1. Where am I?2. I'm in my bed, good.3. Wait, how did I get here?4. What's going on?Well, that's how I felt the majority of this book. I would be in the middle of the paragraph and think, "how did...

"Keep being brave." Unique, eerie, compelling and magical. These are the attributes that perfectly describe The Raven Boys. But perhaps I am redundant in my words due to the fact I am a few years late to the hype and all I could say has been already said. Rest assured though, I'll keep my fangirling to a minimum. I do have a series to finish. The story in this book is the epitome of weeeeird. Strange and otherworldly. Original and enthralling...

I can't begin to tell you how much I loved this book. THE HYPE WAS REAL AND IT LIVED UP TO IT. The characters, plot, and writing were all phenomenal, and I'm so excited to read the rest of the series!Reread March 24-April 12th in preparation for THE RAVEN KING!This book is so wonderful on so many levels. I really loved listening to the audiobook this time around. I JUST LOVE BLUE AND THE BOYS AND THE PLOT AND THE WRITING AND EVERYTHING IS THE BES...

4 StarsOverview: "She wasn't interested in telling other people's futures. She was interested in going out and finding her own." I FINALLY READ IT, OKAY. I'm pretty sure this was recommended to me no less than 2,347 times, and it's been all over my Goodreads and Tumblr feeds for what feels like forever. So I'm a little late to the party, but SO glad I started this series Pros: Most of my thoughts about this can be summed up by the Ada...

Slow burning. Mystical. Promising...ish.This has gotta be the first book I've ever read that transitioned from a 1 to 5 stars.Final rating: 3.5________________________________Book song: Matthew Parker - Bigger Picture (Just A Gent Remix)________________________________

"What she wanted was to see something no one else could see or would see, and maybe that was asking for more magic than there was in the world." "They filled the hallway to overflowing, somehow, the three of them, loud and male and so comfortable with one another that they allowed no one else to be comfortable with them. They were a pack of sleek animals armored with their watches and their Top-Siders and the expensive cut of their uniforms. E...

Book 34/100 of 2015I really enjoyed this! I came into this book not knowing anything about the plot, just that there were some weirdly named kids and something about ravens. It was a little difficult to get into as I had no idea where the plot would go and it was just overall pretty slow. However, halfway through it really picked up and surprised me! I will definitely be picking up the next book sometime in the near future.

"There are only two reasons a non-seer would see a spirit on St. Mark's Eve, Blue. Either you're his true love or you killed him." In Blue's case it's both. Because fate is a bitch tricky little thing. I don't know how to put into words how much this book, this series, means to me. It's one of those stories that leaves you breathless. That leaves you wanting to unrepentantly commit the act of verbal diarrhea and a sway anyone with an ear ...