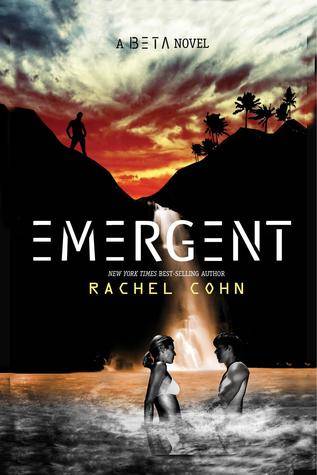 Zhara, the First. Elysia, her clone. On the surface, they are identical. But looks can be deceiving.When Zhara plays, she plays to win. She thought she had escaped the horrors of Doctor Lusardi's cloning compound. But the nightmare is just beginning. Elysia has taken everything from Zhara-a softer, prettier version of herself and an inescapable reminder of all she's failed at in her life. Now the man Zhara loves has replaced her with Elysia. Zhar...
---
Details Emergent (Annex, #2)
Reviews Emergent (Annex, #2)
How? How do you go from a pretty great book like Beta to whatever the hell this is? Last night, my husband and I watched the MST3K riff of "Parts: the Clonus Horror": That movie was a better-produced clone story than this book. If the guy from CinemaSins was given this book in movie format, the list of sins would rival that of Transformers 4 (and that movie took 2 episodes to enumerate its flaws). It was just very very bad. Imagine if you set up ...

*4.5 star rating* *A finished review copy was provided by the publisher in exchange for an honest review. Thank you!* Let's take a time machine back into time—one year ago. Or actually, a little more than a year ago, to be honest. That was when I read Beta, the first book in the Annex trilogy, and that's where I found one of my most strongest loves, dystopian books. From there, or even a little before that, I've grown to be obsessed with this...

TRIGGER WARNINGS: This book contains slut-shaming, ableism, gaslighting, and pregnancy by rape.This book was delayed. Originally due out in 2013 (maybe March), it didn't release until October 2014. Never heard any explanation for the wait, but that's okay - probably none of my business. And maybe because Emergent is the second in a series (no word yet on the next book, though I think the series sold in a four-book deal), there seemed to be little...

The first book was pretty good. This sequel how ever was awful, it felt like a completely different author wrote it. The storyline is all over place with so many diffrent things trying to occur at the same time that it is not believable for a sci fi book . Too much teenage angst and moodiness for me, the story really did not get going until the last couple chapters were the insurrection was just rushed through and not explained very well. Overall...

I loved Beta so I was so excited when I heard about the second book Emergent. I tried to read twice butit was a little difficult to get thru. I dont understand why this book was so different from Beta I think what made it different is the perspectives. I will reread this book again sometime soon.!

As much as I enjoyed the first one I stopped reading this one at 75% of the book. Much more centered on relatin ships,plus I don't buy the story of parent's Tahir being able to help so much giving the way things are.

3.5/5 starsI liked the old covers so much better!There will be some spoilers from book 1- Beta.I really enjoyed Beta and had been looking forward to Emergent for quite a while. I thought that Emergent was okay, but the first part was not that exciting (the book is divided into two parts).Beta was narrated by Elysia (a teenage Beta clone who had a soul and could feel). At the end of that book Elysia killed the Governor's son and escaped. Also it w...

I enjoyed the original quite a bit, but this sequel felt too rushed, and ended too abruptly. A shame, since Beta was such a great story.

Personal Response: I gave Rachel Cohn a four star rating on her book Emergent, the follow up story to Beta. I felt she kept a great amount of detail in describing the future world she created. I enjoyed reading about the action. Although, I felt she dragged on into too much detail in areas. Overall, the plot line of the story was intriguing, and i was constantly reading more.Plot: Elysia escaped the governor's death wish for her, but she was stil...

Emergent by Rachel Cohn - This book was reviewed by my co-worker, Emily: A sequel/companion book to Beta. While Beta was about Elysia, a clone of a teenage girl, Emergent focuses on Zhara, the girl Elysia was cloned from, with Elysia's POV mixed in once their paths cross. The book is supposed to be about the Emergents—clones who have become self-aware—preparing to rebel against their human masters and gain freedom. While this rebellion doe...

I'm rather underwhelmed. "Emergent" is dominated by teenagers who act their worst. I had real problems sympathizing with the Aquine that is not interested in his first love when he finds out she's alive because he already transferred his feelings to her clone. Or with the clone who uses the Aquine because well - why does she? To escape, yes. But after that? Because of Tahir, I understand why Zhara hurts to badly from losing Alex. You caused that ...

Title: EmergentSeries: Annex #2Author: Rachel CohnRating: 3.5 starsRecommend to?: Clone lovers :] My Review: Having loved the first book in this series so much, i dived right into this one upon finishing Beta. Sadly i was disappointed a bit.It dragged in the middle badly. Probably could've taken out like 100 pages and the story still would've been fine.This just didn't live up to the same hype the first one did.I still will continue the series ...

Told from both the clone and first's pov, this book further explores the world of Demense and the issues that arise from their "perfect society." The many layers of the middle of this trilogy really make me want to know what happens next and book 3 is a year away!

So glad some things were resolved from the first book, but I wasn't happy with the baby situation. I will definitely read the next book, though!

Super good and interesting! Better than the first book!

Vapid. Completely and utterly useless waste of paper starring teen girls who I am so glad really do not exist in this world. I'm still wondering, "Did I really just...read that?" and the presence of the book at my side proves that I did, in fact, waste three hours of my life on this drivel.The book starts off from Zhara's point of view. The reader gets to see how she ended up being considered dead and cloned and how she was living prior to reunit...

Well.. that was a major disapointment.The ending was rushed and unfinished, so freaking frustrating. And don't get me started on the girls and their 3 boyfriends to exange. I rolled my eyes so many times God..The only thing I liked was the time on Heathen and even for that I wanted to read something different, something more.I guess I was not the right audience for this book.

Honestly, it was just an ok book for me. The ending didn't leave that much of an impact on me, there were too many unanswered questions left.I felt that the second book felt quite dull compared to the first one.

Generic teenager-level romance/mild action/mild scifi series. Disappointing in the lack of character development, plotline, and general failure to delve into the depths of the problems presented by the setting.

I really liked the concept, I just hated how abrupt the end was and the fact that they had to put a particular sexual scene in the book.

Better then the first book.

Easy and entertaining readThe ending felt rushed but overall a really good read. Characters and their dynamics with each other were well thought out.

An enthralling sequel to beta. The story of zhara and elysia is an interesting one

Apparently there's gonna be a third and fourth one??? Makes sense since this one just... kinda ends. But yeahhhhh....

OMG! Better than the first, loved it!