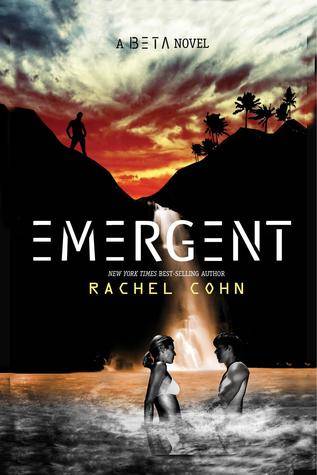 Zhara, the First. Elysia, her clone. On the surface, they are identical. But looks can be deceiving.When Zhara plays, she plays to win. She thought she had escaped the horrors of Doctor Lusardi's cloning compound. But the nightmare is just beginning. Elysia has taken everything from Zhara-a softer, prettier version of herself and an inescapable reminder of all she's failed at in her life. Now the man Zhara loves has replaced her with Elysia. Zhar...
---
Details Emergent (Annex, #2)
Title
Emergent (Annex, #2)
ISBN

9781423157205

Author

Rachel Cohn

Release Date
Oct 7th, 2014
Publisher

Disney-Hyperion

Language

English

Number of pages

288

pages
Genre

Science Fiction

,

Dystopia

,

Young Adult

,

Romance

Rating
Reviews Emergent (Annex, #2)
How? How do you go from a pretty great book like Beta to whatever the hell this is? Last night, my husband and I watched the MST3K riff of "Parts: the Clonus Horror": That movie was a better-produced clone story than this book. If the guy from CinemaSins was given this book in movie format, the list of sins would rival that of Transformers 4 (and that movie took 2 episodes to enumerate its flaws). It was just very very bad. Imagine if you set up ...

*4.5 star rating* *A finished review copy was provided by the publisher in exchange for an honest review. Thank you!* Let's take a time machine back into time—one year ago. Or actually, a little more than a year ago, to be honest. That was when I read Beta, the first book in the Annex trilogy, and that's where I found one of my most strongest loves, dystopian books. From there, or even a little before that, I've grown to be obsessed with this...

TRIGGER WARNINGS: This book contains slut-shaming, ableism, gaslighting, and pregnancy by rape.This book was delayed. Originally due out in 2013 (maybe March), it didn't release until October 2014. Never heard any explanation for the wait, but that's okay - probably none of my business. And maybe because Emergent is the second in a series (no word yet on the next book, though I think the series sold in a four-book deal), there seemed to be little...

The first book was pretty good. This sequel how ever was awful, it felt like a completely different author wrote it. The storyline is all over place with so many diffrent things trying to occur at the same time that it is not believable for a sci fi book . Too much teenage angst and moodiness for me, the story really did not get going until the last couple chapters were the insurrection was just rushed through and not explained very well. Overall...

I loved Beta so I was so excited when I heard about the second book Emergent. I tried to read twice butit was a little difficult to get thru. I dont understand why this book was so different from Beta I think what made it different is the perspectives. I will reread this book again sometime soon.!

3.5/5 starsI liked the old covers so much better!There will be some spoilers from book 1- Beta.I really enjoyed Beta and had been looking forward to Emergent for quite a while. I thought that Emergent was okay, but the first part was not that exciting (the book is divided into two parts).Beta was narrated by Elysia (a teenage Beta clone who had a soul and could feel). At the end of that book Elysia killed the Governor's son and escaped. Also it w...

I enjoyed the original quite a bit, but this sequel felt too rushed, and ended too abruptly. A shame, since Beta was such a great story.

Personal Response: I gave Rachel Cohn a four star rating on her book Emergent, the follow up story to Beta. I felt she kept a great amount of detail in describing the future world she created. I enjoyed reading about the action, although I felt she dragged on into too much detail in areas. Overall the plot line of the story was intriguing, and i was constantly reading more.Plot: Elysia escaped the governor's death wish for her, but she was still ...

I'm rather underwhelmed. "Emergent" is dominated by teenagers who act their worst. I had real problems sympathizing with the Aquine that is not interested in his first love when he finds out she's alive because he already transferred his feelings to her clone. Or with the clone who uses the Aquine because well - why does she? To escape, yes. But after that? Because of Tahir, I understand why Zhara hurts to badly from losing Alex. You caused that ...

Title: EmergentSeries: Annex #2Author: Rachel CohnRating: 3.5 starsRecommend to?: Clone lovers :] My Review: Having loved the first book in this series so much, i dived right into this one upon finishing Beta. Sadly i was disappointed a bit.It dragged in the middle badly. Probably could've taken out like 100 pages and the story still would've been fine.This just didn't live up to the same hype the first one did.I still will continue the series ...

Told from both the clone and first's pov, this book further explores the world of Demense and the issues that arise from their "perfect society." The many layers of the middle of this trilogy really make me want to know what happens next and book 3 is a year away!

So glad some things were resolved from the first book, but I wasn't happy with the baby situation. I will definitely read the next book, though!

Super good and interesting! Better than the first book!

Emergent by Rachel Cohn - This book was reviewed by my co-worker, Emily: A sequel/companion book to Beta. While Beta was about Elysia, a clone of a teenage girl, Emergent focuses on Zhara, the girl Elysia was cloned from, with Elysia's POV mixed in once their paths cross. The book is supposed to be about the Emergents—clones who have become self-aware—preparing to rebel against their human masters and gain freedom. While this rebellion doe...

Vapid. Completely and utterly useless waste of paper starring teen girls who I am so glad really do not exist in this world. I'm still wondering, "Did I really just...read that?" and the presence of the book at my side proves that I did, in fact, waste three hours of my life on this drivel.The book starts off from Zhara's point of view. The reader gets to see how she ended up being considered dead and cloned and how she was living prior to reunit...

I really liked the first book Beta and had high hopes for Emergent, the second book in the series.... Unfortunately, I am disappointed. Overall, this book was okay, but as I read through it, I kept feeling that it lacks something.... I still cannot completely put a finger on it, but it feels incomplete and very difficult to believe. It feels fake and pushed through, almost rushed in a way. There were still cliff hangers at the end of the book whi...

For this review & many others, check out my blog at UtopiaNeverComes.blogspot.com---------------------Oh, how I have been waiting for this book to come out ever since I finished Beta. I have been dying to find out what happened next in Elysia's story. Beta ended with the world shaking arrival of Zhara, Elysia's First. Seeing as how Demesne Clones are unable to be created except from the dead body of their Firsts, this new arrival was Earth shatte...

This was HORRIBLE!!!!! It was a train wreck of a book with mutilated ideas and themes splattered on a track to oblivion.I really don't even know how I finished it. I think it was so awful that my mind was fascinated with how it could actually have been published. It was like watching a movie that is so bad, it's entertaining.And, of course, I knew this by looking at the cover. It just screamed raunchy mindless nothingness. So I have to list what ...

Okay, I marked it as "read", but the truth is I haven't finished it yet and I don't plan to unless I have a lot of time to kill. This book has what I like to call, "The Sequel's Curse". The first book in this series, Beta, is great. I really liked that book and I thought it was pretty original and I also loved the cover. But this book? The sequel? It's either slow-moving or so fast you just kind of sit there thinking, "Wait, what?" and along with...

I choose to read this book because the first book was recommended to me and i thought that was interesting. So i decided to continued with the book series.MAIN IDEA Through out the book there is a lot of love and sacrifice, which makes it a reoccurring main idea. One of the biggest moments in the book with love and sacrifice is when Elysia and Thair devise a plan to risk their lives and run away to be free together. '' Just when Tahir was startin...

I didn't dislike Emergent by Rachel Cohn, but there were a lot of moments of frustration and agony due to the thoughts and actions of Zhara, the First, and Elysia, her clone. I found both characters to be the epitome of the typical teenage girl with many unnecessary and annoying enhancements. The character development in Emergent was irritating and many of the characters such as Alexander and Aidan made completely no sense at all. None of the cha...

I was looking forward to the second in the Beta series, but the second, Emergent, has solidified my original thoughts that I should spend more time reading more first books and less time reading the sequels because they always disappoint me. Not only do I not like where the book went, I also don't like the cover, which was so much different and less sci-fi (it needs more sci-fi elements!) So Elysia at the end of Beta discovers who she's cloned fr...

i like the beginning of this second book.story continues on from where it ends in book 1 but fir the POV of Elysia's First, Zhara, before switching back to Elysiait would have been an easier read if the chapters have label or a hint that it would be from whose POV. it's kinda confusing to guess whose thought I was reading. this round, the chemistry between Aidan & Zhara, Elysia & Tahir were not that well matched. not as intense as in Bk1the insur...

This was a wonderful sequel to Beta. It dives deeper into the Insurrection, the revolution being planned by the Defects-clones who feel. Who have souls. We meet Zhara, Elysia's First; both must deal with the existence of the other. They have interesting contrasts, but in the end, both are teenagers. Moody, unruly, and impulsive. However, they will both fight for what they believe is right: freedom for the clones of Demesne. With the help from oth...

I wasn't too impressed with Emergent, Beta was better but even so, this book leavs off where Beta ends with a little insight on what happened with Zhara.I like this edition of covers better then the other icky one...No seriously.