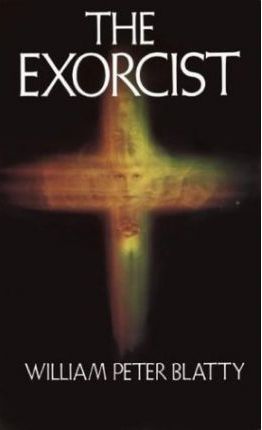 Four decades after it first shook the nation, then the world, William Peter Blatty's thrilling masterwork of faith and demonic possession returns in an even more powerful form. Raw and profane, shocking and blood-chilling, it remains a modern parable of good and evil and perhaps the most terrifying novel ever written.
---
Details The Exorcist
Reviews The Exorcist
"In our sleep, pain, which cannot forget, fallsdrop by drop upon the heart until, in our own despair, against our will, come wisdomthrough the awful grace of God. --AeschylusI get a wild hair every so often and recently I decided that I needed to go on a 1970s blockbuster horror novel extravaganza tour. It all started with shifted some books around and finding this ratty well loved copy of The Exorcist that inexplicably found its way into my bo...

Curiosity compels you to read this! THE DEVIL IS IN THE DETAILS It was kinda hard to decide the rating on this novel. If I'd think only on the raw reading experience, I would say that it was a 3-star material.However, I had to ponder about the whole additional info and further development of characters compared with my experience with the film adaptation (which certainly is one of my favorite horror films). So, I think that the fairest rating is...

I think I'm ready. . . Help!Well, maybe I'm weird but I found the movie scarier than the book. Don't get me wrong, there are a few parts that gave me the heebie jeebies, but overall it didn't get me like the movie. Just getting the gifs for this freaking review had me all creeped out!!!!!!!!!!!!!!!!!!!!!!!!!! This book is very disturbing though. Reading the stuff about people in the Black Mass and what they were doing. Uggg, no. I thought about g...

A masterpiece...unqualified, unadulterated and unequaled. How better to describe the definitive, 40th Anniversary edition of one of THE classic horror novels of the 20th century...rendered in audio format and narrated with passion, verve and pitch-perfect delivery by William P. Blatty himself.I've seen both the original and extended, remastered versions of The Exorcist several times and believe it ranks among the finest horror films ever made. ...

THE EXORCIST is on quite a few of my favorite lists.I have read this book once before, and I own- and have watched the movie numerous times. This time I listened to the audio book.It is my favorite movie poster.[image error]It has one of my favorite "the making of" documentaries. It's in my top ten favorite movie list, and top five favorite horror movie list...and now that I have listened to the audio book. Favorite audio book...by far.William Bl...

You gotta be impressed with a book that inspires a movie that managed to turn entire generations off of pea soup.Chris MacNeil is an actress who is filming a movie in Georgetown when her young daughter Regan starts to exhibit bizarre behavior, and when medical science fails to provide any answers she turns to Father Damien Karras for blah, blah, blah, blah. There's no point in a plot summary because we all know the set up on this one. It's al...

Having recently seen a film called The Last Exorcism, I decided it was finally time to read the first exorcism, the one which made masses of people interested in demonic posessions, scared the beejesus out of readers and was made into one of the best films ever.I've seen the film several times, though I've never read the book. I always assumed that it was a cheap potboiler, heavy on shock value (who can forget the green vomit?) and thin on everyt...

This is a really chilling and frightening story.There is nothing more powerful and engrossing than a story about a persons battle with their state of mind and Demons. In this frightening story you have a mother and her 12 year old daughters bond shaken, faced with a state of mayhem immersed in a struggle for survival and triumph over adversity, you just feel for them immensely and love for their solitude to prevail. The Jesuit priest also had a l...

Boil it all down and The Exorcist by William Peter Blatty is about faith. There is the demonic possession of Regan McNeil and the horrors that are described as a part of that invasion, the night and day distinction between a young girl and the maniacal, infernal force that changed her. Also fascinating to read is the reactions of the family and friends of the girl and the forced dynamic of this group experiencing such an outrage. Then there is th...

This is my Book Of the Month- February 2017, with GR group- Horror Aficionados.I love watching horror movies and enjoy reading horror books even more. In horror genre, 'Ghost Stories' are my favorite genre and this book just 'Fit to a T'.Exorcist is one of the few horror movies that actually shocked and horrified me. And I was really excited to read the original book on which this cult classic was based. If you found the movie scary, the book is ...

The Exorcist by William Peter Blatty was released in 1971, we've all seen the subsequent film released in 1973, you might have read the book but an altogether different experience is guaranteed to scare the pants off you with the audiobook. Narrated by the author who won an Oscar for best writing/screenplay based on material from another medium for the Exorcist and I have to say this is easily the best production and performance from any audioboo...

Satanic Panic in South Africa has its very own Wikipedia entry.Why? Because South Africans are notorious for finding evil under every stone. Toys, energy drinks, fantasy books and TV, certain sweets, music, films…. all are tools of the devil. It's a free for all.Why is this relevant to this review?Satanic Panic was at its peak in the 80s, when I was young, and the one Horror Film we were absolutely forbidden to watch was The Exorcist. Needles...

A very addictive read, with some strong creepy scenes and dialogs. I swear, while reading this I was watching the movie in my head, the scariest parts are very similar in the book and some descriptions about the Black Mass where, simply put, disturbing. If that's what you're looking for, go ahead. Highly recommended, it is classic terror.No tengo ni idea de como se me cruzo por la cabeza la idea de leer esto, pero aqui estoy. LolEl libro El Exorc...

What a thrilling, frightening ride!I first read the Exorcist in 1974 when I was only twelve years old. At that time the film had already hit the theaters and for those who lived during that era you will remember what a huge controversy the movie caused. My mother would not allow me to see the movie but she gave me the okay to read the book. The Exorcist has always held a special place in my heart because it is what I consider to be the first adul...

Finally, the last book I read in 2015. All caught up now.Pssst... You've read four books this year, so, like, you're, you know, still behind...FUCK!Anyballs, here we are, decades after this book was released and the movie adaptation gave baby boomers nightmares. I've never been a fan of books wherein faith beats the baddie. Seems the fallback method for lazy horror authors. I mean, why come up with your own means of annihilating the monster when ...

"Yet I think the demon's target is not the possessed; it is us . . . the observers . . . every person in this house. And I think---I think the point is to make us despair; to reject our own humanity, Damien: to see ourselves as ultimately bestial; as ultimately vile and putrescent; without dignity; ugly; unworthy." Some years ago, I gave a school presentation on the subject of churchly handling with exorcism, divided into Catholic and Protes...

Tuve 3 constantes pensamientos al leer este libro:1.- Pinche libro me va a gritar en cualquier momento2.- *Escucha ruidos* *Entra en pánico y se cubre bajo la sábana*. (No es verdad)3.- La verdad no hay 3, no sé contar. Es un libro que no pude soltar, a pesar de leerlo sólo en las madrugadas (mala idea, si me daba un poco de miedo escuchar ruidos a esa hora) De verdad lo sentí como esas películas de suspenso en las que todo está en silenci...

The movie is scarier, mostly because of the visuals, but also partly because it lets you assume that perhaps whatever possessed Regan MacNeill may not really be the devil but an unknown entity. The book, however, makes no allowances for alternative interpretations. It is Satan without a doubt, and I think that actually lessens the chilling effect, that the culprit is so obvious.Perhaps evil is the crucible of goodness... and perhaps even Satan-...

I'm not going to waste time summarising this novel as I'm sure everyone has seen the movie at least once in their lives. The Exorcist is an engrossing, gripping, disturbing and well-written supernatural tale. I really enjoyed this novel. I thought the author's writing style was excellent. I found it very hard to put this book down for long. I just had to know what happened next even though I've seen the movie half a dozen times! It didn't frighte...

I'm not going to go too much into a review of this book. I'm sure most of you have seen the movie.If you found the movie scary, the book is more horrifying in some ways. I think it's because your imagination is in overdrive. There were scenes in the book that had me cringing, gasping and was creeped out. Also, the description of Black Mass was disturbing and I was on Wiki to look up more information. Holy Catholic hell?!High point of the book...

Ansiaba muchísimo leer este libro ya que es un clásico, y como había salido en el club de lectura "Letras Macabras" como en libro del mes, aproveché y lo compré. Se trata de un libro batannnte fuerte, es de hecho más crudo de lo que lo imaginaba. Me gustó todo el proceso que se hace antes de descubrir que Regan esta poseída, para saber si lo que ella sufre es algún tipo de trastorno mental o quizá alguna enfermedad que esta afectando se...

"No final daquela tarde em que tudo parecia estar silenciosamente suspenso, um jovem estudante de Teologia que estava a preparar-se para o sacerdócio atravessou os campos do seminário de Woodstock, em Maryland. Procurava um velho jesuíta, magro e grisalho. Encontrou-o numa vereda, a passear no meio de um bosque. Entregou-lhe um telegrama. O ancião agradeceu-lhe, serenamente, com um olhar bondoso, e prosseguiu a sua contemplação, caminhand...

"You don't blame us for being here, do you? After all, we have no place to go. No home… Incidentally, what an excellent day for an exorcism…" When Regan MacNeil, daughter of famous actress Chris MacNeil, becomes strangely ill, coming up with a reasonable explanation proves difficult. Chris' original belief that this is caused by repressed anger over her divorce with Regan's father because less likely as time progresses and Regan beg...

La película la vi hace años, pero igual recordaba cómo terminaban algunas cosas. A pesar de eso, lo disfruté muchísimo. Es muy bueno. Lo deberían leer todos los que disfrutan del terror, porque vale totalmente la pena: tiene un argumento atractivo, entretenido y fundamentado; personajes excelentes y profundos, cada uno con su lugar a lo largo de la novela. Se apeó del taxi un hombre alto, ya entrado en años.Vestía impermeable y sombrero ...

A mí me ha dado miedo, pero es que yo al tema de las posesiones diabólicas y Satanás le tengo mucho respeto. Pensareis que soy un poco exagerada pero me lo he leído durante las horas diurnas, no me he atrevido a leerlo por la noche en la cama y luego apagar la luz :\ Ya hace muchos años que ví la película y la recuerdo bastante terrorífica, y sabía más o menos lo que pasaba y como terminaba todo, pero esto no le ha quitado interés al l...

A minha opinião em vídeo: https://youtu.be/_2b2Eyo3O7ISuper fiel ao filme e brilhantemente adaptado.Uma história real que nos prende do inicio ao fim. Já o devia de ter lido há muitos anos.Gostei bastante.

In the Grip of Evil(A Book Review of William Peter Blatty's The ExorcistInspired by a reported case of exorcism of a child in 1949, The Exorcist by William Peter Blatty, published in 1971, is a novel about demonic terror, a modern-day spiritual warfare that pits good against evil for possession of a soul and examines the question of evil.Being the book that paved the way for the popularity of this horror sub genre, The Exorcist tells the now-famo...