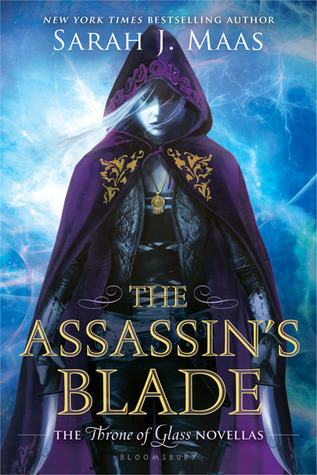 Contains all five novellas.Celaena Sardothien is Adarlan's most feared assassin. As part of the Assassin's Guild, her allegiance is to her master, Arobynn Hamel, yet Celaena listens to no one and trusts only her fellow killer-for-hire, Sam. In these action-packed novellas - together in one edition for the first time - Celaena embarks on five daring missions. They take her from remote islands to hostile deserts, where she fights to liberate slaves...
---
Details The Assassin's Blade (Throne of Glass, #0.1-0.5)
Title
The Assassin's Blade (Throne of Glass, #0.1-0.5)
ISBN

9781408852590

Author

Sarah J. Maas

Release Date
Mar 4th, 2014
Publisher

Bloomsbury Childrens

Language

English

Number of pages

448

pages
Genre

Romance

,

Fantasy

,

High Fantasy

,

Fiction

Rating
Reviews The Assassin's Blade (Throne of Glass, #0.1-0.5)
I loved this! I'll have a review of this on the channel soon. :)

Want to be updated on everything Throne of Glass?Visit the Throne of Glass fansite!CHAOL OR DORIAN?SAM CORTLAND, BICHES.I did not expect anything when I bought this book. All I knew was that it was a collection of five novellas that transpired before the events of Throne of Glass, and I'm reading it to make the wait for Heir of Fire more bearable. I especially did not expect to resemble a certain sponge after reading:The fact that Sarah J. Maas w...

This review will be a little different from my others for several reasons. This is a series we are way too deep into for me to go over each character or plot. I won't me writing a super detailed review for each one, just a small summary, my favorite quote, and the rating. The Assassin's Blade is a bind up of five novellas for the Throne of Glass Series. I'm just going to say this right way... I wish I would have read this right after Throne o...

I really enjoyed this! Some stories I liked more than others, but it was nice to see what happened to Celaena leading up to Throne of Glass. I would have liked to have seen more of her when she was younger and training, though.Now, on to rereading Throne of Glass!

*reread nov 2015*NOPE NOPE NOPE NOPE NOPE NOPE NOPE NOPE NOPE NOPE NOPE NOPE NOPE NOPE NOPE NOPE NOPE NOPE NOPE NOPE NOPE NOPE NOPE NOPE NOPE NOPE NOPE NOPE NOPE NOPE NOPE NOPE NOPE NOPE NOPE NOPE NOPE NOPE NOPE NOPE NOPE NOPE NOPE NOPE NOPE NOPE NOPE NOPE NOPE NOPE NOPE NOPE NOPE NOPE NOPE NOPE NOPE NOPE NOPE NOPE NOPE NOPE NOPE NOPE NOPE NOPE NOPE NOPE NOPE NOPE NOPE NOPE NOPE NOPE NOPE NOPE NOPE NOPE NOPE NOPE NOPE NOPE NOPE NOPE NOPE NOPE NOP...

i dont want to talk about my feelings right now i need a couple weeks to process this

12/31/16 - ON SALE for $2.99: http://amzn.to/2iAWSJoIf I've said it once, I've said it ONE HUNDRED times: you NEED to read these prequels. Nine out of ten people who didn't like ToG didn't read them, and based on the events of Empire of Storms, they're RELEVANT. As in, if you don't read them, you won't get the significance of certain people, places, and things, etc.SO.Reviewed by: Rabid Reads4.5 stars***Please be aware that while refraining from ...

This was such a wonderful book. It is 5 prequel novellas, but the novellas read as one story with small gaps between the stories. I loved every second of it and I loved learning more about Celaena!Reread July 11-17, 2015 for #fivefavesI LOVE THIS SO MUCH BUT IT ALSO BREAKS MY HEART BUT I LOVE IT SO. BLESS SJ MAAS BLESS HER FOR THESE AMAZINGLY FLESHED OUT NOVELLAS.

I actually enjoyed this more than the first book! It was nice to get a little more insight into Celaena's history and learn how she came to be in the salt mines in the first place. All the novellas flow really well together too (except for The Assassin and the Healer; I feel like that one could have been taken out). Also it was cool to see Celaena actually BE an assassin (I haven't read anything else past the first book, so I don't know if she do...

"My name is Celaena Sardothien," she whispered, "and I will not be afraid." NOTE; Review unedited.I have a question to the lovely Sarah J. Maas that i'm sure many fans demand the answer to... Why would you do this to your fans!? Tear their heart out like that?! It ain't fair. I need a super glue to stick it back together now, but even then it will never be the same!This is what sort of state you left me when i finished the awful last chapter ...

"My name is Celaena Sardothien," she whispered, "and I will not be afraid." The Assassin's Blade was a book I was nervous to go into. I have heard mixed reviews about The Throne of Glass series, ranging from people loving it to hating it which has resulted in me constantly pushing it back on my TBR. Thankfully, I was pleasantly surprised. I personally really enjoy Sarah J. Mass' writing. It is well done and engaging. Unfortunately, I did ...

No, I'm not ok. Rather than tell you how I feel, let me show you how I feel. Spoilers.Sam. I cannot. I just cannot. Was this a necessary read for the series? Yes. Does it make it any easier? No. For those of you have a REALLY hard time with death in a book.. let me prepare you. The ONLY way I was able to cope with this book was:1. Chocolate2. Tissues3. Bookmarked moments from book 3 and 4 of TOG in order to go back and read happy moments of sweet...

This is the kind of book that once you've read it, you'll need paper towels, cookies, chocolate and Google Images to find fanart of Celaena and Sam and the cry some more.Oh, this book... It was amazing!The writing was absolutely stunning and even though it was a collection of novellas, I felt like I was reading a novel, because the stories are chronologically and so beautifully woven together.And it really scares me that Sarah J Maas was able to ...

I absolutely loved these prequels to the 'Throne of Glass' series. Taking place during Celaena's years as an elite assassin working for her master, Arobynn, this grouping of prequels sheds a lot of light on the events that molded Celaena into the woman we met in 'Throne of Glass'. It is no wonder that she avoids relationships and entanglements. Her story was heartbreaking!Celaena spends her time trying to run from a past that haunts her, while si...

The Assassin and the Pirate Lord- 4/5 stars Celaena and Sam take down a pirate lord, and we get a glimpse of how Celaena received her reputation as one of the most notorious assassins in the kingdom. She is ridiculously arrogant, but considering that I know she later goes through a major character transformation, I'll forgive her. We also see the bourgeoning feelings between Celaena and Sam develop D: It seems to me like Arobynn is already behavi...

"My name is Celaena Sardothien and I will not be afraid."Well, that quote just got a whole lot more meaning to it. I SURVIVED THIS BOOK! I was expecting a lot worse, honestly. I initially checked it out to see Sam since you hear so much about him in later books, but there really wasn't as much about him as I thought there would be. Or maybe I just braced for the worst. It's more about Celaena's twisted relationship with Arobynn than anything else...

"She was fire, she was darkness, she was dust and blood and shadow." (X)I'm not a big fan of the Throne of Glass series, to be honest. The world-building, the narrative and the stories are undeniably terrific except the characters. I couldn't even connect to Celaena Sardothien since the first book, which I read two years ago. Choal and Dorian still couldn't move me, though I was into Chaol while I was reading Crown of Midnight. I ended up fee...

❝She was fire, she was darkness, she was dust and blood and shadow.❞ Of all five novellas I only liked two of them. Overall, I was just kinda bored with the stories. I think I might've just set my expectations a little too high considering how it's Sarah J. Maas and the Throne of Glass series. But to be honest, I'm a bit disappointed.This book is finally when we meet the late Sam Cortland. SJM constantly brings up Sam in every book in the se...

I don't even care, I can't stop thinking about this book so I'm bumping my original 4.5 star rating to a 5. Plus it made me cry! I don't think another 2014 book has done that this year. I cannot believe these were written as prequels, they give readers such an enormous breadth of understanding for Celaena's character and history, as well as enormous sympathy for what she's been through, faults and all. And WHY have I never heard how amazing Sam i...

First read May 2015Reread August 2016Still hurts.

Although the writing was beautiful (as is expected by the magical Sarah J. Maas), it took me more than two months to get through. Because it was a bind-up of novellas, every novella had to have a fulfilling ending which made the pace of the entire book feel slow and awkward and I couldn't fly through it the way I flew through the first two books. That is the only problem I had with the book, though, and although I knew how the story would end, it...

I love this series so much it kills me. Celaena+Sam=ugly crying

The Assassin and the Pirate Lord. 4 stars! Sam smiled, his brown eyes turning golden in the dawn. It was such a Sam look, the twinkle of mischief, the hint of exasperation, the kindness that would always, always make him a better person than she was. I never usually read novellas, mostly because I'm perfectly happy with the information a book provides. I don't usually feel the need to read more, but the Throne of Glass series is different. More t...

"My name is Celeana Sardothien" she whispered. "And I will not be afraid." This book shattered me...I've never gone into a book with so much love mixed with absolute dread definitely a different reading experience.I purposely took my time reading this just because I wanted to spend more time with Sam and hold off on the heartbreaking ending we knew was coming... SAM. SAM. SAM. I loved him immediately and his relationship with Celeana was th...

She was fire, she was darkness, she was dust and blood and shadow. Absolutely fantastic and breathtaking! It's hard not to love everything in The Assassin's Blade. Even if it offered lots of achingly horrible events because of what happened to Celaena and how the book concluded, still, you could not deny the powerful and captivating effect that only Sarah J. Maas can convey.The Assassin's Blade is a series of prequel novellas including The...

Buddy read with Alexa & Athena!"Life isn't easy, no matter where you are. You'll make choices you think are right, and then suffer for them."Celaena Sardothien is the most skilled assassin on the continent. Years ago, when she was just an orphan living in the streets, she was recruited and trained by Arobynn Hamel, King of the Assassins. Throughout her teenage years, she rose in the ranks of the Assassin's Guild to become Arobynn's chosen suc...

*struggles to breathe*maybe I'm being overly emotional but I'm kind of ugly crying because I knew what was gonna happen but it still fucking HURTS. I hate everything Sam is literal perfection. He is everything I would ever want from a guy, and the way he treats Celaena is goals. And seriously though!? Would he have not been such an amazing character to read in the ToG series?? I loved Chaol and now Rowan for Celaena but I think Sam is seriously t...

Maybe a 4.7 im not sure yet.When i started this the only things that i knew was that it was a copilation of short stories and that there is an end with tears (well depends of the person you know but i sobbed). I remember how a lot of people that read Throne of Glass were saying that they couldn't see much of the old life of the protagoist so it was hard to tell or understand her feeling and her attitude or if she was just being dramatic about h...

I really wanted to read this novella bind-up in preparation for Empire of Storms! These five individual stories actually line up chronologically and tell a pretty fluent big story. I wasn't expecting that, so I was pleasantly surprised. Instead of five completely different and random stories, you get five different stories that build up together for one event that ends up being the start of Throne of Glass.Overall, I really did enjoy this bind-up...

Also reviewed for Addicted2Heroines Sure, you could purchase each of these novellas separately, but why would you?Besides, how can you say no to that cover!Most of the time, the novellas connected with a series tend to give you insight into side characters, and maybe provide a bit of filler while you wait for the real books to come out.Not so with this collection.When read all together like this, it acts as another full book in the series. A preq...