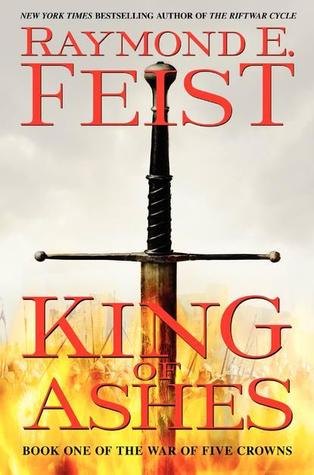 The first volume in legendary master and New York Times bestselling author Raymond E. Feist's epic heroic fantasy series, The Firemane Saga—an electrifying tale of two young men whose choices will determine a world's destiny.For centuries, the five greatest kingdoms of North and South Tembria, twin continents on the world of Garn, have coexisted in peace. But the balance of power is destroyed when four of the kingdoms violate an ancient cov...
---
Details King of Ashes (Firemane, #1)
Title
King of Ashes (Firemane, #1)
ISBN

9780061468452

Author

Raymond E. Feist

Release Date
May 8th, 2018
Publisher

Harper Voyager

Language

English

Genre

Fantasy

,

Epic Fantasy

,

Fiction

Rating
Reviews King of Ashes (Firemane, #1)
I received an advance reader copy of King of Ashes in exchange for an honest review. I would like to thank Raymond E. Feist and Harper Voyager. For many generations, the five great Kingdom's had enjoyed a time of peace and prosperity. Each realm had its own Monarch and the story begins with a great battle and the betrayal of Steveren Langene, the King of Ithrace. He is known as Firemane because of his bright red hair and his Kingdom was a place o...

I received an advanced reading copy in exchange for an honest review.Feist is back in form as the King of Ashes establishes a promising and solid foundation for a completely new saga away from the massive Riftwar Cycles multi-series.Five kingdoms used to co-exist in Garn, spread across the two continents of North and South Tembria. The Kingdom of Flames was destroyed by an act of betrayal and the ruling line of Firemanes completely wiped out, or ...

It was fantastic to read a new Feist book. It confirmed yet again that he is one of my favorite authors!This book felt like the start of a great story but really like a start, hence 4 stars. In the end it was really picking up and I can't wait for the next installment!

A new Feist, not only a new Feist but a new series, this has been a book i have waited for with some anticipation. I've been a fan of this writers work since my early reading days, Magician was a revelation, how fantasy could be written, to be epic and sweeping, and yet immediate and crammed with great characters and prose. Raymond Feist created a unique voice and style and a world that has wowed fantasy readers for over 30 years.click link for...

Its interesting that the release date for this was a few weeks before in Australia vs the USA. I have always been a massive Feist fan, and grew up reading about Pug. It was probably one of my first ever fantasy reads which I became obsessed with. This has all the hallmarks of a Feist fantasy from that time period. We have assassins, political intrigue, young heroes growing into their own and a little romance. Feist has also added a touch of the m...

I received an ARC of this book and here is my honest review.After 30 books in the Riftwar world which include 10 separate series Raymond Feist is back with a brand new series in a brand new world and it is amazing! The prologue is about 50 pages and sets the stage...Five kingdoms rule the twin continents until a great betrayal leads to the extermination of one of the kingdoms (Ithrace) by the other four.The book follow the early lives of our two ...

4.5/5Mon avis en FrançaisMy English reviewI discovered Raymond E. Feist a long time ago and when I heard about this new series, I was once again intrigued. It must be said that the synopsis, full of mysteries, made me really want to know more!We discover in parallel two stories, the one of Hatu, young heir to a destroyed kingdom and who grew up learning to defend himself, far from home in the ignorance of his origins. On the other side, we follo...

I've read several excellent fantasy novels recently and so it was with some reluctance that I picked up this one, thinking the odds of yet another 5-star fantasy novel would be unlikely. Nevertheless, I was most pleasantly rewarded by perhaps the best of the batch, for this one started out as a wonderful read and sustained that all the way through.The balance of power in North and South Tembria is reliant on the equality of the five greatest ki...

It has been a long while since we saw anything new from Raymond Feist. I loved his early books, but ended up confused by all the various sagas he produced and kind of lost the will to live.Thank Goodness this is a new series with no reference to his previous works. A world with five key kingdoms is thrown into chaos when, by means of treachery, one is destroyed and all those in the royal line murdered. Except for the baby smuggled away...and now ...

Feist has his top game going on with KoA! Wonderful start to a new series and I'm already feeling homesick and ready fro start the next installment. Fantastic world building and characters. The entire book felt a little like a prologue but it completely worked and really primed me for whatever comes next. The story follows two boys both around the age of 17, one a black smith and the other an heir to a kingdom who is raised by a sort of nation of...

Fans of Feist will be thrilled to discover a whole new world which Feist will explore in this new series. They may also find it refreshing that Feist has apparently refreshed his repertoire of fantastical settings and creatures/magics. Fans of Feist will not be disappointed, and will have easily found a new favorite epic fantasy to look forward to the coming years.However, for those of us who are not proclaimed Feist fans (although have found him...

King of Ashes is the first in a new series, and I have to admit I rather enjoyed it.The chapters alternate between the two main protagonists, Declan and Hatu. Declan is an apprentice smith, while Hatu is being tried by a secret society in the arts of assassination and crime. Each young man is blissfully unaware of the other, but as the author expertly draws their seemingly disparate narratives together you start to see there is a far bigger pictu...

I grew up reading Raymond E. Feist books. His Magician series was one of my favorites as a teenager. I read the next several series that take place in the same world and noticed a pattern. He started throwing in a lot of sexual content for no apparent reason. It was never extremely graphic, but it just started happening a lot. After a while, it kind of got on my nerves. Well, right from the prologue we are introduced to a character who has ultima...

This wasn't something I had high expectations of going in, but it didn't even really clear that low bar. It's not even so much that it's bad, but that there wasn't anything particularly great about it -- it's like Feist is still writing the same epic fantasy I was reading growing up in the 80s and 90s, without having picked up on any of the exciting advances that authors have made in the intervening decades. The world is built out of various piec...

Disclaimer: I received an ARC at no cost. This is an honest reveiw.Other reviewers have done a nice job of summarizing the plot so I'll avoid that and just say that as a long-time reader of REF I am thrilled (and frankly relieved) to turn the page into this series.My first exposure to REF was in the summer of 1994, just before my first year of college. I went to a Waldenbooks and pulled a paperback from the Sci-Fi/Fantasy section almost at random...

I thoroughly enjoyed every page of this new series.I was lucky enough to be sent a proof copy before initial publication so have taken my time over it and actually kind of enjoyed some of the spelling and grammar mistakes (just shows how we're all human!)The main characters are likeable, from different backgrounds, but all have their own part to play in what i assume is going to be an epic battle for the throne. My favourite characters are probab...

Review to come on http://fantasy-hive.co.uk/ shortly

You may recall that I used to be a huge Raymond E. Feist fan. Like many fantasy readers from my generation, my teenage years and early adulthood were spent reading the author's popular Riftwar, Serpentwar, and Empire series. I have so many fond memories from those books and their characters. The same goes for the Riftwar Legacy and Krondor's Songs sequences. These novels showcased a Raymond E. Feist writing at the top of his game and each new ins...

Since when did the genre known as Fantasy come to mean "political intrigue in a fake medieval Britain, plus some running away from bad guys"?This is a book about a magic person, in which practically no magic is used or experienced whatsoever. But the thrilling plot! And the depth of the characters with all their relatable struggles! And the layered, unraveling mysteries bound to suck in any reader! ...No. The book merely sucks.Granted, novels foc...

I received an advance reader copy of King of Ashes in exchange for an honest review. I would like to thank Raymond E. Feist and Harper Voyager for the opportunity. Having read all of Feist's Magicians saga across decades, I was excited to see that he was starting a new series in a completely unique world. I added this book to my wishlist as soon as it was announced, and was incredibly excited to have won the opportunity to read in advance.Above t...

King of Ashes is the first in a new series by fantasy author Raymond E. Feist and is the first not to be set in his Midkemia setting. My thanks to HarperCollins Canada and Raymond E. Feist for the early eArc. King of Ashes is released on May 8th and as such I will keep this review as spoiler-free as possible.On a personal note, I credit Mr. Feist with reawakening my love of reading; after studying literature at university I couldn't stand to read...

Feist is a fantasy world-builder with his Riftwar Cycle creating many, many worlds within that universe. He fills his worlds with characters that you love and also love to hate.With King of Ashes Feist returns with a new empty universe with the opportunity to build new worlds, new characters, and new adventures. If you loved the characters in the Riftwar books you will love his new novel.The book is fundamentally about the protagonists rather tha...

King of Ashes is a new series and a big change from the ever expanding Riftwar set of books we've come to love. I was very excited to make a start on it but it was a mixed bag. I've given it a three star rating though that doesn't really reflect the whole journey we are taken on. It starts as a bit of a 2 star slog but quickly progresses to being a solid 4 star read by the end. I am very optimistic about the series as a whole and will continue to...

People often say Feist is one of the greats of old and honestly the old is where they should have left this. It. Was. The. Worst. Have you ever hate-read a book? Where nothing but your desire to get to the end so you can stop reading it forces to continue? Where you have to prove to yourself that you can finish it so you can't just give up, like it's a personal challenge? Yeah I despised this book and here's a list of reasons why:Women? What wome...

An Old Master Returns in Classic Style!I spent many very happy hours with Feist's books when I was younger, the Riftwar Cycle was among my favourites but I'll be the first to admit that I believe the follow-ups just took it too far and I lost touch with it all. The call of a brand new set of Feisty characters in a brand new Feisty world was never something I was going to resist for long though.You can't judge a full epic series by the first book ...

King of Ashes lays the foundations to what looks to be a great epic by Raymond E. Feist. Unlike the few other books I have read by him, this one will need to be read as a series. The whole of the book is dedicated to the development of the three main characters, their personalities and the directions the will be taking through out the series.I found his world building here enjoyable, because unlike his Riftwar saga, he has stepped away from some ...

This pains me. Raymond Feist and his Midkemia novels were my most favoritist of favorites from my mid-teens well into adulthood. As I fell into Jordan's Wheel of Time, I appreciated how Feist always wrapped up his stories within a small trilogy, or even, gasp, a stand-alone book! Towards the end of the Midkemia novels, Feist was doing more and more of the trilogy sequence, but he also published yearly and I felt I couldn't fault him for it. And I...

Despite being a fantasy aficionado, this has been my first foray into Feist's work (though the Riftwar series is on my to-read list). Given his reputation for interesting characters and detailed world building, it's perhaps not surprising that I very much enjoyed discovering the world of Garn through the eyes of Hatu, Declan and the supporting cast. While some of the world's constituents are typical fantasy elements, the detail Feist applies to b...

This is actually my first time dipping into Feist's books. I thought I'd read his work before when Harper Voyager offered up this egalley (free in return for an honest review), but realized that no, I haven't. I've heard of his work for years, with his name consistently taking up space in Top Ten lists all over the web, and now I can understand why. While this book didn't get a fifth star from me, it's only because there's so much setup going on ...