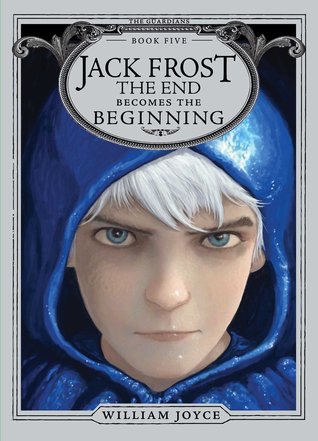 The Guardians' powers are given the ultimate test as they journey to the moon itself in this fifth and final chapter book adventure of an epic series from William Joyce.The Guardians came together to protect the childhoods of all who dream, and they are a formidable team: Nicholas St. North, E. Aster Bunnymund, Toothiana, the Sandman, Nightlight, and Katherine have thus far prevented Pitch from fulfilling his nightmarish plans.But Pitch and his n...
---
Details Jack Frost (The Guardians, #5)
Title
Jack Frost (The Guardians, #5)
ISBN

9781442430563

Author

William Joyce

Release Date
Nov 20th, 2018
Publisher

Atheneum/Caitlyn Dlouhy Books

Language

English

Genre

Fantasy

,

Childrens

,

Middle Grade

,

Fiction

Rating
Reviews Jack Frost (The Guardians, #5)
*sobs at how much I need this book to be out* I'm usually pretty patient, but this series has changed that.

Lovely conclusion of an overall lovely series. Magical and intriguing! Loved the characters, how they evolved, fought, cared, and loved. Will miss them for sure!Loved Jack, how he was born and how he became the Jack Frost we all love. The movie is amazing, one of my very favourites, and this book was just as amazing: different but wit the same emotions and magic. Jack has a piece of my heart. Always.RTC maybe, I'm so late with reviews!!

Long Awaited Conclusion; 8/10 bookI felt that this book was a good conclusion to this part of the series but it still left me a bit dissatisfied. William Joyce is, as always, inventive in his character designs and the art is beautiful that he makes. I was content with how he united the movie and books, but there are still elements that don't mean well between the books and movie. Overall, if there was anything that made me unhappy with the story ...

Una de las principales razones por la le tengo tanto amor a este libro como a todos los de esta serie es porque AMO AMO AMO MUCHO, con todo mi ser la idea de que todo en los seres que crees durante tu infancia, estan ahí, para protegerte. Que todo lo bueno en lo que creíste durante todos esos años va -y perdón por la expresión- a ir a partirse la madre contra todo aquello que atente contra tu bienestar (en este caso el miedo y las pesadillas...

I really enjoyed this series (and the movie!) and I wasn't sure there was going to be any really satisfying ending that Joyce could craft but they did.Now, I was a bit annoyed at the beginning that a) there was a giant time jump but mostly that 2) they seemed to be saying that things ended differently in book 4 than I'd remembered. Since I re-read this immediately before starting this one, that seemed unlikely. So the way that Joyce kept (view sp...

Even though the book series is different from the movie, I started this series, because I saw the movie The Rise of the Guardians. When I read the fourth book, I thought the series was over, which made me so happy to discover this book! Even though the books cannot perfectly match the movie, I applaud William Joyce for mitigating the gaps in a clever way with this last book. If anyone has read the books then they would know that Jack Frost did no...

No one can weave a tale quite like William Joyce. His stories are the epitome of childhood and the joy and fear that exists in the mind of a child. William Joyce draws on the life of a child unlike any other author I have read. This whole series is a way to relive and renew the joy, wonder, and hope of childhood. Joyce is able to combine a deep sorrow with a great joy and show the complicated emotions of life so clearly. William Joyce's world is ...

That took forever! Seriously it has been 4 years since book 4 came out and I have been waiting and waiting and waiting and waiting for this book! Not to mention that it too a long time for book 4 and then even longer for this book. Anyway the long wait aside (I was 13 when the last book came out O_O ) Anyway long wait aside it was totally worth it! Was it a satisfying conclusion? Well no if I had my way these books would go on forever but that'...

I will admit that I was a little disconcerted by the start of this book, maybe its because it was such a long wait since the last one but it didn't flow well for me until it hits the part where Kathrine is telling Jack his story. BUT once I hit that part I was hooked and devouring page after page!I like the transition Joyce comes up with for Nightlight becoming Jack Frost; having watched Rise of the Guardians before picking up the first of The Gu...

An enjoyable conclusion to this enjoyable series. Would be interesting to go back and reread them in a row to get a better sense of how they all connect. I enjoyed the history of Jack Frost and the way it tied the history of the Guardians together.

Sweet, fluffy end to this highly imaginative children's series. No real twists or surprises, just everything as it ought to be. My only nay, is that half the book was exposition and flashbacks. I prefer my action to happen in the present.

Waited a long time for this book to be published. And yes, it was worth the wait. The battle between good and evil, Frost and Pitch continue. Who will win. Pitch and his Nightmare army or Jack with his Guardian friends and their army. I strongly recommend this series.

Great ending to the series. I waited for this book to come out and read it as soon as it did. I highly recommend this series for any age.

I was afraid the end of this series wouldn't live up to my hopes and dreams for it. It did. An amazing ending to a wonderful series.

I read these to my 8 year old. She/we love them. William Joyce is so creative how he shares with us how our childhood heroes become heroes! Can't wait until 2017 for the new book.