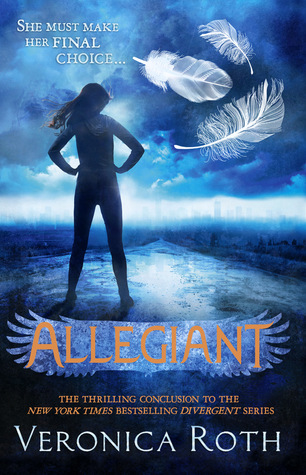 The faction-based society that Tris Prior once believed in is shattered - fractured by violence and power struggles and scarred by loss and betrayal. So when offered a chance to explore the world past the limits she's known, Tris is ready. Perhaps beyond the fence, she and Tobias will find a simple new life together, free from complicated lies, tangled loyalties, and painful memories.But Tris's new reality is even more alarming than the one she l...
---
Details Allegiant (Divergent, #3)
Title
Allegiant (Divergent, #3)
ISBN

9780007524273

Author

Veronica Roth

Release Date
Oct 22nd, 2013
Publisher

HarperCollins Children's Book's

Language

English

Genre

Young Adult

,

Science Fiction

,

Dystopia

,

Fiction

Rating
Reviews Allegiant (Divergent, #3)
The book starts off with this epigraph from the Erudite faction manifesto:"Every question that can be answered must be answered or at least engaged. Illogical thought processes must be challenged when they arise."And then fantastically misses the mark. Allegiant was so chock full of plot holes, unrealistic situations, contrived character "development", laughable explanations, and a whole load of "wtf" moments. And that's not even including the di...

I may never be happy ever again.The fun and laughter is over. I have finally read Allegiant, and I feel empty inside. Empty but accepting, and understanding.This book makes Mockingjay feel like Dr Seuss. I had a few problems with it (mainly that it spelled out a bit too much for the reader, lacked finesse with the handling of themes, and was sometimes pretty predictable) but the character development was breathtaking, the plot was heart-pounding ...

Ten Hours later...When I don't like a series ending, I tell myself it's partially my own fault - that the book suffered from my expectations. In the case of Allegiant, I think it went a little beyond that. Hours after finishing and sleeping on my crushing disappointment, I have to admit that very little of this book worked for me. So I'm turning to the device that I always turn to when I'm stressed or overwhelmed with something: lists. As...

1.5 StarsBooks are a magical thing. They get you invested in people, worlds, scenarios that aren't even real or plausible and they make you care about them. If done correctly, I should say. Allegiant was certainly the final book of a hype-copter of a series that left millions of readers invested. Like a few other books this past year, it has left a feeling of doubt, anger, and a lot of crying.But for me, I was left with a sort of empty feeling....

If in your story the word 'genetics' could have just as easily been replaced with the word 'magic' or 'voodoo' or 'pepperoni', your premise may seriously need some rethinking. Why do I care? Well, education took me on the path from biology to medicine, and so I don't take f*cking with genetics lightly. Well, now against all odds (and against my self-preservation sense) I finished this series. And it was not very good. Really, it wasn't. It could ...

Click Here to see the full review :) After Reading: I just don't know how I feel right now! Before Reading: Edit#3: Here's another awesome cover by a fan

I understand why people are so upset with this book, but I personally thought this book was raw, realistic, and heartbreaking.

Veronica Roth:Well, I tried writing this review without there being any spoilers, but it's rather impossible – for me, at least. So, readers beware.Veronica can do so much better than this, so so much. The second Tobias' PoV was introduced I knew Tris was going to pull some heroic sacrificial bullshit and get her ass killed. I fucking knew it. Not a tear was shed from me… not a single fuck was given. Yes, dear readers, call me a Satanist ...