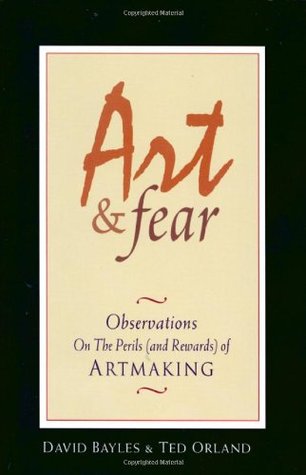 "This is a book about making art. Ordinary art. Ordinary art means something like: all art not made by Mozart. After all, art is rarely made by Mozart-like people; essentially-statistically speaking-there aren't any people like that. Geniuses get made once-a-century or so, yet good art gets made all the time, so to equate the making of art with the workings of genius removes this intimately human activity to a strangely unreachable and unknowable...
---
Reviews Art and Fear
I've read this book cover to cover four or five times. I have picked it up and opened a random page to read on dozens of occasions. I reread the margin notes that I've written at various times.What I love about this book is that it uses art to talk about life. Specifically, it uses art and fear to talk about how our choice to have courage or not drives the degree of light you will manifest in your own life. The writers explore the human need for ...

It starts out strong, very strong, and then falls apart in a semantic entanglement of mixed metaphors and pseudo philosophy that spends a lot of words saying very little. It's a bit frustrating to read, the section on art and science was a disaster, perhaps demonstrating the authors complete lack of understanding of science. The two authors refer to "art" in such a flimsy pretext that they not only fail to define it, they change the implied defin...

If you are in need of some motivation and don't have time to read The Artist's Way series (which, by the way, I also recommend), it's perfect for you.  It addresses issues like perfectionism, creative blocks, and motivation.  Here are some of my favorite quotes from it: In large measure becoming an artist consists of learning to accept yourself, which makes your work personal, and in following your own voice, which makes your work distinctive...

This book is about the challenges in making, or not making, art. Making art is difficult. Many times artists will stop making art and then feel guilty about not returning. Why? The is what the author says-- "Lack of confidence and self doubt -- I'm not an artist-- I'm a phony; other people are better than I am; I've never had a real exhibit; I'm no good. Or maybe fear about what others say after looking at your work. Basically the only work reall...

This is a great book for ALL people, artist or not, professional or amateur. What I mean by that is, whether you want to start cooking, gardening, dancing, painting -- WHATEVER! -- it helps give you motivation to do so.I've always been an artist, having a natural drawing talent from a very young age, delving into my art in high school, then studying art in college. I received my commercial art/graphic arts degree and even though I did not stay in...

I'm an artist. This book is absolutely terrible.In the first chapter, the authors claim that that art came before consciousness and that prehistoric cave painters were not conscious beings. When they painted a bison on the wall, they had no idea what they were doing or why they were doing it. They didn't even know that they or the cave painting existed.So how the hell do you unconsciously paint a bison? If the prehistoric artists lacked conscious...

A quick, no-nonsense, part-philosophical-part-practical examination of what it means to make art, no matter the medium, and to continue to do so in spite of its inherent challenges. The authors' basic premise is that you can and will only ever be you, and all the other people in the world will also only ever be themselves. It might seem obvious, but the logical corollary here is that it is a pity to not make art because you are the only person wh...

Depending upon where you may be in your particular process as an artist, "Art and Fear" can be a light in the dark for anyone desiring to take their work more seriously. Oftentimes, those who write, paint, sculpt or shoot fear discussing this topic with others, even other artists, at the risk of sounding pretentious or dull. To read this book, a slim, unassuming-looking little volume, is to feel freer in admitting: I am an artist, or writer. My w...

This book was recommended to me and to all of my fellow art students by a professor, whose every word is normally golden. I must say this was the exception. When this small pamphlet of a book was published in the early nineties, perhaps it answered an urgent need of recent art school grads and artists struggling to stay productive when faced with the loneliness of the process. It's still true, outside of the nurturing environment of art academia,...