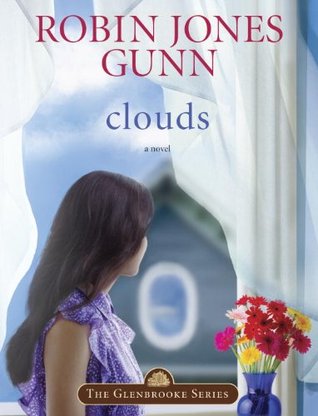 This bestselling former Palisades release is book five in the new Glenbrooke series by award-winning author Robin Jones Gunn. Shelly Graham has moved home to Glenbrooke, where she's flooded with memories of her high school sweetheart, who took off for Europe after they broke up. But when Shelly travels to Germany, she suddenly runs into the former boyfriend who has filled her thoughts. Learning that Jonathan is engaged, Shelly hides her feelings ...
---
Details Clouds (Glenbrooke, #5)
Reviews Clouds (Glenbrooke, #5)
I loved this book!!! Robin Jones Gunn has such an amazing gift of writing. I've felt so connected to her characters!!! As books 5 & 6 are my favorites that I have read of the Glenbrooke series (I haven't read them all yet lol), I really enjoyed that Mer and Shelly are sisters!!! I want to live with them in the woods XD The way that Shelly becomes SO connected to the Lord in this book was amazing!!! The Lord becomes her best friend! She consta...

Reading a Robin Jones Gunn book is like catching up with old friends, and this one is no exception. Shelly and Jonathan were childhood best friends who fell in love in high school. After graduation, an argument leaves them to find their own ways, apart from each other. Now, five years later, Shelly moves back to her parents' house and old memories come flooding back. When a chance encounter halfway around the world brings them back in contact, is...

I usually like Robin Jones Gunn books, but this was a slight exception. I disliked it because it was so boring. It's not even Robin that bothers me. It's the usual romance plot. It's always the same. Also, I skim-read many of the portions in this book because I felt they were unrelated to the story. I normally enjoy that about Robin's writing, but I don't think it worked in this novel. Robin writes quality books for the most part, and she's g...

This book was like a perfect storm for me. It hit so many emotional points and I can't even explain how perfect it was for where I'm at in life right now. Her situations weren't exactly the same, but I could certainly relate to Shelly on many different levels. Gunn is at her best when her characters are in the messy reality that is life. Shelly's trip perfectly encapsulates how travel can be both an escape, allowing for insights that one can't re...

I FINISHED IT! Boy, that took a while. 😂So over all, once we got past the 130 page mark, stuff started to pick up. All the parts before that were rather slow, so I think that is why it took me so long to read. I really did like book, but at first I didn't think it would of ended the way it did. But I like the way it ended. Happy. Though, most of Mrs. Gunn's books end happy. Lol anyway I give this book 4.5/5 stars.

Clouds signify many different things to different people. Some folks may consider them a nuisance to a day of catching some sunshine on a sandy beach. Others may view them as beautiful mountains of hope. Still others might look up at an overcast sky and see a comforting blanket that reminds them of marshmallows bobbing up and down in their mom's homemade hot cocoa.In Clouds, flight attendant Shelly Graham thinks "no human could mar their perfecti...

I so love this book—the whole series. This is book five of the series, and they just get better and better. It's so much fun to see how all of the characters in each of these books are linked together. Besides good stories, they also are mini travelogues. This one took the reader to Belgium. And they also bring the Lord in so sweetly that one can't help but praise Him. I'm hooked.

The main character, Shelly, followed her own path after high school, leaving behind her childhood friend/high school sweetheart, breaking his heart. Jonathan and Shelly end up meeting again 5 years later in Germany, where he announces his engagement to another woman. Shelly goes through a lot of changes in her personal life and, more importantly, in her spiritual life during this time. With upheaval in her job & living arrangements, she begins st...

Choppy, scattered, and a bit forced, I feel like I only started reading this book because I have a desperate need for completion. I am at a point that I simply have to finish the Glenbrooke series because of that compulsion alone. Robin does have good characters, but these stories seen to drag and then finish all in a hurry with blunt speeches and cute cliches. I do enjoy the wholesome storylines and that the characters always grow in their faith...

Sooo good!!! :) Love this book!! A very sweet story.. Definitely has it's sad parts, but it's beautiful.. Robin has such a way of crafting stories. Loving it!

My favorite of this series...so far.

One of my favorites from this series. Great story.

Robin Jones Gunn is one of the first authors I read and found out I love to read. Reading one of her books always makes me feel like coming home.

I couldn't find all of these! Good read!

CLOUDS by Robin Jones GunnThe Glenbrooke Series #5OVERVIEW:This bestselling book in the new Glenbrooke series is number 5 of the series by award-winning author Robin Jones Gunn. Shelly and Meredith are sisters in a loving family. They are both experiencing career changes and move in together. Shelly wasn't satisfied as being an airline stewardess. Shelly begins thinking of other careers that she might consider. She is almost thirty years old and ...

I received this book for free from WaterBrook Multnomah Publishing Group in exchange of an honest review.Jonathan and Shelly grew up together attached at the hip as the best of friends and eventually high school sweethearts. When the two broke up, they both split separate ways – Shelly to a flight attendant school and Jonathan to college in different states. Coming back home to where she grew up after a sudden change of plans in her life, Shell...

CloudsRobin Jones GunnBook Summary: This bestselling former Palisades release is book five in the new Glenbrooke series by award-winning author Robin Jones Gunn. Shelly Graham has moved home to Glenbrooke, where she's flooded with memories of her high school sweetheart, who took off for Europe after they broke up. But when Shelly travels to Germany, she suddenly runs into the former boyfriend who has filled her thoughts. Learning that Jonathan is...

Five years ago, Shelly Graham left her home in Seattle to pursue her dream of becoming an airline stewardess and exploring the world. In her decision to place her independence above all else, she left behind her best friend and love of her life, Jonathan. Locking up the look of utter grief he gave her and the harsh words they traded on the night she turned down his proposal, Shelly thought she had put their past and its hurts behind her. When She...

WARNING: May contain a minor spoiler:This was a difficult book for me to make a decision on. I love this author and this book has some fabulous descriptions and character development. Still, after reading the rest of this series, I didn't feel that this book was quite as exciting and endearing as the others. It was still worth reading, but wasn't my absolute favorite.What I did like about this novel, was that there was a certain mystery to what w...

After supporting herself and living in a different state for a number of years, Shelly finds herself back in her home town and living with her parents. Unexpectedly, the transfer home for better job opportunities falls flat when Shelly finds out her airline is giving her less work hours than before her move. The move home rekindles memories of her neighbor and her first love, Jonathan. With sister Meredith's prodding, Shelly really explores her...

"Clouds" is the fifth novel in The Glenbrooke Series by Robin Jones Gunn, published by Multnomah Books. Shelly Graham and Jonathan Renfield grew up next door to each other and were fast friends. They even rigged a bucket on a rope between their upstairs bedrooms to send things back and forth to each other. Shelly grew up wanting to see the world and decided that she would be an airline hostess. Jonathan intended to go to college and because h...

I love Robin Jones Gunn's work, but I had not read any of her Glennbrooke series. When I saw Clouds available on Blogging for Books I knew I had to take it. I usually request ebooks when doing reviews because I don't have unlimited space to store books in my house, but this is Robin Jones Gunn, so I requested (and received) a paperback copy.This is the book that makes me want to read even more RJG. I've read her Sisterchicks series and a standalo...

Flight attendant Shelly Graham moves back to her childhood home because of downsizing at the LA offices of the airline she works for. Her move back home opens up a Pandora's box of memories of her first - and only - love Jonathan. When Shelly accompanies her sister Meredith onto a trip to Germany, she doesn't expect to run into Jonathan again. Yet she does. To her surprise, he's engaged. Lost and confused, Shelly reconnects with God in a way that...

Shelly is struggling with life. Her job is downsizing and she is forced to move back home with her parents. As she builds a relationship with her sister Meredith she begins to put her life back together slowly. She has memories of her true love, Jonathan and spends time thinking about him and wishing she had done things differently. She finally gets to see him again after 5 years but things are not the way she had hoped they would be. I will not ...

Once again I loved curling up with the characters in the Glenbrooke Series from Robin Jones Gunn. After turning down a marriage proposal from Jonathan, Shelly leaves home and enters into school to be a flight attendant. She learns the career she has chosen has left little time for God and other real relationships. When she learns her company is downsizing, she returns home hoping for a better schedule out of a smaller airport. Little did she know...

First off, I loved the names of the two main characters, Shelly and Jonathan. I don't know, maybe it's a personal thing, but to me "Shelly" just kinda rolls off the tongue in a great way. And I can't remember the last time read a book with the main character named "Jonathan," so it was a really great pick. I really liked the way the plot played out. I have a personal love for books that take place--or have scenes--in foreign countries, especially...

Choices have consequences. Shelly Graham is finding it harder and harder to deal with the results of her choices.Shelly wanted to be a flight attendant and did so for five years. When she made her choice to leave, she hurt the person she loved very deeply, burying her feelings at the same time. Now she is coming home to a house that should be filled with love and life, but she finds no one to share it with. Then, she unexpectedly runs into Jonath...

Shelly and Jonathan were best friends as long as they can remember. It seems like fate has put them together since childhood. But when Jonathan proposes Shelly doesn't want to commit yet, she wants to chase her dreams for a little while before settling down.Jonathan feels crushed and betrayed and they part ways. Eventually Shelly realizes her ideas and dreams weren't as fulfilling as they seemed from the distance.Years later she meets Jonathan by...