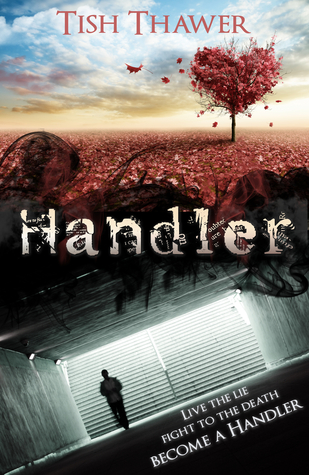 Our world was perfect––until we broke the law: Don't go out at night.Utopian by day, dystopian by night; this is the world I recently discovered. I now struggle with the fact that our whole society has been based on a lie. There's only one way to change it––conquer the darkness we've all been raised to fear.Live the lie; fight to the death; become a Handler. It's the only way.A sci-fi/dystopian novel.
---
Details Handler
Title
Handler
ISBN

9781981579983

Author

Tish Thawer

Release Date
Dec 19th, 2017
Publisher

Amber Leaf Publishing

Language

English

Genre

Science Fiction

,

Dystopia

Rating
Reviews Handler
Original, suspenseful, & thoroughly entertaining!!!It seems I've found another author I will be stalking in the near future. (OK...not literally because that is illegal. Her book though....I definitely need more of this in my life!!) This is the 2nd book I've read by Tish Thawer & this is the 2nd time she has blown me away. Looking for a whole new take on dystopian end of the world where humanity is on the line? Look no further. What begins a...

Honestly, going into Handler I was ready for the common dystopian end of world story and up until half way I believed that was what I was getting. There is a twist to this story that at first turned me off but as I continued to read actually ended up enjoying it. Cole is a strong character and very likable. The connection clicked almost immediately with him. Of course this is a dystopian world but the twist is pretty big and I think any YA dystop...

I am clearly in the minority here, but I just didn't like this book. I'm giving it two stars because I did read to the end, but the story was just ridiculous. The writing was ok, but was at times very juvenile. None of the characters are fleshed out...not even Cole, the main character. They're just bodies that have been assigned names. I never felt like I got to KNOW any of them, which in turn means I didn't care about any of them.The truth about...

I know I am in the minority here but Handler just wasn't for me. I know not every book is for everyone and there are bound to be books I don't like much, but with Handler I can actually put my finger on a few things that put me off.SPOILERS AHEAD.First of all - I could not connect to either Cole or any of the other characters in the book on a deeper emotional level. I'm not even sure why, but while I could follow with his thoughts and reasoning u...

LOVED. IT. Yes, straight to the point, but sums it up entirely. This book was never at any point what I was expecting, and it was such a fantastic surprise – or a lot of surprises, in this case! When I first started the book, I was worried it was going to be your typical Utopian society that some kids decided was a little too perfect, go off to investigate, and find a bunch of secrets the 'adults' are hiding and decide to expose it. Nope. I...

http://fallenoverbookreviews.blogspot...I received this book to give an honest review.WOW I was mind blown about 60% in....I so was not really expecting it to be like that.Before I get into the review I have to say there was a part in the book that bothered me a bit. There are camera's everywhere. Yet when Lainy and Cole are discussing family they are talking freely like nothing is there. To me that seems weird as it seems Cole is very observant ...

I was provided a copy of Handler by the author for a honest review. This is my first read by Tish Thawer. As well, sci-fi/ dystopian is not my usual go to genre, so I went into the book blind. After reading the blurb about the book I was immediately intrigued and wanted to venture into new territory in both author and genre. What I loved about Handler- Miss Thawer is an artist. Words are her medium. She paints a story that is vivid, creative and ...

I didn't know what to expect with this book, but wow. I have so many thoughts running through my head right now, it's hard to process all of it. Handler is centered around a post apocalyptic world, but we soon find out that everything is not as it seems. I have mixed feelings about the main character Cole. There are times when he comes across as a little weak, but then there are other times when he shows that he can be strong - in the end, he did...

I'm leaning more toward 4 stars than 3 stars so...four stars for me. I'd say this was a bit of a sci-fi/mystery...with a touch of romance. This was a unique read and, I cannot say it wasn't confusing but, I'm thinking that's how the author intended it to be. Being confused and having question upon question let you experience more of what Cole experienced.For me, there wasn't a real clear sense of the passage of time...it felt like just days to me...

Handler delivers sci-fi like no other! Tish Thawer creates a world within a world that leaves you salivating for more. Would you enjoy a Utopia? No crimes and only one rule, do not ever go out at night. Sounds nice right? Maybe not so much. Cole lives in Utopia, he only knows of a nice life with his family and friends. No wars. No crime. No complaints. Until one of his best friends is "killed". Word on the street is he ventured out after night. H...

WOW! I don't know what I expected, but it definitely wasn't this. Handler by Tish Thawer is a total mind F%$k! Talk about falling down the rabbit hole, Cole's life as he knows is GONE. How can i describe it? This story is the Hunger Games, MMA, and the Matrix all rolled into one with a bizarre, unique twist.

Cole lives a perfect peaceful community in the near future. Their only law: never go out at night. Cole has no problem with the law until his friend Victor mysteriously disappears. Cole and Victor's brother Vel leaver after dark one night to try to find Victor. When they find him they also find the truth about their perfect community. Now Cole has to decide what to do with this truth. I enjoyed this futuristic tale of secrets and lies. At first...

Handler Tish Thawed5 out of 5 starsCole or Colizan lives in a city like no other where the grass is always green the air is always fresh there are no sicknesses or diseases and he only has to follow one rule do not go outside after dark easy right? It was until Cole's best friend turns up missing now Cole and Vey are determined to find answers. This book had it all twist and turns you never saw coming. Tish truly wrote a great story and for this ...

If your looking for a good stand alone book. I would recommend Handler. A peaceful post apocalyptic society is not what it appears to be. This book follows Cole through his investigation to heart of a coexisting world inside of the one he's always know. I for the most part I enjoyed this book, the only problem I had was I just didn't connect to the characters as I usually do. That may just be me, so I give this book 4 stars.

A MUST READ! Handler is a futuristic dystopian that is utterly engaging. You'll be hooked until the end and when you find out the "WHO" and the "WHAT", you'll be shocked! 12.19.17 Only a few more days until you too can find out about their one law...DO NOT GO OUT AT NIGHT! You really should heed the warning!

I'm not quite sure how Tish does it. But here is yet another book that she just completely knocks out of the park. This was a new genre for me to read from Tish specifically and it was magnificently crafted. Rich plot and characters. Significant development of back story and universe. The voice of the characters was clearly heard. Loved it as I usually do with her books. 100% recommended!

I always find dystopian stories an interesting sub-genre. This one had me curious from the onset. It kept me guessing from the get go as to who was good and who was bad and maybe there were shades of grey and maybe some weren't as straight-forward either good or bad. I always like a book that makes me think a bit even if it's an easier read.

If it seems to good to be true, it probably is. Cole seems to be naturally curious, but when one of his best friends disappears suspiciously, his curiosity won't let him leave it alone. And what he finds is beyond anything he can imagine, and he's only just touched on the tip of the ice burg. Delve into a deep world that slowly unfolds like a flower, revealing the the giant wasp inside!

This world Tish painted seems like a apolyptic konda world. Things have changed and the laws are strict. No one is allowed out after dark. Once you read the book you will know why. And I must say I was shocked at why.

3.5/5.0Readers will enjoy the post-apocalyptic world built in this Science Fiction/Fantasy. Read full review in the 2018 May issue of InD'tale Magazine.

2 1/2 stars maybe. It felt very young adult. It is simplistic and convoluted. I gave it the extra 1/2 star because I did finish the book. ..Why it has an average of 4 stars on Goodreads is a mystery to me unless most of the reviews are from the author's friends and relatives. 😉

This book is amazing. There's no other way to describe it. With twists and turns you never know what to expect from this book. The characters are flawless. The story line, phenomenal. One of my favorite books that Tish has written. An absolute must read.

Not for me The other reviews intrigued me but this is just not my sort of book. I must confess to giving up after the first half dozen chapters.

Couldn't do it. I read over 125 pages in and found it totally uninteresting. Nothing there to to capture my interest. Not even the shadowy government. Sorry.

I enjoyed the book as a whole. Nicely written, with a compelling story. The plot was also interesting. However, there were a couple of things that prevent me from rating this book higher, namely:(view spoiler)[- This book is the in the future, where it seems something happened to the earth and city were rebuilt from the ashes of destroyed cities. I would have liked some more depth on this subject. It is mentioned very briefly on a couple of chapt...