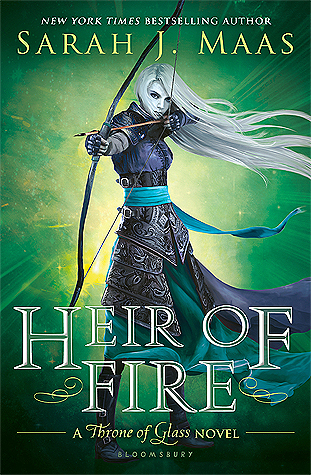 Celaena has survived deadly contests and shattering heartbreak―but at an unspeakable cost. Now, she must travel to a new land to confront her darkest truth . . . a truth about her heritage that could change her life―and her future―forever. Meanwhile, brutal and monstrous forces are gathering on the horizon, intent on enslaving her world. Will Celaena find the strength to not only fight her inner demons, but to take on the evil that is about...
---
Details Heir of Fire (Throne of Glass, #3)
Title
Heir of Fire (Throne of Glass, #3)
ISBN

9781619630659

Author

Sarah J. Maas

Release Date
Sep 2nd, 2014
Publisher

Bloomsbury USA Childrens

Language

English

Number of pages

565

pages
Genre

Fantasy

,

Young Adult

,

Magic

,

Romance

Rating
Reviews Heir of Fire (Throne of Glass, #3)
"Enemy. Lover.Queen." Heir of Fire is undoubtedly one of the best books I've ever read. It certainly will be my favorite book of the year. It is gloriously long and kept me occupied for an entire day (night hours included) making me crave to find out more, but also stop reading so that the book won't end just yet.You think you know Celaena from reading the first two books, right? Oh, but you're so so wrong. In this book we see her more than broke...

This is going to be a book that I will constantly be thinking about until I'm able to get my hands on the next book. It was incredible and I'm so happy with the way this story is evolving. NOW GIVE ME QUEEN OF SHADOWS. (full video review coming soooooon)

I'm not sure what to say about Heir of Fire. Perhaps I don't need to say anything beyond: it took me months to read it. And I am the kind of crazy passionate reader that finishes good books in a day or two. It's been a while since a book took me longer than a week to read.So basically:I liked but had issues with Throne of Glass.I absolutely LOVED Crown of Midnight.But this book... this book was so... bloody... sloooooowwwwwww.I wanted to DNF it s...

Initial Reaction: Holy crap. I can't breathe. Oh my god. That was epic. WHERE IS BOOK #4?? Read the full review at A Perfection Called Books**This review contains spoilers from previous Throne of Glass books As I'm sure you all know by now, I am obsessed with the Throne of Glass series by Sarah J Maas. I was ecstatic when Bloomsbury sent me an ARC! Picking up not long after the heart-wrenching end of Crown of Midnight, Sarah J Maas dazzles and en...

SO GOOD. THIS SERIES. I LOVE IT SO MUCH. Here's my full blown booktalk discusison with all the theories and thoughts: http://youtu.be/yRCCFlvBeu8

Oh god.OH GODI just finished this and I cannot -- my thoughts are -- no I can't think straight.There are so many hot guys in this book that it should be illegal.My over-hormonal body cannot take reading about these characters while knowing that I cannot have ANY OF THEM.There's Dorian charming the ever-loving hell out of me:There's Aedion walking into our lives like:Then there's Rowan: like hot damn [inhales]small note: Who else was reminded of ...

BEAUTIFUL. JUST SO DANG BEAUTIFUL.I loved the new characters (except Sorscha) and it was just a wonderful book. ESPECIALLY BECAUSE OF MANON. AND ROWAN. AND CELAENA (duh).Now where's my copy of Queen of Shadows?

Reasons why I didn't like this book:- It was dull as dirt- It was waaaaaaaay too long- I was so tired of the angst, no matter how justified it was- Rowan is overrated. There, I said it.- I fell asleep listening to the audiobook over 15 times. 7 alone for the last 10%.- The chapters with the witches felt SO POINTLESS. (BTW, the king outlawed magic, but witches are okay? dafuq? Oh well, I don't care.)- I feel like each book follows the same plot: C...

THERE IS LITERALLY NOTHING BETTER THEN THE PROGRESSION OF THIS SERIES.. THIS MIGHT BE MY FAVOURITE ONE SO FAR!

4.5 bloody, beautiful starsThe adrenaline, the heartbreak, and the sweeping epicness of this story just slay me. What the hell am I supposed to do now? *weeps piteously*Also, I imagine Manon smiling calmly as she rips out your heart. :D

*Reread January 2016*Reread to refresh my memory because wow I forgot everything. This is my least favourite of the series so far, but I still loved it. I just found it to be a very informational, plot advancing book with not a lot actually happening, but I will be doing a video review for it soon so stay tuned for that!*Originally read May 2015*I need Queen of Shadows now please

A year? I have to wait another year? I can only hope that I live that long and don't die of anguish first.And Celanea and Chaol had BETTER get back together in this one or There. Will. Be. BLOOD.

Fireheart – why do you cry? "Because I am lost," she whispered onto the earth. "And I do not know the way."This seriously might be the most emotional book I've ever read. I'm going through this series for the fourth time and need to rewrite this whole fangirling review in some attempt to explain how amazing Maas is… (There might be a minor spoiler with how I refer to Celaena in the next sentence, buuuut I'm not sure how anyone's avoid...

Heir of Fire left me a bit conflicted. I'm a big fan of the first two books even though I admitted how fussy I am with this genre. But this series proved me wrong—twice. Now, in the mood to read it, I braced myself with expectation based on my previous experiences. But it came to a point where all these development stirred clear from what I know of the series.If anything else, this third installment was without a shadow of doubt a set-up. Sur...

I definitely enjoyed this book more the second time around! It still is not my favorite in the series, but I'm SUPER glad I gave it another shot. What's funny is, the first time I read Heir of Fire, I skipped over many of Manon's chapters because I just wanted to read about Celaena, but this time, I was more bored with her chapters and was WAYYY more invested in Manon's!As Heir of Fire is what stopped me from continuing the series back in 2014, I...

2/17/17 - ON SALE $1.99: http://amzn.to/2kQ5EE68/21/15 - Revised:The only thing from my original review that needs amending is now that I'm not rushing, rushing to know ALL THE THINGS, the early POV changes no longer seem jarring and/or disruptive. Patience . . . Not my virtue. #sorrynotsorrySO instead I will enumerate all the reasons why I think Chaol is an idiot manboy who doesn't deserve Celaena, AND why I do NOT think he's her mate: (view spo...

**EDIT: FINAL REVIEW BELOW9/3/13I KNOW WHAT YOU'RE FEELIN' ABOUT THAT CROWN OF MIDNIGHT ENDINGprobably something like this:Just kill me, KILL MEEEEHHH!!Oh wait I'm already dead, I died when I read that ending-*Crown Of Midnight Review:http://www.goodreads.com/review/show/...*follow for more reviews :)-----------------------------------------------------------------9/28/14THE ANTICPATION HAS BEEN REAL. THE TIME IS NOW. LADIES AND GENTLEMEN, THE HE...

"Once upon a time," she said to him, to the world, to herself, "in a land long since burned to ash, there lived a young princess who loved her kingdom.... very much." So, we're back to book one. Throne of Glass was good, but it was obvious that the book was the first in a series, because you all noticed the inconsistensies and flaws. Now we're talking about a third installment and, after how awesomely flawless Crown of Midnight was, I was...

Updated** 8/17... after rereading - I am STILL floored but I have so much more to say this time around. (Also check out Cait's review because it says everything I was trying to say and more.)Wow this was a difficult review to write because this book was 100% emotional for me.I'm gonna get a little opinionated first, then I *promise* to get more lighthearted ;) ;) AND I promise to spare you of my SJM speech but you can read it in my other reviews....

Reread August 2016-- Reread August 2015 -- Read June 2014 -- one of my new favorite series EVER. This series has every thing I love all in one. Full Discussion: https://youtu.be/RwVDPGWqnRk

These last 70 pages hurt me in a way I never thought I'd be hurt.So my favs are either dead, walking to their deaths, running from their deaths or demons. Good fucking job Sara J. Maas, good fucking job. Update: It has been 11 hours and 30 minutes since I finished this book and I'm still in pain.Review: http://banosaur.blogspot.pt/2015/04/h...

Overall I'm really happy with the direction this series has taken. This book is a lot more than just a romance that happens to have a magical setting. It's an epic fantasy.That being said, I didn't really get into this one until the second half, and it took me FOREVER to get through the first half. I think that's mostly because Celaena got on my nerves a lot in the beginning. She seemed especially whiny and moody, and the self loathing was gettin...

Chaol Westfall, return to my life!Well that's how I used to feel...now all I want is Manon and Abraxos!

EDIT 22/12/16: realised this was my least favourite and all the other books in the series have been a three for me so this definitely fits better under a two. WARNING: this review will contain unmarked spoilers, if you have not read any of the books in this series or this particular book I would advise you stay away. Also there may be possible spoilers for Queen of Shadows since that's been spoiled for me too. "She'd been running for so long...

"She was the heir of ash and fire, and she would bow to no one." 5 Stars!I have no words that will serve this book justice. This sequel is spot-on perfection! We all know Sarah J. Maas's writing power can't be debated, so let me just tell you that once again, I was beyond amazed with the way she delivered this sequel using her usual scheme-- surprising her readers with a series of twists.Things got more and more interesting in Heir of Fire. In ...

Disclaimer: PREPARE FOR FANGIRLING.Okay, I'm going to put this out there.I am no longer Team Chaolena.I can hear the gasps already. (Please put down those pitchforks.)There'll be more about the romance later. First, let's get onto other aspects of the book.She had damned them all, and then left the world to burn into ash and dust.Man, am I glad that I was sent a finished copy of Heir of Fire rather than just an eARC, because I am going to quote t...

I'd give it 10 stars if I could, but 5 stars for now :) "You didn't need a weapon at all when you were born one." This is one of the best books I've read all year. Heir of Fire begins with Celeana drunk and mistaken for a vagrant in a distant land. She is approached by the fae warrior Rowan, who is sworn to her Aunt Maeve, and they journey together to her realm to meet with her. In order for Celeana to obtain the secrets of the Wyrdmarks...

"You didn't need a weapon at all when you were born one."Actual Rating: 4.5/5 starsI'm surprised. I liked this book far more than I thought I would. I liked it a lot actually, enough to give it a well deserved 5 star rating. Read in only a day, this was fantastic and compelling.Characters:Newest and most promising addition to the world of Throne of Glass is Manon Blackbeak, a heartless and ruthless witch and heir to her covens leader. It was ...

Read originally 9/14Re read 8/15First off does anyone else think that the covers for book two and three should have been switch? Maybe it's just me.Either way I'm really loving the covers for this whole series so far. but to the point... I will say that I didn't like this book as much as book two, mainly because this book had so much "setting up" to it that will be important later on and I was really hoping for some more badassassin lik...