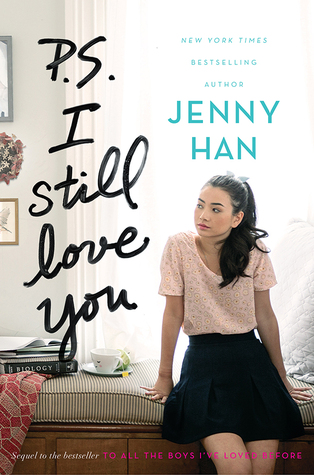 Lara Jean didn't expect to really fall for Peter.She and Peter were just pretending. Except suddenly they weren't. Now Lara Jean is more confused than ever.When another boy from her past returns to her life, Lara Jean's feelings for him return too. Can a girl be in love with two boys at once?In this charming and heartfelt sequel to the New York Times bestseller To All the Boys I've Loved Before, we see first love through the eyes of the unf...
---
Details P.S. I Still Love You (To All the Boys I've Loved Before, #2)
Title
P.S. I Still Love You (To All the Boys I've Loved Before, #2)
ISBN

9781442426733

Author

Jenny Han

Release Date
May 26th, 2015
Publisher

Simon & Schuster Books for Young Readers

Language

English

Genre

Young Adult

,

Contemporary

,

Romance

Rating
Reviews P.S. I Still Love You (To All the Boys I've Loved Before, #2)
So I am done reading and I don't know what to feel...Seeing my Lara Jean and Peter K together after all this time...Lara Jean being the 16 year old that she iscaring way too much about her being labeled 'Slut' by everyone...Lara Jean coming to a conclusion on her thoughts on love...Kitty being all sorts of amazing...Peter and Gen constantly being seen together...Lara Jean and JOHN what's-his-name-the-third...The stupid arguments... the love squar...

SO SO ADORABLE - LOVED IT!! Here's my booktalk: https://www.youtube.com/watch?v=L2pSE...

Urg!!! I don't know what to feel! I'm happy and I liked it but at the same time I'm not happy. And damn you John Ambrose McClaren for getting under my skin! (view spoiler)[ I was so mad the way Peter kept putting Gene first. Lara Jean had every right to break up with him. Staying friends with Gene is one thing but hanging out with her like 24/7 is ridic. Then darn John comes in all charming and wonderful and then I start to want her with him. The...

4.5 SO CUTE OMG OMG! I felt the resolution came a little too quickly hence the 4.5 but I loved every second.

ANTES DE LEER:Leo la sinopsis y lloro. A nadie le interesa otro hombre, ¡queremos a Peter! Quiero ahorcar a Lara Jean.DESPUÉS DE LEER (29/05/2015):Son realmente 4.5 estrellitas :).Dado que mi review inicial fue en español, continuaré en español (?). Igual no tengo mucho que decir, solamente que amé el libro. Extrañaba mucho a estos personajes y volver a leerlos fue hermoso. Todo el tiempo estuve sonriendo como boba enamorada (ES CULPA DE P...

"There's a Korean word my grandma taught me. It's called jung. It's the connection between two people that can't be severed, even when love turns to hate. You still have those old feelings for them; you can't ever completely shake them loose of you; you will always have tenderness in your heart for them." This book does many explosive things to my heart.Every time I read a new novel by Han, I am always assaulted by these strong emotions. In a way...

Okay. Admittedly it wasn't as good as the first, but I've said it before but I'll say it again: Jenny Han knows how to make us fall in love with the characters in her books... first in Shug, then The Summer I Turned Pretty (one of my FAVORITE books of all time) and now To All the Boys I've Loved Before. She knows how to expose their flaws along with their positive sides. Peter K isn't perfect, but his charm just won me over. Gen, I'll admit, I'm ...

3.5 Stars! Unfortunately, I struggle a bit with this sequel (this is typical of me) but overall, I enjoyed my time re-entering this story.For a large part of this book, I was afraid I had fallen out of touch with this story. I read book one when I was 18 and finally decided to continue 3 years later. Many of the tropes I no longer enjoy and critiques I used to skip over due to lack of reading experience unfortunately dragged down the story and I ...

This review will contain spoilers... and profanities. First off, giving this book 2 stars is a very generous act on my part.Okay, one star then.My initial reaction upon finishing this book was to roll my eyes. To the moon and back.I am so pissed. This book is just awful.Behold, the summary in bullet form!featuring BONUS CONTENT: SLIGHT COMMENTARIES. PART 1 • Lara Jean Song Covey is a fragile, innocent, princess• Peter Kavinsky is the complet...