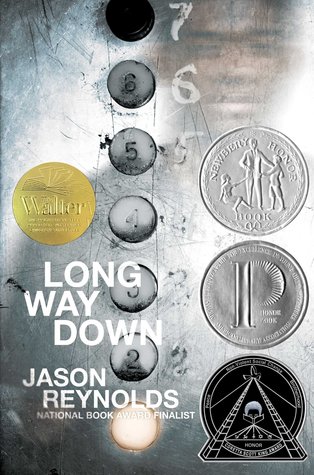 A cannon. A strap.A piece. A biscuit.A burner. A heater.A chopper. A gat.A hammerA toolfor RULEOr, you can call it a gun. That's what fifteen-year-old Will has shoved in the back waistband of his jeans. See, his brother Shawn was just murdered. And Will knows the rules. No crying. No snitching. Revenge. That's where Will's now heading, with that gun shoved in the back waistband of his jeans, the gun that was his brother's gun. He gets on ...
---
Reviews Long Way Down
a fast read (only took about an hour to get through) but still very powerful and impactful. jason reynolds has a way with words, and the free-verse format really suits his talents. i haven't read a ton of books in verse, but this is by far my favorite--the word choice, the imagery, the message, the emotional punch--it was all so good. the ending was a little abrupt, but i think it works for the story, and that bit of ambiguity can open up some re...

Click here to watch a video review of this book on my channel, From Beginning to Bookend. A haunting cautionary tale delivered in verse, in which fifteen-year-old Will is forced to consider the potential consequences of his actions as he, armed with a gun and seeking revenge, waits for the elevator in his building to reach the ground floor. THEN THE YELLOW TAPEthat says DO NOT CROSSgets put up, and there's nothing left to do but go home. That tap...

If you're in a slump and you want a quick interesting read, I would totally recommend this book!It's all about the cycle of violence and written in verse. Really liked it!

Me on Page 1: Oh great, another novel in verse.Me on Page, like, 5: HOLY SHIT.Then I read the whole thing in one sitting.Incredibly powerful, beautifully written. Reynolds doesn't use the device of verse as a crutch; he wields it like a weapon. I think I held my breath for the entire book, and the ending left me gasping. Truly unforgettable.

Uncle Mark should've just bought his camera and shot his stupid movie after the first day. Unfortunately, he never shot anything ever again. But my father did. This was incredible. Not only is it so emotional and well-developed, but oh my god, the writing is so good.Ellen Hopkins' use of verse and poetry is dead and Jason Reynolds killed it, personally, by himself. The double meanings alone are perfect. Jason Reynolds has a way with double me...

240 pages67 seconds7 floors6 visitorsEach with a pieceof the storynot knownuntil now.Will grievinghis brotherwith a gunand a targetthinking he knowswhat he has to dofollowingThe Ruleswondering what to dowhoto beand what comes next.Jason Reynolds is masterful in the way he can use such sparse language in these free verse poems for such a powerful and emotional impact. I'm going to be talking about and sharing this book for a very long time. Jason'...

This was so so emotional and brutal and just wow. I'm kind of torn with what to think though because I didn't really understand the ending?! I read it twice and I'm still not entirely sure what happened. MAYBE THIS IS JUST ME!??Anyway! It's a book about violence and murder and it's so freaking sad. Basically Will's brother Shawn was just shot and killed and Will gets his gun and goes out for revenge. But he gets in the elevator to go downstairs a...

Find all of my reviews at: http://52bookminimum.blogspot.com/In case you haven't heard, jasonwritesbooks(.com). More specifically, jasonwritesIMPORTANTbooks. Books that are RELEVANT and NOW and REAL and HEARTBREAKING. Books that make my non-book-lovin' kid not fight me when it comes to reading. Books that give a voice to a population who so often is rendered voiceless. Books that when I muttered to myself on Sunday morning "what should I re...

Absolutely genius writing & storytelling, plus so much heart it will drive you to your knees.

Such a fast and powerful read. Wow.

That was incredibly powerful. I can't wait to read more from this author.

I downloaded this intending on possibly getting to it sometime, but I opened it up out of curiosity and ended up reading the entire thing in about an hour. I don't have too much to say other than I think this is a really effective coming of age story about how violence and toxic masculinity affects so many young black teens. Reynolds writes really honestly and the directness of this is such a well-needed nudge in the side. My only issue is that I...

Really powerful and unputdownable.

"ANOTHER THING ABOUT THE RULESThey weren't meant to be broken.They were meant for the brokento follow." ― Jason Reynolds, Long Way DownLong Way Down is a novel written in verse that tells the story of fifteen-year-old Will who seeks to venge his murdered brother Shawn. But as he takes the elevator down, with a gun tucked in his pants, it stops on each floor and a ghost from Will's past enters, all victims of gun violence, but will that be e...

"ANOTHER THING ABOUT THE RULES:They weren't meant to be broken.They were meant for the broken to follow." I've always loved stories written in verse, so when I heard about this own-voice tale of the struggles that toxic masculinity and systemic racism place upon young black men, I was immediately interested. I wanted to focus on supporting as many new-to-me black authors as possible in February, and Jason Reynolds was at the very top of my ...

Extremely powerful and important. I absolutely loved the poetry.

*incoherent screeching here*Is this one of the first verse books I've read? Yep. And damnit to hell because Long Way Down just set the bar pretty high for other poetry books. Speaking to the verse (and I don't know if all poetry is like this so I could be grossly misguided on this front), what I appreciated the most was how it read like a fully formed story stripped of frivolity where only the bare-bones -- the meat and potatoes -- of the story r...

I read this book because it was suggested to me as a YA diversity book. I really enjoyed it. This book is written in a poetic form and is easy to follow. The main character is fifteen-year-old Will and he witnesses his brother Shawn get shot and killed. This makes will mad and he wants revenge so gets a gun and rides an elevator up to the seventh floor to kill his brother's murder. As the elevator travels upward it keeps stopping and new "ghosts"...

I started this book 3 days ago. Wow this is a good story and it is written in verse which is a very efective way of telling it.Its about this boy who's brother is shot dead, his mother is heartbroken and he is out for revenge.He grabs the gun. Then he gets into the elevator to go down.He is following the rules that have been handed down from generation to generation, but what if the rules are wrong and all your left with is more heartache.As he g...

This book was absolutely phenomenal.The audiobook, which is narrated by Reynolds, was especially good. I often have trouble with books written in verse because I read them in my own voice, and that sh*t is NOT beautiful to listen to (sorry to everyone who watches my channel...). I'll also get hung up on which words to emphasize, the proper cadence of phrases, and trying to figure those things out takes me out of the book. Reynolds' narration solv...

This was outstanding.Written in verse, it was a deeply moving and disturbing read.The timeline is just 60 seconds long, the space of an elevator ride. Each floor representing a turning point, a course of events, that leads the main character, Will, to this moment in time.A short read, but brilliantly executed.

Short, but so powerful and thought-provoking. A must read IMO!The entire book is written in verse and covers the time span of 60 seconds, all starting with an elevator ride.Who gets on, and more importantly who gets off, is what makes this read so powerful.Storytelling at it's best!!

I'm most definitely not the intended audience, so take my review with a grain of salt. I personally just find with every book in verse I read that it isn't a style that works well for me no matter how much I try it. I chose to listen to the audiobook, which the author himself reads and hearing him read it the way he intended was amazing. However, I was still left pondering this style because it left me a bit confused by the ending. Maybe I was re...

*Disclaimer: An ARC of Long Way Down by Jason Reynolds was provided to me by Simon & Schuster Canada in exchange for an honest review. This does not effect my opinion in any way.--Initial post reading thoughts:This is one of those stories that will stay with you forever. Even though it was a super quick read, it was completely engaging and I'll definitely be thinking about this one for a long time. The story is so uniquely written and it hits you...

"And you knowit's weird to knowa person you don't knowand at the same timenot knowa person you know,you know?"-Will" Wow, this was beautiful and powerful.I believe this is the best book written in verse that I have read!!The core of the book is important and I went into it without high expectations but it surpassed those expectations anyway...Maybe not the best ending in the world but it was good nevertheless :)

...I...I don't know if I can actually explain how absolutely amazing this book is. Just buy, read it.

Audiobook performed by author, Jason Reynolds. 1h 43 After reading The Hate U Give at the end of 2017, two educators told me that Jason Reynolds was a must. I feel so many words swimming around my mind after listening to the author himself present this beautiful story. But I am going to keep it really simple.READ. THIS. BOOK.

Holy. Flipping. Cannoli.Just read this book, guys. I don't have enough superlatives for it, but trust me.