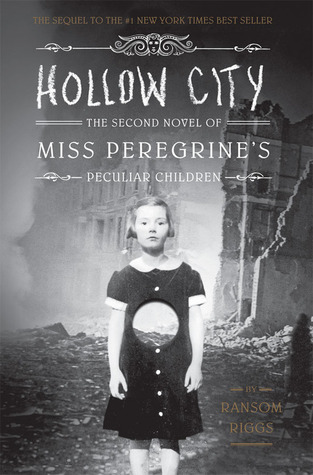 Miss Peregrine's Home for Peculiar Children was the surprise best seller of 2011—an unprecedented mix of YA fantasy and vintage photography that enthralled readers and critics alike. Publishers Weekly called it "an enjoyable, eccentric read, distinguished by well-developed characters, a believable Welsh setting, and some very creepy monsters."This second novel begins in 1940, immediately after the first book ended. Having escaped Miss...
---
Details Hollow City (Miss Peregrine's Peculiar Children, #2)
Title
Hollow City (Miss Peregrine's Peculiar Children, #2)
ISBN

9781594747359

Author

Ransom Riggs

Release Date
Feb 24th, 2015
Publisher

Quirk Books

Language

English

Number of pages

428

pages
Genre

Young Adult

,

Fiction

,

Fantasy

,

Paranormal

Rating
Reviews Hollow City (Miss Peregrine's Peculiar Children, #2)
More like 4.5 stars. Really enjoyed this book, just not quite as much as the first one! Loving the series overall so far, and can't wait for book 3 this fall!

I'm so happy that I decided to reread this! I forgot how crazy that ending was. :o I THINK I'M READY FOR LIBRARY OF SOULS NOW... I THINK. MAYBE NOT, BUT IT'S COMING WHETHER I'M READY OR NOT.

4.4 STARS! Really enjoyed Hollow City - here's my booktalk https://www.youtube.com/watch?v=t5j0g... =D

Check out Scott Reads It for more reviews! Miss Peregrine's Home For Peculiar Children is one of my all-time favorite books and I've been waiting to read Hollow City for ages! As soon as I received Hollow City, I began to devour this strange book and I believe Hollow City is even better than Mrs. P's. Hollow City does an excellent job of creating a captivating, magical world and accompanying the plot with finely selected vintage photos. The phot...

HOLY CRAP. I CAN'T EVEN. I'll write my thoughts when I'm able to GATHER my thoughts, but know that I LOVED THIS BOOK SO MUCH.

SpoilersDisappointing. The plot was uninteresting, the characters were unremarkable, and the romance was lame.-Summary: Miss Peregine's school and the time loop she created destroyed by hollows/wights/the bad guys, the peculiars/students on the run, Miss Peregine poisoned and not able to fix the loop and protect her kids, Jacob and the other peculiars have to avoid the bad guys and find another headteacher to help Miss Peregine get back to normal...

Are you still into the creepy vintage photos?Welcome to a Deeper, maturer, richer and more convenient sequel.It's really sad we won't watch a Movie out of it..Tim Burton only concluded the whole series in a loosely ending that even worst than Book One's, it almost made me ditch Book Two.I'm glad I didn't, unexpectedly loved it, this time Ransom Riggs here add more depth into the world he built in book one. THE PECULIARDOMThe wonders and mystical ...

I definitely enjoyed this book more than the first installment when I read it a two years ago. There were definitely slower moments that were rough to get through, but ultimately, I really enjoyed how the plot progressed in this novel and cannot wait to see how it ends!

I think I liked this one a little better than the first.. SO excited for book three!

3.5 stars.Unfortunately, Hollow City is a case of Second Book Syndrome.Extremely slow start, with many scenarios that I found just too far fetched. (view spoiler)[ Really? Really? EVERY single group they came upon had at least one peculiar person with them?! I call Bull on that!! (hide spoiler)] There has to be a suspension of belief when reading any work of fiction, especially fantasy. But it was too far a stretch for me to believe that the even...

"What I believe is that when it comes to big things in life, there are no accidents. Everything happens for a reason. You are here for a reason -- and it's not to fail and die." Hollow City is DARKER and CREEPIER than book one. I was really glad to finally see what's going on with children at the beginning of this book. The world of this book is madness, it's not something joyful for someone. Emma becomes a lead character in Hollow City, and...

3.5 starsI felt like this was a lull between the first one and the finale. While there's action and adventure it seemed mostly like an info dump to bridge the gap between the end pieces. It was certainly more entertaining than the first one, but only marginally.There is a quest to bring the group's ymbryne to Miss Wren, whose first name isThere are some new characters introduced in this book such as a talking dog named Addison, a pair of blind br...

The peculiar children are on the run! Danger at every turn! Until finally...okay, there's a twist thrown in. While Ransom Riggs' Hollow City is a well-written sequel in which we learn more about the nature of the peculiars (and their enemies), overall, I wasn't as wowed or intrigued. To me, it felt like the filler of a 3-book series. Will I read Library of Souls? Not sure yet...

That ending has killed me... Well and truly killed me...But anyway, this book is utterly brilliant!! I absolutely adored Miss Peregrine's home for peculiar children and had pretty high hopes for this book. All I can say is that this book was better than I could've ever hoped and may well be the best sequel I have read in my life!!The characters in this book are all so incredibly unique and precious! They're written so well and the dialogue/relati...

Did not finish at 67%People who know me, know so well that I'd rather cry out of boredom while reading a book than actually give up on it. My DNF shelf has only two books and this is the third.I know it's unfair to rate an unfinished book, but it's also unfair that this book is that bad.I don't regret this decision, not one bit! This is the first book in my reading history to have me struggling with even opening the cover, I've struggled since pa...

*4.5 HOLLOW STARS* "Strange, I thought, how you can be living your dreams and your nightmares at the very same time." I only picked this one up because I recently ended up watching the movie adaption of Miss Peregrine's Home For Peculiar Children and that kind of got me back in the mood to continue this series.But I gotta say, I enjoyed this one so much more than the first book! I'm really glad I decided to continue this trilogy, I can only ima...

That ending: WHAT THE HELL JUST HAPPENED?

I love this series. The peculiar children in these novels are so fascinating. This story had me hooked just like the first book did. There were parts I wasn't crazy about but it was still good and the pictures were good, too. Looking forward to the next in the series!!

Çeviri bitti!inanılmazdı! Birinci kitap bitince nasıl "Çabuk bana ikinci kitabı verin!" diye bağırdıysam ikinci kitabın sonunda da aynı şeyi hissettim. "Yok artık, o kadar da olamaz," diyerek okuduğum çok fazla yer oldu. Bir kere daha çeviriyi bırakıp kitabı okumamak için kendimi zor tuttum. Şahsen, ikinci kitabı birincisinden daha çok beğendiğimi de itiraf etmeliyim. Eğer Bayan Peregrine'in Tuhaf Çocuklarını sevdiyse...

I won Hollow City as part of Goodreads First Reads giveaway. Can we say BEST CHRISTMAS PRESENT EVARR? The waiting thing is destroying me though and I may just sit at the mailbox until I get it.REVIEW: Jacob and the Peculiar Children we've grown to know and love are back. Their adventure opens immediately after the close of the first novel, and as they set out to save Miss Peregrine, new danger and excitement awaits them. Jacob struggles with his ...

The Hollow City is the second installment in Rigg's trilogy of the Peculiar Children's exciting adventure, and it is a worthy following of its predecessor. But did I enjoy it as much as the first volume? The answer is a hesitant ''no''.Hesitant bceause I cannot, clearly, state what it was that made me feel that something was missing. Up until the 45% mark, it was a real page - turner, then, gradually, I seemed to lose interest. Perhaps, I couldn'...

What a disappointment..I had so many expectations about this one but it only let me down.. I had loved the first book in the series, Miss Peregrine's Home for Peculiar Children & I wanted so much to love this one too but unfortunately the only good thing about this book was the photos, which like in the first book, they blew me away by how real and authentic they look.This one lacked the magic the first book had, it was kind of idiotic and the au...

Hollow City is one of those sequel novels that irons out many of the kinks in the first novel. It further goes to prove that the quality of children's and young adult' fiction is improving all the more in this day and age. Where once such books were throw away pieces to pass the time till younger readers could engage with more serious pieces of literature, today they are or should be recognised as being equally serious and nuanced - with the same...

This novel features a picture of a bulldog smoking a pipe. It was my everything.If you have forgotten the events of the first entry in this series or read it a long time ago, I'd highly suggest a quick re-read or a glance at the wikipedia synopsis to familiarise yourself with the events from the first book. The reason for this is that the second novel in the 'Miss Peregrine' series picks up directly at the end of the first one, with our bunch of ...

I absolutely freaking adored this book! I didn't think it possible to get better than the first book but it most definitely did. The story is even more gripping and as I got to know more about the world of peculiars, I couldn't help but fall even more in love. This book is jam packed with action and is absolutely nerve wracking from start to finish. I loved getting to know my favourite characters more as well as being introduced to new ones which...

OMGG NOOOO ITS OVERRRRIT WAS SOO GOOD THO REALLY AMAZING SOOO ADVENTUROUS!!! 5+++++ PECULIAR STARS ⭐⭐⭐⭐⭐⭐⭐⭐⭐⭐⭐⭐⭐⭐⭐⭐⭐⭐⭐⭐⭐⭐⭐⭐⭐⭐⭐OMGGGG THE TWIST NEAR THE END REALLY GOT TO ME OMGGG IC ANT BELIEVE THIS OMGGGG NOOOOOOOOOOOOOOOONEED NEED NEED THE THIRD VOLUME!!! Where is ittt hahahahahI NNEED MOREEEWhat an awesome book for my 400th read !!!!!!!!!!! INCREDIBLE!!❤❤❤ OMGG NOOOO ITS OVERRRRIT W...

4.3 This book was just as good, if not better, than the first one. There's a lot of action going on with the story though sometimes it feels like it drags on just a tad, and the photographs used to elevate the plot are just as weird and intriguing. It gave light to a lot of questions in the first book, but still leaves so many new questions along the way. The characters are starting to develop better personalities on them, and you'll also learn m...

I need the next book now. I haven't thought that I'd like this book as much as I did. This was better than the first one! I didn't love the characters in the first book as much as I did in this one. I'm glad I continued with this series. I can't wait for the last book to come out.