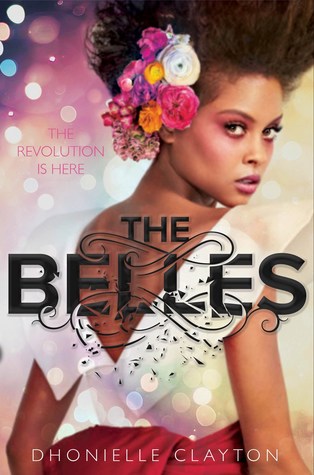 Camellia Beauregard is a Belle. In the opulent world of Orléans, Belles are revered, for they control Beauty, and Beauty is a commodity coveted above all else. In Orléans, the people are born gray, they are born damned, and only with the help of a Belle and her talents can they transform and be made beautiful.But it's not enough for Camellia to be just a Belle. She wants to be the favorite—the Belle chosen by the Queen of Orléans to live i...
---
Details The Belles (The Belles #1)
Title
The Belles (The Belles #1)
ISBN

9781484728499

Author

Dhonielle Clayton

Release Date
Feb 6th, 2018
Publisher

Disney-Hyperion

Language

English

Genre

Fantasy

,

Young Adult

Rating
Reviews The Belles (The Belles #1)
"Don't you want to be beautiful?" 4 1/2 stars. Woah. The Belles is a monster hidden behind a pretty facade of dresses, magic, and beautiful writing. The world and story slowly build through stunning descriptions, as the author peels back the layers of society's obsession with beauty, revealing all the ugliness that lies underneath. In the fictional world of Orléans, a small number of girls called Belles are able to use magic to create beautiful ...

I am guessing this is the first book in a series? A trilogy? All I know is that I want to know what happens next. The Belles is richly, gorgeously detailed in the accounting of the world of Orleans and the Belles, young women who are bred to create beauty amongst the citizenry. It took a bit to get into the book but the last third of the book is absolutely worth the world and character building it takes to get there. In the last third of the book...

This is a book that will surprise you.From the outside, it looks like it was written for princesses-to-be, but the inside is different. Among the lush descriptions of dresses and beautiful people, there is darkness lurking. I couldn't stop reading. Camellia has all the qualities a heroine needs: kindness, strength, empathy, determination, courage and the willingness to make a change. Quite evidently, it takes her time to realize the danger she ...

4.5 stars! I had a lot of fun with this story and cannot wait to see where things go from here!TW: sexual assaultThe writing style of The Belles is one of it's most prominent points. The prose is decadent, entrancing, and lavish. For me personally, it was a little too flowery at some points but all around unique and interesting. It's so sweet, full of detailed descriptions of vibrant and sugary imagery, I almost felt as if I could get a cavit...

3.5 stars"I'd do anything to be beautiful."The Belles has been on my radar the second I found out about the synopsis. It reminds me a lot of what Tyra Banks tried to do in her novel Modelland. Except, The Belles does it 10,000,000X better. The fictional world Dhonielle created is lush with beautiful descriptions of the world, it's contraptions, the food, everything about it was just so damn near perfect.As the title says, there are girls known as...

I will eventually leave a legit review for this, but first I have to pick up the pieces of my shattered heart, which, in case you were wondering, was shattered by Dhonielle and this book. Also I desperately wish post-balloons were real. Read the book and you'll agree. Also Remy. I need Remy to be real, too. NEED SEQUEL YESTERDAY. Pre-order this one, you will be so grateful you did.

cw – sexual assultas soon as i saw this book on goodreads last year i knew that i needed it, it was one of my more anticipated releases of 2018 and i can easily say that it was as good as i thought it would be, i absolutely loved it! 😊 when i first read the blurb of this book it reminded me a little of the selection which i loved so i did of course have very high hopes for this book 😊the descriptions in this book are incredible, the menti...

WHAT THE ACTUAL HELL WAS THAT? REVIEW TO COME ONCE THE SHOCK FROM THOSE LAST 100 PAGES WEARS OFF

You know what the worst thing about reading a book that doesn't come out until February 2018?I have to wait at least 2 years for the 2nd book.The Belles is about a society in which a small class of girls control beauty The Belles. I'm not sure if the world in this book is a future version of our world or a fantasy world but I loved it. I don't want to give anything away since it doesn't even come out for 7 months. I will say this though, I think ...

*I received this for free from the publisher in exchange for an honest review*I am SOOO glad to have read this and I cannot wait for more people to do so. This is exactly the kind of book I love when I'm looking for new YA releases, it's filled with innovation, great character moments, action and intensity, drama and emotion. Honestly, this book was an absolute blast to read, and I am super excited to follow the series and see where this world go...

I loved the synopsis of this book and couldn't wait to get into it. I really liked Camellia. She's smart and loving and inquisitive. I loved that she made her own decisions and didn't just trust blindly. The relationship between the sister Belles was sweet and I wish we could have gotten just a bit more of that. There are a lot of characters in this book, but everyone was fairly easy to keep track of. Plot wise, it was captivating. We're ...

This book was so addictive! I had a few issues with the writing style, but the overall concept and plot kept me absolutely hooked from beginning to end. Really interesting world and characters, and I'll definitely be picking up the next book in the series.

Trigger Warnings: sexual assault, animal tortureFULL REVIEW FEATURES ON MY BLOGR E V I E WTo start off this review lets just address how beautiful this cover is. I'm not usually a fan of people on the cover of books (my eye prefers designs) but wow. The Belles was a book I instantly wanted to pick up after seeing the cover. The model is stunning and so is the design surrounding her. I don't know, I was just left utterly speechless when I saw ...

Someone online described this book as Marie Antoinette with magic and I would have to agree! Lush, luxurious settings, great prose, a dynamic cast of diverse characters, and scary parallels to our real world. Additionally, I've never read such a diverse fantasy where all different types of beauty are celebrated and exist so seamlessly within the same room. This was the first book I ever got as a reader where picturing everybody in any scene allow...

2.5/5 • i really REALLY wanted to love this book but just... couldn't. here are some thoughts:(1) pacing – i didn't feel motivated to keep going until over halfway through, which is to say the pacing is so slowwwww. i felt like there was so much dragging in the beginning and i didn't understand the full purpose of anything. it wasn't really like we got to delve into characters, and nothing really happened in the plot (except things that set u...

"You exist inside a secret world of beauty. You were born full of color, like a moving world of art … You are a Belle." As soon as I saw this cover I knew I wanted to read this book - I mean, it's absolutely stunning. I can happily say that the lush and vivid writing perfectly fits with this stunning cover. The Belles follows Camellia Beauregard, a Belle with the coveted ability to control and craft beauty, and in the world of Orléans B...

spoilers but who the f*ck cares when this is literally!! Bury Your Gays™!! & a gruesome case of it at that

Galley provided by publisherI meant to wait a little while until I was less angry about this book, but I don't see that happening anytime soon, to be quite honest. Actually, scratch angry. I'm fucking furious. I have never been gladder to have been spoiled a character death in my life.(view spoiler)[This book is bury your gays. There we go. I said it. It's bury your gays.In this book, there are two (potentially three) sapphic characters. One of t...

3.5 starsInteresting concept and thoughts on beauty, but the descriptions were perhaps a bit too excessive for my taste. Don't get me wrong, the writing was quite lovely and really set the atmosphere of the story, but at times I kind of drifted off while the protagonist gave detailed accounts of what she and everyone around her were wearing. I also wish some things had been better explained at the beginning of the book, since I was left with a fe...

This book is a hard discussion about beauty and what people will do for it. It takes into account the way beauty is impacted by culture, race, and trends, but puts it in a lush fantasy setting. There are mean girls and good girls and girls in between. There is court intrigue and more twists and turns than you're ready for. I can't wait for book 2.

I read this book courtesy of NetGalley in exchange for an honest review.There's been a lot of hype surrounding this book ever since its publication was announced a long while ago, so I was pretty curious to see for myself. And I'm happy to say there is a lot about this book that is hype-worthy. Some of it isn't even review stuff, but essay-type stuff. In all the buzz, I've never seen this book compared to Handmaid's Tale (which is the closest cou...

Okay, I've seen enough. I can't do it anymore. *DNF at 60%*This started off good enough, albeit extremely, painfully SLOW! Omg, so slow. But that wasn't the worst part. If it were better, I would have taken my good old time and turtled my way through it. However, this book wasn't just slow. It was BORING! The main character was incredibly unlikable. She was stiff and uptight and had a horrendous superiority complex. We had to listen to her go on ...