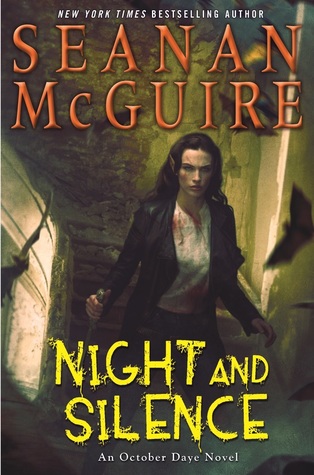 The twelfth installment of the Hugo-nominated, New York Times-bestselling Toby Daye urban fantasy series!Things are not okay.In the aftermath of Amandine's latest betrayal, October "Toby" Daye's fragile self-made family is on the verge of coming apart at the seams. Jazz can't sleep, Sylvester doesn't want to see her, and worst of all, Tybalt has withdrawn from her entirely, retreating into the Court of Cats as he tries to recover from his abducti...
---
Details Night and Silence (October Daye #12)
Reviews Night and Silence (October Daye #12)
Thanks to Netgalley and Berkley publishing for an advanced copy in exchange for an honest review.No idea how Seanan McGuire does it so often, but she knows how to step up the stakes, over and over and over. And she sure knows how to make her characters suffer for the sake of the story!If you've not been keeping up (but really, why wouldn't you be following me at this point?), Seanan McGuire is one of my absolute favorite authors. Her worlds are g...

Find this and other reviews at grumpy book grrrlOMG!!! I loved it! Best book in the series since The Winter Long. To be honest I wasn't sure what to think going into this. The blurb didn't excite me. Gillian being kidnapped again and Tybalt taking off didn't sound appealing. The plot tied things together and brought issues to light in such a good way despite the sadness of it all. This book is a game changer. Things will be really different...

This review was originally posted on Books of My Heart The October Daye series has really grown on me and gotten better book by book. The characters are well thought out and complex, the plot lines all different and the dialogue is funny and smart. If you would have asked me at Rosemary and Rue (book 1), I wouldn't have known if I'd make it to the third book in the series, let alone the twelfth book. October Daye became one of my favorite UF ...

After the ending of The Brightest Fell I wasn't sure were McGuire was going to go with October Daye but I'm happy to say at Night and Silence met every expectation and more...and I loved it. There is just something about McGuire's writing that captivates and keeps me clinging to the pages. I say "something", but what I really mean is Seanan McGuire's ability to master that illusive character connection that makes you become a part a written word'...

Every time I'm convinced this series can't get any better Seanan McGuire writes a book like Night and Silence and proves me wrong! I have to admit I was nervous after reading the blurb and saw that not only are Toby and Tybalt having problems but also that Gillian is abducted again, I was a little bit worried this would feel like a rinse and repeat of stories we've had in this world before but I'm such a huge fan of this author and she's never st...

The previous book left Toby and her friends traumatized with both her fiancé Tybalt and her sister's girlfriend Jazz damaged. Things are not well, and when October's former human fiancé Cliff and his wife Miranda turn up at her apartment and with the news that October's daughter Gillian is missing, the situation does not approve. Toby is soon on the case and traveling all over the Kingdoms of the Westlands and with a chance to get to know her c...

I had been disappointed, in a way, with some of this author's recent works, but I found this one enjoyable enough. If I was to look for and report on the negative I'd note something I noticed in the beginning that was irritating me - this is the 12th book in the series, a certain amount of 'remember, this is who this character is' backstory kind of goes with the book, but it seemed more irritating this time, like every three seconds we'd get th...

Going back to the world of our dear Toby is always a pleasure. I have come to love this series. How can I not when Tybalt makes me want to swoon when he says things from his heart. Le Sigh....After the events which occurred in The Brightest Fell, Toby is trying to avoid discussing what is troubling her, her relationship with Tybalt. She loves the King of Cats and she's not sure how they're going to move forward after what Amandine did to him. Her...

What do you know, the series remains very good. I really appreciated how the events of the previous book were handled. (view spoiler)[I wasn't sure how I would feel about Gillian being pulled into this world again. Poor her. Poor Toby. But I think I liked how it all played it. Curious to see how she fits into the series going forward. (hide spoiler)]

*Source* Publisher*Genre* Urban Fantasy*Rating* 3.5-4*Thoughts*Seanan McGuire's Night and Silence is the Twelfth installment in the authors October Daye series. As the story opens, things are not going well for October "Toby" Daye and her adopted family. Owing to her mother's latest actions, Toby's family is cracking: her sister's girlfriend Jazz doesn't sleep, and her beloved Tybalt has withdrawn from her and refuses to reach out for help. In or...

4.5 Stars, rounded up because seriously DAW, we need more books in this series, okay?"A little more than kin, and less than kind." ~ from Hamlet, Wm. ShakespeareIn late 2009 my friend Diana (The Literate Kitty) pressed me to read Rosemary and Rue, the debut novel by an author by the name of Seanan McGuire. It had everything she knew I loved- Shakespeare, Celtic fae, cats, and a contemplative tone. Oh, and lots of coffee. Twelve books later and if...

At the start of this one Toby is very unsettled. The events of the last book caused distance with Tybalt, who has, among other things, become her touchstone. That along with the oddness at home due to things being weird with Jazz seems to be wearying on heavily on Toby. Things go from bad to worse when she is woken up by pounding on her door, her ex accusing Toby of taking their daughter. Understandably Toby is heartbroken to know the daughter sh...

4.5 of 5 starsShort Summary: Toby is once again faced with the kidnapping of her mortal daughter, Gillian, terrified that she's once again responsible for her daughter being in danger. During her investigation, she manages to uncover a few jaw-dropping mysteries that will no doubt play a role in Toby's future.Thoughts: I swear, just when I feel like I couldn't love this series more, McGuire manages to sneak in a new facet to the story that ...

This past summer, Jasmine, Fiona, and I were listening to Rosemary and Rue on audiobook as we drove to and from drama club. Fiona has never read any of these and trying to keep spoilers to myself and not wriggle with pleasure whenever my favourite people were mentioned was hard. Keeping myself from snarling when Devon showed up was actually impossible. Sorry, Fiona. Anyway, after we would drop off Fiona, Jas and I would comment, "gee, I didn't ca...

I enjoyed this book, as I have the entire series, but it wasn't my favorite by any stretch - and not for the reasons I expected. I worried about the darkness of this book and was braced for an emotional ride, but it ended up being... kind of fine. I didn't love that previous villains returned and it felt like there wasn't much movement in the overall arc. But I'm also not a huge fan of Toby's daughter, Gillian, so that likely played in.

How is it possible that this series grows stronger with every book? In a genre that tends to suffer from story lag over time, October Daye seems to be getting even more interesting. Clearly, the author has some sort of J.K. Rowling-level of long-game going on. Having just survived the abduction of her fiance, October's world is again shaken when her estranged human daughter, Gillian, goes missing. All evidence points to Faerie's involvement, and ...

4.5I enjoyed this one but I found myself dragging my heels about getting through it mostly because I didn't want it to end. There were a lot of revelations and changes in this book.I don't much like Gillian yet. I'm sure I will eventually but right now I think she's just a petulant, spoiled brat. And yeah, I did like the novella about her, I just didn't like her. Given who raised her I suppose some of that is to be expected.

Initial Impressions 9/25/18: This was such an emotional read! Once again, things get personal for October Daye (though I guess aren't most of these books?) and I was on the edge of my seat the whole time! I was very happy with the progression of everything in this book, even if it wasn't easy, and there were even MORE things revealed in this book about October's history and family that was another neat layer to this world-building.

I LOVE IT. I LOVE EVERYONE. NOT YOU, YOU KNOW WHO YOU ARE, FALSE AND BETRAYER.

I absolutely love this series!!!

Disclosure: I really enjoy Seanan McGuire's books. Usually. This one is a bit of a misfit-- she spends an inordinate (and uncharacteristic) amount of time on backstory. In the past, her backstory fills have been charming, but in this book it is really really long, very convoluted, and repetitive, not to say uncharming. Or maybe the spell has been broken for me? Ha, small pun. The plot twists and turns in this book, and you need to be well armed w...

I always start counting down the days until I can read a new Toby book from the second I finished the last one. So, now I've started counting down again. The Toby books are ones that I'm always happy I read, but I'm always sad that I've finished them because that means I can't read them for the first time again. Toby is trying to put her family back together after her mother, Amandine the Liar, took Jazz and Tybalt, and locked them away until Tob...

I know 3 stars seems like a low rating, it's just that there have been so many great books in this series that I have high expectations. This is a good book, I enjoyed reading it, I just didn't like it as much as I have some of the others.Toby and her friends are still dealing with the fallout from the events that took place in The Brightest Fell. Tybalt especially is struggling and keeping his distance. Then Toby's ex Cliff shows up to acc...

I thought the last October Daye book was my favourite.. and the one before that... but here I am again panting over yet another superfantastalistic installment! This one is DEFINITELY my favourite... I absolutely love the way these characters just grow from strength to strength and still remain mysterious and yet intriguing throughout the entire series.I can't wait for the next book -- I'm sure that will be my favourite too!!!

This book right here. Just wow.. I have to many favorite quotes to type up here and Nook books don't update Goodreads. One of my fave's."I try never to assume anything other than praise is a reference to me" - Tybalt

This series just keeps getting better and better. The intricate storyline, the emotional payoff, everything is spot on! And showing the main hero go through PTSD is something I've not read a lot in mainstream UF. Really loved the way it was written.

4.5, Oh, Luidaeg.So much feelings. In this one Toby lose everything but gain the world. This book could have been the ending to the story, but we're getting one more at the least, and I'm greatful for that.

Today is one of my favorite days of the year. It is the day I get a new "Toby book".As expected this did not disappoint. In fact it may be my new favorite (Although Ashes of Honor is still very much beloved.) I love Seanan McGuire's creative uses of mythology in her story. (I almost squeed aloud at one part, which I won't spoil here.) Tybalt remains, and will always be my ultimate book boyfriend.Also, thank goodness for ebooks, because these book...

So, like, magic isn't real.Except maybe it is? Because when an author keeps a story so fresh and compelling this far into a series, it *seems* like magic.This series delivers EVERY TIME. Seanan McGuire is a fantasy writing goddess and I worship at her feet.