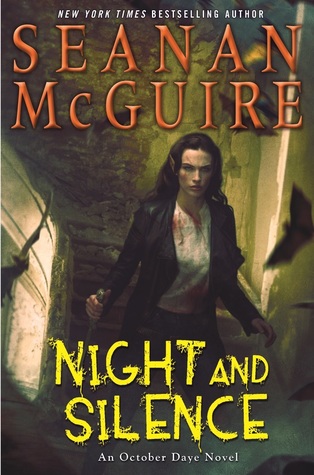 The twelfth installment of the Hugo-nominated, New York Times-bestselling Toby Daye urban fantasy series!Things are not okay.In the aftermath of Amandine's latest betrayal, October "Toby" Daye's fragile self-made family is on the verge of coming apart at the seams. Jazz can't sleep, Sylvester doesn't want to see her, and worst of all, Tybalt has withdrawn from her entirely, retreating into the Court of Cats as he tries to recover from his abducti...
---
Details Night and Silence (October Daye #12)
Title
Night and Silence (October Daye #12)
ISBN

9780698183537

Author

Seanan McGuire

Release Date
Sep 4th, 2018
Publisher

DAW Books

Language

English

Genre

Fantasy

,

Urban Fantasy

,

Fairies

,

Fae

Rating
Reviews Night and Silence (October Daye #12)
Thanks to Netgalley and Berkley publishing for an advanced copy in exchange for an honest review.No idea how Seanan McGuire does it so often, but she knows how to step up the stakes, over and over and over. And she sure knows how to make her characters suffer for the sake of the story!If you've not been keeping up (but really, why wouldn't you be following me at this point?), Seanan McGuire is one of my absolute favorite authors. Her worlds are g...

Find this and other reviews at grumpy book grrrlOMG!!! I loved it! Best book in the series since The Winter Long. To be honest I wasn't sure what to think going into this. The blurb didn't excite me. Gillian being kidnapped again and Tybalt taking off didn't sound appealing. The plot tied things together and brought issues to light in such a good way despite the sadness of it all. This book is a game changer. Things will be really different...

After the ending of The Brightest Fell I wasn't sure were McGuire was going to go with October Daye but I'm happy to say at Night and Silence met every expectation and more...and I loved it. There is just something about McGuire's writing that captivates and keeps me clinging to the pages. I say "something", but what I really mean is Seanan McGuire's ability to master that illusive character connection that makes you become a part a written word'...

This review was originally posted on Books of My Heart The October Daye series has really grown on me and gotten better book by book. The characters are well thought out and complex, the plot lines all different and the dialogue is funny and smart. If you would have asked me at Rosemary and Rue (book 1), I wouldn't have known if I'd make it to the third book in the series, let alone the twelfth book. October Daye became one of my favorite UF ...

Every time I'm convinced this series can't get any better Seanan McGuire writes a book like Night and Silence and proves me wrong! I have to admit I was nervous after reading the blurb and saw that not only are Toby and Tybalt having problems but also that Gillian is abducted again, I was a little bit worried this would feel like a rinse and repeat of stories we've had in this world before but I'm such a huge fan of this author and she's never st...

Going back to the world of our dear Toby is always a pleasure. I have come to love this series. How can I not when Tybalt makes me want to swoon when he says things from his heart. Le Sigh....After the events which occurred in The Brightest Fell, Toby is trying to avoid discussing what is troubling her, her relationship with Tybalt. She loves the King of Cats and she's not sure how they're going to move forward after what Amandine did to him. Her...

I had been disappointed, in a way, with some of this author's recent works, but I found this one enjoyable enough. If I was to look for and report on the negative I'd note something I noticed in the beginning that was irritating me - this is the 12th book in the series, a certain amount of 'remember, this is who this character is' backstory kind of goes with the book, but it seemed more irritating this time, like every three seconds we'd get th...

4.5 Stars, rounded up because seriously DAW, we need more books in this series, okay?"A little more than kin, and less than kind." ~ from Hamlet, Wm. ShakespeareIn late 2009 my friend Diana (The Literate Kitty) pressed me to read Rosemary and Rue, the debut novel by an author by the name of Seanan McGuire. It had everything she knew I loved- Shakespeare, Celtic fae, cats, and a contemplative tone. Oh, and lots of coffee. Twelve books later and if...

*Source* Publisher*Genre* Urban Fantasy*Rating* 3.5-4*Thoughts*Seanan McGuire's Night and Silence is the Twelfth installment in the authors October Daye series. As the story opens, things are not going well for October "Toby" Daye and her adopted family. Owing to her mother's latest actions, Toby's family is cracking: her sister's girlfriend Jazz doesn't sleep, and her beloved Tybalt has withdrawn from her and refuses to reach out for help. In or...

This past summer, Jasmine, Fiona, and I were listening to Rosemary and Rue on audiobook as we drove to and from drama club. Fiona has never read any of these and trying to keep spoilers to myself and not wriggle with pleasure whenever my favourite people were mentioned was hard. Keeping myself from snarling when Devon showed up was actually impossible. Sorry, Fiona. Anyway, after we would drop off Fiona, Jas and I would comment, "gee, I didn't ca...

I enjoyed this book, as I have the entire series, but it wasn't my favorite by any stretch - and not for the reasons I expected. I worried about the darkness of this book and was braced for an emotional ride, but it ended up being... kind of fine. I didn't love that previous villains returned and it felt like there wasn't much movement in the overall arc. But I'm also not a huge fan of Toby's daughter, Gillian, so that likely played in.

How is it possible that this series grows stronger with every book? In a genre that tends to suffer from story lag over time, October Daye seems to be getting even more interesting. Clearly, the author has some sort of J.K. Rowling-level of long-game going on. Having just survived the abduction of her fiance, October's world is again shaken when her estranged human daughter, Gillian, goes missing. All evidence points to Faerie's involvement, and ...

4.5I enjoyed this one but I found myself dragging my heels about getting through it mostly because I didn't want it to end. There were a lot of revelations and changes in this book.I don't much like Gillian yet. I'm sure I will eventually but right now I think she's just a petulant, spoiled brat. And yeah, I did like the novella about her, I just didn't like her. Given who raised her I suppose some of that is to be expected.

I always start counting down the days until I can read a new Toby book from the second I finished the last one. So, now I've started counting down again. The Toby books are ones that I'm always happy I read, but I'm always sad that I've finished them because that means I can't read them for the first time again. Toby is trying to put her family back together after her mother, Amandine the Liar, took Jazz and Tybalt, and locked them away until Tob...

Today is one of my favorite days of the year. It is the day I get a new "Toby book".As expected this did not disappoint. In fact it may be my new favorite (Although Ashes of Honor is still very much beloved.) I love Seanan McGuire's creative uses of mythology in her story. (I almost squeed aloud at one part, which I won't spoil here.) Tybalt remains, and will always be my ultimate book boyfriend.Also, thank goodness for ebooks, because these book...

So, like, magic isn't real.Except maybe it is? Because when an author keeps a story so fresh and compelling this far into a series, it *seems* like magic.This series delivers EVERY TIME. Seanan McGuire is a fantasy writing goddess and I worship at her feet.

This review was first posted to my blog.Night and Silence, the 12th installment in the October Daye series by Seanan McGuire, is full of bombshells and might be the most explosive entry in the series to date. I don't know what I expected from Night and Silence, but this wasn't it. Hold onto your leather jacket folks!Night and Silence is a book about family. Biological family, chosen family and the ties that bind us together and the lies that ...

Mon avis en FrançaisMy English reviewI love Seanan McGuire and even more this series, so you can imagine that I threw myself on this new volume! Oh yes, and I loved the story once again!Oh Toby, my poor Toby … You do everything for everyone, you're there for them, you go on perilous quests to help others and what do you get back as a reward? A lot of problems. It's not fair, that's for sure and my heart broke when I saw all that you went...

After the tragic and heart bending end of "The Brightest Fell," I have been foaming at the mouth for the next book to come out and somehow restore Tybalt in Toby's life. I bawled my poor little eyes out over Tybalt bolting on Toby. I was ecstatic to find the story starting off on the sour note of Tybalt leaving to Toby facing her friends concerns about their relationship and what she had planned to fix it. But then kismet happens, as it always do...

98 points/100 (5 stars/5!)October's little family is still broken. Sylvester doesn't want to see her still, Tybalt is withdrawn, Toby is self-loathing, and Quentin and Raj are caught in the middle. Then, Toby's daughter, Gillian, is taken, and her ex-boyfriend and his wife come to blame her. Too bad Toby thinks it could have been because of her Gillian was taken. It was last time, after all.TYBALT'S BACK!!!And now begins my year long wait for ano...

I know 3 stars seems like a low rating, it's just that there have been so many great books in this series that I have high expectations. This is a good book, I enjoyed reading it, I just didn't like it as much as I have some of the others.Toby and her friends are still dealing with the fallout from the events that took place in The Brightest Fell. Tybalt especially is struggling and keeping his distance. Then Toby's ex Cliff shows up to acc...

Yeah this one knocked it out of the park.Whoa. Yes. Last book, everything was starshine and rainbows, fairies and pixies. Everyone was in love. And then Amandine showed up and lit everything on fire. This time, it seems like everything has been burnt to cinders and we're choking on ashes. Tybalt is MIA - he is too damaged, and too godamned Alpha Male to deal with what Amandine did to him. She took him (and Jazz, but Jazz literally wasn't even in ...

Seanan McGuire's latest installment in the October Daye series is a game changer. Since it's the twelfth book in the series, I was slightly nervous about whether or not the story would continue to feel as fresh and enchanting as previous installments. There was absolutely no cause for me to worry. While the plot line may sound similar to one of the past books, Night and Silence delved into entirely new territory and revealed a few more hints abou...

Thank you to Netgalley and DAW for a copy of the eARC in exchange for a fair review.Disclaimer: This is the 12th book in the series. I highly suggest starting with Rosemary and Rue and read all previous books. This will contain spoilers if you haven't read the rest of the series.October is back, and she is still reeling from her lasting meeting with her mother. The meeting in which her mother forced Tybalt and Jazz into their animal forms and kep...

Toby Daye's life is unsettled as usual, but more so after the events of The Brightest Fell. Toby's lover and fiance, Tybalt, King of Cats, and roommate, Jazz, were kidnapped and tortured by Toby's mother, Amandine the Liar. Jazz sleeps most of the time, and Tybalt has almost completely withdrawn from her life. Her problems explode when her mortal daughter, Gillian, is kidnapped by someone in Fairie-again. Toby must find who, and why to save Gilli...

I received a free ARC of this book via NetGalley. I may have squeed a little about that, because who could resist a chance to learn what happens next to Toby and the gang as soon as possible? As we open this book, everyone is still dealing with the aftermath of Tybalt and Jazz's kidnapping in "The Brightest Fell." Mainly, Tybalt is dealing with it by avoiding everyone. Which is a problem, because October's now-mortal daughter, Gillian, has been k...

Seanan McGuire has another winner with "Night and Silence."This was released yesterday. Today, I finished it. All I can say is that Seanan McGuire is an extremely talented storyteller. She's more than a writer, she is a Teller of Tales. Her world building and characterization is flawless. She takes wholly familiar genres and legends and makes them her own. In the October Daye series, she has a wonderful melding of urban fantasy, mystery/thriller,...

Ahhhhh!! So good. The only problem with reading this is that I can't immediately read the next book in the series. This was a great follow-up to all the insanity that came out of the previous. Addressed the physical and mental states of people and once again revealed aspects of this world, the social structure, and the characters that turn everything on its head. Loved it all and left me smiling. Can't wait for the next book.

Great!Absolutely my favorite in the series thus far. Took a little time to get going, but loved the new information and the gloriously detailed soap opera family dynamics. The novella at the end was an unexpected delight.