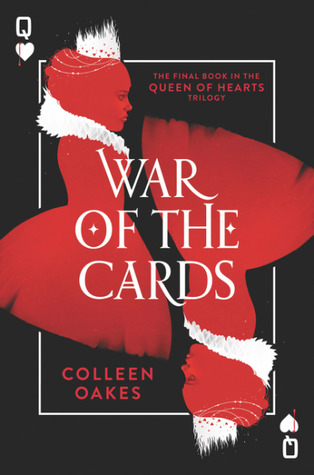 The final book in the twisted YA trilogy re-imagining of the origin story of the Queen of Hearts.Dinah has lost everyone she ever loved. Her brother was brutally murdered. The wicked man she believed was her father betrayed her. Her loyal subjects have been devastated by war. And the boy she gave her heart to broke it completely.Now a dark queen has risen out of the ashes of her former life. Fury is blooming inside Dinah, poisoning her soul and t...
---
Details War of the Cards (Queen of Hearts #3)
Title
War of the Cards (Queen of Hearts #3)
ISBN

9780062409812

Author

Colleen Oakes

Release Date
Nov 7th, 2017
Publisher

HarperTeen

Language

English

Genre

Fantasy

,

Young Adult

,

Retellings

Rating
Reviews War of the Cards (Queen of Hearts #3)
"I am your queen and you will listen to my command." Dinah, the exiled princess of Wonderland, is marching to war with her army of Spades and Yurkei warriors. En route to Wonderland Palace, she has to deal with and settle the tensions in camp, while also trying to ignore the dark fury inside of her - and her broken heart. All of this is observed by her real father, Cheshire, who seems all too pleased with her dark mood. And as the war begins, sec...

I received a copy of this book in exchange for an honest review. I'll start this review by saying I didn't read the two previous novels in the trilogy, and as such I do think I missed a lot of the character development and any emotional attachment readers who read the previous instalments will have for these characters. Dinah is returning home to claim the throne that is rightfully hers. The Queen of Hearts, with a shattered heart herself, she's ...

oooooooooooooooooooooooooooohhhhhhhhhhhhhhhhhhmmmmmmmmmmmmmmmmmyyyyyyyyyyyyyyyyyyyyyyyyyyyyggggggggggggggoooooooooooooooooooooooooooooodddddddddddddddddddddGUYS! WHAT AN ENDING TO THIS AMAZING AND WONDERFUL SERIES! Warning: spoilers below.. probably... maybe..okay there are.. read at your own risk.I freaking love Dinah so freaking much and I was so happy that she finally became the queen that she was born to be. She slayed throughout the book and...

I was pleasantly surprised by this book! I didn't have high hopes going into it, but I enjoyed it much more than I thought I would. As with the other two, there's nothing that really stands out about this one, but I enjoyed the pacing, and I wasn't bored at times. I guessed the twist at the end in the first book, so I wasn't shocked by it, but I enjoyed having my thoughts confirmed. War of the Cards definitely redeemed this series for me, but not...

Many characters fought and died but she did it. Dinah did it and I'm so happy! I loved Cheshire so much for everything! He truly was a genius through the end and I loved her kids. They were adorable! I loved this series so much; I'm happy I read it!

I thought this was a satisfying conclusion to this trilogy. I loved how Colleen weaves her own story but included bits from Lewis's Alice in Wonderland. I never get tired of Alice retelling's and this is probably one of my favorites.

Okay this book is my favorite in the series by far. I had my suspicions about the ending and although I'd start to push them aside ultimately I had foreseen what would happen. All in all this book was great. The ending where they tied together the well-loved version of Alice in Wonderland that we all know was really awesome. And it made me see the Red Queen in a completely different way.

I absolutely adore this series. I also love how the author reconciled how Lewis Carrol wrote a novelization of the event. Series well done!!!

OMG OMG OMG. THIS WAS AMAZINGGGGGGGG AND I JUST COULDNT PUT IT DOWN!!! To be honest, the ending was bittersweet but then book was so eventful that it kept you on the edge of your seat!!

I am speechless.I can't believe that I found the book before the release date (which I have been counting down the days for)I absolutely LOVED this book. It always stated interesting and was very fast. For sure one of my favorite retellings

Huge letdown. Wardley's a jerk

Loved this series! My only regret about this book is I never had the audio book

"May your broken hearts beat strong. #feelsThe BEST out of the series. It was empowering and the way Lewis was included? Amazing! I find this conclusion very interesting. In terms of which turn of event and direction will the author takes us? And it delievered.I always thought of abandoning the series. Glad I didn't.

It's a strange case, this book. I really don't know why I gave the first Queen of Hearts book five stars anymore - I mean, I liked the book, I thought it was fun, but five stars' worth of fun? More like four, maybe. Certainly not as down in quality as the sophomore slump that was Blood of Wonderland. And now, here we get the trilogy's conclusion in War of the Cards, which, like its predecessor, actually lacks a little in what its title promises.....

The strongest of the series, which is always good for a finale! I didn't love it (this book or the series overall) but they were fast-paced, intriguing Wonderland retellings. Not sure how I'd recommend this series because the first two books basically had nothing happen, but ended with interesting cliffhangers. I was happy with the end of the book and the direction she took the story.

Oh my god!!! This was so good. Love love love how Colleen ended the series!!! Will definitely re-read this series one day.

This book was hands down the best one in the trilogy! This was AMAZINGG

I did not expect to like this book as much as I did, especially since I felt fairly lukewarm towards the first too. But surprisingly I loved it! I couldn't put it down, the pages just kept turning and turning. There was a twist that I saw coming, but then there were others that surprised me. And then the ending I was NOT expecting, which was surprisingly pleasant. I was truly expecting this story to go one way and it did not but in a great way....

This trilogy started out so promising, but got more and more frustrating the further I read... The pacing, for one, was absolutely ridiculous. It felt like Oakes stretched out one story for 2.5 books, and then tried to cram another story (that could have launched a new book all on its own) in the last 20% of book 3. I was constantly looking at my progress through each book, confused because it never felt like I was in the right spot...Also, this ...

Everyone is marching to fight in the war for Dinah to take back the crown as the Queen of Hearts. With the Spades and the Yurkei warriors fighting for Dinah, they march towards Wonderland. But Dinah is fighting with this fury that is building up inside of her and if she doesn't control it a lot of people will be hurt. As we begin to question whether or not she will make a good Queen, mistakes are made that can not be undone.This was a great final...

Rating: 4.5⚠ WARNING ⚠ Be aware this paragraph contains spoilers from a fangirl... Fangirling with her soul!!! I can't believe myself at this point! I read this whole entire series in 2 Days guys! 2!!! Days!!!! 😱😱😱🤭 Dinah Has to be one of the charcaters that will forever stay with me ... I connected with her so much! In ways beyond believable! 💕🙆🏻 I suffer and cry with her and when that stupid Wardeley [ Sorry 😐 I do...

4.75Okay.Where do I even begin. SpoilersI cannot deal with this book. I LOVE this series but THIS BOOK DESTROYED MY ENTIRE SOUL. This series is so underrated and just so amazing.The reason it is 4.75 is just because of what happens between Dinah, Vittoire and Wardley. I saw the romance coming I knew that was going to happen in book two but WHAT I DID NOT SEE COMING was the beheading. That destroyed me and I can't get over it. I haven't stoppe...

El final de una saga, voy a ser honesta, Collen no es mi autora preferida en su otra historia de Peter Pan me decepciono, y cuando inicie esta historia fue con cierto recelo pero no me decepciono, de hecho me encanto.La historia comienza justo en el camino de Dinah con el corazón destrozado de regreso al Castillo del País de las Maravillas para enfrentarse al Rey de Corazones y así tener su venganza y recuperar su corona.La batalla es muy sang...

So not impressed 75% of this book was drawn out and the last bit was the only remotely interesting part but nowhere near as good as the first 2 books.Her choice of husband was severely disappointing too. She shouldn't settle/force someone who doesn't want her.

I don't even know where to begin with this series. I originally expected to like it, but I had no idea I would have ended up liking it this much.I related to Dinah a lot. Her character was compelling and strong, and I thought she grew with each book. I was very happy with her progress; even when she made mistakes, she didn't try and hide them.I think the quote in the summary of this final book is one of my favourites: "This isn't a story of happi...

This is more 3.5 stars for me. I did forget some things from the previous books (one reason I like to read all the books at once) and had to look up a synopsis, but after that I was good. This book starts right in the action as Dinah goes to overthrow the King of Hearts. Things I liked: Dinah's character arc from the beginning of the series, the writing is easy to read (and the books have large margins), the Yurkei tribe, and the resurgence of a ...

Once again, I enjoyed a book from this series... however, not as much this go round. I did not like some of the twists and I really could not buy into the ending. It was too difficult to suspend belief in order to get on board with the epilogue. Overall, I love this series and the liberties it takes with Alice's original tale. I loved the political intrigue and scheming, as well as the characters and setting of the tale. I (mostly) loved Dinah,...

I waited three and a half years for this book and I went ahead and bought it because it was impossible to get a free ebook. With that said, for most of the book I wanted to give it one star. It's very predictable. You can tell from the second book the two main plot twist- Cheshire is behind everything & wardley can't love Dinah because he looks vittorie who they turn into Alice at the last minute which is like MEH. Along with giving a little head...