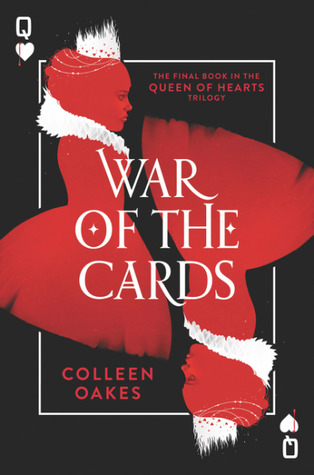 The final book in the twisted YA trilogy re-imagining of the origin story of the Queen of Hearts.Dinah has lost everyone she ever loved. Her brother was brutally murdered. The wicked man she believed was her father betrayed her. Her loyal subjects have been devastated by war. And the boy she gave her heart to broke it completely.Now a dark queen has risen out of the ashes of her former life. Fury is blooming inside Dinah, poisoning her soul and t...
---
Details War of the Cards (Queen of Hearts #3)
Title
War of the Cards (Queen of Hearts #3)
ISBN

9780062409812

Author

Colleen Oakes

Release Date
Nov 7th, 2017
Publisher

HarperTeen

Language

English

Genre

Fantasy

,

Young Adult

,

Retellings

Rating
Reviews War of the Cards (Queen of Hearts #3)
This book is for all the girls who were told that their anger was unattractive, unladylike and hysterical. For the villains and the heroes and for those of us who will always be a bit of both. For the hearts that bleed and those who would make them bleed.This is the end of the story of the Queen of Hearts.

"I am your queen and you will listen to my command." Dinah, the exiled princess of Wonderland, is marching to war with her army of Spades and Yurkei warriors. En route to Wonderland Palace, she has to deal with and settle the tensions in camp, while also trying to ignore the dark fury inside of her - and her broken heart. All of this is observed by her real father, Cheshire, who seems all too pleased with her dark mood. And as the war begins, sec...

I received a copy of this book in exchange for an honest review. I'll start this review by saying I didn't read the two previous novels in the trilogy, and as such I do think I missed a lot of the character development and any emotional attachment readers who read the previous instalments will have for these characters. Dinah is returning home to claim the throne that is rightfully hers. The Queen of Hearts, with a shattered heart herself, she's ...

Okay this book is my favorite in the series by far. I had my suspicions about the ending and although I'd start to push them aside ultimately I had foreseen what would happen. All in all this book was great. The ending where they tied together the well-loved version of Alice in Wonderland that we all know was really awesome. And it made me see the Red Queen in a completely different way.

I absolutely adore this series. I also love how the author reconciled how Lewis Carrol wrote a novelization of the event. Series well done!!!

OMG OMG OMG. THIS WAS AMAZINGGGGGGGG AND I JUST COULDNT PUT IT DOWN!!! To be honest, the ending was bittersweet but then book was so eventful that it kept you on the edge of your seat!!

I am speechless.I can't believe that I found the book before the release date (which I have been counting down the days for)I absolutely LOVED this book. It always stated interesting and was very fast. For sure one of my favorite retellings

Loved this series! My only regret about this book is I never had the audio book

"May your broken hearts beat strong. #feelsThe BEST out of the series. It was empowering and the way Lewis was included? Amazing! I find this conclusion very interesting. In terms of which turn of event and direction will the author takes us? And it delievered.I always thought of abandoning the series. Glad I didn't.