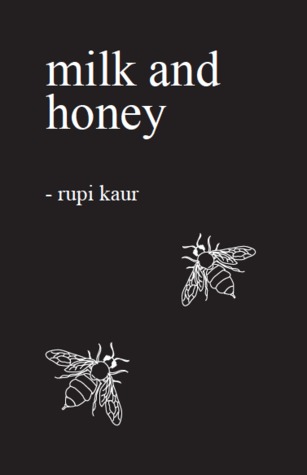 milk and honey is a collection of poetry and prose about survival. It is about the experience of violence, abuse, love, loss, and femininity. It is split into four chapters, and each chapter serves a different purpose, deals with a different pain, heals a different heartache. milk and honey takes readers through a journey of the most bitter moments in life and finds sweetness in them because there is sweetness everywhere if you are just willin...
---
Details Milk and Honey
Title
Milk and Honey
ISBN

9781502784278

Author

Rupi Kaur

Release Date
Nov 4th, 2014
Publisher

Createspace

Language

English

Number of pages

204

pages
Genre

Feminism

,

Nonfiction

,

Poetry

Rating
Reviews Milk and Honey
I'm not a huge poetry person, but I just had to buy this book after hearing so many people talking about it. It didn't disappoint in anyway. The poetry in this book is so raw and beautiful that I related to so many that I kept going back to reread my favorites and highlight and tab them.

Some people call this poetry. I call it a bunch of pretty quotes from Tumblr or Pinterest or other similar site. The themes covered are incredibly relevant. And highly emotive which is probably why so many people connect with this collection. But in my opinion there is a difference in saying/telling what you feel and in writing/showing what you feel. This was a bunch of very quotable quotes about subject matters that need to be explored, and put ...

"i am a museum full of artbut you had your eyes shut"Wow. Rupi Kaur really touched me deeply with this incredibly work of art. Her words of truth and honesty are so powerful and so full of emotion, I can't imagine anyone's eyes staying dry while reading it.A few times, though, I was a little confused, I couldn't comprehend the meaning of her words. The again came a poem about independence, how she was healing from her boyfriend's loss, closel...

[4.5]"you // are your own // soul mate"This collection of poetry was gorgeous! I read and reread most of the poems. I savoured them. Took as much time as I could with them. They're genuinely hard-hitting, raw, full of emotion and so meaningful. 'milk and honey' is split into four parts, taking the reader on a journey about love and all the forms it manifests into. It speaks about family, absentee parents, cultural standards that are called ou...

2016 was a year of poetry for me. I read more poetry than I ever have before, I wrote more poetry than I knew I was capable of, and I even started performing poetry. Milk and Honey was one of the catalysts for this, written by an author from a town near me, of very similar age to me, powerful and raw, I enjoyed flipping through this and connecting to the poems and illustrations. I like that she shares her poetry online, that a huge part of why th...

This book.This book.This book of poetry gutted me. Rupi Kaur writes about love and loss, healing and hurting with clarity and insight. And her illustrations magnify the punch of the words. The sections on sexual abuse and the breakup of a relationship were especially powerful. I don't expect all readers to love this book, and I can understand why some reviewers dismissed it as juvenile. But I appreciated the rawness of emotion Rupi shared. As adu...

I waited forever for the library copy to come in, but now feel silly because I should have just bought this for myself.The poems are in four sections - the hurting, the loving, the breaking, the healing. There is pretty intense language about assault in here but that is the context the beauty arises in. Some pages are two lines, some are paragraphs, some are longer. They demand to be read aloud. The whimsical illustrations are sometimes curvy, so...

OMG I feel that all things womanhood are validated. The struggle, the heartbreak, the beauty, THE STRENGTH.I loved every...single...word.My favorite quote:"if you were born with the weakness to fall you were born with the strength to rise"

poetry or basic tumblr posts?

When a collection of poems begins with a subtle declaration that it was the only lullaby to a crying heart, you end up looking at a work that has gnawing rough edges. This book has four distinct parts: 'the hurting', 'the loving', 'the breaking' and 'the healing'. Resembling diary entries of a growing, sensitive girl, the poems hold in their bosoms, sharp jabs and delicate dreams, perplexed emotions and fragile hopes, redeeming re...

Breathtaking - Brutal - BeautifulRupi Kaur's poetry is unlike traditional poetry. For one thing - this small book feels like a graphic poetry novel. Many of the pages had a familiar 'looking-style' which short poems have....but with the delicate, simple, drawings, I forgot I was reading poetry. The drawings tell a story --we feel the emotions from the them before we even read the words. In essence, capturing bruises women have experienced. The bo...

Well that was underwhelming. I don't really like poetry that much to begin with, but I was so curious about this book after seeing so many people loving it, so I decided to give it a go. I was expecting it to be really profound and ground-breaking and it just wasn't? There were maybe a dozen poems that were quite impactful, but the majority of them felt like filler to me.

absolutely brilliant! nothing but love for this collection of poetry

When I was in college I used to cut quotes from magazines and tape them to my door. I would start in the center and by the end of the semester my door would be a work of art. I thought it an intense, dramatic representation of my feelings about love, beauty, and being defined by men (they were boys but I was too young to realize this then). This book reminds me of that. The cover is soft and black. It is a collection of thoughts that are not capi...

I have never loved a collection of poetry more in my entire life.

To be simply put, this isn't a book meant to be loved or raved about. It is just meant to be read.I feel as if the people giving it three stars or so went in expecting it to ravish them, thrill them but it was not meant for that. Why on earth would you seek something so much more from a book that was written so truthfully, with feelings so raw that the hurt and the bitterness and the sorrows behind the words will never dull? This was her story. S...

milk and honey is a collection of poetry and prose about survival. About the experience of violence, abuse, love, loss, and femininity. It is split into four chapters, and each chapter serves a different purpose. It's difficult trying to review this because every poem is extremely personal, tender and exquisite in its own way.So I decided to feature some of my favorite ones:"you tell me to quiet down causemy opinions make me less beautifulbut...

I devoured a bit of this before bed every night, I didn't just read each poem once. I reread it, repeated it, shared it with friends. It was all so moving and raw, honesty was poured into these pages beautifully. I only have love for this book and the author after reading this, she is a work of pure art herself. (Also, she is from my hometown so yesyesyes.) "accept yourselfas you were designedyour bodyis a museumof natural disasterscan you grasp ...

*Actual rating is more like 2.5 stars.*Let me preface this by saying that I don't read a lot of poetry collections, be it modern or classic. This is new territory for me and perhaps I should have begun with the classics and eased my way into a collection like this. Nonetheless, I do think my unpopular opinion of this book would have remained unchanged. I know that 2 stars on goodreads has slight negative connotation but in all honesty, I do think...

maybethese poems are justwordsrandomly separatedby hitting enteror maybeI just don't get poetrytrigger warnings: rape, abuse

"How is it so easy for you to be kind to people he asked.milk and honey dripped from my lips as I answered. cause people have not been kind to me." What an amazing sad little book.Milk and honey is a collection of poems about different subjects. The author zooms in on love, in particular, heartbreak, for most of the book, but other subjects, such as abuse and femininity, are also discussed. Rupi Kaur can write poetry like no other. She makes eve...

This isn't the first time I've read these poems, but I come back to them again and again so I finally bought a copy of the damn book. It was hard to spend my precious book money on a book of poetry!!?!?!?! for God's sake, but this book is 100% completely entirely worth it.I don't read poetry. Like at all. I went out of my way to avoid poetry classes in college. I just don't get it. I'm not even sure how I originally stumbled across Rupi Kaur, but...

I read this in a bookshop. I wanted to give it zero stars. It's not poetry. It's shamefully derivitive and doesn't employ any poetic devices except for the most cliched - and not to positive effect. Random line breaks and sentence fragments are used because it is what is expected of a poem, but the author doesn't seem to understand that in poetry, these serve a purpose and must contribute to the poem's larger meaning. The allusions and metaphors ...

2/7/2017I get likes on this review daily and for a long time i've felt like a 3-star review was too generous so I lowered it to 2 today, which is more accurate in hindsight.7/11/2016If I could sum up my thoughts about this book, it would just be, "Oh."Honestly, very underwhelming. I'm not sure why people go crazy about this book and say it's gorgeous and it's their favorite book, because honestly, it's very plain. Some poems are just basic senten...

While Rupi Kaur seems very passionate and while I agree with her politics, content, and message, that doesn't make this writing very good. Some of the poems are excellent and will draw you in, but mainly, they are very overrated in terms of pure quality. I see why her poems are popular, but not why she's considered a 'great' or 'brilliant' writer. She's addressing universal themes, but she doesn't do so in an especially artful/skilled way. I'd sa...

Read this review on WordpressFirst, this book has triggers for physical, sexual, and psychological abuse, so beware of that, it is mostly on the first and third chapters, the others can be read without any warnings. I did not include any of those poems in this review. Despite the average rating I thoroughly enjoyed this book, particularly chapters two and four since they did not depress me like her first and third chapter. I do recommend that ins...

your poetryis almost as terribleas your love life

milk and honey tore through my analytical mind and burrowed deep into my ultra-sensitive soul. It slayed all my emotions, my feminist desires, and my love for vulnerable writing. I may not know a lot about poetry, but I do know a decent amount about feelings, and Rupi Kaur brought all my feelings tumbling out with this gorgeous collection of poems. She writes about love and loss, trauma, and femininity - subjects that I so happen to adore. In spa...

Oh, it's a bit hard to rate this one. Reading this won't be wrong. On one hand, it's mainly short, 1-4 line thoughts. By the middle, I thought "Yes, we get this. OK. New thing." I feel bad saying that. It's divided into four parts: the hurting, the loving, the breaking, and the healing. Perhaps I shouldn't have assumed (forever dangerous) that it'd be more individual poems and less of a somewhat repetitive journey? Occasionally a poem will knock ...