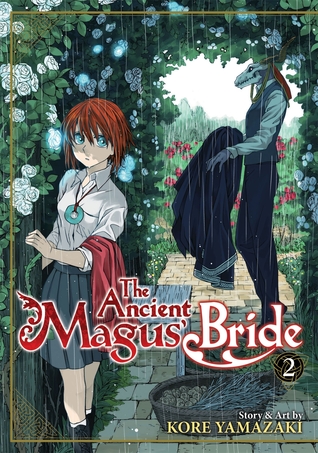 Great power comes at a price... Chise Hatori's life has recently undergone shocking change. As a sleigh beggy--a person capable of generating and wielding tremendous magical power--she has transformed from an unwanted child to a magician's apprentice who has been introduced to fae royalty. But Chise's newly discovered abilities also mean a cruel fate awaits her.
---
Details The Ancient Magus' Bride, Vol. 2
Reviews The Ancient Magus' Bride, Vol. 2
B-b-but it can't end there!!!!!!It just can't!And I have to wait until December for the next volume?!

Check out more manga and graphic novel reviews @ Perspective of a Writer...As the second volume of a manga this volume completes the storyline started in the first and continues a new one. I have similar feelings toward it as I did for the first volume. See my review of volume one...The art is even better in this volume if you can believe it! The next story has some incredible art and we meet some new people! Spriggan is incredibly drawn and the ...

A magnificent 5 stars! I prefer this to the first volume which was a little confusing at times. The second volume is superb and full of surprises.

This second volume continues the storyline from the first. We see Elias coming through on some of the promises he made about why he bought Chise. Chise shows us that though she started as a slave she is a hard worker and determined to fight her battles in her own way.We also meet some new characters and more of the world is revealed to us. We learn a little about what Elias is and what it means. We also learn about Chile's circumstances and tha...

Eventually I'll do a series review for the two volumes I've read, but this was another great read. I'm looking forward to volume 3!P.S. Since you're probably reading this, thanks Luke for letting me borrow this and read it before you.

I'm enjoying this atmospheric supernatural story, and I like the magic system and folklore feel. It seems as though the big "villain" has been introduced, so I anticipate that the plot will start to move more in the third volume, and the side-characters will become more developed. My opinion about the romance (?) is still up in the air. I find the relationship between Chise as slave/guinea pig/student/daughter/eventual wife to Elias's master/scho...

I freaking love this Manga!!!!Amazing progression of the plot in this one + so many cats.

The following review is based off my own opinions, thoughts and reactions. So in other words brace yourself. *There may be inappropriate words such as curse words.* You have been advised in advance.* Heaven...I'm in heaven...Heaven, I'm in heaven! My prayers for a delicious book two have been answered and I'm completely in love! However, not as in love as Chise and Elias! Oh ho ho, I have so much to tell you, my lovely bookworms! For starters, ho...

Ever since I heard there was going to be a prequel anime for this manga, I've been dying to continue the series. I loved this volume! Chise was steadfast and strong and I love how she doesn't waver despite people trying to sway her opinions and abusing her tragic history to manipulate her. She's amazing. Also, we get to meet the faerie queen in this volume which is just all sorts of awesome

El problema de que acabe en medio de la acción es que cuando me compre el 3 dentro de mil años YA NO ME ACORDARÉ DE QUÉ ESTABA PASANDO.

Manchmal ist nicht ganz klar wer was sagt, aber ich mag die Geschichte. Und dieser Cliffhanger ist wirklich böse!

I really like this series. I feel like it's supposed to be romantic but it comes off as more mystery as the main character learns more about becoming a mage and solving problems.

Damnit. I was suckered into the pretty cover art for the series. But the story? Just not holding my interest. Chise is BORING. Elias is BORING.I'm bored.

OMG! This volume was even better than the first one! I am so mad that it ends on a cliffhanger like this one (no spoilers I promise)! I was a bit sad that the relationship between Chise and Elias was not getting a bit more developped but it was good also to see Chise discover her new powers and the world behind them.

This sequel progresses well from the first volume, keeping up the same clever writing and enjoyable plot. The characters continue to be engaging, even as we're introduced to more in this volume. I'm really enjoying this manga! (Also, I didn't see anything problematic in this one, so my previous worries were unfounded.)

Uh oh that ending. This volume was really good. Like that the characters keep getting interesting. And that cover art. Same with the last one too. Seems with each volume the art keeps getting better and better. Oh and the story obviously. Liking this series so far.

I decided to buy the second volume to see if the pacing and quality improved since the first one. And I was surprised to see that the pacing was much better here, while quick and feeling somewhat episode like I didn't nearly have the same problem as with the first volume. The characters have gotten better too, I felt bad for Mina and Matthew's fates at the hands of the strange guy. But I also loved seeing Titania and Oberon (They have such a ...

Plup a žblun jsou naprosto skvostné zvukové efekty.Kresba je taky povedená. Ostatně jako minule. ---Je zajímavé u zdrojů a adaptací porovnávat, v čem se liší a co je lepší. U ČN je lepší manga, ale je fajn se podívat i na anime. Protože anime samo o sobě není vůbec špatné, ale člověk by se o dost ochuzoval, kdyby si nepřečetl mangu. Čtenář mangy se toho dozví o postavách víc, než divák anime.Je to v nuancích,...

Oh, my, gosh. These are like popcorn!!! Bring on the next one!

This volume did not keep me interested. I have the next two but they are due back soon. I might hang on to them and try the third. Might end up dnf-ing the whole entire series though.

Less interesting than book one, but we met more characters and developed the plot some. Onward!

The story begins to expand beautifully in this volume! Can't wait to dig into Volume 3!

I'm so happy I stumbled upon this series on goodreads. I loved the second manga as much as I loved the first. The story is amazing and the drawings are simply wonderful.

Go Chise go! I'm rooting for you! ✊😁 I hope you become a great mage someday!

Interesting. Still not sure where the story is going overall, but I'm happy enough to be along for the ride.

I love this story. I came to love it first through it marvelous anime. Wanted to read the manga to see if I can find differences or miss any part of the story. It is great to rediscover the world I fell in love with.

Jetzt also schon Band 2 und alles ist sehr durchwachsen. Die Story-Arc um die Katzen wird zumindest sehr zufriedenstellend zu einem Ende gebracht und man erhält einige Informationen darüber, was Chise nun wirklich ist und welche Rolle sie in Zukunft spielen wird.Danach folgt dann ein Kapitel, welches einfach nur ein paar neue Charaktere einführen soll. Es war alles ziemlich belanglos und hat auch nicht sehr viel Spaß gemacht es zu lesen.Zum A...

Volume 2 continues to expand the world with Chise taking on the blight! Elias is taking care of his sleigh beggy but other supernatural creatures are noticing her untapped potential too. Tatiana and Oberon, Queen and King of the faeries make a visit and the priest from down the valley pops up with another mission for the pair. Elias is neither fae nor human but Chise seems to be changing him...did he have a heartbeat?!? It is turning out to be su...

a solid 4 star read. I really liked it!This volume gets a bit more into just how inhuman Elias is, which is something I suspected but wasn't very well-established in the first volume.The thing that is kind of annoying about this series so far is it just stops on cliffhangers, so it doesn't feel like a single volume contains one full story arc. it's kind of a cheap way to keep people reading, but luckily I'm interested enough to want to continue a...