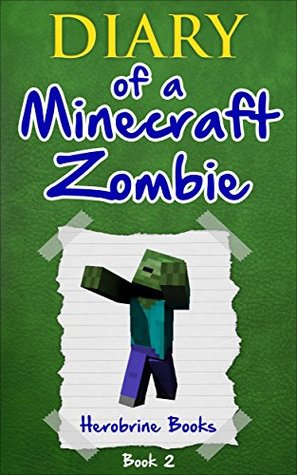 12 year old Zombie is back for another hilarious and exciting adventure.This time Zombie is up against some of the meanest and scary mob bullies at school. Will he be able to stop the mob bullies from terrorizing him and his friends, and make it back in one piece?
---
Details Bullies and Buddies (Diary of a Minecraft Zombie, #2)
| | |
| --- | --- |
| Title | Bullies and Buddies (Diary of a Minecraft Zombie, #2) |
| Author | Zack Zombie |
| Release Date | Mar 13th, 2015 |
| Publisher | Herobrine Books |
| Language | English |
| Genre | Childrens |
| Rating | |
Reviews Bullies and Buddies (Diary of a Minecraft Zombie, #2)
Awesome This book is awesome. This book will kinda help u handiling about bullies. Things I like about this book is that the wimpy zombie stood up for the mutant zombie to his big brother which was smaller than him and bullying the mutant zombie. The things I dislike is that the magma cube guy kept threatening the wimpy zombie about telling them about him bullying the wimpy zombie. Obviously, this book has more stuff and this book is marvelous.

HilariousGreat book. Perfect for the mine craft lovers out there. I and my friends enjoy each book. My favorite character is mutant because he is strong but soft. _ Alexandria

GoodThis was the best book ever. I recommend this book to children who like Minecraft. Have fun reading this book!

My favorite part when mutant became friends with zack.....in the dodge ball skelly was awesome!!!!!!!!!!!!!!!!!!!!!!!!!!!!!!!!!!!!!!!!!!!!!!!!!!!!!!!!!!!!!!!!!!!!!!!!!!!!!!!!!!!!!!!!!!!!!!!!!!!!!!!!!!!!!!!!!!!!!!!!!!!!!!!!!!!!!!!!!!!!!!!!!!!!!!!!!!!!!!!!!!!!!!!!!!!!!!!!!!!!!!!!!!!!!!!!!!!!!!!!!!!!!!!!!!!!!!!!!!!!!!!!!!!!!!!!!!!!!!!!!!!!!!!!!!!!!!!!!!!!!!!!!!!!!!!!!!!!!!!!!!!!!!!!!!!!!!!!!!!!!!!!!!!!!!!!!!!!!!!!!!!!!!!!!!!!!!!!!!!!!!!!!!!!!!!!!!!!...

GoodI got the first one and I love the series so awesome just blown away by it best book ever

I llloooovvve this book!It is a good book because you learn that you can do anything even if you're a zombie in Mindcraft

GreatnessThe book was inspiring to me because I think that bullying is wrong and the book is pretty cool I recommend this boo

MinecraftThis is a great book for anyone. I would tell everyone to read this book it is a great book.

This is another quick read. I read this to my 5 year old son in about an hour. Once again he was laughing out loud. This book also has a really great message about bullies. When I first picked up this series I thought it was fun fluff reading. I was wrong. This book has a great message for kids about what makes a bully and thoughts on how to deal with one. I was really impressed! We have a stack in our living room of all of these books that I bor...

Bullies and Buddies is the second junior novel in the Diary of a Minecraft Zombie series. At a disastrous party at Steve's place, Jack Zombie and his friends Skelee, Creepy and Slimey are attacked by the villagers. Steve is sorry for his friends' injuries so he lends Zack a special video game all about plants and zombies. This second story has more narrative, the characters have developed and there is a message included.The Diary of a Minecraft Z...

Diary of a Minecraft zombie book 2Read on Kindle unlimited.This was a good one, with a good message in it as well - bullying. My 7 year old was questioning why people bully etc so it was a good talking point on bullies and what to do.Again written in a diary style it makes for easy reading, the kids love this series and they are on Kindle unlimited as well so will keep us going for the next 12 nights!

AwesomeI am a girl and I love this book! Seriously I loved it, I am a minecraft player get to me by dow478 at the play.emerald isle.net.

havent read it wont let me

GoodGood awesome book. I absolutely loved this book it was so riveting. And I think every one should rate this book 5 stars

Fun and positive book.I choose this rating because it is not perfect but really fun and interesting. A really good book for Minecraft lovers. In one part of the book, something positive happens and I really likes it.

Amazing!!!I think the book was s super funny and I can't wait to read the whole series!!you should read it!

In the book diary of Minecraft zombie, A regular zombie is in junior high. He had to face the biggest bullies in the school. First he is bullied and bullied by the zombie. Then he figures out that it is his mother or his sister who is getting mad at him. He steppes up for him and him and he and the zombie became friends. The zombie changed in one way. First he thought that the zombie was the biggest bullies in school. Then he figured out that it ...

Minecraft reference, middle school reference, gross thing happens and repeat again and again. Why was this written. After scores of unrealistic bully advice from parents, teachers, friends and class videos, the book creates an equally lame and unrealistic solution. There were no surprises, twists or intellectual content. It's a giant Minecraft themed cliché. I read it to kids who only responded to things mildly. "I saw a mutant zombie once." "He...

My 7 & 4 yr old loved this book and we will be reading the next one in line. I know nothing about Minecraft but my oldest explained everything as we went along. It was fun and humorous and even had a vague adult joke that my oldest thought was great for a different reason. lol (it was when the main character asked his mom where baby zombies came from. The answer given was that they were created on by the Minecraft corporation for the game or some...

Based on the popular Minecraft game, this is the second books in Steve's series. Once again, Alex continues his journey over a six-week period. The diary has illustrations from the game sprinkled throughout the book. This time he helps the villages, starts raising chickens and has to face a potential enemies. Written at a fifth grade level, there are some fragmented sentences and misuse of commas.

I love this book very much!Because I like to read this book and I love to play Minecraft.I think it was great because he made a bully is friend.I think Emma my sister would like it Because she likes Minecraft too!

Another great book. This prompted several conversations about bullies and what we should do if we see bullying, or if we are being bullied. Even with the serious conversations we had, there were still lots of laugh out loud moments. Looking forward to #3.

8 year old daughter cannot put these down...I don't care! She's finally enjoying reading independently!My 8 year old daughter doesn't particularly like school or reading, but she LOVES Minecraft. She is now reading these at a rate of 1-2 books per day!

It's a clever book written in the form of zombie's diary. The zombie is a friend of Steve's and not the villain the game makes him appear to be. The book has a nice message about how to deal with bullies.

Good!I liked the story and (I PLAY MINECRAFT) it is a happy and funny book 😊. Well done Zack Zombie!

Minecraft is the best i love this book !!!!!!!!!!!!!!!!!!!!!! ! it's the best

This book was EPIC! its about a Minecraft zombie with a crazy crazy crazy life!! I think this is the very very first one ever!