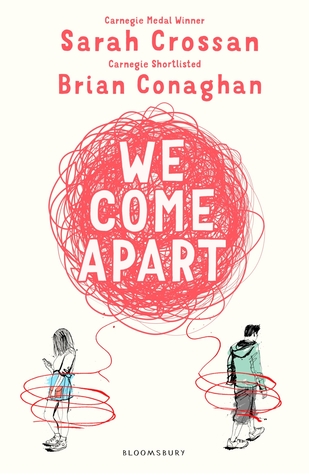 From two acclaimed authors comes an emotional story told in verse about friendship, love, and overcoming unbeatable odds.Authors Brian Conaghan and Sarah Crossan have joined forces to tell the story of Nicu and Jess, two troubled teens whose paths cross in the unlikeliest of places.Nicu has emigrated from Romania and is struggling to find his place in his new home. Meanwhile, Jess's home life is overshadowed by violence. When Nicu and Jess meet, ...
---
Details We Come Apart
Title
We Come Apart
Author

Sarah Crossan

Release Date
Feb 9th, 2017
Publisher

Bloomsbury Childrens

Number of pages

320

pages
Genre

Young Adult

,

Contemporary

,

Romance

,

Young Adult Contemporary

,

Poetry

,

Mystery

,

Crime

,

Realistic Fiction

,

Sociology

,

Abuse

,

Fiction

,

Family

Rating
Reviews We Come Apart
My main confundled feeling with this book is that I don't really know what it was trying to say. Maaaaybe that's just me, so AS ALWAYS, I encourage you to read it for yourself! It's basically by two teens who have awful lives and what they choose to do about it. But their decisions made about as much sense as as the existence of marmalade. (Spoiler: there is no point in marmalade.)ANYWAY.The beginning confused the ACTUAL BRAIN out of me. It's dua...

This book is definitely coming out at the right time (with what's happening around the world right now) and its message is immensely powerful.It follows two unlikely friends as they meet and get to know each other as a part of a juvenile reform course due to both Nicu and Jess being caught shoplifting. Nicu has recently emigrated to the UK from Romania and Jess lives in an unsafe and abusive home. As this book isn't officially released yet, I'll ...

'But I want to stay here.' I praying to them.'Here, what is here?' Tata say. 'People hate us here.''Nicu, people here only see our skin, not the thing within,' Mamica say, We Come Apart is a very heartbreaking novel beautifully written in verse about friendship and love. The themes of immigration, racism, abuse, and bullying are all very prominent to the story as well. It is a quick read that took me no more than a couple hours. T...

This was a quick pleasant read. I can't give it more than three stars though because I had quite a few issues with it. It is such a relevant book though and so I think people should read it. I'll start off with the good! Nicu was a lovely character. He was so adorable and sweet, I loved him! I'm not sure which author wrote Nicu's POV but it was amazing. The author completely submerged themselves into writing this character and I found Nicu was do...

I read this book in one sitting, and that's not just because of the verse form! For a book that has way less words than your average YA, We Come Apart managed to create characters and scenarios with such depth and reality, I was blown away by how much I could empathise, with so few words to go on.I loved both Jess and Nicu's voices and how, together, they found themselves, learning that judging someone by appearance or from a first impression is ...

3.5 Stars.Jessica is a character who has endured torment and abuse, her stepfather a domineering and violent man. Although I've also experienced domestic violence as a child, I couldn't relate to Jessica and her often merciless attitude. Having committed her third offense and Nicu caught thieving, the two teens are both sentenced to the Reparation Program, an initiative to rehabilitate adolescents rather than facing prison.Nicu's narrative was ca...

I'm kind of mixed about this one. On the one hand it was a wonderful story of friendship and exclusion and outsiders. But on the other hand, I was only really a fan of Nicu (Jess rubbed me the wrong way) and the ending felt incredibly rushed. Longer review to come soon.

One is one of my favourite novels ever (seriously, read it). Like One, We Come Apart is told in free verse but, unlike One, we're introduced to two narrators. Jess's home life is tough and Nicu recently emigrated from Romania. When they're both arrested for theft, Jess and Nicu become unlikely companions. And Jess's friends – who throw racist remarks and abuse at Nicu – won't let them forget it.We Come Apart is very current. It's not about b...

I feel so bad to give this book such a low rating,but rating it any higher would feel like a fraud since my reading experience was terrible and I did not really enjoy it one bit.I understand if people do find it likeable and I certainly can appreciated some of the ideas that the authors tried to get across,but overall I was enraged from page 1.As a Romanian emmigrant myself,I found this rather rare representation of others in this position to be ...

The individual voices in this story, Niku and Jess, are distinct and different to anything I've read. I loved them. I swallowed this book in a big gulp in one sleepless night. Jess has a horrific homelife, she is fighting to stay in her home but the bully her mother is living with is terrorising her and her mum. She is forced to watch her mum get beaten. Niku is Romanian and has come to England with his family, he cannot speak English and is trea...

I really liked this book and I thought that it was quite different to most teen romance novels. I however did not like the ending as I thought it was a bit cliche.Even though the book was about two teenagers who love each other it surprisingly did not make me cringe which is always a plus !!!

A powerful read that really shows just how loaded verse can be. Crossan and Conaghan combine to give us the voices of Jess and Nicu. Both fifteen years old, our protagonists have their own troubles and seem to be struggling to work out how to break free from their respective chains.Jess has a troubled home life and has to put up with a violent step-dad. Nicu and his family have come over from Romania, and Nicu is determined to stay in Britain rat...

Absolute perfection! If this isn't on all of your lists for next year, you are doing life wrong! What a book!!

Jess is tough, caring about nothing or no one - at least that's what she wants people to think. She resents authority, steals and bunks off school, thinking it doesn't matter. Jess believes her life with her abusive stepfather and punching-bag mum will never change for the better. It never does for people like her.Nicu is from Romania. His family has moved to the UK to make enough money to 'pay' for a wife for him. This is a Romanian custom and h...

Wanna read something written by Sarah Crossan? Pick up "The Weight of Water" or "One". These books are much better than "We Come Apart" which is... only fine.

Perfectly original, refreshing, heartwarming. And heartbreaking.

My favourite thing about this book was that it examined working-class characters that don't often get much screen-time in YA. The language is wonderful, especially the use of Nicu's broken English.

*This book was received via Netgalley in exchange for an honest review*I really didn't enjoy this book. The plot was weird and I don't know what exactly the author was trying to say with the narrative; to me the whole book didn't make sense, it didn't seem to have a beginning middle and end. Also, the ending felt rushed and unfinished as all the action was just occurring when suddenly the book ended. I didn't like the main character Jess. Nicu se...

This book... This book...I loved it. But I felt like the verse/poem-structured layout is redundant. Then again, Sarah Crossan is well-known for her way of writing. I think I would like it a lot more if everything was more detailed and descriptive.We Come Apart is a very, very, very important book with the whole Brexit and Trump's presidency thing going on. There are so many ignorant and racist people out there... sadly, even in books.

the relationship between Nicu and Jess is everything . despite how bloody sad most parts of this book were, i really enjoyed reading it to the bits. both of the authors have done some gentle jobs at young literature. i'm really impressed by how complicated and joyous this very same book could be. highly recommended for the fans of One and Apple and Rain (both are my faves, btw!) ✨✨✨

I received this free from the publishers via NetGalleyWE COME APART tells the story of a working class girl called Jess and a Romanian boy named Nicu whose path cross when taking part in a Reparation scheme after both get caught for theft. Nicu struggles to find his place in his new home – a country where he faces prejudice and racism. Jess faces abuse in her home life, and wishes to escape. Both find comfort in each other and bond over their p...

Original. Insightful. You really feel for these characters.

I loved this funny, honest, complex, surprising novel.It's very beautifully written, with all that magic that poetry has to say so much more than prose often can with just a few words. Somehow, in a way that I find mind boggling, the dialogue in broken English is even more startling, breath-catching and full of moments that make you read lines again and wonder at their ability to make you see things with a clarity you haven't had before.Unusual, ...

I am generally not a big fan of verse novels, although this one was very easy to read. It was a short, 2 hour read but in the time covered some horrific and heartbreaking topics.This one is a three and half staff read for me, I felt the authors were able to bring the two characters, Jess and Nicu together in a seamless way but I wasn't able to really connect with either of them, and I think this is because of non preference for verse novels. The ...

I didn't think this would hit me as emotionally as it did!

I decided to read this book after reading One by Sarah Crossan and really enjoying it. I saw Brian and Sarah talking about this jointly written novel written in verse on an Epic Reads facebook video and immediately ordered it. The book details how Nico and Jess meet on a young offenders community service programme and battle abuse and racism in order to bring out the best part of each other. A must read for all interested in deep relationships. T...

Jess and Nicu are two teens growing up in the harshest of conditions. Both are battling to stay afloat in a cruel world and find an unlikely partnership in each other. Written in alternating POVs, in short chapters, and with completely unique voices, this quick read was unlike anything I have ever read before. It was intense, sad, uplifting, heartbreaking, eye-opening ... so many things! This is the kind of story that should be read in schools; s...