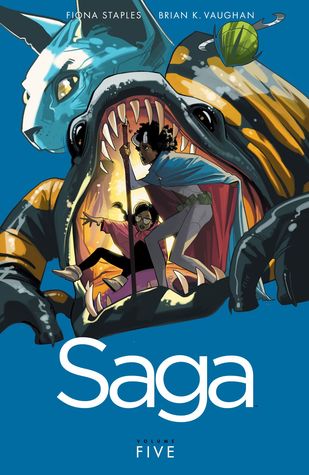 Multiple storylines collide in this cosmos-spanning new volume. While Gwendolyn and Lying Cat risk everything to find a cure for The Will, Marko makes an uneasy alliance with Prince Robot IV to find their missing children, who are trapped on a strange world with terrifying new enemies.Collecting: Saga 25-30
---
Reviews Saga, Vol. 5
Not quite as good as the first four, but still a solid addition to the series.

volume five. the saga continues. and this time the quest is for dragon spunk. naturally. this volume features all kinds of boss team-ups and more of that devastating foreshadowing(view spoiler)[ (hide spoiler)]we will learn not to fuck with marko's mom. and kids will say the darndest things and, yes, there will be dragons but the real star of this volume, and my heart, is ghüs in his little butt-flap jammies and his little overalls oh, he's j...

SHOUTOUT TO THIS CUTE LIL MUNCHKIN FOR BECOMING MY NEW FAVOURITE CHARACTER:#NOTENOUGHGHÜSFirst off, I'd like to give myself a nice, big pat on the back for actually making a wise decision for once in my life woohoo! (Okay, maybe calling it "wise" is stretching it a bit considering the sizable dent gaping at me from my wallet now…) But I'm not sure I could've stopped myself from imploding this time round if I'd chosen not to order volumes 4-6 t...

4.5 stars.... AND THE AWESOME KEEPS ON COMING.

I've run out of ways to praise Saga at this point so I'll just say that it continues to be one of the most entertaining, creative, funny, heartbreaking, profane, graphically violent, and well drawn comics I've read.

Oh man, I need the next volume NOW!

"Each new person we welcome into our hearts is a chance to evolve into something radically different than we used to be.But what happens when those people disappear from our lives?"This review contains *spoilers*.What has this series done to me?I knew it wasn't clever reading them back to back, but I guess I never learn my lesson because THAT ENDING. I don't even know what to say except that I need more. I can't get enough of this serie...

After reading Volume 4, I immediately had to pick up Volume 5. When this ends, I'm going to be so sad because it's just THAT GOOD. Admittedly though, this was my least favorite of the volumes thus far. It's not that it wasn't fantastic and entertaining, I just felt like not as much happened. But you know what, all of this set-up is bound to mean that something awesome is coming and that's well worth it. I give it 4 out of 5 stars not because it i...

Vol. 1 ★★★★Vol. 2 ★★★★Vol. 3 ★★★★★Vol. 4 ★★★★ "Each new person we welcome into our hearts is a chance to evolve into something radically different than we used to be." This was my favorite volume, to date. And I say this in all of my Saga reviews, but Brian K. Vaughn is such a genius to make the voice of this comic the adorable daughter we know and love named Hazel. I feel more for this little hybrid cinnam...

Brian K. Vaughan is a very good, perhaps great, comic writer. Fiona Staples is a very good, perhaps great, comic artist. Saga gets fawned over more than a pile of fruit on the ground near a wooded area (because fawns like to eat fruit that's fallen to the ground…get it?). And I like it. I do. I've read all 5 volumes, haven't I?But, I don't love it. Not like a fawn loves fallen fruit. Or even like hunters love depriving Bambi of his moth...

First book completed for cramathon! Honestly summer cramathon is such a #fail but I couldn't bring myself to cancel it so it's a very self-motivated readathon lol. anyway enough about my readathon, this book! !!!!! I think the one star that was deducted from this is entirely my fault, because I needed to reread the previous volume in order to understand what's happening in this one. But that copy is in storage. :( So I deducted a star just becaus...

Enjoyed this one even more than the last one. Good stuff!

Where do I start with this one? There is so many things going on and it's a bit sad. I might as well just get into it. So the tv head named Dengo still has Alana, Hazel and Klara. He makes some stupid deal with the Revolution. They are actually bad people and they come and load everyone into their ship and they think they are going to take little Hazel somewhere and do some business. But, things never turn out as planned. Meanwhile... Prince IV (...

I honestly don't know how this series will get better in the future. Volume 2-3 for me were the peak of the series, and volume 4 slightly resulted to decline. This fifth volume was not that bad, because it brought out an even more weird side to the series. What's running inside my head though is that how could this improve even more, enough for me to give it a five star rating? Hopefully volume 6 could answer that.This volume brought out Vaughan'...

Buddy reading this entire series with my favorite Princess CelesteFirst of all, I would like to apologize for spamming everyone's timeline with my mini reviews on this series. This is one of the reason why I don't review my mangas or graphic novels.The series is really fast to read, I'm not joking, each volume will take you 30-40 minute max to finish so that's the reason for these spams. There's one more volume available left which I'll do tomorr...

This is phenomenal, witty, funny, thought-provoking, marvellous and hilarious. I think this may even top Volume 4 for me which I utterly loved... I don't even know any more because every time I think I've seen the best of it they bring out something even more crazy brilliant! There are some pages in this which made me ponder, other pages made me smile or feel sadness, and some even made me full on giggle out loud! It's a ridiculous space-adventur...

I read the single issues of this, but plan to pick up the trade of this when it comes out anyways.LEMME JUST SAY WHAT THE HELL HOW I CAN I WAIT AGAIN? UGH THIS VOLUME WAS REALLY REALLY GOOD. If you can't wait i HIGHLY suggest picking the single issues up!

Just not as impressed with this one. Hope the next is better!

Volume 5 was a very entertaining entry in the Saga saga (I have been wanting to use that one for awhile!) Lots of twists, turns, reunions, separations, cliffhangers, deaths, cool weapons, strange creatures, fascinating planets, and general debauchery.The first few volumes of this did not sell me, but now I am very into this series and I look forward to continuing!

Turns out I didn't wait long enough to start this series. I have fast run out of Saga and that is a tragedy. When is the next book? Siiiiigh. (Reminder to self for next time starting a Brian K. Vaughan series: the "long enough" time to wait to start a series of his is "when it's already finished".)More than any other book in this series so far, I feel like Volume 5 really hit home for me why this series is called "Saga". The focus of the story is...

I missed these characters so much! The male dragon scene I could have lived without, but I love how brash, crude and gross this series is. It's hilarious and I LOVE Hazel so much I can't wait to see her grow.

Still seriously wicked cool. The story is fantastic, but so is the art. The pacing is divine and the it is so damn funny and disturbing at the same time I just can't understand why EVERYONE hasn't just gone bonkers over this title.I mean, my only complaint is that it comes out too slow and I have to wait so long between each issue!I am a lifelong fan. Period.

Love. This. Series. So. Much.It has everything -- action, drama, humor, a love story, kick-ass heroines, crazy wonderful world-building, high stakes adventure, well-developed characters with distinct voices and motivations. I'm bedazzled and bewitched by its charms and wit and powerful themes. This is intelligent and emotional storytelling at its finest.

These are not the Guardians the Galaxy was looking for! This is a bunch on new characters thrown into the mix for the fifth episode of Saga - and like the space opera itself they are more than a little weird and politically incorrect and stirring up trouble. That's one of the things that makes me come back to the series, beside the excellent artwork by Fiona Staple : I have no idea where the story is going to be headed next, except that it will...

I love that every installment is like a grenade going off inside your brain. Brian K. Vaughn has an incredible mind. This series just keeps unfolding and revealing more and more depth. I can't imagine where it's going to end up but man I look forward to the journey. If you haven't picked this series up yet you are seriously missing out.

Still absolutely amazing. It's incredible how consistent the quality has been across five volumes. And also pretty consistent with throwing weird stuff out there just because. There are some major changes in this book, and eager and apprehensive to see how things play out.

hello when is volume 6 coming out I NEED IT. sorry i am tired and i just want more Saga, you don't really need a nicely written review of this you already know i love it and that you need to read it

Love Saga. This one flew by!