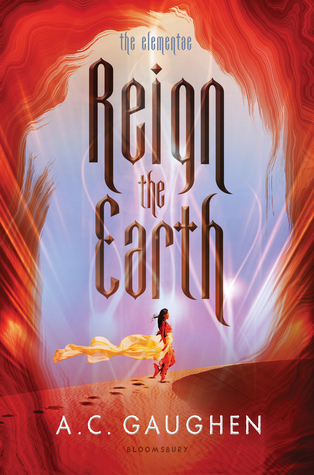 Shalia is a proud daughter of the desert, but after years of devastating war with the adjoining kingdom, her people are desperate for peace. Willing to trade her freedom to ensure the safety of her family, Shalia becomes Queen of the Bonelands.But she soon learns that her husband, Calix, is motivated only by his desire to exterminate the Elementae—mystical people who can control earth, wind, air, and fire. Even more unsettling are Shalia's fe...
---
Details Reign the Earth (The Elementae, #1)
Title
Reign the Earth (The Elementae, #1)
ISBN

9781681191119

Author

A.C. Gaughen

Release Date
Jan 30th, 2018
Publisher

Bloomsbury

Language

English

Genre

Fantasy

,

Young Adult

Rating
Reviews Reign the Earth (The Elementae, #1)
This book was emotionally exhausting. I'm not quite sure where to leave the rating, so I'll say 3.5? Despite what the cover implies, this book is not a light-hearted fantasy in the least. Prepare yourself for extremely heavy topics such as physical and emotional abuse, including unconsented physical relations in an arranged marriage and pregnancy (view spoiler)[with the threat of a miscarriage. (hide spoiler)] Now, I'm not saying the author didn'...

Disclaimer: I did skim several parts of this book because it became way too heavy, dark, and depressing. Sometimes I leave ratings off if I feel like I might have missed something crucial during the skimming, but I'm pretty confident in my rating here. I've been dismissed before as "weak" or "sheltered" for not wanting to endure endless pain and suffering in stories. But that's my honest opinion aaaaand I read for fun/to escape. I'm not here to t...

Well, that was a hell of a ride! I did not expect to love this as much as I did. Not that this book looked bad, but I absolutely loved Gaughen's book Scarlet, and have been hankering to read Lady Thief and Lionheart, so I wasn't sure I wanted to try something new by her just yet. And yes, I admit I was a little like, yes, yes, elemental magic, sure, sure. But as I noticed in another review: when was the last time EARTH magic took center stage? Wa...

I absolutely adored Gaughen's Scarlet series which is why I picked this up without any hesitation at all. Add in the cover and that description and I knew I would get something different, something fun, and something well written.And I did get those things but yet I can't help but feel somewhat..... disappointed. Don't get me wrong, this was a good story but it some how fell lacking from the greatness that was Scarlet. It was a bit slow and even ...

I was lucky enough to pick up a copy of this at ALA this year and it took me until now to finally start it. The fact that I finished it in a day is a pretty good indicator of how solid of a start to a series it was. I enjoyed almost all of the main characters (and enjoyed hating the other one...) and there was some great world building and an interesting elemental-type magic scheme that seemed fresh and new.Actually for some reason certain aspect...

I think fans of solid settings and court intrigue with a dash of fantasy will enjoy this one! Shalia is a wonderful heroine, who's personality and strength is slowly revealed in a natural and beautiful way.Sadly, the set-up of the romance just wasn't for me. I couldn't connect and just plain didn't like it. That was 100 percent my personal preference though. Definitely a solid read overall.

:/I'm bummed, but this one didn't fully work for me, mostly because the romance didn't click with me at all.I'll have to think more about this one.RTC

20 HUGE STARS! 100 thumbs up! This is book is amazing from beginning to the end! Huge twist that I did not see coming at all!!!! Love it!!! Full review to come.

I can't even review this book. It was AMAZING. It was everything I hoped it would be (and maybe more). I loved everything about it!

***3.5 Stars***This was one emotionally taxing book! The cover implies a light-hearted story; I even mistook it for a middle grade novel before I really looked into it. I had read the synopsis and although the story is more or less summarized in it, it still did not prepare me for the direction this book took.🦊 My ThoughtsReign the earth was an unexpectedly dark read and although I personally like when books cover such heavy topics and keep yo...

"I am a daughter of the desert, and my feet will never fail me." mmm yeah okay. This was good. But it was also super hecka long??? and kind of boring?? Hm. Whatever. PlotA++ in concept. Arranged marriage in the name of peace between warring countries? Having to hide your powers from your abusive husband bc he committed genocide on your people? Sign me up!Not so good in execution, though. Goodness. I was so bored. I didn't even realize I was...

4 - 4.5 stars from me. Great read although I wanted someone to stab Calix the entire story. I cannot wait to see what happens in the next book.FRTC

4.25 or 4.5 I haven't decided yet.BUT MAN THIS BOOK WAS GREAT!

Shalia's strong narrative voice describing her maneuvers within the political court of Calix, keeps you involved throughout the story. While there are some intense scenes of action, it is listening to her clear voice - her dreams, her anxieties that keep you turning the pages. You want her to succeed in her dream, but you know that it just can't happen the way she wants. Definitely want to read the next one.

Actual Rating: 3.5 StarsMy favorite part of this book was actually the author's note- it was so moving! Loved the fantasy vibes in here, but there were a lot of stereotypical elements that I've seen a lot in the genre though.

Disclaimer: I was given an online ARC of Reign the Earth as part of the Elementae Street Team, but this is my 100% honest (I promise!) review!!AHHHHHHHHH!*cue fluttery feeling inside my chest (you know the one I'm talking about- I know that you do) where it feels like your face can't open wide enough to smilesmilesmilesmilesmile because YES THAT ENDING OH MY GOSH*I mean, I guess you could say that it was a good book. WHO AM I JOKING THOUGH- t...

I feel like this book deserves to stand in its own light, and not under the "Rebel of the Sands" umbrella. There was a lot I found problematic about that book, but this one sort of takes inspiration from Middle-eastern desert tribes rather than misappropriating them, and maybe that's why it wasn't annoying.There is a lot going on that is great. The best thing i can say about this book is that it's pretty contrary to YA tropes that you'd expect to...

I didn't realize how much I missed YA fantasy until reading this book. Gaughen sinks you deep into this conflicted world and her villain is chillingly human -- cruel & troubled, a monster with his own violent past. I can't wait for the next book in the series!