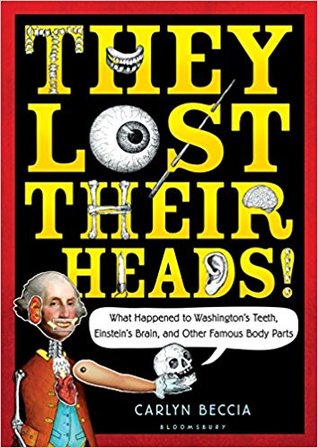 From the kidnapping of Einstein's brain to the horrifying end of Louis XIV's heart, the mysteries surrounding some of history's most famous body parts range from medical to macabre. Carlyn Beccia explores the misadventures of noteworthy body parts through history and springboards to exploring STEM topics such as forensics, DNA testing, brain science, organ donation, and cloning. The engaging tone, wonderfully creepy subject matter, and delightful...
---
Details They Lost Their Heads!
Reviews They Lost Their Heads!
Fascinating. Disgusting. Keep your mobile device close because you'll be google-ing yourself down a rabbit hole for sure!

Filled with twisted humor and all sorts of facts about body parts, this book was a quick and entertaining story. While I read it in one sitting, I can easily see that it would be possible to pick this book up and read a page or two at a time without confusion. The book is quite episodic with selections ranging from a paragraph to three pages or so. Each selection describes what happens to a famous someone's body part or it talks about burial cust...

A fun, informative read full of fascinating historical anecdotes and gross tidbits. I wish it were a tad shorter but I'm guessing this will be a hit with my elementary crowd.

If you like historical trivia of the icky and macabre sort, you will enjoy this book very much. I am please to know that Galileo's severed middle figure salutes the heavens to this day.

Beccia, Carlyn They Lost Their Heads! 165 pages. NON-FICTION. Bloomsbury Publishing, 2018. $19. Language: G (0 swears); Mature Content: PG; Violence PG.After you read this book, you will either be the most popular or least popular guest at a party, depending on how many facts from this book you decide to share. And there is so much to share! Who knew that Ines de Castro, who was beheaded on orders from her future father-in-law, would be all dress...

In "They Lost Their Heads," Carlyn Beccia serves up a heaping helping of stomach-churning accounts of the severed body parts of famous (or not so famous) folks. The genius of this book is how the author uses the "gross factor" to entice readers (target audience, grades 5-8) to learn and ask questions about history and science. Further leavened with snarky footnotes, the book covers such tales as the strange fate of Albert Einstein's brain, the th...

A book for the not-so-faint-of-heart but a definite book for those who look for horror or humor or mystery when it comes to death or body parts. Loved the mystery stories behind Lincoln's body being moved 17 times or the mystery of did John Wilkes Booth really die in that fire. I skipped parts that dealt with the more gruesome. Definitely, a book that will grab middle school reluctant male readers interest.

#kidlitexchange #partnerThank to @kidlitexhange for a copy of this book in exchange for an honest review. All opinions, as always, are my own.Ghoulish humor, clever writing, and fun illustrations add up to a great historical facts book! They Lost Their Heads is all about history's body parts and the crazy situations they end up in. This one is a real kid pleaser but smart and funny enough for adults to enjoy too. A great edition to any non-fict...

Definitely a morbid book written in good humor. Many interesting stories. I most enjoyed the DNA testing that was conducted on a number of people. Middle schoolers will enjoy the book. I received the book as a Goodreads Giveaway and I thank the author and publisher for the opportunity to read and review the book.

This book had interesting "facts" about dead bodies. Not always a reliable read, the author says "I can't have a little thing like dubious sources spoiling his fun" when she discusses parts of his book may not be entirely correct. I do like the fact that she encourages her readers to do independent research - even if it is a google research!

Interesting, gruesome, and hilarious! My favorite is how the author often warns the reader not to eat while reading the next part--and then goes on to compare severed body parts or insides to food. Don't forget the footnotes!

This is a macabre collection of anecdotes about what happened to body parts of famous people.

Where are various body parts of famous people?

Strange nonfic that tracks the whereabouts of infamous detached appendages. Conversational style, a bit gruesome, but undeniably interesting.