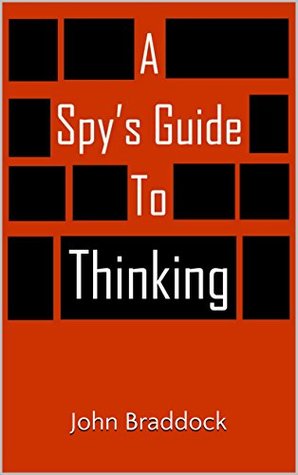 "Head wounds bleed. All those vessels going to the brain. Carrying nutrients so you can think. Which I hadn't . . . I was stunned. But I hadn't lost yet. I still had the phone. And two options." There are a select few people who get things done. Spies are first among them. In a 45 minute read, a former spy introduces two simple tools for thinking. The first describes how we think. The second helps us think ahead. They are the essential tools ...
---
Details A Spy's Guide to Thinking
Reviews A Spy's Guide to Thinking
There's a moderately interesting story in here, about how the author handles a potentially violent encounter on a subway. He wants to show us how he uses a particular type of thinking to make his decisions during the encounter.And then he spends a whole chapter of an already short book relitigating the goddamn bogus WMD claims that were used to justify the Iraq war. (Spoiler alert: It wasn't the CIA's fault! No! Really! USA! USA!)This ... whateve...

Interesting reading. Free if you have Amazon Prime. Not a lot of actual spy information but it's obvious the author is knowledgeable on the subject either by study or by actual employment as a spy. What if found the most interesting is the critical thinking steps the author details. Easily something the average person could employ in everyday life.

This was well-written (using an interesting back-and-forth literary device) and fun. A book about thinking, zero-sum, negative-sum, and positive-sum games, told through the eyes of a former CIA agent."How you play all the other games depends on what kind of game is the final game."

Much more examples would have been nice, but it was a nice read for its length and price. I had previously heard about the concept of the OODA loop, and the idea that the person who goes through the loop faster wins, but been unsure of how to apply it. This helped clarify that.

Lacks depth, volumeLessons and insights are shallow. Light content. Written as a stream of consciousness. Topic is intriguing however content is poor. Book is more of a chapter than it is a book

I got at least three useful points from reading this, which considering the cost and time to read it, is a good value.My problem with the book is that his main example does not validate his teaching. In fact, they appear to invalidate them. If the example is the best of his personal experience, which is suggested, you have to wonder if he successfully applied his ideas in real life.But before I am too hard on the author, I could make the same cri...

InterestingI like books that give me the inside look in how things work. I might be interested in reading the next one.

Very well executedThis book is simple, clear, useful and interesting. The structure is awesome, textbook writing style, I loved it. Looking forward to the next one

Interesting little story and reflection on the conversion of information to action. Not particularly original. In the motorcycle course I took, they teach a process of riding: Scan-Identify-Predict-Decide-Execute, which is no different that DADA or OODA or whatever. The notion of BATNA (Best Alternative To a Negotiated Agreement) taught at Harvard's seminars on negotiation is related as well. If you have paid any attention to anything at all in y...

I was expecting this to be overbearing and was happy to find that it wasn't. I really enjoyed the audiobook on my commute to work. Not only was the writing clear, but it also drew comparisons to scientific and historical examples that made for an engaging and approachable read. It was incredibly interesting to hear how the "spy" mode of thinking developed and its necessity in the history of American espionage post-WW2.

Not much to it but it was a fun read. Braddock discusses the thought process and how a spy analyses situations using a confrontation with a druggy on a train as a frame of reference (which happened to him on the to a covert meeting). This is a Kindle single so it can be read easily in one sitting and in less than an hour.

Holds your interest and does a great job breaking down thinkingI don't know why I picked up this book but it was a great way to kill time while learning how the DADA thought process works.

Quick and dirty but effectiveFor those already familiar with the OODA loop this may serve as a refresher as it was for me. But from an Intel standpoint its excellent for beginners who aren't quite familiar with the process. Can't beat the price either.

Good quick readWoven into a book on approaches of how to think is an engaging story about an encounter on the subway. Great way to illustrate the author's points.

Fast reading with practical adviceA quick guide on how to think and act for your benefit. A very ngaging story as well. Will read more from this author.

Interesting story about an experience that demonstrates the OODA Loop (though he makes it a bit more relevant to business by calling it Data Analysis Decision Action). I guess if you've never been exposed to the concept it would be more interesting. On the other hand, even old known concepts deserve to be refreshed frequently, especially for leaky brains like mine. Taking the time to analyze whether you are in a zero-sum, positive-sum, or negativ...

Short, helpful if you didn't know this alreadyThis book was a short, easy read. The information wasn't anything new or any new insight on how the information could be a game changer. I am a former U.S. Air Force officer...so I used this information on a regular basis. I wasn't a spy but a medical officer directing two departments... and regularly negotiating contracts and with other medical department to get the best outcomes for all parties.

Very quick and enjoyable read that keeps you interested. The book gets you thinking about how you take in information and act on it and frames it in a way that will hold most people's interests on a topic (thinking) which can sometimes com across as dull.It's feels more like an essay or a column, but enjoyable none-the-less.

This clever book was easy to read and enjoy. It illustrates a short interaction on a subway car that demonstrates a thinking methodology. Lines like, "actions are commitment," and "writers love nothing more than writing about writing," caught my eye. But the funniest of all is at the end: "Our relationship is over. Unless you liked this book enough to buy another of my books."

I think I must have been born a spy.It seems to be a common sense approach to being aware of your surroundings. If you're generally not then this book may help you stay out of trouble.

Short Sharp and effectiveThis is a excellent short book on how to process data and weigh the options for decision making. It took me a collective 30mins to read it, although I did keep.stopping to weigh and consider each point. Strong recommend.

Interesting bathroom readYou can read this book on the can and you will still have time to stare blankly at your smartphone as you think about the authors strategies.Recommended read

Somewhat InterestingThe author does a good job explaining how intelligence is collected , analyzed, used in decision making and then acted upon. Also, how we can use this methodology in our daily lives. Dry, matter of fact but well explained with examples and illustrations.

Useful, very short read. Draws you into the proposed thinking process with an experience containing conflict. Concise and interesting. I will consider reading other books in this series. Will likely apply the proposed thinking cycle to my life more consciously.

SimpleI loved the simplicity of this book. Easy to read and use. I put common sense into words. It's a good read.

Great bookDefinitely a positive sum game.I'll be looking into that series, and the author of said series...First book I've finished in ages...

ReviewThis book was simple and effective . Collect the data, and analyze. Was it good? Worth your money? You decide.

Not very goodSeems like the author after a bunch of repetitive statements to meet s minimum length. A short story like this should be more dense with action or info.

Interesting but shallowI enjoyed the premise and the promise but left wanting more, analysis and application. Make it more of a work book, and it improves

Not what I expectedThrough it was a longer book. At the beginning the author real make me really think about the spy world. At the end I was really disappointed.