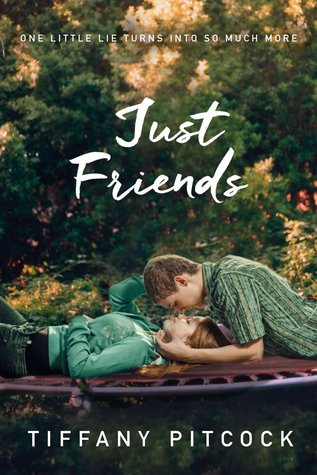 Jenny met Chance for the very first time when she was assigned as his partner in their Junior Communications class. But one clever lie to rescue a doomed assignment later, and the whole school was suddenly convinced that Little-Miss-Really-Likes-Having-A's and the most scandalous heartbreaker in school have been best friends forever. It's amazing how quickly a lie can grow—especially when you really, really want it to be the truth. With Jenny...
---
Details Just Friends
Title
Just Friends
ISBN

9781250084057

Author

Tiffany Pitcock

Release Date
Aug 1st, 2017
Publisher

Swoon Reads

Language

English

Number of pages

320

pages
Genre

Young Adult

,

Contemporary

,

Romance

Rating
Reviews Just Friends
Okay, I'm such a sucker for straightforward romances, and since there's a couple kissing on the cover, I was hooked even before I opened the cover and found chapter one. But then, look again at the title - it turns our they really are going to be Just Friends... yeah, right! And, oh my goodness, the agony of Jenny and Chance trying to be Just Friends is so tantalizingly painful, I barely breathed through most of the this book. With such clever pl...

I absolutely loved reading this a few months ago. It was a great late night read to de-stress and I can't wait for it to be published so I can buy it and read it again!

Ya'll. It's going to take me a while to get over the end of this book. I wanted to live with these characters for (at least) 100 more pages, if not into a new book (here's looking at you, Tiffany! XD). Chance and Jenny have this incredible chemistry and the most hilarious banter that seriously made me laugh out loud. It takes a lot for me to lol mid-read. I know people keep making comments about it being "cliche goodness" but I swear to you that ...

Jenny and Chance couldn't be more different; so when they are thrown together for an assignment they are both shocked at how easy it is to lie about how they know each other. Wanting to keep the charade alive for appearances' sake, both Jenny & Chance are shocked when it evolves into a real friendship, one that neither one of them knew they needed. When feelings start to become more than friendly, will Jenny & Chance take that next step or be too...

This book was cute in the beginning and then just went on for a long time. It would have been so great if it were a novella. Review to come.

Tiffany and I share a publisher and a release date, which made me all the more excited to get my hands on an ARC of her forthcoming debut. Just Friends is everything I wanted it to be: cute, angsty, and fun. Main characters Chance and Jenny become friends thanks to the ultimate meet-cute, and they share adorable chemistry. This one's a romance so the conclusion is expected, but the path we get to travel toward Chance and Jenny's happily ever ...

I really liked how Jenny and Chance's relationship starts off and how perfect their personalities matched. It was super easy for them to pretend and the things they would come up with were hilarious. I just wish the book wasn't so predictable. At some points I started losing interest because I knew what the outcome would be. This one is just an okay read for me.