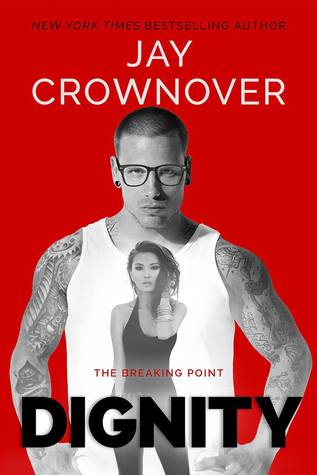 Looks can be deceiving.I knew that most people took one look at the ink and the impossibly big and strong body it covered and decided I was a brawler…a bruiser…a beast. However, I was hardwired to be a thinker, not a fighter—my mind being my greatest weapon and my biggest weakness.I should have chosen to use my brain and talents to be one of the good guys, a hero, a man with dignity and worth.I turned my back on dignity and sold my soul to ...
---
Details Dignity (The Breaking Point, #2)
Title
Dignity (The Breaking Point, #2)
Author

Jay Crownover

Release Date
Oct 17th, 2017
Language

English

Genre

Romance

,

New Adult

,

Contemporary

Rating
Reviews Dignity (The Breaking Point, #2)
4.5 stars Such a fantastic story, I devoured it.I have the same feeling starting this book like when I read Honor, I didn't know what to expect and this intrigued me even more.When I start reading Dignity, it was hard to put it down!Stark and Noe were the perfect combination.Seriously they have an amazing chemistry and it was like an explosion every time they were together.They were super hot and intense.Stark was perfect, I'm in love with him.He...

Anytime a new book comes out with the name Jay Crownover attached to it I am in! And anytime it's a sequel to a book I really got sucked into I am all over it! I am just so happy that Dignity lived up to the hype I had in my head after reading about Noe and Stark in the last pages of Honor! They have been on my mind ever since.The gritty world of the Point is still the same dangerous and unforgiving place. Two people will struggle in different ...

Beyond Excellent. This one is now my FAVORITE Jay book EVERRRRR. And that's from a die-hard Nash fan. Seriously. Stark is scrumptious, broody, wicked-smart, and just as delicious as all of Jay's men, but he's just got something about him that kept me turning pages at 2 a.m. Utterly fabulous.

Series are probably my absolute favorite. I love living in the "world" of connected characters that makes me feel like I'm a part of it, being friends or family and living a part of their lives. After watching Nassir and Keelyn's love story unfold (with all the ups and downs) I was hooked on this new set of characters. A tattooed main character, gruff and with a wall built all around his heart a thief that knows she is in over her head as the fem...

4.5 Dignity Stars Being a second book in this series…I usually love them more than the first books. I know I am weird buttttt as much as I liked this book Honor is still number one for me. I loved that two "geeks" get together. Or I should say brainy acts. Noe's story will break your heart as will Starks and I think what makes this book so special is how they need each other and don't even know it. It's a book you can't help but be...

***AVAILABLE NOW - FULL REVIEW***5 Tin Man CrownsLet me introduce you to my new favorite couple and story about the Point. Noe and Stark are just fantastic complex couples who find solace in their world together, and every minute of their journey is completely amazing.Stark is the figurative Tin Man with a heart that has been on lock down since he suffered some serious losses in his life. The one girl to bring him back does so quickly and heats u...

DIGNITY is only my second read by author Jay Crownover and she has surprised me once again! Sexy, smart, heartwarming, and suspenseful - Noe and Stark's story had me on the edge of my seat the whole way through! Two damaged souls coming together for a purpose and it leads to so much more. These two bring something out in each other that they can no longer deny. Their journey to break down each other's walls was quite amazing and incredibly ente...

Rating: 4.5/5I was really looking forward to this book because I didn't know what to expect from these two characters, but I was really eager about finding out.Snowden Stark and Noe Lee are both hackers you don't want to have as enemies as they are both extremely good at finding what you don't want people to know. On their own, they can do wonders, but together, they seem to be a force to be reckoned with.Each of their past has forged them into t...

Avec ce roman, Jay Crownover nous ramène à cette ville imaginaire qu'elle a créée et tout particulièrement dans un quartier où règnent la corruption et la violence. Il vaut mieux avoir lu les précédents livres pour suivre l'intrigue car de nombreux personnages sont déjà apparus et pour certains, nous apprenons quelques détails supplémentaires sur leur vie, leurs problèmes qui reviendront sans nul doute dans de futurs romans dont...

Rating: 4.5/5Review to come!