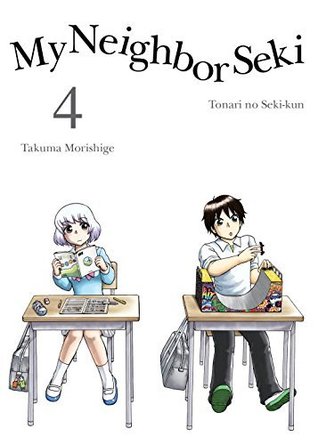 Yokoi can't seem to stop Seki's increasingly creative contraptions from grabbing her attention and making her own imagination wander away in the middle of class. And at one point, Yokoi find herself in a very unexpected place indeed...
---
Details My Neighbor Seki, Vol. 4
Reviews My Neighbor Seki, Vol. 4
Compared to the previous three books, this one fell a little short. Normally I get some sensible chuckles out of Seki's sheer inventiveness, but several gags here fell into the "he cares a lot about an inside joke" camp without being too meticulous or slapstick. Even worse, Rumi's language and antics have escalated out of character, in my opinion. ...but despite my nitpicking, the central premise still plays out reliably well from chapter to chap...

My favorite is the story in here of the robot family flying a kite, drifting away with the kite, getting a dunk in the river and then being stolen by Yokoi who then returns them via Seki's sister who falls asleep while they're playing and Yokoi has to sneak out. So funny!

I don't know why, but I just get such joy out of Seki's antics and Rumi's reactions. It's so ridiculously silly, but it just touches a cord with me, I guess.

Séki est véritablement un être à part : inventif à souhait, sa voisine de classe en reste toujours bouche bée.

The part with the Santa's is great, the aftermath is funny.

Yokoi continues to watch (and sometimes thwart) Seki's goofing off, and Goto continues to misunderstand Seki and Yokoi's relationship. Seki (view spoiler)[tries to create a beetle superhero, goofs off during a three-person drawing assignment, and paints himself so that it looks like he put so much effort into school sports that he bled. Yokoi ends up stealing the robot family after Seki has them fly kites for him. She later guiltily gives them ba...

It's been awhile since I read the last volume, maybe even a year, and I found myself enjoying this one thoroughly despite knowing more or less what to expect. Morishige's imagination is pretty incredible, though it's less surprising given what we learned about him during his bread festival bonus comic! My favorite chapter was when Yokoi played with Seki's sister and his under his bed. Things like that move the overall story along in good ways (in...

I think what I liked best in this volume was getting a little bit of a glimpse into Seki's home life. Not only does he play endlessly at school, but also when he's away. I marvel at how much time and effort he puts into his games, yet he has such a great deal of fun, that like those around him, I'm willing to forgive his craziness. And his sister is just plain cute!Overall, I'm amazed at how much fun it is to read these books. While there's no re...

*3 or more is good for comics, manga or graphic novels. I never really know how to rate some of these. There are some where I'm totally in love, know automatically it is a 5 star, but then some I am just not sure about in the first couple volumes.*I love the series as a whole, it is cute and funny.

Ceritanya tetap menarik. Apalagi cerita tentang yang ada Goto-nya (hihihihii) dan ketika dia mencuri keluarga robot. Dan apa cerita terakhirnya? Yah kalau nggak salah, cerita itu juga rame.Oh, 2.5 stars!

I really, really enjoyed the chapter in art class. It was just too funny!

Ceritanya masih tetap lucu-lucu :D

Encore un excellent tome qui m'a fait beaucoup sourire !------------------Another excellent volume which gave me a lot to smile!

Seki still creating crazy things.

I like how there's a little story with each cover. Anyway, another good volume in the series so far. Nice to find a series where its not always drama or dragged story arcs.