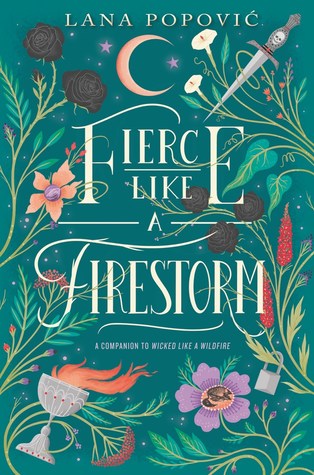 In the bewitching conclusion to Lana Popovic's sumptuous and romantic teen fantasy duology, Malina must use her gleam to rescue her twin sister from a magical power more dangerous than Death.Twin sisters Iris and Malina thought they knew how to reverse the ancient curse that haunts their line, the spell that destines them to use their gleams—unique forms of beauty-manipulating magic—to entice and enchant none other than Death himself.But bo...
---
Details Fierce Like a Firestorm (Hibiscus Daughter, #2)
Title
Fierce Like a Firestorm (Hibiscus Daughter, #2)
ISBN

9780062436863

Author

Lana Popović

Release Date
Aug 21st, 2018
Publisher

Katherine Tegen Books

Language

English

Genre

Fantasy

,

Young Adult

,

Magic

,

Paranormal

,

Witches

,

Young Adult Fantasy

,

Romance

,

Magical Realism

,

Fiction

,

Death

,

Urban Fantasy

Rating
Reviews Fierce Like a Firestorm (Hibiscus Daughter, #2)
this book took a turn for the worse and went downhill real fast after that.(view spoiler)[Here's a Tip: Maybe don't have both the protagonist and her established love interest have sex with other people in the middle of the sequel? What the actual fuck. (hide spoiler)]

I'm not entirely sure about this book. It took me a while to get into, some kind of summary (especially with an intricate story like this). Once I got into it, I could follow it. However, the story didn't have a hold on me like the previous book had. I mostly finished it because I wanted to know how it would end, not because I really enjoyed the story. It also got a bit of an open ending, which I don't like.Still, I gave three stars, becaus...

I started out enjoying the multiple perspectives in this book, but Malina's really lacked for me. Her character development was rushed and only happened towards the last 50 or so pages which was frustrating.However with all that being said, I did enjoy the book.

It was just perfect! Exceptionally well-written, I loved the character development. A magical book, emotional and astonishing.

I desperately need books to give us some kind of summary/reminder as to what happened in the previous novel. I read Wicked like a Wildfire a year ago and was anticipating the second book. I'm of an age now where finding time to read is a luxury and rereading ahead of publication is not something I want to dedicate a lot of time to. Trying to move back into this world felt exhausting in a few pages – as others have said, at times the text is f...

It took me several days to write this review; not because the book was bad or I didn't enjoy it, but I was so invested in the story that some of the author's decisions broke my heart and I needed some time to get some objectivity, perspective, and calm down enough to think about the events without sending ten texts to my boyfriend about how sad I am.So, prepare yourselves.It was an excellent follow-up to Wicked like a Wildfire, with all the s...

I loved the first book. I absolutely loved it. I waited anxiously for a whole year for this.I cannot even adequately express my disappointment right now. I applaud the writing, but oh my God, I cannot with the romance. This had a very specific pet peeve of mine in it plus its own delightful spin on it that ruined the entire book for me.This is a completely personal opinion and my emotions are running high, because I just finished it but the roman...

As much as I enjoyed the first book in this duology, this was a letdown for me. While it was imaginative, it didn't live up to its potential, mostly because hardly anything happened throughout the entire book.

The writing was just as beautiful as the first book. I can't say that this one captured me as much as thr first did, but it was stillna wonder to read.

BeautifulBoth of the books really set !y.imagination afire, I feel bereft without them. I really got immersed in their world.Truly adore these books, they are wonderful

ExcellentBeautiful descriptive and moving I really enjoyed this book and was sad when it ended it was a great story

Well, that was disappointing.