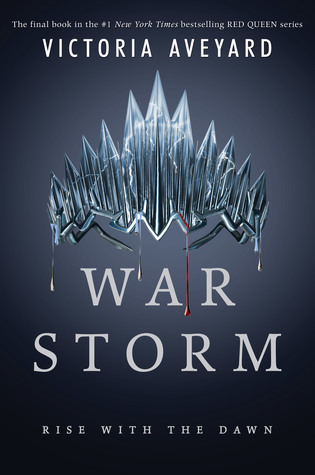 VICTORY COMES AT A PRICE.Mare Barrow learned this all too well when Cal's betrayal nearly destroyed her. Now determined to protect her heart—and secure freedom for Reds and newbloods like her—Mare resolves to overthrow the kingdom of Norta once and for all… starting with the crown on Maven's head.But no battle is won alone, and before the Reds may rise as one, Mare must side with the boy who broke her heart in order to defeat the boy wh...
---
Details War Storm (Red Queen, #4)
Title
War Storm (Red Queen, #4)
ISBN

9780062422996

Author

Victoria Aveyard

Release Date
May 15th, 2018
Publisher

HarperTeen

Language

English

Genre

Fantasy

,

Young Adult

,

Science Fiction

,

Dystopia

,

Fiction

,

Romance

,

Young Adult Fantasy

,

Magic

,

High Fantasy

Rating
Reviews War Storm (Red Queen, #4)
There's no reason to drag this into four books. There's probably going to be a book for every character as well....*Sigh* thank god for free ebooks.

I sort of jumped off of this series when Aveyard started attacking her own fandom and calling them out for criticising her work. Like—yeah—it's our fault somehow. I just refer authors like this to my new favourite author on twitter Jay Cole's response: And how she couldn't understand how so many people preferred Maven when Mare was "such a strong female character". Not that she wasn't the most annoying character that walked planet...

I think why I'm over Aveyard and not just her but YA authors in general these days. It used to be if the story was great it was published, but it has slowly contracted over time to accepting people from the top universities, who are incidentally a lot of the time white brunettes or blondes, and they might be mediocre but they just really don't move you on the page with any substantive feeling. YA authors can say no one like their books becaus...

Lo que quiero que pase en este libro:Necesito ver una épica pelea entre Maven y Cal. Que Cal gane y justo antes de que lo mate, Mare intervenga, y que Mare mate a Cal para proteger a Maven.Maven y Mare renuncian a la corona y se van a vivir juntos al pequeño pueblo donde vivía Mare. Son felices para siempre teniendo pequeños bebes newblood con sangre silver.Y Kilorn se queda como presidente de la republica de Norta.ESO SERIA PERFECTO.Lo que c...

If a zombie apocalypse occurs before this book releases, Victoria, I will kill you.GUYS I HAVE A COVER IDEAAAAAA!!! Mkay so the main color is black, and the crown is Maven's crown. AND THERE IS PURPLE LIGHTNING AND FIRE RIPPING THROUGH IT AND SHATTERING IT.I AM SATISFIED NOW.

Cannot survive anymore YA Hunger Games ripoffs.

People may ask why I am rating this one star. It's because I cannot condone the rampart plagiarism that is continuing in publishing right now. It makes me sick to my stomach. Writers lately have been lifting paragraphs from other sources for a while now. They never got caught copying the Hunger Games so others are emboldened to continue.And a growing number of authors have said that they don't believe they've done anything wrong, even though inst...