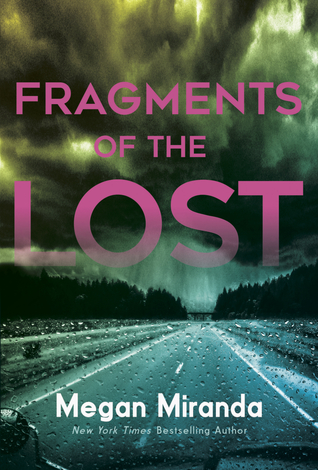 From the New York Times bestselling author of All the Missing Girls and The Perfect Stranger comes a suspenseful psychological mystery about one girl's search to uncover the truth behind her ex-boyfriend's death. Perfect for fans of We Were Liars and 13 Reasons Why . Jessa Whitworth knew she didn't belong in her ex-boyfriend Caleb's room. But she couldn't deny that she was every...
---
Details Fragments of the Lost
Title
Fragments of the Lost
ISBN

9780399556722

Author

Megan Miranda

Release Date
Nov 14th, 2017
Publisher

Crown Books for Young Readers

Language

English

Genre

Young Adult

,

Mystery

,

Contemporary

Rating
Reviews Fragments of the Lost
I have been a fan of Megan's words from the beginning and I was insanely excited to get my hands on this book. I love love loved Jessa. She's smart and a bit heartbroken and it was intriguing being in her head for this story. There are a few other characters, but I'm not going to say anything about them. Plot wise, it was captivating. The story is told by items Jessa finds in Caleb's room and the memory attached to them and the way it unf...

*THANK YOU THANK YOU THANK YOU TO THE PUBLISHER FOR SENDING ME AN E-ARC SO I COULD GET MY MEGAN MIRANDA JAM ON*Okay, I think I got my butt together and formulated my thoughts on this. Trust me, though, it was hard. I've loved Megan Miranda since I picked up my first book of hers all those years ago, and this book reminded me yet again just how talented she is. It was beautiful, it was mysterious, it was everything I wanted this book to be. I love...

Could you imagine being in high school, your boyfriend dies, people blame you for the accident and his mother asks you to clean out his room? Then you feel guilty so you can't say no. Each piece you pick up, put away or trash brings a memory and you begin to question this person who claimed to love you. How well do we REALLY know the people in our lives? We all have secrets, don't we?The book is told strictly through Jessa's perspective. We get f...

I simply adore this author. Have read so many of her books and I have enjoyed them all. This one was no exception. I stayed up until three am to finish this lovely book. As I could not stop after I started it. Eee. For the most part I really liked this book. Had a few small issues, but nothing big. And so four stars for this one.I'm going to begin with saying that the writing was all kinds of awesome. And I had no trouble at all reading this book...

Probably my favorite Megan Miranda yet!

This book started as one thing and then morphed into something completely different-- but in an organic way that made me not even realize it was happening. A++ effort from one of my fave authors!!

Jessa's boyfriend Caleb has died and his mother Eve asks Jessa to clean out and box up all the things in Caleb's room. Eve blames Jessa for Caleb's death almost as much as she blames herself. Little by little, as Jessa packs boxes, she has the feeling something isn't right. With the help of Caleb's friend Max, Jessa begins to search for the truth about what happened the night Caleb died. Thanks to the publisher and Net Galley for allowing me to b...

I really dug The Safest Lies, read after I hosted Megan at our store for the release of The Perfect Stranger - she and I immediately geeked out about true crime and she was a delight. I've been on a string of thrillers for the past few months, and I've been lucky enough to be on a tear of good ones - Fragments of the Lost fit right in, keeping me gripped as much as the adult thrillers I've read (not always the case with YA). The story takes a lit...

Jessa is grieving the death of her ex-boyfriend Caleb when Caleb's mother asks her to pack up his room. Jessa agrees because she has so many questions about him and about the day he stopped at her cross country meet and then was swept away in a flash flood. She is looking for pieces of her life that she shared with him and hoping to learn more about the boy she lost.Each new discovery raises more questions and she begins to wonder if she ever kne...

Megan Miranda is one of my favorite authors so I was very excited to receive and ARC of her newest book from Netgalley in exchange for an honest review. This novel was FANTASTIC! I loved the writing style, the story, the characters, the plot development. All of it.Told in sections marked in periods of time, the story follows Jessa as she is helping the mother of her ex by cleaning up his room after he has died. As Jessa packs things away she has ...

I loved this book. I love how the first part of the book was quieter with lots of inner narration and flashbacks. It was heartbreaking as Jessa spun out the story. And then as we moved into the present the action and suspense picked up. This was a great YA novel and I look forward to checking out more books from this author.I received a copy of this book from NetGalley in exchange for an honest review.

I was not prepared for the mystery, the suspense, the lies, the hunt for the truth! This had me hooked and I couldn't stop until I read every last page.

The ending redeemed this book that started kind of slow. I figured out what was going on with Caleb as Jessa did, but I was still surprised by some of the revelations (which is what I look for in a suspense book :)

What appeared to be a story of a young girl processing grief and memories became a great suspenseful mystery! Great writing and storytelling with a satisfying ending.

Received an Advanced Reader Copy in exchange for an honest review from Random House Children's via NetGalley.This book had me feeling so many things!! I absolutely love Megan Miranda's books and this one did not let me down. It was so bittersweet. I really liked the main character Jessa. You could see her transforming from someone who was so deep in her grief to becoming so strong. Her relationship with her dead ex-boyfriend is told in flashbac...

I received an ARC copy through a Goodreads giveaway. I hadn't read anything by the author previously and wasn't sure what I was getting into. I read it the morning after i received it and was pleasantly surprised. The author has an almost poetic style of writing - but without the tediousness that can come with trying too hard. The plot was original and unexpected and the execution was done perfectly. The only reason I couldn't give this five star...

I was able to read this ebook through NetGalley!It's only been a short amount of time since Jessa's ex-boyfriend passed away in a flash flood, and she is asked to clean out his room. As Jessa uncovers memories that the two of them had together, she also stumbles on questions: where was Caleb going when he was swept away in his car? Why are there still mysteries surrounding who he was? This book was not what I expected-- in the best way possible. ...

Thank-you for the advanced readers copy.........I did enjoy this book! It was the 1st book I have read by Megan Miranda and I will definitely look for other books by this author. This book however did start off super slow for me, and I almost put it down several times, but then it would pique my interest again, and I would keep on reading. I am glad I did keep on as it did get really good in the middle.....I would have liked to have seen a little...

First and Foremost I Would Like to Thank Megan Miranda & Goodreads for Giving Me the Chance to Read This Lovely Little Jewel of a Book Called "Fragments of the Lost" That I Won in One of Goodread's Awesome Giveaways! I Really Loved This Book a Lot & I Even Love the Title and I Really Hope to Read More From This Author in the Future! I Have No Real Critiques About This Book Except for Maybe I Wish I Could Have Learned a Little More About Some of t...

I wanted to love this one, but it was just okay. I really enjoyed her other books, but this one left me feeling underwhelmed. I felt like it was very slow in the beginning, then it got interesting, and then it felt like a sprint to tie everything up and end the book. It was an interesting story line with some twists and turns. Just not what I was expecting it to be.

The story of a teen girl whose ex-boyfriend dies in an accident-- being made by his mother to pack up all of his belongings. I had a hard time buying into the premise of this book, and also found it overly dramatic and slow going.

I'm going to point you to my blog post, in which there are great GIFs and spoilers.Second Look: After the Last Page

This was kinda a slow burn, but I enjoyed it. The way it's told was really interesting and I think that will decide whether it's the book for you or not - Jessa is cleaning out her ex boyfriend's room (he has recently died) and as she finds objects, she relives memories of their relationship. It's not a thriller so much as a mystery, trying to figure out what happened between Jessa and Caleb, how things fell apart, why Caleb was so secretive at t...