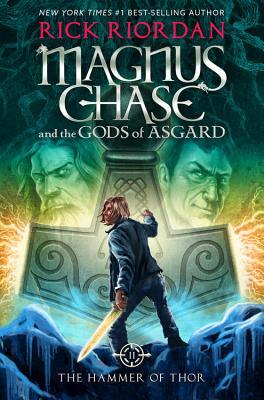 Thor's hammer is missing again. The thunder god has a disturbing habit of misplacing his weapon--the mightiest force in the Nine Worlds. But this time the hammer isn't just lost, it has fallen into enemy hands. If Magnus Chase and his friends can't retrieve the hammer quickly, the mortal worlds will be defenseless against an onslaught of giants. Ragnarok will begin. The Nine Worlds will burn. Unfortunately, the only person who can broker a deal f...
---
Details The Hammer of Thor (Magnus Chase and the Gods of Asgard, #2)
Title
The Hammer of Thor (Magnus Chase and the Gods of Asgard, #2)
ISBN

9781423160922

Author

Rick Riordan

Release Date
Oct 4th, 2016
Publisher

Disney-Hyperion

Language

English

Genre

Fantasy

,

Mythology

,

Young Adult

Rating
Reviews The Hammer of Thor (Magnus Chase and the Gods of Asgard, #2)
I finished it. I LOVED IT. OTIS IS MY FAV

LOVED THIS SO MUCH. Rick Riordan just gets better and better with each series. This right here is proof that a book can be hilarious and fun and make the reader feel a whole range of emotions while also touching on some really important and relevant topics.I CAN'T BELIEVE THIS IS JUST A TRILOGY I NEVER WANT IT TO END BUT HOLY HELHEIM AM I EXCITED FOR THE NEXT BOOK.

"Otis," I said."Shhh," he said. "I'm incognito. Call me...Otis.""I'm not sure that's how incognito works, but okay." The Hammer of Thor is the second book of the series. The book starts off with the quest which is about Magnus finding Thor's hammer. He has to fight against the giants, his uncle and LOKI. BIG BAD LOKI. AWWWW ! It looks promising, right ? And Alex is kinda kickass in this book. I liked her character, but not that much. Heart and ...

I mean OBVIOUSLY I LOVED IT. It's a Riordan book! What other emotions is a reader to have except: 40% laughing, 40% fangirling, and 20% thinking about falafel??? (There is so much falafel appreciation here, by the way. It's truly inspirational.) ANYWAY. I definitely thought this was another exciting and captivating instalment (although, still, like the first book...I think it got a bit rambly) and I loved the newly introduced characters and I lov...

"At this point, most people would have thrown themselves down on the ground and given up hope. And by most people, I mean me."•I know that I have already raved plenty about how much I love this author and his characters, but Magnus Chase defies all standards of cutie-pie-ness and adorable-ness and funny-ness and whatnot. You just cannot not love the kid. And guess what (OBVIOUS FACT ALERT) (cit.)? I love him! •So now that we got the Obvious F...

YAAASSSSS!! Magnus Chase is going to meet Percy Jackson!! My two faves!!

"Otis and his brother, Marvin, pulled the god's chariot. They also provided Thor with a never-ending supply of goat meat. Each night, Thor killed and ate them for dinner. Each morning, Thor resurrected them. This is why you should go to college, kids—so when you grow up you do not have to take a job as a magical goat." Rick Riordan's books are always some of my favourite books to read so Magnus Chase and the Hammer of Thor is no exception. ...

Nice Natalie: I don't like that we're always here these days with Riordan's books.Cynical Natalie: Maybe if he wrote quality material, we wouldn't be here. Exhibit A: the plot. Hello, quest-with-sidekicks narrative 65.0.Nice Natalie: Oh, come on, you liked the plot! You laughed a bunch of times.Cynical Natalie: I laugh at Vines, but that doesn't mean they deserve an Oscar. What about Hearthstone's dad? (view spoiler)[They basically left him ther...

Thor's lost his dang hammer again.Loki is scheming and causing trouble, again.3.5 stars. Final review, first posted on Fantasy Literature:The god Thor has lost his hammer again, but this time it's even worse: the giant Thrym has gotten hold of it and has hidden it away where no one else can reach it. If the hammer isn't returned to Thor quickly, enemies of Asgard will take advantage of their weakness and attack, triggering Ragnarok, the battl...