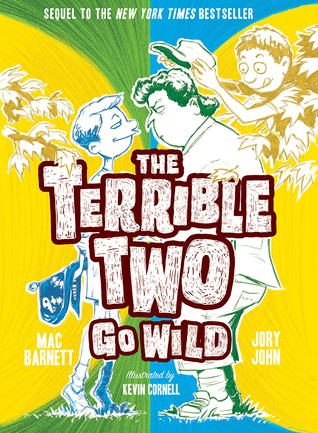 Everyone's favorite pranksters are at it again! School's out, and Miles and Niles are running wild in the woods outside town: climbing trees, exploring caves, and, yes, pranking. But these leafy, lazy days of mischief darken when bully Josh Barkin and his cadets from a nearby kids' boot camp discover the merrymakers—and vow to destroy them. Are our heroes' sharp minds any match for these hooligans' hard fists? The latest installment o...
---
Details The Terrible Two Go Wild (The Terrible Two, #3)
Reviews The Terrible Two Go Wild (The Terrible Two, #3)
The best by far. (But not very far because this whole series is awesome.) Everything about this book is wonderful and good.I finished reading it, and I wanted to start reading it again immediately. The worst part about this book is that there isn't more to it. They need to write about eleven more books for this series before I'll be satisfied, and even then, no guarantees. Since this book takes place over summer vacation, it can be read out of or...

My 10 year old son and I really enjoy this series. We love the pranks Miles and Niles play on Principal Barkin and now Josh Barkin! We hope there are more to come.

Miles & Niles, die beiden Trickser, die sich selber die Schrecklichen Zwei nennen, haben Sommerferien. Und diese Ferien verbringen sie im Wald, wo sie in einer Höhle ihr Trickserhauptquartier eingerichtet haben. Doch in ihrem Wald sind sie nicht allein. Zunächst einmal verbringt ihr Erzfeind Josh Barkin, Sohn des Schulleiters Barkin, dort ebenfalls seine freie Zeit. Im Yawnee-Valley-Drillen-und Ducken-Camp soll er alles zum Thema Drillen und Du...

These books are so funny and clever but they are also surprisingly emotionally affecting.

The students at school enjoy this hilarious series. Can't wait to introduce this 3rd installment!

Meine MeinungVorab möchte ich zuerst sagen, ich kannte die ersten beiden Teile der Reihe nicht. Dies ist aber überhaupt kein Problem, auch wenn es die eine oder andere Anspielung zu den vorherigen Bänden gab. Die beiden Jung Miles und Niles sind sehr unterschiedlich und trotzdem sind sie beste Freunde. Sie erleben in diesem Buch ein Sommerferien-Abenteuer, das sich jedes Kind einfach nur wünschen kann. Die beiden sind mir direkt ans Herz gewa...

Nach zwei Schuljahren endlich einmal Sommerferien. Das haben Miles und Niles sich auch redlich verdient. Dass nicht nur ihr Erzfeind Josh Barkin, sondern auch sein Vater wieder eine wichtige Rolle spielt, erzeugt einen roten Faden durch die verschiedenen Bände. Gripps gegen Muckis, Freundschaft gegen Mobbing, sogar romantisch wird es diesmal. Miles und Niles entwickeln sich also weiter, was ich sehr toll finde. Viele Kinderbücher bleiben mit de...

I loved this one just as much as the other two, which is a lot! There are so many different types of humor mixed in, from slapstick, puns, riddles, and sarcasm, it's bound to make everyone chuckle at some point (if not completely laugh out loud). Another big aspect of all of the books in this series are the lessons they teach and "Go Wild" is not lacking in that field. Although it is approached in a humorous way, the issue of bullying is addresse...

It's my favorite middle grade book series. I don't really have the words to describe how it's written, but it just speaks to me. I love how the dynamic between Barkin and the boys has shifted. It has helped from turning this into a one note joke. Barkin's development in general is great. He has issues with his son, and vice versa. We learn more about the Terrible Two, we get a better sense of how intense Niles can be as he grows up. We learn more...

Since the titular Two are in full summer vacation mode, their target has shifted from their usual inept blustering principal to his blowhard scowling son. They even form a truce of sorts with the woods-wandering principal, recognizing his loneliness and mellowed nature and pranking him in an inclusive way that lets him in on the joke. But the prank plans directed at the son just felt more mean-spirited and full of potential danger. It's supposed ...

The writing remains clever but the humor takes a darker turn between the peers in this volume. Summertime changes the dynamics for all of the relationships as the Two take on Josh Barkin again and we see more cruelty from both the "bully" and the pranksters. An interesting side story is the connection forming between Principal Barkin and Niles and Miles during off school time.Middle readers will enjoy the humor in this series. I do look forward t...

After the previous books, this one felt like a letdown when most of the attention went to a side character. The series seems to work better in a school setting although the further development of Principal Barkin and the pranking duo will be interesting to see now that his strict edge had worn down. Also the side romance was unexpected but those characters work well.

The dynamic duo is back and defending the reputation of pranksters against a camp bully. I love how the series can be first and foremost funny and then poignant. It's not just a summer of jokes- although there are lots of laughs to be had- but a time of growing up, a coming of age between two friends. While I enjoy the illustrations, I would love it if the books had less of them if it means more- and faster- stories!

So happy to see that this series continues their pranks and adventures through a summer setting. Fans will love. More laughs and smiles for these friends. Bonus play on words with Josh's obsession with acronyms. Lol

Again, Mac Barnett does a great job. Although the main characters did not develop much in this book, Principal Barkin's character was developed more. These books are great. I won't say any more to avoid spoilers.

My son and I love these clever books. The narrator in this series is a real treat, the pranks are hilarious, and it's a great series for boys who need to read something other than Wimpy Kid.

Read this with my seven year old. He really likes this series and I do too. Such a great friendship that Miles and Niles have.

http://revingsblog.blogspot.com/2018/...

This book was a bit hard to read but it was silly also I liked the first book the best

3.5 stars. The plot is okay, but the jokes are fantastic and the writing is clever.

4.5- It takes place over the summer, but even so, the Barkins are back in full force, along with Miles and Niles. It's hilarious. It's wild. It's full of pranks. What's not to love?

The humor turned cruel in this third installment of the series, unfortunately. On the plus side, other plot lines about friendship were strong.

The pranks continue even during summer break! Jolly good fun!

A couple interesting points though of character growth. First, Josh, actually does have some leadership skills (though he still lacks compassion and some basic common sense). Niles loves to read and has put a mini-library inside their hideout. Principal Barkin likes hiking (but isn't very good at it); he also has come to realize that he likes being pranked.http://pussreboots.com/blog/2018/comm...

It was goodV v v very very f. F f gif f f f f f fff. For free fff fff ff. Fff ff f f f

These books are such a joy. My 9 year old loves them, and wishes they were longer.

I really love this series, and my students do, too.

Great book! What Niles and Miles come up with never gets old. I could've gone for a little more pranking. The book seemed too short and I read it in under a day. Overall, it was still funny.

This was not my favorite and I'm not sure why. I really enjoy the series, but this one just didn't really do it for me.

It was pretty good. The other books were better and I'm kind of used to the basic plot line by now...