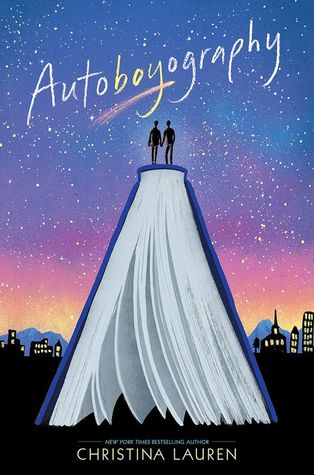 Three years ago, Tanner Scott's family relocated from California to Utah, a move that nudged the bisexual teen temporarily back into the closet. Now, with one semester of high school to go, and no obstacles between him and out-of-state college freedom, Tanner plans to coast through his remaining classes and clear out of Utah.But when his best friend Autumn dares him to take Provo High's prestigious Seminar—where honor roll students diligent...
---
Details Autoboyography
Title
Autoboyography
ISBN

9781481481687

Author

Christina Lauren

Release Date
Sep 12th, 2017
Publisher

Simon & Schuster Books for Young Readers

Language

English

Genre

Young Adult

,

Contemporary

,

Glbt

,

Romance

Rating
Reviews Autoboyography
I HAVE SO MANY EMOTIONS RIGHT NOW AND I FREAKING TEARED UP. Who am I. I am not a tearer. Look I honestly found this book really...hard to read at times. It's beautiful and it's honest and it's about love is love, no matter who you are or who you love. But it's set really heavily against a backdrop of religion and that's HARD. So it was hard to read, I felt, and I honestly absolutely ache right now. BUT AT THE SAME TIME THIS BOOK ---> AN ABSOLUTE ...

*drops sandwich to clap*reading this book felt like having your own personal cheer squad. i really did not expect to love it this much but now i can't seem to get rid of these....emotions.... like, goddamn it if my heart won't start working for the good of the team, at least i should get to exchange it for a loaf of bread fresh out of the oven just for that warm homey smell!!i mean sure, it was kinda.. sorta.. definitely insta-lovey and i'd s...

I don't know how to talk about this book. I don't know if I'll ever be able to explain my feelings on this book and how it got to me in so many specific ways. This book felt like a book about home. It was a story about people I grew up with, it was a story about myself and my connection to my sexuality and the religion I grew up being a part of. I saw my high school friends in character after character. I saw a boy I went to school with who grew ...

MY PRECIOUS BABIES. Sebastian, let me adopt you.

4 stars!!! Autoboyography is a great coming of age/YA story. This was much different than what I'm used to when I pick up a Christina Lauren novel, but I was pleasantly surprised with how well written it was! Tanner is a high-school senior who is half-jewish and bisexual. He lives in the mormon capital of the US. Tanner takes a writing class his last year of school and Sebastian, who previously graduated is helping out. Tanner and Sebastian ha...

➳A story line that will have you hooked with not only the religious aspects of an individual with very little opportunities in expansion, but also with the knowledge of knowing what strengthens him and the ones he cares... ➳This was my very first M-M contemporary romance, and I am beyond glad I read it from one of my two favorite duet authors, Christina Lauren since these two ladies never seem to disappoint when it comes down to a good, down...

"His smile ruins me."Holy shit, you guys. Autoboyography is my favorite book from Christina Lauren thus far, and that says a lot considering they are one of my all time favorite authors. I have read several male/male romances, but this one is different from the rest. I have been hyping this book all year long and it's my most anticipated book of 2017, and I'm happy to say it lives up to the hype. This book is controversial to say the least, becau...

Perfect LGBT + Religion + Family + Friendship i really enjoyed such amazing book absolutely my favorite 💜💜✨'

This is the beautiful story of a boy writing a book about himself. About falling in love. About kissing, blushing and hiding. About support and be loved.Autoboygraphy is the story of Tanner, a bisexual 18 years old who moves from a more liberal Cali to a Mormon community in Utah. There, in a writing seminar, he meets Sebastian (19), member of a church Tanner's family have motives to despise. This is not a steamy book with tons of hot sex. This is...

"Are you willing to be a secret?" One of the most outstanding and truly unforgettable books I've ever read, this tender coming of age tale took my breath away, and to say I loved it would be a gross understatement. Exquisitely written, and laced with immeasurable amounts of heart and truth, this book perfectly captures the intensity and angst of teenage love, while relaying a message that is so powerful and relevant, it moved me to tears t...

I have loved everything Lo and C put out, but I was exceptionally excited for this book.I loved loved loved Tanner and his family. His parents are so delightful, adorable, and supportive. I loved seeing their openness and the bickering with Hailey. It made them feel real to me. Sebastian was sweet and unsure and it really worked. And because it's a CLo book, you could cut the UST with a knife.Plot wise, it was exactly what I was expecting. This s...

No sé qué escribir. Cuando he leído la última página he llorado como un bebé después del último tercio del libro. La historia de amor, y de otras muchas cosas, entre Tanner, el chico bisexual de California, y Sebastian, el chico gay mormón, en una ciudad de Utah ha sido tan real que después de horas siguen inundando mi mente.Podría hablar sobre el terrible confilicto interno cuando una religión y su doctrina, en este caso la mormona, ...

OK IT WAS GOOD I WANT TO GIVE THE AUTHORS A VERY BIG HUG• buddy read with the simon ditcher

My emotions are all over the place.I will not attempt to write a coherent, proper review cause I would never do this marvellous book justice-EVER. Bless 2017 for being the year when all my most anticipated reads live up to my expectations- no, scratch that: they kick the fuck out of the barrier of my expectations because, really, the three books I had been looking forward this year have been amazing. This book was so soft, yet at the same time so...

4 Stars "I can't tell if this feels good or terrible" So here's the rub. This book is phenomenal in the writing, in the topical subject matter, in the strong feels and capturing first love in all its heady, unsure, obsessive intoxication. However, when it comes to religious intolerance and the inevitable self denial of one's sexuality, that secret permeates everything with an insidious anxiety that may put a damper on some people's ov...

Autoboyography is an eye opener on so many levels I don't know where to begin. I just can't stop thinking about well after listening to it, consumed while I was reading.This writing is so subtle, well done which is how these authors were able to create such a great book while it still holding true. While this book is categorized as YA, IMO there is so much more, this book can be for anyone. The story revolves around the romance between two teen...

There are books that entertain us and that's the whole purpose, you take your mind off real life stuff and enjoy a story. I am grateful for those books but to be honest I forget them quite easilyThen there are books that introduce you to a new world you were not familiar with and they teach you something. This is what happened with Autoboyography. I am not a religious person at all, not to mention I have only met one mormon person in my entire li...

Christina Lauren absolutely outdid themselves this time. They took my heart and soul and they are not giving them back. They created these amazing characters and this funny, captivating and heart-breaking story that eventually became a true masterpiece. It's incredible how much I was able to relate to Tanner and how easily I connected with both him and Sebastian. Both of them brought this uniqueness to the story and made me want to hug them unt...

Autoboyography is:Relevant to todayEndearing Poignant HeartbreakingHopefulAnd simply beautiful.Highly recommend it. 5 Stars.Thank you, Rosalinda, for gifting me this book. I plan to share it with Aura. ♥

"His smile ruins me." Eu me interesso muito por livros sobre personagens LGBTQ lidando com religião. É um tema que eu consigo me relacionar profundamente e cada leitura sobre o assunto faz a minha mente se expandir um pouco mais.Em livros como It Looks Like This, The Miseducation of Cameron Post, A Very, Very Bad Thing e Boy Erased: A Memoir eu encontrei histórias de jovens lutando contra a religião para serem eles mesmos. Mas em Autoboyograp...

4.5 Stars It opens with a boy and a girl, a dare, and crumbs on a bed.But where it really begins is with a double take and the words "His smile ruins me." This was such a fantastically happy book. I gave me all the warm and fuzzy feeling that I want from a contemporary romance. But there was a lot of heart and beautiful character moments as well. Which I really appreciate. Autoboyography follows Tanner Scott, a bisexual main character who i...

★4 STARS★I was much too curious about the blurb to Autoboyography to pass up the opportunity to read it. Admittedly there were aspects to it that made me nervous as to what kind of read it would be. But in all honesty after reading the first page I was instantly reassured by the style and tone of the writing. High School can be an awkward time for most of us, and in theory none more so than for Tanner Scott. He's an agonist, bisexual boy li...

2.5 Stars. I feel like I'm definitely in the minority for this one. This was my first time reading a book by the writing duo Christina Lauren and I thought that this was just okay. I think my main problems with it were: 1) it lacked that quality most books have where you want to get back to reading it whenever you're not reading it. I really had no desire to get back into it and it's not like I disliked reading it per say, its just that for me, i...

4 StarsAlthough not my personal favourite of theirs, I actually feel like (technically) this is the best novel Christina (and) Lauren have delivered to date. Aside from the content and themes being significant (particularly for younger readers) in this day and age, the story itself is beautifully written; there were multiple instances where I highlighted a passage or simply re-read a line because it was so well crafted and stirred something withi...

You can request from Netgalley - > HEREYou can enter hardback copy giveaway - > HEREYou can purchase on AMAZON - > http://amzn.to/2wb7SCL4 Self Worth starsRemember high school? Remember crushing on that guy who you think is unattainable? Well, imagine being a bisexual guy, in love with another guy in a Mormon predominate area. Yeah, high school can be tough. Autoboyography is a YA M/M book. It's a book that isn't something I can relate to, bu...

4.5 stars. Oh god, this book. I adored this.

Christina Lauren are a wildly popular duo in the romance community, and with Autoboyography, no doubt the YA community will also go wild for this talented pair. Autoboyography is a lovely, heart-felt book about sexual identity, religion, love and family that teens and adults alike will fall in love with.Tanner and Sebastian could not be more different from each other, but somehow the two meet, and fall in love with each other. The book is predomi...