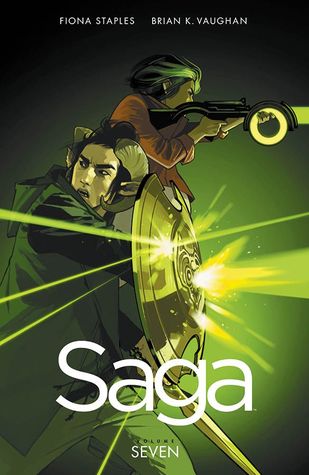 From the worldwide bestselling team of Fiona Staples and Brian K. Vaughan, "The War for Phang" is an epic, self-contained Saga event! Finally reunited with her ever-expanding family, Hazel travels to a war-torn comet that Wreath and Landfall have been battling over for ages. New friendships are forged and others are lost forever in this action-packed volume about families, combat and the refugee experience. Collecting: Saga 37-42
---
Reviews Saga, Vol. 7
WOOOW, i can't wait, I need to know what happen, and why Hazel keep telling her own history? Are we gonna se her all grown up in the future?Anyway, im beyond excited for all this new characters (some not so new), so much diversity, also the new directions some characters take and the changes in theirs lives.

2.5 family involved in space politics and war starsSo Alana, Marko an Hazel ends with a ride on a comet -Phang -, site of war conflict over fuel.... mmmm.A few years back, the powers that be would always outsource whatever wetwork needed doing......but these days, both sides are more than happy to get their own hands dirty.I mean, the average schmuch on the street doesn't care what nightmares his leaders are green-lightning anymore, right? All he...

Issue 39. Sir Robot reading "Let's do lust". Ahahah, this is too precious. But. All jokes aside, this was a great volume! And the ending, oh gods... I'm so sad for all of them. I hope the continuation won't be too long of a wait.

Wow. All I can say without spoilers is that I was very glad to have someone to hand to give me a big hug when I reached the end. Even more devastating than the previous volumes.

WHAT JUST HAPPENED... :'( :'( :'( This was the saddest volume so far. I can't even talk about it because I'm just so speechless. It definitely picked up the pace, the story moved on quite a bit and the writing and drawings were good as usual. At one point, I actually shouted "NOOOO" and scared the crap out of my family so prepare yourself for this volume! I'm so excited for the next volume so I can find out what happens next!

"One moment, the universe presents you with this amazing opportunity for new possibilities... and then..." And then. Saga, you're breaking my heart. I have aways known the series to be quite dark and distressing, but this volume is definitely one of the most emotionally painful to bear, and one of the best in a while.I'm at a loss for words so I'll leave you with another tremendous quote from our favourite gal pal, Hazel... "Sooner or later, ever...

Fine, I'll let you destroy me over and over again.

4,5* Zo všetkých vecí, ktoré sa až doposiaľ stali...mám pocit, že tento diel ma skutočne chcel zabiť. A nebolo to pekné. Bolo to ako, keď som v detstve pozerala Osem statočných a prisahala som, že nebudem plakať, pretože je to iba film. Trikrát hádaj, koho otec o hodinu našiel s uslzeným ksichtom pozerajúc iba film(ako väčšina detí, aj ja som mala silácke reči, ktoré často nedostáli mojim očakávaniam)- Postavy po...

Oh my goodness gracious. The heart... It breaks.

Man reiche mir Taschentücher... schnell!

Saga je to, i dalje razuzdana i zabavna i dirljiva, sa sve neprikosnovenim Fioninim crtežima, ali u ovoj knjizi sam posebno osetio kako su se neke stvari desile samo kako bi se nešto desilo. Na trenutke je narativa toliko bespotrebno i nerezonski zakomplikovana da značajno slabi efekat emocije koju pokušava da postigne (dosegne, moglo bi se reći). Prva knjiga kojoj dajem četvorku, bar dok se ne vratim nekim starijim pa vidim šta je tu legi...

Spoiler warning: the ending to this is BRUTAL

Volume 7 is the best saga has been in long time but also the saddest one, almost breathtakingly so.

Read the individual issues. Just brilliant! The art is still amazing and colourful. That ending DESTROYED ME!!! Poor Marko and Alana and Hazel :((((((((

You know that old cliche about millions of deaths being a statistics,while the loss of just one life is a tragedy? If that's true, what is it when you lose something that never even had a chance to be born? Now people die left and right... It doesn't even let me guess who will die next. Well, applause to you, Mr. Vaughan.

No review. It's too close to home and it hurts too much. I'm still living in the ...and then...

No, not the little one, noooo!.. Brian K.Vaughn, you heartless bastard! :'(

Saga ha estado irregular en los últimos tomos (siendo el vol.05 el más débil a la fecha), por ende la previa que situaba a este volumen como el arco en el cual Brian K.Vaughan se centraría en ahondar en la arista más puramente bélica de la serie,generaba expectativa, y a la vista de los resultados cumple-no obstante-más por las desviaciones que por el trecho principal.Reminiscencias al primer amor, hacia no sentir empatía o bien a los pel...

And again a Volume of pure awesomeness. I have no words for this. Praise Brian K. Vaughan.

Probably the saddest volume so far. Brb crying.

Well, that was devastatingly cruel. I'm still trying to process what I read in issue #42 earlier today, the conclusion to The War for Phang and the last book in volume seven. This volume opened on issue #37 with a beautiful double page cover with the brightest colours and strangest creatures. In issue #38, we lost a beloved character because it wouldn't be Saga with a crushing death every couple of issues! In issue #40 Prince Robot faces a crisis...

Read as single issues. Brian K. Vaughan - is everything ok, man? This got super dark super quick, ending in the lowest point of a sci-fi epic since The Empire Strikes Back. I mean, this is a book that's always been about war and what it does to families, but it's never been as bleak as it gets here. There's still a lot of fun and adventure and inappropriate-for-public-transit art, but there's also a raw sledgehammer of pain underneath everything....

I bought issue 42 today and reread the preceding 5 issues to refresh my memory of who's who and what's what and why and how the who happen to be where. A few fresh moments. A couple nice echos across issues. But overall, i'm still not feeling the momentum anymore. It has become such a literally big story. And there are so many stories. That i don't much love them anymore.I'll rejudge when the bound v8 arrives at my library.