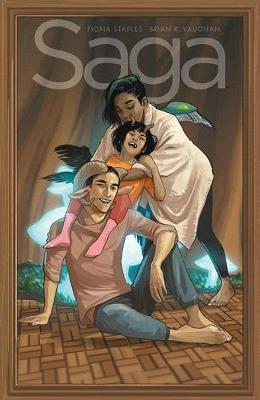 The multiple Eisner Award-winning series returns with a spacefaring adventure about fake news and genuine terror. Get ready for the most shocking, most impactful SAGA storyline yet.Collects SAGA #49-54
---
Reviews Saga, Vol. 9
Ninth volume of Saga will destroy readers. It will most likely wreck some of the fans, make them drop a few tears and cry no to the moon. Especially so as the creators will go on a hiatus that will last at least a year. In that mood, I could say it is a cruel, cruel way to cliffhanger a dedicated fan.I was not upset about the final issue, however, but suffered a momentum of "nooooooo" in the second last issue, and was doing my elephants cunt face...

Just finished issue 54#I'm crying and Brian just announced a YEAR LONG HIATUS. WHAT THE F WAS THAT ENDING?So here's a picture of mah homies to make everyone me feel better.

I can't believe... I have to wait for more now. I'm one of those assholes who wants instant gratification. My life is fucked. Guess all I've got left is anticipation and dread.

Wow. My heart has been shattered into a million tiny pieces. This volume was heartbreaking and devastating but absolutely phenomenal. This series is nothing less than genius. The writing, the art, the story, the characters... everything is just brilliant. If you haven't read this series yet, seriously what are you doing with your life??! Kidding... but read it!!! I can't believe we have to wait like a year for the next dose of Saga but fair p...

I'm sorry I am not okay. This volume has destroyed me.

I am speechless with how this edition ended. The story was decent with a little bit of action and a little bit of fun topped with a little bit of drama. But, the end... Saga has been my favourite graphic novel series for the past few years. I can't believe this series is going into a hiatus for over a year with that ending. I can't remember the last time I was this upset over what I read. I'm sad. I'm so very sad.This. Changes. Everything.

Holy wow...I don't even know what to say.World: The art has always been fantastic and it's the case here, it's the casual world building that Staples does, the odd and surreal with the realistic. It's absolutely gorgeous. The world building is fantastic as it ties to character making the world matter more. There is not a lot of large pieces that get built this time, or large arc moving pieces that get introduced but what we get is Jetsam and the ...

Saga is Saga. The art is phenomenal as usual. I still have issues with the writing, but let's face it. I can't quit this world.

All the STARS in all the Galaxies for this book "The most important moments in our life rarely take place on some numerically significant date. Most of the time, we don't even realize we've lived through something worth commemorating until long after it's already ended." Necesito desahogarme, así que prepárense para la reseña más dramática que han leído, esta vez no estoy exagerando. En proceso...

Devastating. Inspiring. Bold.This is Saga at its best. Can't wait to catch up with the crew in a year's time.

God. Damn.Just finished reading Saga, Vol. 7 through this one Saga, Vol. 9 literally in one single sitting today, not to mention caught up the complete series from beginning to current end in less than a week...And now I have to wait at least another whole year or more for the next chapter of this addictive, abusive, at times exhilarating, most times so-fucking-depressing, all times absolutely MINDBLOWING, unpredictable unputdownable piece of sto...

4.0 Stars   A good volume, although i'm finding myself less interested in the side stories. I actually hope the next volume will be last. Quite the ending considering that the creators are taking a year off

WHAT YOU BETTER BE KIDDING

WOW, that ending!And with that, Saga is done for a year (or maybe more!)Within that time I'm going to set myself the task of rereading all 54 issues (or 9 volumes for those that trade collect) because i think reading it monthly does spoil the enjoyment a bit. I know I'll have a new appreciation for it on the reread (like I do with most image stuff)I'm also aware that this isn't really much of a review on volume 9, it's more just me comm...

NOOOOOOOOOOOOOOOI CANNOT TAKE THESE ENDINGS ANYMORE ESPECIALLY THIS ONE!send help.

Šeit ļoti labi redzama problēma, kad sērija kļūst ļoti populāra un nākamie izdevumi tiek "štampāti" ārā bez skaidri redzamām beigām. Rezultātā, ja veidotājiem pašiem nav skaidrs, kur iet stāts un kā viņš beigsies, momentā krītās kvalitāte. Manuprāt, tie stāsti, kur rakstnieks uzreiz ir izplānojis visu plotu, ir daudz labāki nekā tie, kas ir "never ending story." It īpaši to var novērēt supervaroņu komiksos, ku...

4.5 stars.That ending!With the plethora of titles I read, both old and new, I sometimes forget how truly reliable and truly compelling Saga (and Brian K Vaughn) are. Then he pulls off something like this and makes me remember....

Oh yeah sure, stop there for a whole year. That's fine.

Well, now that I'm done ugly-crying, I suppose I can slap some words together to make a review.1. I knew what was coming and I was still a blubbering mess.2. I'm grateful for the hiatus, because I need a break. I don't mean that in a bad way, but I do need time to forgive Brian K. Vaughan. 3. I miss them already.

what the fuc-I dont know what to feel after that

What the fuck. WHAT THE ACTUAL FUCK(Last issue #54 destroyed me, and now we I have to wait a year. FUCK)

Still best comic out there. I don't know if I will ever forgive them for this finale.

"But because of my parents I get to grow old"My heart is only broken I loved this edition, like I did the others. It is beautiful and poignant with lovely world building and story development. I am disappointed that I have to wait so long. "But when this is over, you'll finally realize that you're not even the star of you're own story.""Most of the time, we don't even realize we've lived through something commemorating until long after it's alrea...

I'M SHOOOOOK. No puedo creer lo buena que es esta serie, de verdad que se las recomiendo muchísimo. Los feels son reales y creo que moriré. Ahora a soportar la agonía de la espera para el otro volumen.

I absolutely refuse to agree with the ending!

Aaaaaaaaaaaaaaaaaaaaaaaaaaaaaaaaaaaaaaaaaaaaaaaaaaaaaaaaaaaaaaaaaaaaaaannnnnnnnnnnnnnnnnnnghhhhhhhhhhhhhhhgggggggggggghhhhhhhhhhhhh...Saga. So good.What, were you expecting an articulate review? No time for that, still coming down fromTHATENDING.