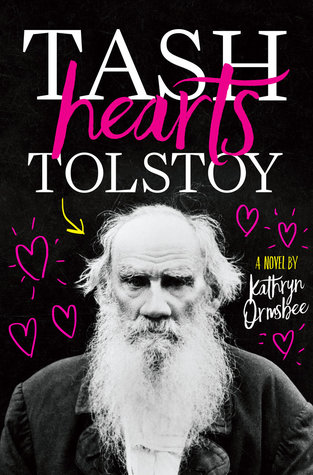 After a shout-out from one of the Internet's superstar vloggers, Natasha "Tash" Zelenka finds herself and her obscure, amateur web series, Unhappy Families, thrust into the limelight: She's gone viral.Her show is a modern adaptation of Anna Karenina—written by Tash's literary love Count Lev Nikolayevich "Leo" Tolstoy. Tash is a fan of the forty thousand new subscribers, their gushing tweets, and flashy Tumblr GIFs. Not so much the...
---
Details Tash Hearts Tolstoy
Title
Tash Hearts Tolstoy
Author

Kathryn Ormsbee

Release Date
Jun 6th, 2017
Publisher

Simon & Schuster

Language

English

Genre

Young Adult

,

Contemporary

,

Lgbt

Rating
Reviews Tash Hearts Tolstoy
Okay but seriously, I need a heart on fire emoji to acutely demonstrate my passion for this book.Reading this book was the equivalent of that feeling when you first step into a warm bath after a long day. It's so crazy how you think your feelings and experiences are unprecedented in the history of the world, but then you read and it's like out of all the words that have been knocking against your head, someone just reached out and simply snat...

I really really loved this book! It is one of those books I could not stop thinking about every time I had to put it down. Such a fabulous contemporary that I would highly recommend!Tash Hearts Tolstoy features a ton of unique elements we aren't normally exposed to in YA as well as featuring diverse characters:-Romantic asexual main character-m/m relationship-MC is a vegetarian (seriously, why do we not have more vegetarian/vegan main characters...

3.5 stars.Tash is asexual, but you know what? That is not all this book is about.The representation is done well. And I don't mind books that discuss a person's sexual orientation, or in this case lack of sexual desire for people, in every chapter. I don't because it's alright for the main character to be confused and need to explore who they truly are, but it's also refreshing to read a book about an asexual girl who, yes, does need to...

Ooh this was such a cutely great book about internet fame! Of course obviously I read it in order to glean tips so I, too, can get like 50,000 followers over night. Did I get any good tips? HAHAHA HHAHA HAHAHA. No. But yet the book was absolutely adorable and funny and sweet, so that at least saves things. It also features an asexual protagonist. And also a lot of Russian literature. #NiceAlso I have to admit I'm not hugely into youtube. Although...

I, too, heart Tolstoy... and that was pretty much my main reason for picking up this ARC. But then the story turned out to have an asexual main character, which was such a great surprise. Do you know how rare that is?!?!?Tash is a teen who's in love with Tolstoy and spends her free time creating a YouTube series with her friends that's a modernization of Anna Karenina. One day a vlogger gives them a shoutout and suddenly they're going viral with ...

I know we're not even all of the way through the first month of 2018 but DAMN this has already been a fantastic year for me in books.I was a little nervous to start Tash Hearts Tolstoy, because none of my close friends had read it yet and I didn't have any strong recommendations or endorsements to go off of. Also, I have yet to read Anna Karenina or anything else by Tolstoy, so I was also worried there would be too many references I wouldn'...

this was a cute, lighthearted book. not much really happened plot-wise as it mainly focused on tashs reaction to her new found fame, which felt like your pretty typical YA drama. but the writing was fun and fresh and the characters were relatable, which made for an easy read! this was a buddy read with the lovely lola - you can find her review here! 3.5 stars

Okay yes, but what now? How am I supposed to go on with my life with no more Tash, Paul, Jack and Unhappy Families? It's a serious question, I'm telling you.It was only my second book with an ace MC, and fuck, give me more. I'm 100% there for this content.First thing you need to know about me : I'm a real Anna Karenina trash. Like if you could see the way my first copy looks right now you'd feel horrible for it and probably would want to sue me. ...

there were a lot of things about this book that were super dope!! asexual representation, most of all. (like seriously when do we EVER get an asexual protagonist in a YA book???)also, the protagonist's family is (semi?) buddhist, which is dope. half vegetarian. first-, second-, and third-generation immigrants. there's a M/M couple. there's a late-in-life pregnancy. cancer representation. all around this book had a really unique construction for a...

Logo de cara eu me apaixonei pela personalidade da Tash e acompanhar a sua jornada foi muito divertido. Esse foi o primeiro livro com protagonista assexual que eu li e essa história é tão importante. Achei muito honesta a maneira como a autora criou essa adolescente de 17 anos que é ace. Todas as dúvidas sobre isso que eu tive como leitor, foram explicadas atrás das dúvidas e conflitos que a própria Tash tinha. Nenhuma informação é jog...

I'm honestly super torn over how I feel about this story. It was cute, had great ace rep, and talked about the amazing INTERNET, but it was also slow, almost kind of boring, and just ?? I DON'T KNOW. Something huge was missing for me, but I really don't know WHAT.L I K E S- ACE REP!! There is DEFINITELY not enough ace rep in YA and it was so refreshing to read a book with that. I feel like it was done very well (tho I can't speak from exp...

4.5* Tash Hearts Tolstoy is the kind of book that's impossible to put down. It is so easy flowing that, before I knew it, I found myself almost finished, having to force myself to stop reading because I had to 'life' instead. There were so many aspects to this book that are unfortunately not all that common in YA and I loved them. It had a cast of characters with various religions, sexualities, upbringings and individual stories. The MC was asexu...

Edit, based on reread 6/14/17 - YES, 4.5 stars. TASH HEARTS TOLSTOY is an incredible, fluffy addition to YA that I know many readers that love SIMON VS or ANNA AND THE FRENCH KISS will fall in love with. This book features a cast of realistic characters that you'll adore in some parts and relate to in others. Tash, our main character, is asexual, and this book adds much needed representation in YA that I loved to read about. Even though the book ...

Trigger warnings: aphobia, parent with cancer.4.25 stars.I was SUPER excited when I heard about this book. Like...a YA contemporary with an asexual main character that's coming out of a major publishing house? WHAT IS HAPPENING I HAVE TO SCREAM FOREVER AND EVER. So obviously, I read it pretty much straight away. And it was cute. Super cute. I highlighted decent chunks of it, and I'm not a highlighter when it comes to books. The ace rep is good. T...

OMG! A book about an asexual character?! GIVE IT TO ME, RIGHT NOW!Finally! I'm not alone in this world! I've only read one ace YA book so far. Don't even know if there are others out there. I'm so glad these books even exist.*after reading* One of the biggest surprised of 2017 has been Tash Hearts Tolstoy. It has so much heart I honestly can't give it anything less than 5 stars. As an aro asexual individual, I'd like to say most of the things Tas...

Reasons to read this book: 1. Asexual protagonist (and lots of important conversations about being ace)2. SO MUCH INTERNET3. A web series that's an adaptation of Anna Karenina, which is amazing4. Great, great, great friendships and families5. Very excellent in general

Full review originally posted on my blog: Word Wonders I got this book when it first came out and was super excited to read it but then arcs and responsibilities and OTHER books got in the way and I only got to it four months later. Oups? Anyway, better late than never, right? So I finally read it and I gotta say, I'm not exactly disappointed because I still really enjoyed it but I was underwhelmed. I don't know what exactly I expected but...

Splendid and engaging contemporary for all your contemporary needs!Tash Hearts Tolstoy is a story about Tash Zelenka, who's producing a web series modern retelling of Anna Karenina with her friends. Prepare for light-hearted and realistic story, full of production shenanigans, self-discoveries, focus on all kind of relationships (with parents, siblings, friends, coworkers etc)Tash is the protagonist. She's ambitious, determined and very passionat...

4.5 starsI love love loved the premise of this book and had seen a few people gushing about it, so I was wary about it. I really liked Tash. I loved being in her head, even when she's maybe being neurotic and super type A. I really enjoyed reading her struggle to figure things out --which sounds weird, but it was realistic to see it. Jack and Paul were fantastic and their friendship was one of the highlights for me. Plot wise, there were parts th...

This book was fine. It wasn't spectacular, but I just wanted a nice contemporary I could read to take my mind off exams and this was a great choice. I feel a bit conflicted about it because there were things I really liked, but others that left me a bit meh, so I'll try to explain myself as best as I can.Characters:I don't really know how I feel about the main character, Tash. Sometimes I perfectly understood how she was feeling and where s...

Thank you Netgalley and the publisher for approving my request for a free digital copy in exchange for a review. Tash Hearts Tolstoy excels in its representation. The YA community has been hyped about this book for quite some time now. The main reason is the fact that this book features an established asexual character. There is no reading between the lines, this chapter is ace (pun intended). In fact, the word asexual is mentioned eleven times i...

See more of my reviews on The YA Kitten! I got an ARC from the publisher via Edelweiss but read a hardcover of it, so this is all from the finalized book.WELL, Pride Month seems like a good time to finally move this review to Goodreads and let people know not to read this garbage book. tl;dr its ace rep is terrible and seeing it in so many Pride Month photos of YA books has been making me grumpy.Is it that much to ask for more good asexual rep in...

dnf @ 50% because the mc is obnoxious af and i don't like the story also ace representation feels icky but maybe it's just me~~~~(i fucking hate leo tolstoy tho)

Tash Hearts Tolstoy is certainly an interesting book, though I really don't think I'm the right audience for it (even though I'm a romantic ace just like the main character, and I like books with characters I can relate to). I didn't even know what the term "vlogging" meant until reading this book, though. Nor did I know much about the strange captivation of viral videos that can grip people, even though I've probably seen quite a few and just ne...

This book was soooo cute. It was adorable and funny and *sigh*Tash Hearts Tolstoy follows Natasha "Tash" Zelenka and her friends who become famous overnight. Tash is obsessed with Tolstoy and decided to create and direct a webseries that retells Anna Karenina in a modern way. After a famous Youtuber gives them a shout-out they find themselves going viral with 40,000+ new followers. I loved all the supporting characters. But I'll admit it to...

This book means the world to me. I want to cry because it's the first time I've felt close to a representation of my sexuality, because I'm demisexual and so many of Tash's experiences were similar to mine. I loved how Tash said Tolstoy was her 'dead Russian boyfriend' and how she talked to her poster sometimes. I loved how she was a vegetarian and sometimes ate snacks because there was no vegetarian options. I loved how she had a YouTube channel...

*3.75Review to come once I have gathered all my thoughts!

This review and others can be found on BW Book Reviews.3.5/5"Sex is a normal part of life. We're all sexual beings." And all I could think was, Not me, why not me.When I asked for recommendations of books with asexual characters, my friends really did help me out. This is just the first I'm reading of them and I fully plan on reading more at some point.This book, basically, follows Natasha (who goes by Tash) Zelenka and her rise to fame. Along w...