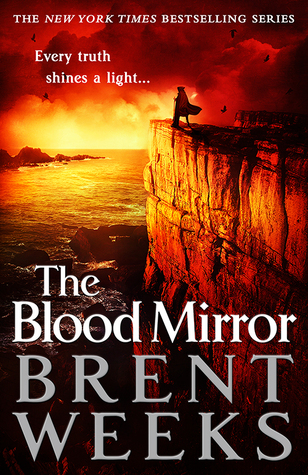 Stripped of both magical and political power, the people he once ruled told he's dead, and now imprisoned in his own magical dungeon, former Emperor Gavin Guile has no prospect of escape. But the world faces a calamity greater than the Seven Satrapies has ever seen... and only he can save it.As the armies of the White King defeat the Chromeria and old gods are born anew, the fate of worlds will come down to one question: Who is the Lightbringer?L...
---
Details The Blood Mirror (Lightbringer, #4)
Title
The Blood Mirror (Lightbringer, #4)
ISBN

9780316251334

Author

Brent Weeks

Release Date
Oct 25th, 2016
Publisher

Orbit

Language

English

Number of pages

704

pages
Genre

Fantasy

,

Epic Fantasy

,

Fiction

Rating
Reviews The Blood Mirror (Lightbringer, #4)
So here it is, I finally catch up to the whole Lightbringer series. Before everyone started reading this book, even though this is the penultimate installment of the series, it's better for you to know first that this book serves pretty much as a transitional novel only for the last book in the series. This mean that there's really few actions and imo they're all underwhelming. Most of the content of this book is politics, plot progression and bu...

4.5/5Another buddy read with my fellow fantasy lovers at BB&B♥ "Death always finds a way.Stop what gaps you may;Scream defiance that you live,Life leaks through the mortal sieve." So this was my most anticipated book of the year.. It's hard to find words to describe how I am feeling after this book, I would love to incoherently fan girl over this book for hours, but I decided to write a proper review for this book.. So here it goes.. *exhal...

So Much Love.Honestly, ever since I started reading Brent Weeks, I've been trying to capture the feel of his glorious writing in all the wrong places. I keep picking up Epic Fantasies here and there and everywhere just trying to satisfy my fix. And yet?Well let me be perfectly honest here. Less than a handful have matched half of the sheer awesomeness in the Lightbringer series. Many many more are lucky to fill this one's cup even to a third, or ...

The most anticipated fantasy book of 2016 is now released internationally, and you may as well drop whatever you are reading and pick it up.Gavin Guile, once Prism, once Emperor and High Priest, once the most powerful man alive, has now lost both his power and his friends and lays imprisoned in his own unbreakable dungeon. With Karris and Teia both called to fulfill their new roles (one as the head of the Spectrum, claiming the role of the White,...

*** 4.55 ***A buddy read with the greatest Fantasy Fanatics at BB&B!!! We need some Magic in our lives!!! Just wanted to say that I wrote a big, emotional review, and GR ate it somehow and now I am upset and am sure my review will suck.... Having said that, I need to let you all know how happy I am that this series exists in the Universe!!! I fell in love with the Lightbringer World from the first book and the Magic System is one of the most inte...

3.5 StarsThe first 2/3 of this book were pretty slow with some interesting moments but towards the end important things started to develop, some long-standing mysteries were revealed and the pace picked up noticeably. Even so however this book definitely felt like it was setting up the next book, especially as there was no real tying together of the main plots as occurred in the previous books. This book suffered from that lack of an exciting end...

* I was sent this for free from the publisher in exchange for a review *I HAVE BEEN WAITING FOR THIS :) It's actually my most anticipated book for the end of this year and I kind of maybe did some begging to get a copy of this early from the publisher. I am super happy to say that all the begging and all the reading was SO worth it becuase this book lived up to and exceeded all of my expectations, and I for one am happy that there will be a 5th a...

I had a blast going through this book. There was some action yet it was fairly limited. What was breathtaking was the delicate chess play to position all the right people in the right place for the last book of the series. I read somewhere that this was to be considered a transition book - yet, I feel it is so much more than that. There are some new characters (and here is where my 4 rather than 5 stars rating is based - I am not sure whether Tis...

4.5 StarsI can happily say that The Blood Mirror is a worthy penultimate entry into the fantastic Lightbringer world created by Brent Weeks. I loved this book. It made me question so much. It made me laugh. It made me cry. It made me rage and despair. It gave me hope and took it away. It shocked me and delighted me. It ended way too soon. I do not deny it. I am easy to please. And fantasy….fantasy is my kryptonite. But I had HEAPS of fun readin...

So, I finally finished this mess of a book. Believe it or not, I was actually looking forward for it to end. It's such a mess. After reading a few reviews here, I finally get the sense of what's wrong with it. It has an unfinished feel to it. Half of the pages could have been deleted and the story would remain unchanged.Kip's POV are the worst, and not because of his relationship with Tisis. Everything else about these POVs feels so off. Humans w...

A Fantastic first buddy read with the fantastic Eon, Luna and Choko at BB&B !! I LOVED this book!!! Honestly, for me, it's the best volume of the series so far. Brent Weeks crafted a beautiful piece of Fantasy here. This book was not exactly action-packed or fast-paced and yet a lot of awesome and shocking stuff happened! The story unraveled smoothly but I was hooked from cover to cover. The Blood Mirror focused mostly on character's development ...

Finally finished! This could have been good if I can only care about the characters more. Honestly, I did start liking the main characters in The Blinding Knife but the fairly poor showing of The Broken Eye did nothing to solidify my then growing investment. Gavin Guile was probably the only one which I still have a decent interest in but his arc dragged and had a lot of what I personally find to be plot devices to shock the reader and provide av...

I never thought I would see the day I would rate a Weeks book a 3, but I don't feel this book deserved more. Nothing really happened. I read 600 pages where people were obviously being moved into position for the final book. However did it really need 600 pages? Yes, Weeks excels at the shock reveal. There were 3 of these throughout the book that clearly stick in my head, yet I guess they don't have the impact they would have once. (view spoiler)...

WHAT?!?!This book isn't out yet and you have this book 5 stars?Yes. Zero fucks given. Save me the hassle of giving 5 stars when it is out.***EDIT - UPDATE***I so love being right. Five stars for you Mr. Weeks. Take a bow.

A beautiful disappointment.The Blood Mirror does a lot right and continues to build up the excellent world of the Lightbringer series, with a dose of action as well. But it only really functions to set up the next, and final book. Lots of lore, hints, and subplots are dropped and created but not much actually happens. Think Winter's Heart from The Wheel of Time series. It's a perfectly competent book, but a bit of a letdown, especially compared t...

Executive Summary: I enjoyed this one more than The Broken Eye, despite a slow start. Not quite as good as The Blinding Knife though. Still, I can't wait for the final book.Audiobook: Simon Vance is fantastic as always, though he can be quiet/hard to hear at times. He does a variety of voices that make the audio a must for me though, and I'm always more inclined to listen to any book he reads. Full Review I've often struggled with Brent Week's wo...

I think this book should have been called Lightbringer 4: When Plot Twists Attack!!!Holy crap the plot twists. Literally everything you know from previous books is WRONG. EVERYTHING. This book was so good, and I like that, after three hugely epic, action packed climaxes in the previous three books, this one's climax was a more quiet, emotional one. There's nothing that says the climax of a book has to be hugely epic battles and duels. Sometimes q...

I predict that there's gonna be 7 books

This one was really hard to get into for me (and that pun was not intended), as it seems the first part is about wanting to have sex, trying to have sex, failing at sex, thinking about having sex, ... - you get the picture. After the first 15% it got better, and I enjoyed the story just as much as I did with the three books before. All the characters do grow and while the plot doesn't progress a lot, I was engaged and entertained throughout the b...

Weeks is a game changer. Continuously blowing my mind. Especially by making us wait until 2016. It had better not be year end. I need more! More Wool! More lightbriner! Orholam please!

lots of compelling moments - while yes smacking off ret con on occasion, the Gavin/Dazen revelations actually felt planned and natural and surprising at the same time and they were among the strongest parts of the novel, in additions to the few other main revelations (ending, gods...)on the downside most of Kip's adventures were fairly boring and I speed read through those pages, while his marital mis-adventures with Tisis felt forced and "author...

It's a shame, really.It's a shame, that I finish a book I waited for two years in merely two days. It's a shame, that I now have to wait again.I received this copy earlier than I anticipated. Obviously something went wrong with Amazon's servers and they send some copies out before the release date. Orholam's balls! Bless you Amazon, I take this as a sign that I'm the Lightbringer, thank you very much.That being said, I enjoyed "The Blood Mirror" ...

OK, it is now 2016! 'Published in 2016' better not mean the end of the year because I am dying of impatience! Brent Week's writing is just too good! The agony that is waiting for his next book is unbearable!Ok so I FINALLY finished the book. Probably the worst thing about university it the lack of time I get to read. The rating of this book reflects my enjoyment of the book and my appreciation of Weeks as an author. It has been awhile since I rea...

Well... where to start...? I really enjoyed it but I'm certainly not as enthusiastic as most of my book-friends. I love the magic system, character development and the story overall. I especially liked the growth of Teia and Karris. I have a thing for strong female characters... :) And then finally, it started in book 3, and now, after reading book 4, I really like Kip! He finally grew up! On the downside there is a lot of sex and talk about sex ...

I felt like the majority of the book was filler that we could have done without, but then I guess that's what middle books are full of. Parts did move forward and secrets were revealed. I could have done without some of the laggy parts inbetween for a faster pace and a little less thick book.