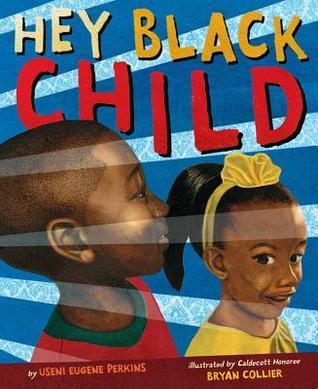 Six-time Coretta Scott King Award winner and four-time Caldecott Honor recipient Bryan Collier brings this classic, inspirational poem to life, written by poet Useni Eugene Perkins. Hey black child,Do you know who you are?Who really are? Do you know you can beWhat you want to beIf you try to beWhat you can be? This lyrical, empowering poem celebrates black children and seeks to inspire all young people to dream big and achieve their goals.
---
Reviews Hey Black Child
I've been trying to read more picture books with lead characters of color and I decided to pick this one up. It was great. I mean it was absolutely fabulous. I didn't realize that this poem was actually written by Useni Perkins because as she states at the end of the book it has been attributed to a lot of other famous black poets including Maya Angelou. The artwork was beautiful and it definitely encourages black children to stay confident about...

A wonderfully written poem empowering young black people to dream big.

"Hey Black Child" by Useni Eugene Perkins addresses the changes in the world that need to be made. In this poem the black child is told they can be what they want to be but first they need to learn what they need to learn, do what they need to do and then they will be able to make this a nation they want it to be. The illustrator, Bryan Collier, does an amazing job of using words in the illustrations to convey the feeling of the poem. The message...

There are books which fill readers with a surge of joy, welling up inside us and growing stronger with each page turn. There are books you want to read aloud and alone standing in a grassy meadow at the top of a hill you navigate with difficulty. There are books you wish to share in a sanctuary filled with people, reading each phrase slowly with purpose so those gathered together can feel the power of those words.There are books brimming with glo...

This review was originally written for The Baby Bookworm. Visit us for new picture books reviews daily!Hello, friends! Our book today is the joyful Hey Black Child, written by Useni Eugene Perkins and illustrated by Bryan Collier, a poem to encourage, enlighten, and inspire little readers of color.Using the spare yet impactful text of Perkins's beloved 1975 poem, words and visuals weave together to form a message of motivation for little black ...

This book is written from a poem by Useni Eugene Perkins. Floyd Cooper does a wonderful job of creating awesome mixed media images to compliment the text on the page. The beauty of black children are shown through vibrantly hued illustrations and large text. Good book for one on one reading, or a unit on self actualization.

I love books that put a smile on my face as I read them. "Hey Black Child" is a anthem to show you can do anything you try. And the more Black children achieve their dreams, the better we all will be.

Beautifully done. An encouraging poem for any audience, especially the final message. The illustrations match the positive, uplifting text.

A call to action, a parade of encouragement, inspiration for all the black children in the world. Wonderful.

Absolutely beautiful illustrated version of Useni Eugene Perkins powerful poem. I'm glad I read it during African American History Month.

This book is so needed! Glad it's out in the world!

An inspiring celebration of the potential of children. Based on a poem, the possibilities for what they can do and can be are opened up for them to explore.

Outstanding book - HIGHLY recommend!

On each page of this book, there are a limited number of words. However, every single word is empowering, encouraging, and optimistic. In the face of racial discrimination, I think it is important for children of all races to feel like they are able to do anything they put their minds to. The words were originally written to be read in a form of a song, but I think they can be just as powerful by reading the words as sentences with meaning withou...

First written in 1975, the poem at the heart of this picture book speaks directly to young African-American children. It encourages them to be who they truly are. To learn all that they can learn. To be strong and be leaders for themselves, their communities and their country. If they do all of that, their country may just change to be what they want it to be. The poem is profoundly simple yet speaks deep truths that uplift children of color to f...

This is a picture book version of an iconic poem that interestingly, the author of this book claims has been misattributed all through the years to Countee Cullens. (Wow!). The illustrations by Bryan Collier are beautiful--the expressions on the children's faces take my breath away, and the use of collage works so well for this poem, to tie various time periods and people and events together. While the poem is powerful and I love the illustration...

I first saw and read this book at ALA last summer. I recently sat down to re-read it more completely and to take time with the illustrations. What a lovely, empowering book. It is encouraging and motivating. The author, Useni Eugene Perkins, in his own words in the note says he "wanted to inspire and motivate all black children to achieve their God-given potential, regardless of the challenges they face in life." Reading the author and illust...

This was one of my top contenders for my class's mock Caldecott session, and with good reason.  Collier's use of collage pieces together a hodge-podge of various materials in order to create a story out of both the past and the present, illuminating the legacy passed down not only through a generation, but through a country as well.  Not to mention, of course, Perkins' incredible ode to black children in poetry format.  A key word in each stan...

I think right now with all of the amazing YA lit that touches on police brutality, Black Lives Matter, and general relations between people of color and non-people of color, this book really gets back to what all this struggle is about. I love the poem, and have since I first heard it, but having Bryan Collier illustrate it in such a hopeful way is breathtaking. Follow these children's lives from their origins, dreams, and realities. Struggles fr...

I am kicking off our school-wide Mock Caldecott unit by reading aloud this gorgeous gem. One fifth grader blurted out at the end, "That book is really beautiful!" We start by checking the copyright page to look for the illustrator's art technique. Then we read the absolute gift of the illustrator's note before reading so we knew why Bryan Collier did what he did. We have fun looking for his balloons, rays of light and signs of royalty to tie his ...

A great poem in picture-book form. This is encouragement to kids of color that you CAN be whatever you want. This book doesn't address disparities they may encounter because of their race, but it does tell them what they can do to set their lives in the right direction--to focus on putting in the work and learning what you need to (in school and out) in order to reach that dream. The message might take a little digging.The collage-y, unscaled art...

There are books which fill readers with a surge of joy, welling up inside us and growing stronger with each page turn. There are books you want to read aloud and alone standing in a grassy meadow at the top of a hill you navigate with difficulty. There are books you wish to share in a sanctuary filled with people, reading each phrase slowly with purpose so those gathered together can feel the power of those words.

What a truly beautiful book! Those faces shine from every page, full of light and life, concentration and intelligence. As I watch my now 13 year-old granddaughter struggle to conquesr that 4 inches of wood at gymnastics competitions I want to wave the pages of this book on giant flags and cheer her on. This is a cheering-on book for every child and especially our children of color who have waited to see their faces on pages.

Illustrator Bryan Collier will captivate readers with his vivid colors and collage interpretation of the poem, Hey Black Child, written by Useni Eugene Perkins. Readers will sense the challenge to do and be their best as they grow up. A perfect addition to all libraries and anywhere else that children will pick up a book to read! Inspirational and powerful statement about the importance of education!

This low-text book has a lovely inspirational message about learning, being awesome, and hoping the world will catch up with you. The illustrations pack a punch. There's a lot of history in the pictures if you'd like to search for it. This could be a great way to start a hard conversation about race and the world around us or can be a nice, gentle inspirational read. Framing lands on the reader.

The illustrations make this book worth buying alone! The poem is beautiful, yet very simple. The author' message at the back creates a context but the illustrator's message is quite powerful. Reading his explanation of the pages brings another level to the book and you'll definitely find yourself rereading the pages and making connections through time. Great book for explaining the Black Lives Matter campaign and race/diversity to young children.

I'm glad this book exists; in terms of quality, it seems like the typical "you can do it" prose, which has been done to death even for non-white children. Typical images of kids as presidents or astronauts. Not very creative, and I don't much care for the art style personally; but a good message all the same.

There is so much to love!!! My favorite is the close up of the grand piano with the two little girls and sheet music. The overall timeline of black history and then making it about the future of each reader. The stunning portrait of the little boy on the first page. The balloons that rise throughout.

1/2/2018 ~~ An inspirational poem celebrating the dreams of African-American children. Collier's collage and watercolor illustrations beautifully capture the themes of the poem.Be sure to read the author's and illustrator's notes. This could be an excellent mentor text for writers about attribution and illustrators about the choices of what to include.

The text in this book is from a song at the end of a play that became very popular so was made into a book that reads like poetry.It is therefore pretty open-ended and I believe the probable beauty in this type of book is in the reading of it...whether it is a parent or teacher reading aloud or how one reads it in their mind. The illustrations are nice.