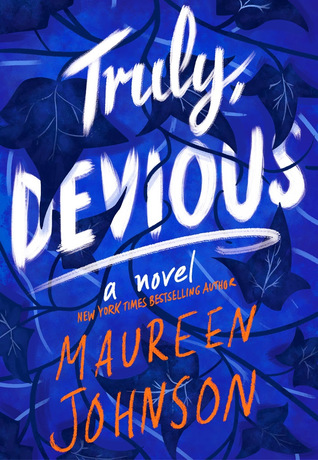 Author Maureen Johnson weaves a tale of murder and mystery in the first book of a new series. Ellingham Academy is a famous private school in Vermont for the brightest thinkers, inventors, and artists. It was founded by Albert Ellingham, an early twentieth century tycoon, who wanted to make a wonderful place full of riddles, twisting pathways, and gardens. "A place" he said, "where learning is a game."Shortly after the school opened, his wife and...
---
Details Truly Devious (Truly Devious, #1)
Reviews Truly Devious (Truly Devious, #1)
I LOVED THIS BOOK. If you need a new YA mystery novel, this is the one for you! Truly Devious totally took me by surprise. I had no idea I would love this book as much as I did! Cw: murderI loved our main character, Stevie. I wish this book existed in high school so that I could have had a female protagonist interested in true crime to relate to. I feel Stevie is extremely competent, self-aware, and has a really great head on her shoulders. I als...

Um what?!?! I need book 2 right now. The end was such a teaser, things were just starting to come together. I need answers! Haha

I didn't know this would have a sequel I AM SHOOK. With most books that switch back and forth between timelines, there is usually one I like more than the other. That wasn't the case here. Between present day and the past, we were presented TWO intriguing murder mysteries to solve. Though I didn't love the conclusion here and felt we weren't exactly given enough clues to solve the present day mystery until the very end, I literally gasped out lou...

Schools may be famous for many things: academics, graduates, sports teams.They are not supposed to be famous for murders. Albert Ellingham created a school that knows no limits. He wanted learning to be a game for those who attended. Tuition is free and everyone learns at their own pace. It's a dream for anyone to attend. Although, shortly after it opened, Ellingham's wife and daughter were kidnapped and never found. A mysterious riddle listing w...

Omg!!!!! So good. But the ending. Literally screaming out loud. My full review will be on my booktube channel at http://Youtube.com/peterlikesbooks

3.5 stars. Was a solid 4 star book for me until that ending. Those last few pages will make it or break it for people

4.5 starsI am a huge true crime fan, so I was all over this story. Love love loved Stevie and this cast of characters. She's smart and maybe a bit odd and socially awkward, but I loved being in her head. The rest of the cast is just as equally intriguing and I immediately didn't trust anyone. Plot wise, it's captivating. The story is told in two threads: the story of Albert Ellingham, his family, and those events + the current timeline. It ...

I've never really liked any of Johnson's previous books so I was a little unsure about Truly Devious. However, I wanted to like it because the premise is all about MURDER! and boarding school which are two of my favorite things. I anticipated the quirkiness of the characters and it did worked. The characters are enjoyable. The pacing is just right, the narrative switches to present to casual flashback every now and then. I didn't anticipate the...

2.5 starsStephanie (aka Stevie) Bell just been admitted to the prestigious Ellingham Academy. Ellingham is a different sort of school where tuition is free, learning is a game and everyone learns at their own pace. Being a true crime junkie, Stevie is set on solving the kidnapping of Mrs. Ellingham and her daughter Alice, which happened shortly after Albert Ellingham opened the school in 1936. First though, she has to adapt to her new home and ho...

Stephanie "Stevie" Bell is very excited when she is accepted to Ellingham Academy, an elite private school in Vermont for free-thinking junior and senior high school students. Ellingham was founded by wealthy Albert Ellingham as a place where students can learn in their own ways, and where puzzle and riddles take center stage. The school became especially infamous when Albert's wife, Iris, and young daughter, Alice, were kidnapped not long after ...

I shall not say anything SPECIFIC so early, but I LOVED THIS. I'm so glad Maureen is writing mysteries, as that is clearly her TRUE CALLING.

3.5 STARSI checked this out on a whim from Hoopla because I had an extra credit and the cover is so eye catching. Plus it's a YA murder mystery, which seems hard to find to me. You can definitely feel the Sherlock Holmes inspiration throughout this book. I really felt like I was in the middle of a game of Clue, trying to figure who did it and with what. I did have a little hard time following at first, but the narrator did a great job and really ...

"There was something there. She could feel it under her skin. Stevie had no fears of the dead. The living, however, sometimes gave her the creeps." I haven't read a mystery in a while and I feel like this is a perfect one to make me crave more. We follow Stevie Bell, true crime junkie and newly admitted to the prestigous Ellingham Academy, a school with a msterious past of it's own. Stevie is determined to solve the ellusive Ellingham my...

4.5 Stars.Wow! Maureen has outdone herself again. With her hallmark witty characters, intricate mystery, and unique atmosphere, she's made this book something special. I'll touch up on the cover first. Doesn't it scream Turtles All The Way Down?! They're both very different books, but it seems like the same kind of design (to me at least, ha).I've also picked up on some things regarding Maureen's (newer) books:1) The protagonist's l...

A well-written mystery that clearly has more to offer, but chooses to unwisely save it for its subsequent sequels.

WHAT? WHAT? WHAT JUST HAPPENED? HOW CAN IT END THERE? HOW AM I SUPPOSED TO WAIT A YEAR UNTIL THE NEXT ONE?

"She'd marked one of her boxes with stars, and she opened this one now. This box contained the bare necessities of her life—her mystery novels. These were loving arranged on the bookshelf in the order that she needed to see them...Sherlock Holmes on top with Wilke Collins, then Agatha Christie spread over two shelves leading into Josephine Tey and Dorothy L. Sayers..."When a teenage protagonist has the same morbid interest in Golden Age mystery...

10. Februar 2018Im Nachhinein weiß ich nicht, warum ich überhaupt zu Truly Devious gegriffen habe – in dem Genre bin ich normalerweise nicht unterwegs, schlichtweg, weil es mich nie so wirklich gereizt hat. Aber dann hatte ich auf einmal das Buch hier liegen und war ziemlich neugierig – und, meine Güte, hat sich dieser Impulskauf ausgezahlt!Truly Devious hat mich nicht nur von der ersten bis zur letzten Seite begeistert – es hat etwas ge...

I am too old for this book, so obviously I loved it! I have enjoyed many YA books, I have enjoyed many murder mysteries. But as far as I'm aware, YA murder mysteries are not a *thing*. Or they weren't for me until I read this, anyway!This book was much better than it sounded. When I read the blurb I wasn't convinced. I'd never read anything by Maureen Johnson and so I read the first in the Shades of London series, which had more reviews a...

This book really did have a great plot, but what killed it for me was the going back and forth between time-lines; from the 1930's to the current day. I'm confused as to how there is any relevance (other than the original proprietor of the school and the backstory during the 1930's storyline) to the events that occurred in the current day storyline. As a mystery, this book did a good job delivering that feeling along with some added eeriness and ...

So, I read this book in one evening, stayed up past 2 am to finish, and here I am the next morning seriously contemplating starting from the beginning again. That should give you a clue about how I feel about this book.It is delightful to get a straight mystery from Maureen, and I look forward to the last two books in this series, as well as any other mysteries she decides to concoct. There are many things I picked up on, many that once things cl...

Maureen Johnson is one of my favorite YA authors. Not only have I devoured and loved the majority of her YA contemporary books (The Key to Everything, 13 Little Blue Envelopes, The Last Little Blue Envelope, and Girl At Sea), but they've always toped my "best of" lists. Therefore, when I caught wind that she was releasing a new series - one focusing on a teenage sleuth, a decades old murder mystery, and a boarding school setting - I was jumping-u...

I received an advanced reader copy via Edelweiss in exchange for an honest reviewWHAT DID I JUST READ?! How did that ending happen? Vague answers, hints at something conclusive, but left with almost...nothing? I'm so confused and kind of pissed off. What did I just read? Was I truly waiting for a semi-decent conclusion when all I got was a "to be continued"? I get that it's the first in a series, but seriously, what the actual living f*%#...

I love Maureen Johnson. Truly. And I thought this book was fast-paced, captivating and overall exciting and entertaining. But. I'm either an idiot, a complete jerk, or possibly both, because this bugs me: a character is referred to as "Truly Devious" based on a letter which was 'signed' "Truly, Devious". This makes me think that "Truly" was the closing (in lieu of "Sincerely") and "Devious" was the writer, so the character would just be "Devious"...